The San Antonio Spurs got the statement victory in Game 1 of the 2013 NBA Finals. Tony Parker had the clutch dagger to keep the highlight reels spinning, but Miami Heat megastar LeBron James has been the one dominating the discussions.
Some analysts marveled at the latest dominant performance added to the King's incredible resume:
LeBron James had 18-18-10. That's his third career Finals triple-double. That's second-most of all-time behind only Magic Johnson (eight).

— Alex Kennedy (@AlexKennedyNBA) June 7, 2013
But others couldn't help but wonder why he hadn't dialed his own number more often than he did:
LeBron James was strangely passive tonight, preferring to distribute and rebound. Thank you, LeBron.

— Skip Bayless (@RealSkipBayless) June 7, 2013
Obviously, triple dipping on the game's biggest stage is nothing to scoff at, and it's impossible to ignore an 18-rebound effort by any non-center in a game decided in regulation. Most players would settle for a double-double in an NBA Finals, but then again, most players haven't taken home MVP honors in four of the past five seasons:
When you can say that a player had an unimpressive triple double, it tells you how unbelievable that player is. LeBron James, everyone.

— Mason Ginsberg (@MasonGinsberg) June 7, 2013
But Skip Bayless is right (can't believe I just wrote that): James needed to handle more of the scoring duties than he did. Miami might not need him to go back to his "Cleveland days" again, but it at least needs him to reclaim his alpha dog status in the scoring department.
While the Heat ran their offensive sets through James in Game 1, multiple Spurs defenders kept close tabs on all of his catches.
But one San Antonio stopper had a far more daunting assignment, and his ability to make James work for each of his 16 field-goal attempts may well have turned the tide in the Spurs' favor in Game 1:
Coach #Popovich on Kawhi Leonard's coverage of #LeBronJames: "You can't stop LeBron, but Kawhi made him work." pic.twitter.com/aRgd4tNIZR

— The Miami Herald (@MiamiHerald) June 7, 2013
Kawhi Leonard, just two years removed from tearing up the hardwoods of the Mountain West Conference as a San Diego State Aztec, said he was ready for this challenge. But actions speak louder than words, and Leonard's suffocating defense blared inside AmericanAirlines Arena:
Tony Parker's shot is the memory of Game 1, but Kawhi Leonard denying LeBron space for nearly an entire game is something to marvel at.

— Chris Kamrani (@chriskamrani) June 7, 2013
James has come closest to reaching the unguardable realm since Michael Jordan left the court for the final time in 2003. He's going to get his numbers no matter what the defense throws in his way.
He's yet to avoid a premier perimeter defender in this postseason. Luc Richard Mbah a Moute of the Milwaukee Bucks got the first crack at James, Chicago Bulls athletic specimen Jimmy Butler was up next and Indiana Pacers superstar-in-training Paul George tried to work his defensive magic in the Eastern Conference Finals.
James felt the effects of all three matchups and never enjoyed the moments of coasting that his teammates did when Miami dispatched of Milwaukee and Chicago in a total of only nine games.
Yet he still entered this championship series holding historic postseason averages of 26.2 points, 7.3 rebounds and 6.4 assists and an incredibly efficient 51.4 field-goal percentage.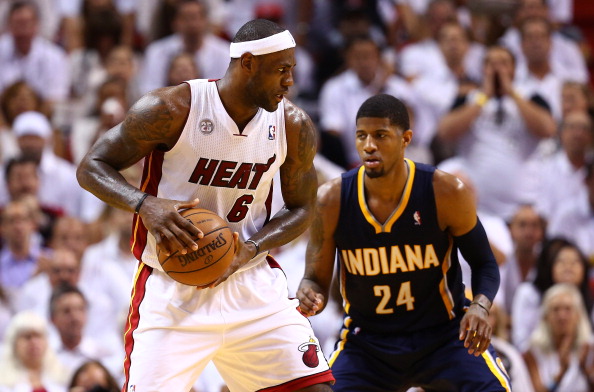 Streeter Lecka/Getty Images
On Thursday night, though, Leonard helped the Spurs transform James into a volume scorer. The reigning MVP needed 16 field-goal attempts to reach 18 points and suffered through his fifth-worst shooting night (43.8 percent from the field) since March 15.
Leonard wasn't the only reason the Spurs eked out this win.
Parker was brilliant in the fourth quarter (scoring 11 of his game-high 21 points in the period) and helped set the tempo for San Antonio's near-flawless ball control (Parker had zero turnovers in 40 minutes; the Spurs had just four total). Tim Duncan dominated the interior (20 points, 14 boards and three blocks), and Manu Ginobili (13 points, three assists) demanded defensive attention.
But stopping the Heat starts with slowing James. And several of Leonard's teammates credited him for making that possible:
Danny Green on LeBron: "Kawhi did a great job guarding him. We did a great job crowding the paint and making him make plays for others."

— Alex Kennedy (@AlexKennedyNBA) June 7, 2013
Tim Duncan said Kawhi Leonard did an excellent job of staying in front of LeBron James. http://t.co/S4jA2N0xAz

— Chris Tomasson (@christomasson) June 7, 2013
Now Leonard didn't play a perfect game by any stretch. He finished with 10 points on 3-of-9 shooting, missing all four of his three-point attempts, several of which were clean looks from the typically efficient corner:
Kawhi Leonard has been incredibly nervous offensively, and incredibly fantastic defensively.

— Kelly Dwyer (@KDonhoops) June 7, 2013
But he maintained relevance on the end of the floor where the Spurs needed him the most.
We can celebrate Kawhi Leonard for doing a "good" job on LeBron and still recognize James had a friggin' triple-double.

— Hardwood Paroxysm (@HPbasketball) June 7, 2013