MLB Draft 2013: 10 Best Players Still Available on the Board After Day 2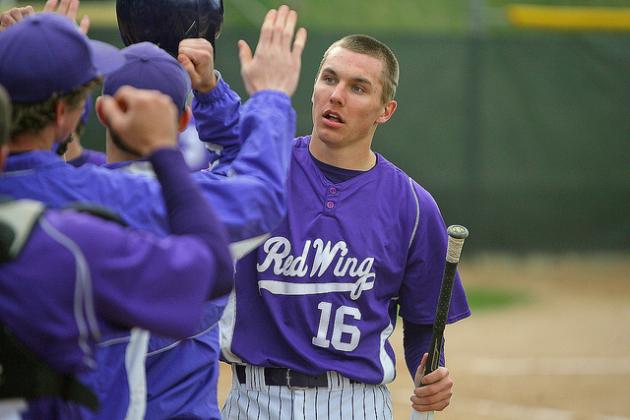 Ryan Boldt is still out there; image courtesy of Red Wing High School.
The 2013 MLB draft is now two days old and over 300 picks in, but don't think the well of talent has completely dried up.
On the contrary, there's actually quite a bit of talent still out there.
Such is life in a draft where signability is half the puzzle. There are dozens of prospects who should have already been drafted by now based on their talent, but most (if not all) of them have fallen due to their price tags.
No matter. They'll be there on Day 3 waiting for their names to be called, and there are 10 guys in particular worth keeping an eye on.
Begin Slideshow

»
Everyone knows everything there is to know about Mark Appel by now, but he's not the only talented right-hander out of Stanford who entered the draft this year.
A.J. Vanegas is another. Jonathan Mayo of MLB.com has him pegged as the No. 95 prospect in the draft, and that's due largely to Vanegas' stuff.
Vanegas throws in the mid-90s consistently, occasionally touching the upper 90s. Baseball America (subscription required) likes the slider that Vanegas features as well.
The red flags are that Vanegas has had trouble staying healthy, and that he's probably more cut out for life as a reliever than as a starter. Since he's a junior, Vanegas could return to Stanford and seek to prove otherwise.
He'll be drafted on Day 3, but that's probably the route he'll take.
This year's draft class was never really rich in talented left-handers, but there's a good one still floating around out there in Jake Brentz.
Brentz is the seventh-best southpaw in this year's draft class, according to B/R's Mike Rosenbaum, not to mention the No. 45 prospect overall. He's raw, but he throws hard and has a nice delivery, drawing comparisons to Matt Moore.
Baseball America noted before the draft that Brentz was going to be worth a gamble in the second round, where the money had a chance to be good enough to lure him away from his commitment to Missouri.
That ship has obviously sailed. Brentz will get picked on Day 3, but the smart money is on him pitching for the Tigers in the near future.
His real name is Ryan, but call him Rowdy. It sounds cooler, and it suits him well.
Rowdy Tellez has a huge amount of power from the left side of the plate, and he unleashes it in a smooth swing. On top of that, his eye is none too shabby, and he doesn't swing and miss that much. Jonathan Mayo is convinced Tellez will be able to hit for average.
But Tellez is in the same boat as Jake Brentz now. He was projected to go high in the draft where he had a shot to be signed. Now he's more likely to pursue his commitment to USC.
That wouldn't be the worst idea in the world for Tellez, no matter what sort of bonus gets floated his way. If he hones his game at the college level, he could be a big name in the draft a few years down the road.
There are a couple of talented prep right-handers still on the board, one of whom is Chandler Eden.
Eden was Mike Rosenbaum's No. 31 righty before the draft kicked off and No. 85 prospect overall. The book on Eden is that he's raw due to his late start to pitching, but that he's a solid projection guy. He already sits in the high 80s and low 90s with his fastball, and there's plenty of potential for more velocity down the road.
Now that he's fallen as far as he has, Eden is probably going to be adding that velocity at Oregon State rather than in the minors. While he's at it, he'll work on his curveball and changeup.
Expect to hear Eden's name called on Saturday, but don't expect him to sign. He's probably going to do that in a few years after he gets picked at a much higher slot.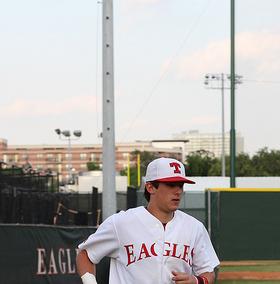 Image courtesy of St. Thomas High School.
Cavan Biggio's surname should ring a bell, and his scouting report is about what you'd expect for a guy who bears it.
Baseball America referred to Craig Biggio's kid as "one of the best pure hitters in his draft class," with a fine swing and a solid approach. They might as well have called him a chip off the old block and left it at that.
Jonathan Mayo also likes Biggio's bat, but had questions about where his future is defensively. He can play second and third base, but time is going to tell whether he has enough power to stick at the hot corner long term.
It would be quite the story if the Houston Astros tabbed Biggio on Day 3, in which case I could actually see him signing. If not, he can pursue a commitment to Notre Dame.
You might remember hearing Garrett Williams' name during the Little League World Series a few years back.
These days, he's a lefty hurler with a fastball that sits in the low 90s, and he also features a plus breaking ball. He can also play at first base and in the outfield as well, but the thinking is that he's best cut out for a future on the mound.
To that end, however, there is one major red flag next to Williams' name. He had surgery to correct thoracic outlet syndrome, the same condition that sidelined Chris Carpenter for almost the entire 2012 season.
Knowing that, Williams' tumble probably can't be chalked up entirely to signability. But since he's fallen this far, it's a safe bet that he'll end up taking his chances with his commitment to Oklahoma State.
Day 2 of the draft saw Jon Denney's slide finally come to an end. It'll probably be Chris Okey's turn on Day 3.
Okey isn't a finished product defensively, but Jonathan Mayo graded his catch-and-throw skills as "excellent," and also had some nice things to say about Okey's bat. His swing isn't perfect, but his hit tool is solid even if his power potential isn't.
Okey had a chance to go in the first three rounds of the draft. Now that that ship has sailed, he'll probably be more than willing to pursue his commitment to Clemson. As Baseball America was quick to note, Okey has strong ties to the university.
When Day 3 kicks off, the top position player on the board will be prep outfielder Ryan Boldt.
Mike Rosenbaum is about as big a Boldt fan as the next guy, regarding him as the No. 9 outfield prospect in this year's draft class and the No. 41 overall prospect.
Due to his solid hit tool and potential on defense, Rosenbaum sees a bit of Darin Erstad in Boldt. High praise seeing as how Erstad went No. 1 in the draft once upon a time.
Coincidentally, Boldt is probably going to be headed to the very place where Erstad made a name for himself as a two-sport college star. Boldt has a commitment to Nebraska, and it's going to take a lot to buy him out of it.
The last two players on this humble little countdown were both high in the running among the draft's right-handers heading into the proceedings.
The first is Connor Jones, who features a fastball that sits in the low 90s with plenty of life. He also throws a slider and a changeup that both have potential, and he already has some solid mechanics as well.
These things make Jones more refined than your run-of-the-mill prep pitcher, but it's now pretty much a given that he won't be taking his arm to the minors.
Jones was a questionable sign at the start of the draft due his strong commitment to Virginia. He'll get picked, but it's just a matter of time before he's pitching in a Cavaliers uniform.
Of all the pitchers who haven't yet heard their names called in the MLB draft, Kyle Serrano's the best.
Serrano just barely missed cracking Mike Rosenbaum's top 25 at the No. 26 position. If that doesn't tell you how much Rosenbaum likes him, the video will tell you that Rosenbaum sees some Dylan Bundy when he looks at Serrano.
Stuff-wise, Serrano has a fastball that sits in the low 90s and can climb into the mid-90s, and his curveball and changeup could both be dangerous weapons down the road.
Serrano has a commitment to Tennessee, where his father Dave just so happens to be the head coach. Somebody will take him on Day 3, but he's probably already being fitted for a Volunteers uniform.
Tennessee once turned Luke Hochevar into a No. 1 pick. Maybe it will do the same with Serrano.
If you want to talk baseball, hit me up on Twitter.