NFL Stars Likely Playing Their Last Seasons with Current Teams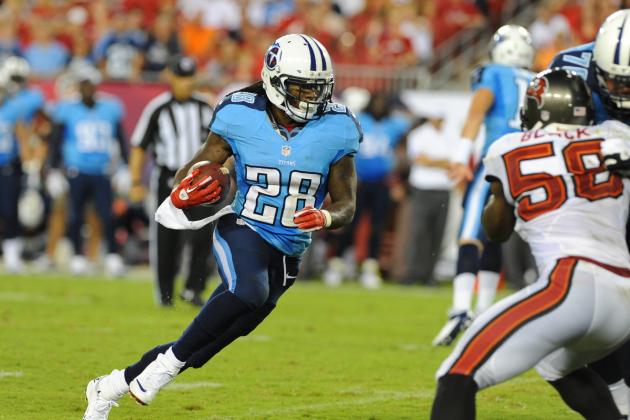 Al Messerschmidt/Getty Images

There are quite a few players in the NFL who will end up on different teams next season, so while the 2013 season hasn't even started yet, let's take a look at who might be finding new teams in 2014.
The changes of venue could be for any multitude of reasons, from a salary cap situation to the players retiring from the league. Either way you look at it, these are just some of the players who will likely be on new teams in 2014.
So pass me my Nostradamus hat, and as Terrell Owens would say, "Getcha popcorn ready."
Begin Slideshow

»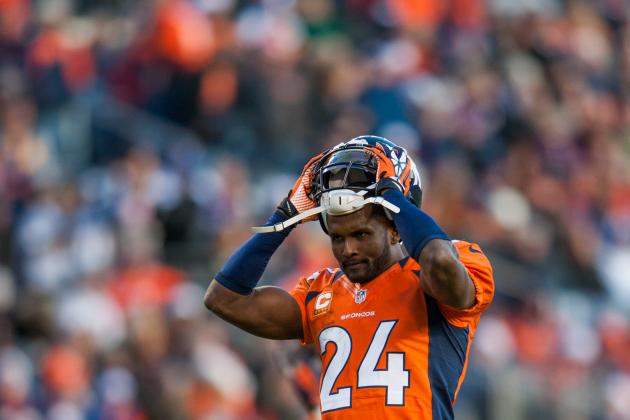 Dustin Bradford/Getty Images

Tony Gonzalez and Champ Bailey are listed together because both are nearing the end of their careers.
It's not going out on much of a limb here to say that it looks like both players will be finalizing their careers in the 2013 season.
Bailey is one of the last players remaining from the 1999 NFL draft while Gonzalez is one of the last picks remaining from the 1997 draft. Both have represented their draft classes the best and should end up in the Hall of Fame.
In addition, both players have the ability to give their teams cap relief by retiring, as they would help free up anywhere from $5.5-9.0 million for their teams, respectively.
If either one wins a Super Bowl this season, it'd be the best way for him to go out.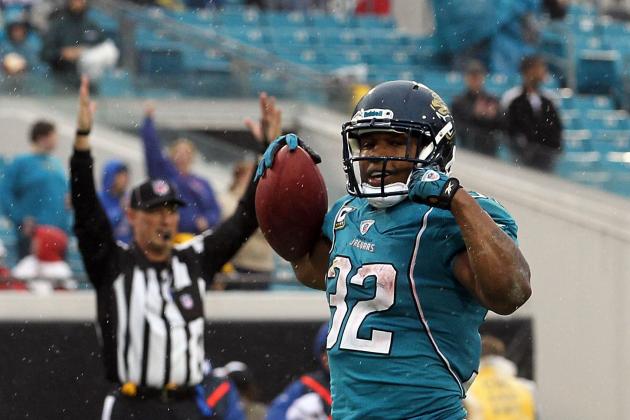 Sam Greenwood/Getty Images

What is Pocket Hercules doing here? Oh, it's his contract year, and he's going to be 30 years old after this season.
Maurice Jones-Drew definitely has a couple of years left, but they won't be the great years anyone is expecting and the Jaguars shouldn't franchise him after the 2013 season.
If given the choice to pick between the Jaguars, his hometown team of the Chargers or a playoff-caliber team, he should—and likely will—select a potential playoff team for a late-career shot at a Super Bowl.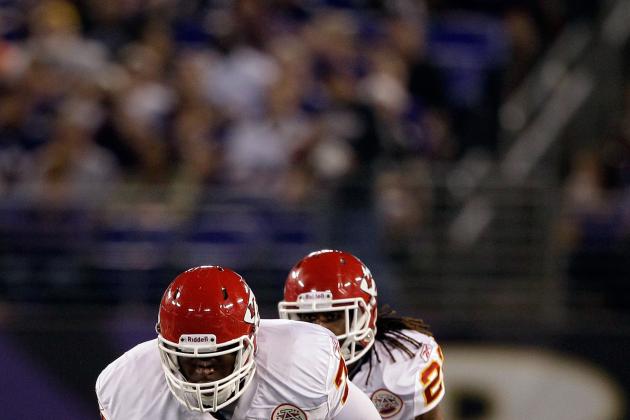 Rob Carr/Getty Images

Another franchise-tag player, yes, but Brandon Albert has seen the writing on the wall since he signed his tender.
In fact, the Chiefs were linked to trading him before the 2013 draft.
The biggest factor in this equation is how the Chiefs took their future long-term left tackle in Eric Fisher in the past draft. A No. 1 overall pick will always signal the end of the road for the player he is replacing for that organization.
A first overall pick and the end of a contract indicate that the end is near for Albert, a 2008 first-round pick. Albert doesn't have to worry, however, as he will have his group of suitors after the 2013 season.
Stephen Brashear/Getty Images

Jared Allen is another one who may look out of place on this list.
He's not here because of his talent; that's for sure. He's here because the Vikings shouldn't be able to afford his services after the 2013 season.
Yes, they should have around $30 million in cap space, but their current 2014 free-agent class will include linebacker Desmond Bishop, cornerback Chris Cook, defensive ends Everson Griffen, Lawrence Jackson and Brian Robison, and defensive tackle Kevin Williams in addition to Allen.
It will be tough for the Vikings to keep all of them while still being players in free agency and having the ability to sign their draft picks. That will be especially true if Allen commands a pay increase from his current $17 million cap hit.
Money is the root of all decisions like this and Allen will free up the majority of it. It doesn't hurt that Robison, Griffen and Jackson are all coming into their own to make the Vikings' decision easier.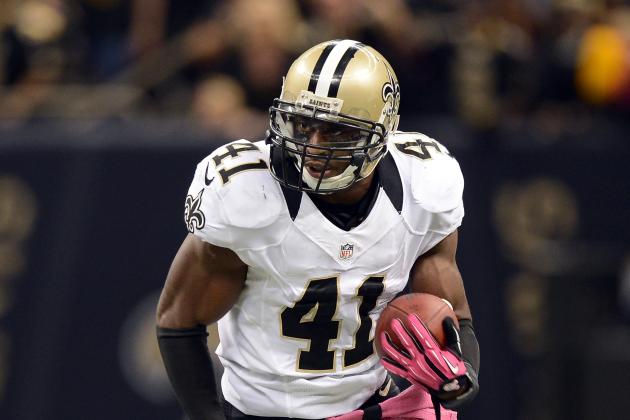 Harry How/Getty Images

Roman Harper restructured his contract this offseason to make sure he could stay with the Saints another year.
Unfortunately for him, he won't have another season in New Orleans due to his poor play and inability to play in coverage.
Harper has been horrible the past two seasons in coverage and doesn't have the ability in the run game or the pass rush that he had when he made the Pro Bowl in 2009 and 2010. His fit in defensive coordinator Rob Ryan's scheme will be the make-or-break decision on whether he can stick around.
His contract will also make him easy to cut after this season.
In addition, the Saints only spent their No. 15 overall pick in the 2013 draft on a safety named Kenny Vaccaro to allow Malcolm Jenkins to move back to strong safety for 2014. With Vaccaro and Jenkins at safety, that leaves Harper three choices—nickel packages, the bench or getting cut.
He's getting way too much to be on the bench and his coverage isn't good enough to stick around for nickel packages. This isn't adding up to a roster spot for Harper.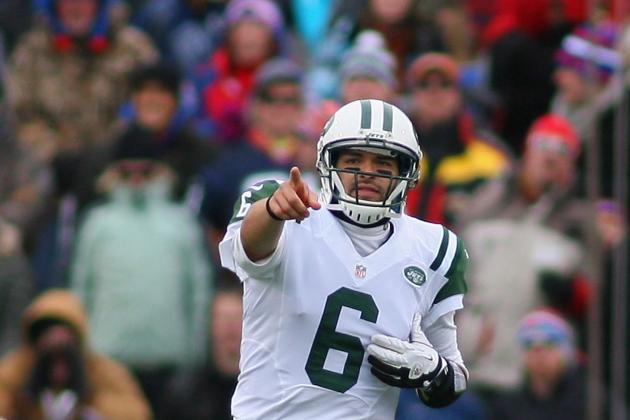 Rick Stewart/Getty Images

Mark Sanchez signed arguably the worst contract in sports a couple of seasons ago and after the 2013 season, the Jets can finally get out of the mess that they have created for themselves by no longer entrusting Sanchez with their franchise's destiny.
With just $4.8 million guaranteed after the 2013 season and a cap hit of 13.1 million in the 2014 season, the Jets would be wise to just cut their losses and take the cap savings. Sanchez hasn't proven that he is worthy of an NFL starting job, and it's doubtful that he will.
In moving on from Sanchez, the Jets may also have to move on from head coach Rex Ryan, but it's about time for that switch as well.
Ryan's message doesn't seem to have been received in the Jets' locker room, and unless Ryan somehow realizes that Sanchez is the guy to be benched and Geno Smith is the one to play, he will be going out the door with No. 6.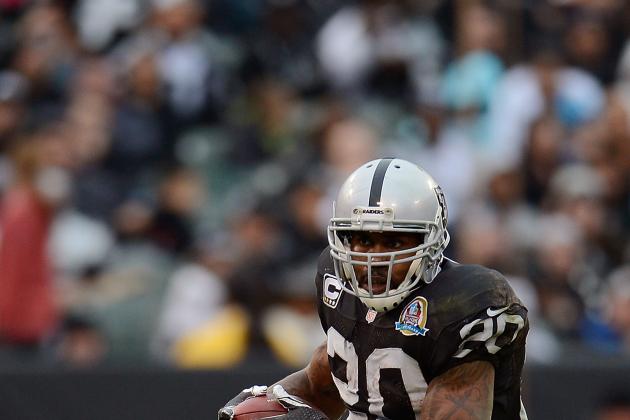 Thearon W. Henderson/Getty Images

Darren McFadden is entering the final season of his rookie contract in Oakland, and it's looking more and more like he is going to be just another injury case.
The 6'1", 218-pound running back ran a 4.33 in the 40 coming out of college.
However, in his five seasons with the Raiders, he has eclipsed 1,000 yards rushing only once and has never registered 10 touchdowns in a single season. Part of that could be attributed to a weak offensive line, but honestly, McFadden needs to step up.
Unfortunately, he has never played a full season, and that won't be changing this year. His constant injury problems and mediocre rushing ability have shown that McFadden is just another Al Davis draft bust. He will be with another team in 2014.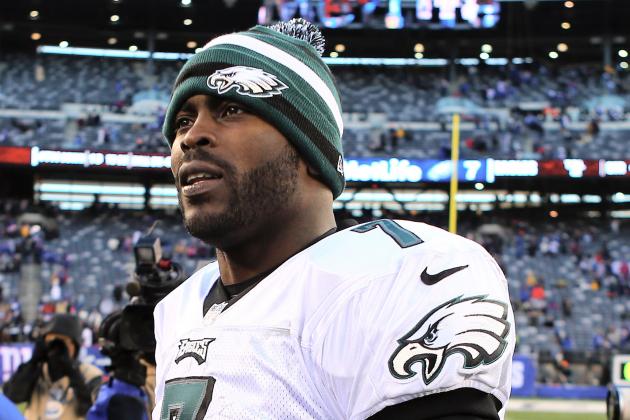 Elsa/Getty Images

Michael Vick is going into a one-year modification of the contract he signed after the 2010 season, where he showed what his true potential as an NFL quarterback could be.
Unfortunately, he hasn't been close to the same quarterback since.
With Chip Kelly to show Vick how to spread the ball out effectively and maintain more ball security, Vick is working with the Eagles' second-team offense. Now, it's definitely early, but if Vick doesn't earn his starting job back during the season, he will have to take a massive pay cut.
For a pro athlete like Vick, that could be tough to swallow, especially with his redemption story just starting to look like it has panned out.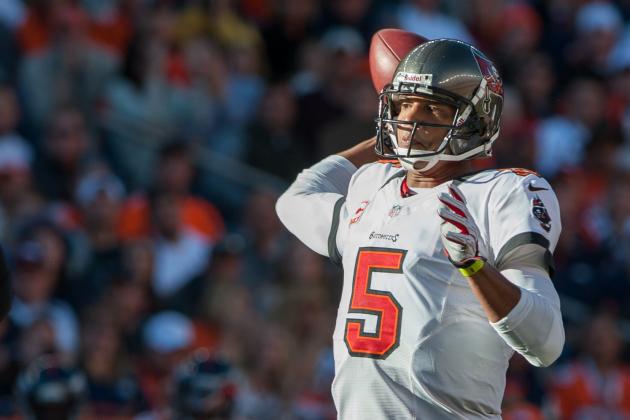 Dustin Bradford/Getty Images

Josh Freeman is a player who can take his name off this list very easily.
Unfortunately, I just don't see it happening despite his youth—he will be just 25 on opening day—and his raw abilities. Freeman needs to step up and be the true franchise quarterback he was drafted to become.
Luckily, Freeman has a couple of things going for him besides youth and raw talent. He's going back to an offense in which he had his best year as a professional in both yardage and touchdowns. He's also in his second season with his dominant target, Vincent Jackson.
Oh, and his offensive line will also be getting back a pair of All-Pro-caliber offensive guards in Davin Joseph and Carl Nicks, so there should be no excuses for Freeman to fail.
Still, something says that he will not perform to expectations this season and that the Buccaneers will let him walk after his contract expires.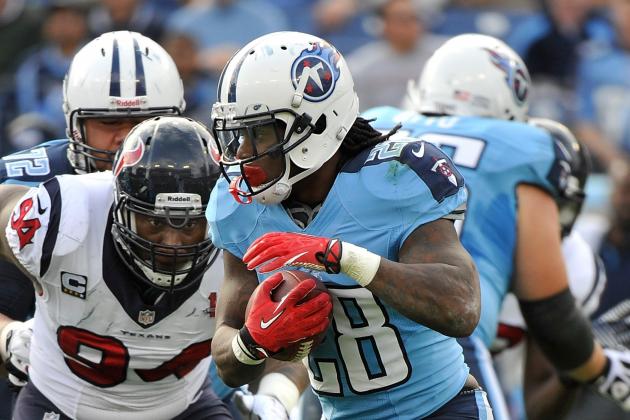 Frederick Breedon/Getty Images

Chris Johnson is on this list?
Yes.
Johnson may have run for over 2,000 yards a couple seasons back, but this is the NFL. Careers can be over in a flash, especially for a tip-toeing running back with declining skill and speed.
In his defense, Johnson could have a bounce-back season with new guards Andy Levitre and Chance Warmack flanking either Brian Schwenke or Fernando Velasco in the middle.
The already-excellent pairing at tackle will enjoy the help inside, but Johnson will need to eclipse his rushing averages of 4.3, 4.0 and 4.5 yards per carry from the past three seasons.
As it is right now, Johnson's contract has only $6 million worth of guaranteed funds after 2013. If he doesn't show that he's worth his current 2014 cap hit of $10 million, the Titans will cut him, take the $4 million in cap savings and pick up a pair of running backs who could replace him.
All stats used are either from Pro Football Focus's Premium Stats, ESPN, CFBStats or the NFL. All contract information is courtesy Spotrac. All recruiting rankings come from 247Sports.com.
Scott Carasik is a Featured Columnist for Bleacher Report. He covers the Atlanta Falcons, NFL and NFL Draft. He also runs DraftFalcons.com.