San Antonio Spurs vs. Miami Heat: NBA Finals Game 2 Preview and Predictions
April 11, 2017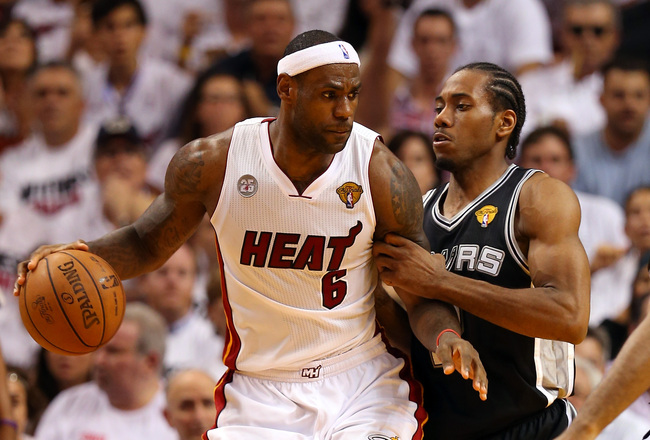 Mike Ehrmann/Getty Images
Game 1 of the NBA Finals was as close as can be, setting the stage for what is poised to be a long, hotly contested series between the San Antonio Spurs and the Miami Heat.
San Antonio didn't put the Heat away until the waning seconds of the opener, relying on a Tony Parker circus shot to finish off the 92-88 victory.
That's what happens when two very strong teams play 48 solid minutes of soundly executed, highly entertaining basketball.
In an interesting twist that happens in such contests, both teams' strengths and weaknesses were limited in Game 1. San Antonio's defensive fundamentals and fastidiousness with the ball kept LeBron James and company from capitalizing on their athletic advantage, while Miami outshot and out-rebounded the Spurs to counter their efficiency with volume.
James registered a triple-double in Game 1 with 18 points (a postseason low), 18 rebounds and 10 assists (both postseason highs). Parker led the Spurs with 21 points and six assists, while Tim Duncan had 20 points and 14 boards while leading San Antonio's exemplary interior defense.
That's the kind of high-caliber play fans can get used to in this series. Even more is coming your way in Game 2.
Time: Sunday, June 9, 8 p.m. ET
Where: AmericanAirlines Arena, Miami, Fla.
Series: Spurs 1-0
TV: ABC
Game 2 Key Storyline: Turnover Differential
Despite all the slim margins in Game 1, there was one stat where the disparity was great: turnovers.
Now, the Heat were by no means coughing up the ball left and right. In fact, the eight turnovers they committed is a downright miserly figure.
Unfortunately, the Spurs were even stingier, turning it over just four times the entire game. Credit Tony Parker for rendering the Miami traps useless.
The San Antonio point guard is the best there is at running the offense while running at full speed. Whether it's simply breaking the trap with his ball-handling or finding the open man, Parker operated too quickly for the Heat's favored defensive tactic to function properly.
Not only that, but Miami was also hesitant to pressure the ball heavily when it left Parker's hands. Heat defenders were unable to shy away from their man to swipe at the ball-handler out of fear of the Spurs' spacing. Pressure too much, even on the San Antonio bigs, and Miami risks giving up open threes.
It's unlikely that either team will sustain these turnover numbers, but one point remains valid: No team can afford to give the other twice as many extra chances.
The Heat scored just 16 points in the fourth quarter, turning the ball over five times in that period alone—one more than the Spurs had the entire game—as they surrendered the lead to San Antonio. One sloppy quarter undid all the carefulness they played with earlier.
That's always going to be the case in this series; the Spurs are too methodical and the Heat too talented for either to afford to slip.
Series Star So Far: Tony Parker
LeBron had the best stat line in Game 1, and Duncan was probably the better Spur, but neither of them did this:
Two picks, two near-turnovers, a fall and an improvised 18-foot up-and-under prayer later, Tony Parker successfully hijacked the conversation. James' and Duncan's great performances paled in comparison to that one spectacular play.
That's true star power, the type that we did not really equate with Parker until this season.
Averaging 23 points and seven assists during the playoffs, Parker has never had a better claim to the title of the league's best point guard.
Unfortunately for the Heat, they don't have anyone exactly suited to cover the San Antonio point guard.
Mario Chalmers and Norris Cole both are a step slow for the job, leading Miami to go without a point guard altogether down the stretch. Dwyane Wade, Ray Allen and Mike Miller all played at the same time while LeBron took on the Parker assignment.
It's an effective short-term solution, but the Heat don't want to spend James chasing around Parker unless it's absolutely necessary. Finding a viable alternative will be essential in Game 2 before the series moves to San Antonio.
Projected Starting Lineups for Game 2
San Antonio: Tony Parker, PG; Danny Green, SG; Kawhi Leonard, SF; Tim Duncan, PF; Tiago Splitter, C
Miami: Mario Chalmers, PG; Dwyane Wade, SG; LeBron James, SF; Udonis Haslem, PF; Chris Bosh, C
Spurs Injury Report
None reported
Heat Injury Report
None reported
Spurs Will Win If...
They keep LeBron out of the middle.
Though there's no one Roy Hibbert's size in the middle for the Spurs, Duncan and Splitter are both imposing defenders with great chemistry. San Antonio was able to pack the paint and turn James away, but he's going to try to bully his way in to spark his offense.
Needless to say, Kawhi Leonard is not going to enjoy that.
He held up very nicely in Game 1, per ESPN Stats and Info:
That said, Leonard was dealing with a LeBron willing to operate in the mid-range and search for open shooters, not one hell-bent for the basket. According to their listed measurements, James has an inch and 25 pounds on the Spurs wing, but the difference is likely much more than that.
Yet Leonard is far and away the most capable LeBron defender San Antonio has. If James pushes him around or gets him into foul trouble, the Spurs could get in some trouble.
Heat Will Win If...
Bosh starts scoring efficiently.
The third member of the Big Three has been missing in action this postseason. We're used to Bosh playing at sub-star levels with the Heat, but his recent production has gotten ridiculous: just 12.3 points and 6.5 rebounds per game with next to no interior presence on the offensive end.
Too thin to body up consistently against San Antonio's bigs, Bosh is valuable only if he scores—especially as a small-ball center.
Right now, the Spurs are doubling down their efforts inside and all but ignoring Bosh as a spot-up shooter, especially when he goes out beyond the arc. If Bosh can step inside the three-point line and consistently hit from 15 feet away, the game will get much easier for both the struggling forward and his teammates.
After he has proved himself again as a scoring threat, the Spurs will be forced to send a big man out to contest him. This will both create more opportunities for the quick Bosh to take his man off the dribble and for LeBron to work in an emptier paint.
Prediction
In Game 1, the Spurs limited LeBron offensively and the Heat from beyond the arc while taking incredible care of the ball, yet they still barely came out on top.
It's possible that the Heat regress as much as San Antonio in Game 2 after they both played remarkably in the opener. However, Miami can count on some more production from its stars, and that will be the difference.
Expect another close one for sure; both teams are still in the stage of sussing one another out, so it's unlikely either team will end up with a decisive edge yet. LeBron will exact his will, Duncan will control the paint, Parker will keep running amok and the world will keep turning.
The Big Three are ultimately going to push the Heat over the top. James will up his scoring, Wade will remain an effective second option and Bosh will start knocking down shots if San Antonio leaves him open.
Miami's stars will force the issue to ensure the series is tied when they head to San Antonio. It will be tight, but that will be enough.
Heat 94, Spurs 88