Arsene Wenger has agreed to a new contract with Arsenal that will keep the longtime Gunners manager with the club through the 2016-17 season, confirmed by the North London side's official Twitter account:
It's official, the #Arsenal boss has signed a new contract! Full story: http://t.co/VymJKmUJ0D #WengerSigns pic.twitter.com/vd835DKGkX

— Arsenal FC (@Arsenal) May 30, 2014
Arsenal released an official statement through their website, confirming the Frenchman's commitment to at least another three seasons in charge. Wenger signs after recently capturing the FA Cup—Arsenal's first trophy in nine years—but is now eyeing future success with his developing squad:
The club has always shown faith in me and I'm very grateful for that. We have gone through fantastic periods and also periods where we have had to stick together. Every time when that togetherness was tested I got the right response. I think I have shown some loyalty as well towards this club and hopefully we can make some more history. I am sure we can.
Aaron Ramsey, who has flourished under Wenger's tutelage in recent times, congratulated the manager who has never questioned his ability:
Congratulations to the boss on signing for another 3 years, looking forward to building on last season's success #WengerSigns

— Aaron Ramsey (@aaronramsey) May 30, 2014
Theo Walcott also offered his reaction to the news:
Great news on the boss signing!!! Exciting times ahead #AFC

— Theo Walcott (@theowalcott) May 30, 2014
Jeremy Wilson of The Telegraph reported the agreement is expected to be worth £7.5 million per season:
Wenger agrees three-year contract worth £7.5m a year. By Jeremy Wilson @JWTelegraph http://t.co/m3WnbjiVdB

— Telegraph Football (@TeleFootball) May 18, 2014
Wenger has led the club since 1996. The first Arsenal manager from outside the United Kingdom has helped guide the Gunners to three Premier League titles, five FA Cups and four triumphs in the Community Shield.
The 64-year-old manager was the focus of headlines during the latter stages of the last campaign after links to big-spending French side Paris Saint-Germain. Last April, Paul Hayward of The Telegraph reported PSG were confident of getting him away from the Emirates.
That move never materialised and Wenger remained with the Gunners.
Stu Forster/Getty Images
Is Wenger the right manager for Arsenal?
Now he has decided to re-sign with Arsenal before his contract expired. It's a major victory for the club, who would have found it extremely difficult to find another manager with Wenger's level of experience and success to fill the void.
Two seasons ago, Arsenal had to fight until the final matchday to earn a Champions League berth. They held off Tottenham by a single point thanks to a tension-filled 1-0 victory over Newcastle.
It appeared Arsenal were well on their way to a campaign with less drama and potentially even a league title this time around.
A combination of injury woes and a drop in form over the second half of the season changed that outlook. Once again it forced the Gunners into an extended Champions League battle before they gained the upper hand on Everton in the final weeks.
Former Liverpool and England striker Michael Owen insists Wenger must buy this summer to avoid further disappointment:
A 3 year contract extension for Wenger. He got the most out of his squad last season but to challenge next season he must buy better.

— michael owen (@themichaelowen) May 30, 2014
The silver lining was earning a trip to the FA Cup final and securing the club's first piece of silverware after a lengthy drought. Although it didn't completely make up for the lost opportunity at the Premier League crown, any trophy is a positive for a club that was desperate for one.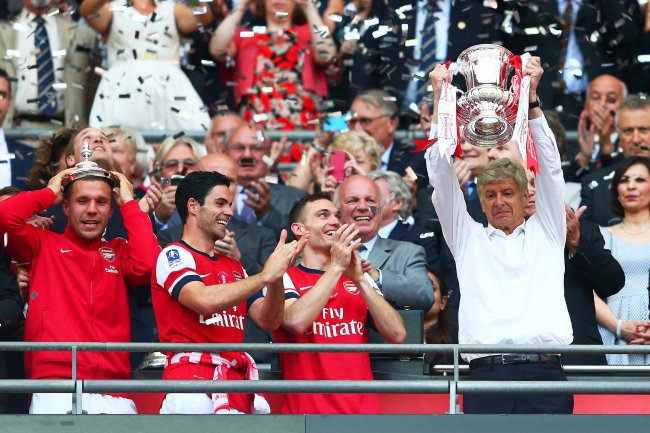 Clive Mason/Getty Images
Furthermore, Wenger's acquisition of Mesut Ozil in the summer of 2013 helped bolster the squad and showed the veteran manager's ability to remain patient during a transfer window until the right move becomes available.
There have been multiple occasions over the past couple of seasons where he's come under fire when the squad's form dropped during a campaign. Yet, when the dust settles, Wenger usually has Arsenal in a favourable final position.
Stan Kroenke, the Gunners' majority shareholder, confirmed as much in the club's official statement:
Sustained excellence is the hardest thing to achieve in sport and the fact Arsenal has competed at the top of the game in England and Europe throughout the time Arsene has been manager, is the ultimate testimony to his consistency of performance, talent and ambition.

We are delighted with the FA Cup success which has added to his already outstanding record. Under his guidance we look forward to adding more trophies in future seasons.
Yes, more championships must be on the agenda, and making good transfer decisions will move Arsenal closer to that goal. But Wenger deserves more credit than he gets for keeping a club without the same type of resources as other top clubs in the mix consistently.
Wenger represents a classic case of certain sections of the fanbase not knowing what they have until it's gone. If he left for another club, there would have been a serious struggle to replace him with a new manager of the same calibre.
Looking ahead, Arsenal can remain confident with a veteran manager at the helm instead of having to search the globe for a replacement. There may come a time down the line for Wenger and the Gunners to go separate ways. Just not yet.
Those in charge at Arsenal clearly realised that and signed him to a new deal before any more exit talk picked up steam. Now the focus can remain solely on the task at hand with the Gunners.