2013 MLB Draft Results: Every MLB Team's Biggest Draft Steal, Reach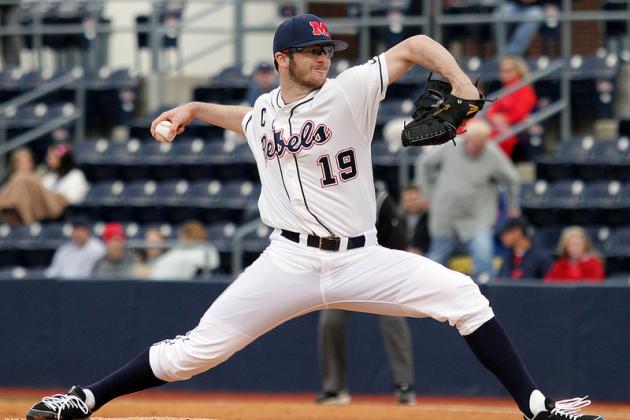 Photo courtesy of the University of Mississippi.
Chances are that if you're reading this, you know someone who has—or will—be drafted by a major league baseball team.
More than 1,200 amateur players receive phone calls over the three-day period that encompasses MLB's annual draft, with only a handful of players ever making it to the highest level of the sport.
The vast majority of these players either flame out, fade away or have ceilings that simply aren't as high as teams and pundits believed them to be.
Picking the biggest steals and busts of a draft shortly after it's completed is a lot like washing your car during the eye of a hurricane—the car is only going to get dirty again, and you'll find yourself repeating the process once the storm passes.
It will take years before we truly know which picks were shrewd moves and which picks were colossal wastes of time—but that doesn't mean that we shouldn't give it our best shot.
With that said, let's take a look at the biggest steals and reaches for each of the 30 teams that participated in the 2013 MLB draft.
Begin Slideshow

»
Biggest Steal: Braden Shipley, RHP, University of Nevada, No. 15 overall
It's not often that you can call a first-round pick—one in the first half of the draft, nonetheless—a steal, but that's exactly what Arizona got when Braden Shipley fell to them with the 15th pick in the opening round.
Shipley, whom both ESPN's Keith Law (subscription required) and B/R's Mike Rosenbaum had going sixth overall to the Miami Marlins, is a legitimate front-of-the-rotation arm that nobody expected to still be on the board when Arizona's pick came along.
Both his fastball and changeup are plus offerings at the moment, with his heater sitting in the mid-90s while his changeup, his most effective pitch, sits in the mid-80s and has late movement to it. Fearless on the mound, Shipley has no qualms about pitching on the inner-half of the plate and attacking batters.
The best thing about Shipley may be that nobody's quite sure exactly what his ceiling at the next level is—he's only been pitching full-time for a year and has little wear-and-tear on his arm. If everything goes right, he could be the future ace of Arizona's rotation.
Biggest Reach: Justin Williams, IF/OF, Terrebonne HS (LA), No. 52 overall
Did Arizona reach for Justin Williams? Sure, maybe by a round or two—but his choice as the team's biggest reach is a testament to how well the Diamondbacks drafted.
Williams is incredibly raw, with big-time power potential from the left side of the plate and a strong throwing arm that would allow him to play either third base or a corner outfield spot.
For all of his tools, speed isn't one of them—and while Williams, 17, one of the youngest players in the draft, has a high ceiling, he's a project in every sense of the term. It could be five or six years before he's developed enough to make an impact in Arizona.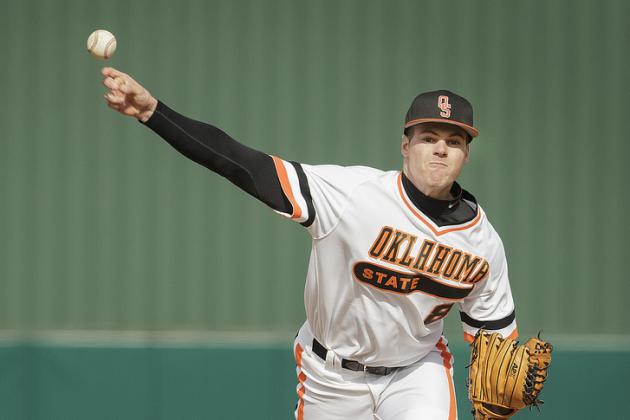 Jason Hursh (courtesy of Oklahoma State University)
Biggest Steal: Carlos Salazar, RHP, Kermin HS (CA), No. 102 overall
Atlanta may not have landed a future front-of-the-rotation arm in the first round of the draft, but the team made up for it with the selection of 19-year-old Carlos Salazar in the third round.
Already touching 97 mph on the radar gun with his fastball, Salazar also has a slider, changeup and curveball in his repertoire that, with work on both his mechanics and better command, could all be average-to-above-average offerings.
It may take awhile for him to get there, but 10 years from now, it wouldn't be surprising for people to be scratching their heads wondering how Salazar fell to the bottom half of the third round.
Biggest Reach: Jason Hursh, RHP, Oklahoma State University, No. 31 overall
His fastball, which sits in the mid-90s consistently, has heavy life and late tail, making it one of the best pitches of any pitcher in this year's draft.
But that's all Jason Hursh has working for him at the moment, as he doesn't have a secondary pitch that is developed enough to be effective at the next level, with his slider being the best of the group. He threw only 30 innings in 2011 and missed all of 2012 recovering from Tommy John surgery.
While he returned strong in 2013, going 6-5 with a 2.79 ERA, his limited arsenal and durability due to his medical history are concerns—and the player taken with this pick should immediately become one of a team's top prospects.
Hursh might crack Atlanta's top 10, but he's far from a lock to do so.
Biggest Steal: Jonah Heim, C, Amherst HS (NY), No. 129 overall
Of the four catchers who Baltimore selected in this year's draft, Jonah Heim is the one who caught my eye (no pun intended).
Agile for his size (6'3", 189 pounds), Heim pops up from a crouch quickly and has a strong, accurate throwing arm. He's a switch hitter with more pop from the right but a better approach to hitting from the left, so how his bat will adapt to advanced pitching is a question.
That said, switch-hitting catchers don't grow on trees, and if Heim's bat catches up to the rest of his game, the Orioles will have nabbed an excellent weapon to add to the mix.
Biggest Reach: Travis Seabrooke, LHP, Crestwood SS (Canada), No. 159 overall
Travis Seabrooke has terrific size (6'5", 180 pounds), a fastball that sits around 90 mph and the potential to develop two other average offerings in his curveball and changeup. Athletic and projectable, Seabrooke has the potential to become a quality back-of-the-rotation arm in time.
But with a handful of more developed college southpaws available with this pick—like Jimmy Reed from Maryland, for example, who wound up with St. Louis—taking a project in the fifth round is a bit of a reach.
Biggest Steal: Jon Denney, C, Yukon HS (OK), No. 81 overall
In a draft full of quality prep catchers, none has as high an upside or is as complete a package as Jon Denney, who slid to the Red Sox in the third round due to concerns over whether he will forgo his commitment to the University of Arkansas and begin his career as a professional ballplayer.
Defensively, Denney has a strong throwing arm and his skills as a receiver are ahead of nearly every other high school catcher in this year's draft. At the plate, he has plus raw power from the right side that should continue to develop as he adds muscle to his 6'2", 205-pound frame.
Biggest Reach: Teddy Stankiewicz, RHP, Seminole State College (OK), No. 45 overall
Teddy Stankiewicz is a quality right-handed pitcher who has a plus fastball and secondary stuff that could be major league average over time, but at his best, he projects to be a solid middle-of-the-rotation arm.
He is the first of multiple examples that you'll see of how the new draft rules and money allocation plays into teams "reaching" for players earlier than they'd normally go.
Biggest Steal: Scott Frazier, RHP, Pepperdine University, No. 168 overall
Scott Frazier has great size at 6'6", 215 pounds, allowing him to throw downhill but also making it difficult for him to consistently repeat his delivery—the bigger the body, the more that needs to be in sync.
His fastball sits consistently in the low 90s with late movement, and while his secondary stuff needs to catch up to his heater, both his changeup and curveball have a chance to be above-average major league offerings.
Make no mistake about it: Frazier is far from a finished product. He needs to improve his mechanics, command and control, along with developing his secondary stuff. But if all goes well, Frazier could be a solid middle-of-the-rotation starter.
Biggest Reach: Jacob Hannemann, OF, BYU, No. 75 overall
Before you bring it up, I'm well aware of the comparison that Conor Glassey of Baseball America made shortly after the Cubs selected Jacob Hannemann in this year's draft:
#Cubs 3rd rdr BYU CF Jacob Hannemann is one of my favorite sleepers in this year's draft. Jacoby Ellsbury comps, which Theo knows all about.

— Conor Glassey (@conorglassey) June 7, 2013
But this is a player who has one year of college ball under his belt, wasn't ranked by MLB.com or ESPN in their respective Top 100 prospects lists heading into the draft and only came in at No. 209 on Baseball America's Top 250.
Already 22 years old, he's got plenty of tools but significant work to do on all of them before he can even be considered a top prospect.
Chances are Hannemann would have been sitting there for the Cubs later in the draft, allowing the team to add a player closer to making an impact in the major leagues with this pick.
Biggest Steal: Andrew Mitchell, RHP, Texas Christian University, No. 123 overall
I firmly expected to hear Andrew Mitchell's name called before the first day of the MLB draft came to an end, and when it wasn't, someone was going to get a steal on day two.
That someone wound up being the Chicago White Sox, who landed Mitchell, ranked as the 40th best prospect in the draft by MLB.com, in the fourth round. A hard-throwing right-hander, he needs to improve his command (he walked more than five batters per nine innings of work this past season) and develop his secondary pitches more if he hopes to stick in the rotation.
Even if he has to move to the bullpen, Mitchell is going to make a positive impact in Chicago when he arrives, something that can't always be said about fourth-round picks.
Biggest Reach: Tyler Danish, RHP, Durant HS (FL), No. 55 overall
Tyler Danish's three-quarter delivery has been compared to that of current Oakland reliever Pat Neshek, and if he turns out to be as good as Neshek at the major league level, that's great—and the White Sox will have landed a quality reliever to add to the bullpen mix.
But with the 55th overall pick?
Chicago has plenty of needs aside from relievers. Its farm system lacks big-time prospects, and there were better options for the team than Danish at this spot. Alex Balog, Jon Denny or Cord Sandberg would have made far more sense.
Biggest Steal: Mark Armstrong, RHP, Clarence HS (NY), No. 104 overall
There's not a whole lot to dislike about Mark Armstrong, who has the size (6'2", 210 pounds), athleticism and pitchability to excel at the next level.
All three of Armstrong's pitches are quality offerings at the moment, especially his curveball, which has late bite to it. His mechanics are clean and his delivery easily repeatable.
Considering he was ranked as the 46th best prospect in the draft at one point by Baseball America, that he was sitting on the board for Cincinnati towards the end of the third round had to surprise even GM Walt Jocketty.
Biggest Reach: Kevin Franklin, 3B, Gahr HS (CA), No. 67 overall
There's no question that Kevin Franklin has power—it's his best tool and one that has produced some towering moonshots in high school.
But there are enough questions about how his swing will fare against better pitching and if he can hit for average that it was a stretch for Cincinnati to take him in the second round of the draft—especially when you consider that Baseball America ranked him 232nd out of 500 prospects for the draft and projected him to be no better than a fifth-round pick.
Biggest Steal: Adam Plutko, RHP, UCLA, No. 321 overall
If you're looking for consistency, look no further than Adam Plutko, who has been as reliable as it gets in college over the past three seasons:
| | | | | | |
| --- | --- | --- | --- | --- | --- |
| | W-L | ERA | IP | BB | K |
| Freshman | 7-4 | 2.01 | 107.2 | 24 | 92 |
| Sophomore | 12-3 | 2.48 | 119.2 | 47 | 99 |
| Junior | 8-3 | 2.35 | 111 | 27 | 77 |
He doesn't have overpowering stuff, but he knows how to pitch, throwing all four of his pitches for strikes consistently and keeping batters off balance by mixing and matching his fastball with his secondary stuff, especially his changeup.
Ranked 179th on Baseball America's Top 500, Plutko isn't going to be a future ace, but he's got as good a chance as anyone in the draft to become a quality back-of-the-rotation arm.
Biggest Reach: Kenny Mathews, LHP, Riverside CC (CA), No. 201 overall
Kenny Mathews can locate all of his pitches, but he lacks premium velocity on his fastball, which sits in the mid-80s, topping out around 89 mph, and neither his curveball or changeup is a plus offering.
At best, he's a fifth starter on a non-contending team or minor league rotation depth.
Biggest Steal: Alex Balog, RHP, University of San Francisco, No. 70 overall
On talent alone, Alex Balog was worthy of a first-round selection by one of baseball's 30 teams. That the 6'5" workhorse fell to a pitching-starved Colorado team in the third round was nothing short of surprising.
He has an electric fastball that touches 96 mph, and a slider and curveball that project to be plus pitches as he continues his development.
At worst, the Rockies landed a quality fourth starter. At best? Potentially a front-of-the-rotation arm.
Biggest Reach: Kyle Serrano, RHP, Farragut HS (TN), No. 859 overall
Yes, we are talking about a 29th-round pick being a reach, but heading into the draft, everyone knew that Kyle Serrano was going to the University of Tennessee to pitch for his father, who happens to be the head baseball coach.
Whether he was selected in the first round or 29th, nothing was going to change that.
While only one player in the history of the draft who was selected 859th overall has made the major leagues—Tom Robson, drafted by the New York Mets in the 50th round of the 1967 draft—knowing that Serrano wasn't going to sign makes this a wasted pick and a major reach.
Biggest Steal: Buck Farmer, RHP, Georgia Tech, No. 156 overall
A workhorse at Georgia Tech, where he logged at least 100 innings in each of his final three seasons, Buck Farmer brings three pitches that are—at worst—major league average with him to the professional ranks.
His low-90s fastball is complemented well by a killer changeup, a slider that breaks sharply and a curveball that, with some work, could be an above-average fourth pitch.
Farmer has all the makings of a solid middle-of-the-rotation arm and was a steal for the Tigers in the fifth round.
Biggest Reach: Calvin Drummond, RHP, Arizona Christian, No. 189 overall
He's been drafted three times and bounced from school to school over the past five years, not pitching competitively at all this season after being declared ineligible at the University of San Diego and unable to become eligible at NAIA Arizona Christian.
Drummond barely cracked Baseball America's Top 500, coming in at number 477, and he projects to be a reliever at the next level, not a starter.
Biggest Steal: Jason Martin, OF, Orange Lutheran HS (CA), No. 227 overall
A high-energy guy with solid tools across the board, Jason Martin is the kind of player that fans quickly fall in love with.
He's got the speed to handle center field but the arm to take on a corner spot, and his compact swing allows him to spray line drives all over the field.
While he's small (5'10", 185 pounds), there's some power in his game that could develop into 10-15 home run power over time.
Biggest Reach: Conrad Gregor, 1B, Vanderbilt University, No. 107 overall
He has a solid approach at the plate and knows how to draw a walk, but at 6'3", 215 pounds, Conrad Gregor doesn't possess the power that you'd expect from someone his size or at his position.
He's got speed and knows how to use it on the basepaths, but his lack of power (and the presence of the team's top position prospect, 1B Jonathan Singleton) may necessitate a move to left field.
While Houston is looking to acquire as much talent as possible, there were players available at this pick who stand to make much more of an impact at the major league level than Gregor, who at best could be a light-hitting fourth outfielder.
Biggest Steal: Sean Manaea, LHP, Indiana State University, No. 32 overall
Sean Manaea could be the steal of the entire draft if two things happen: the Royals get him signed, and concern over a multitude of injuries that he suffered this season, most notably to his hip, turns out to be a fixable—not chronic—issue.
Were it not for the injury concerns, Manaea would have been among the first five pitchers selected in the first round—he has legitimate top-10 talent and the stuff to be the ace of a major league staff. If he signs, Manaea would be the best pitching prospect Kansas City has had in more than a decade.
Biggest Reach: Hunter Dozier, SS, Stephen F. Austin University, No. 8 overall
It's not that Hunter Dozier is a bad player—far from it, actually—but there was better talent available with the eighth overall pick for Kansas City—and chances are that Dozier would have been sitting on the board when the Royals picked again at No. 34.
Twitter was abuzz with similar sentiments after the pick was announced by commissioner Bud Selig, including this one from Yahoo! Sports' Jeff Passan:
Heard some good things about Hunter Dozier from a scout in Texas this week ... but another scout already texted: "This is a big reach."

— Jeff Passan (@JeffPassan) June 6, 2013
Dozier lacks the agility and speed to play in the middle of the diamond at the next level, so a move to a corner infield spot is almost guaranteed—with third base being the most logical landing spot, allowing his powerful throwing arm to be an asset.
He'll hit for power—whether he'll hit for average is another story—but when you're talking about a top-10 pick, that player needs to be a serious game-changer. Dozier isn't.
Biggest Steal: Hunter Green, LHP, Warren East HS (KY), No. 59 overall
Hunter Green was on the fringes of the first round in terms of talent but nobody, especially the Angels, expected to see him still on the board when they made their first pick of the draft with the 59th overall pick.
He immediately becomes the team's best pitching prospect and has a chance to develop into a front-of-the-rotation starter, thanks to an effortless delivery and a fastball that touches 95 mph, and could tick even higher as he adds bulk to his 6'4", 175-pound frame.
Biggest Reach: Kyle McGowin, RHP, Savannah State University (GA), No. 157 overall
He doesn't throw heat (his fastball sits in the high 80s), his secondary pitches are below average and his ceiling is that of a low-end fifth starter at the big league level.
For a franchise that needs quality pitching prospects, Kyle McGowin was not the way to go in the fifth round.
Biggest Steal: Cody Bellinger, 1B, Hamilton HS (AZ), No. 124 overall
I love this pick for the Dodgers. Absolutely love it.
Bellinger, the son of two-time World Series champion Clay Bellinger, has natural timing, excellent pitch recognition and knows how to put together a quality at-bat. While he doesn't have much in the power department at the moment, that will come as he bulks up his 6'4", 185-pound frame.
A smooth defender at first base, some scouts have compared him to a young Adam LaRoche (subscription required).
Biggest Reach: Brandon Trinkwon, SS, University of California-Santa Barbara, No. 214 overall
He doesn't have the arm strength to stay at shortstop at the next level, so a move to second base is likely in his future, only adding to the project that will be developing Brandon Trinkwon into a major league-caliber ballplayer.
Trinkwon has the ability to drive the ball into the left-center field gap consistently, but his approach at the plate is anything but consistent. He tries to hit for power when that simply isn't part of his game, but he could be an average hitter at the next level with significant work on his approach at the plate.
While it's true that nearly everyone taken in the seventh round is something of a project, you'd expect a college player to be a bit more advanced in his development than Trinkwon is.
Biggest Steal: K.J. Woods, RF, Fort Mill HS (SC), No. 112 overall
He's still three years away from being able to legally buy a beer, and K.J. Woods already looks the part of a major league ballplayer, standing 6'4" and weighing 230 pounds.
His raw power is undeniable—with emphasis on the raw.
There are concerns over his ability to hit for average and power against better competition, and he doesn't have the defensive chops to stick in a corner outfield spot, so ultimately first base or a job as a full-time designated hitter could be in his future.
That said, his power potential is tremendous—and if the Marlins can develop the rest of his offensive game to where he's a competent major league hitter, Woods could be the stud of the team's draft class five years from now.
Biggest Reach: Ben Deluzio, SS, The First Academy (FL), No. 80 overall
A two-sport star at The First Academy, Deluzio spent far more time on the gridiron than he did on the diamond, putting him behind in his development than some of the other prep players in this year's draft.
He's a phenomenal athlete with above-average speed, but he doesn't have the arm strength or fundamentals to stick at shortstop moving forward, most likely necessitating a move to center field, where his speed can be taken advantage of.
While there's a lot to like about him going forward, taking him in the third round was a major reach—especially with a guy like Cord Sandberg still sitting on the board.
Biggest Steal: Devin Williams, LHP, Hazelwood West HS (MO), No. 54 overall
I was surprised when Devin Williams got past St. Louis with the 28th pick in the first round, acquired from Milwaukee as compensation for the Brewers signing Kyle Lohse as a free agent.
That Milwaukee was able to land Williams with its first pick of the draft at No. 54 was a major coup for a team that desperately needs top-level pitching talent in the system.
Williams immediately becomes Milwaukee's best pitching prospect and is the best arm the team has had in its system since Yovani Gallardo was working his way to the major leagues.
Biggest Reach: Josh Uhen, RHP, University of Wisconsin-Milwaukee, No. 152 overall
Fully recovered from 2011 Tommy John surgery, Josh Uhen's fastball sits in the mid-90s consistently, touching 98 mph. It's a legitimate weapon.
But he lacks a quality second offering to get batters out, with both his slider and changeup works in progress, and he struggles badly with command and control, having walked more batters (33) than he's struck out (30) during his college career.
It's easy to see why the Brewers fell in love with his arm, but Uhen could have been picked up later in the draft.
Biggest Steal: Stephen Gonsalves, LHP, Cathedral Catholic HS (CA), No. 110 overall
Minnesota had a terrific draft, picking up a trio of arms that will likely comprise three-fifths of the team's starting rotation in a few years.
Given that he's lean and athletic at 6'5", 205 pounds, it's fair to project that Stephen Gonsalves' fastball, which has touched 94 but sits in the high-80s, will gain velocity as he adds bulk to his frame.
He needs to work on his command and control of all his pitches, focusing on developing his secondary stuff, which is all below-average at this point, but he projects to be a solid middle-of-the-rotation starter as he continues to develop his overall game.
Biggest Reach: Brian Gilbert, RHP, Seton Hall University, No. 200 overall
Seton Hall closer Brian Gilbert has a live fastball that sits in the low-90s that he dials up to 95 mph on occasion, but he lacks a quality secondary pitch to keep batters from simply sitting on his heater.
He barely cracked Baseball America's Top 500 draft prospects list, coming in at No. 495, and for a team that needs an influx of quality starting pitching in its system, taking a reliever early in the seventh round who wasn't expected to go until much later in the draft was a major reach.
Biggest Steal: Morgan Earman, RHP, Desert Christian Academy (CA), No. 626 overall
He's a long-term project who needs to clean up his delivery (there's a little hitch in his back that you might be able to pick up from the video), but Morgan Earman was a tremendous value pick in the 21st round for New York.
He can dial his fastball, which normally sits in the high-80s, up to 95 mph, and its velocity figures to increase as he fills out his 6'3", 195-pound frame. His slurvy breaking ball and changeup need significant work, and his overall game needs refinement, but Earman could develop into a quality fourth starter.
Biggest Reach: L.J. Mazzilli, 2B, University of Connecticut, No. 116 overall
His father is a rock star in New York, having spent the bulk of his career (as a player and coach) wearing either a Mets or Yankees uniform, but while L.J. Mazzilli has big-league bloodlines, he was a reach for the Mets in the fourth round.
A ninth-round pick by Minnesota last year, Mazzilli didn't do anything differently this season at UConn to warrant a five-round jump in the draft.
He has a solid approach at the plate with doubles power but was a below-average defender in college, which raises serious concerns about where he'll play on the diamond without becoming a liability for his team.
While this sounds a lot like current Mets second baseman Daniel Murphy, Mazzilli doesn't have the hitting acumen that Murphy possesses.
Biggest Steal: Ian Clarkin, LHP, Madison HS (CA), No. 33 overall
Ian Clarkin needs refinement, but he's got a trio of quality pitches at his disposal and isn't afraid to attack hitters on the inside of the plate. His fastball sits in the low-90s but ticks up to 95 mph; his curveball breaks sharply and he throws it to both sides of the plate effectively.
His overall game needs refinement, but he immediately becomes the best left-handed pitching prospect in the Yankees farm system (arguably the team's best pitching prospect, period) and was expected to be off the board well before the Yankees' final two picks of the first round came around. His ceiling is very high.
Biggest Reach: Nick Rumbelow, RHP, LSU, No. 224 overall
A middle reliever with only 64 innings of work over the past three seasons, Nick Rumbelow has a live fastball that's consistently in the 94- to 95-mph range. His changeup could be an effective second pitch since it has the same release point as his heater, but the pitch is inconsistent and needs work.
He's ranked 424th on Baseball America's Top 500 prospects list, and the Yankees took him about six rounds earlier than anyone expected him to go.
Biggest Steal: Bobby Wahl, RHP, University of Mississippi, No. 161 overall
A top-30 prospect on MLB.com's draft rankings and top-40 on Baseball America's list, Oakland landed a quality starter in Bobby Wahl much later in the draft than anyone expected him to go.
Blister problems and arm soreness were reasons for his drop in the draft, but Wahl uses three quality pitches to keep batters guessing.
His fastball sits in the low- to mid-90s, hitting as high as 97 mph, while his slider looks to be a plus offering to go along with a changeup that is at least a major league average pitch.
As long as the health concerns don't become a recurring theme during his development, Wahl in the fifth round stands to be one of the biggest steals in this year's draft, regardless of whether the A's keep him as a starter or look to make him their closer of the future.
Biggest Reach: Jerad Grundy, LHP, University of Kentucky, No. 311 overall
Oakland is the fourth team to draft Grundy, and while he's become a more polished pitcher than he was in previous drafts, it's resulted in his pitches losing some of their effectiveness.
His fastball, which once sat in the low-90s, now tops out there, sitting in the mid- to high-80s, while his slider is nowhere near as sharp as it once was.
If the A's can get Grundy back to his previous form, this won't be as big of a reach as it seems at the moment—but whether that happens is far from a sure thing, and Grundy may not be anything more than minor league depth if he can't turn things around.
Biggest Steal: Cord Sandberg, OF, Manatee HS (FL), No. 80 overall
Cord Sandberg dropped in the draft for one reason only—signability concerns.
Offered a full-ride to attend Mississippi State and play quarterback, Sandberg has decided to forego college and has already signed with Philadelphia, courtesy of the Miami Herald.
He has tremendous raw power and a quick bat through the zone, and while his overall game needs refinement, especially on defense where he needs to read the ball better off of the bat and take better routes to fly balls, Sandberg would have been a first-round pick were the specter of football not hanging over his head.
Biggest Reach: Jason Monda, OF, Washington State University, No. 181 overall
A solid all-around ballplayer, Jason Monda doesn't have any one tool that jumps out and makes you take notice. That, coupled with questions about his desire to turn pro—he's said to be considering medical school after graduation, and his brother plays alongside him on the Washington State squad—makes this a questionable pick in the sixth round.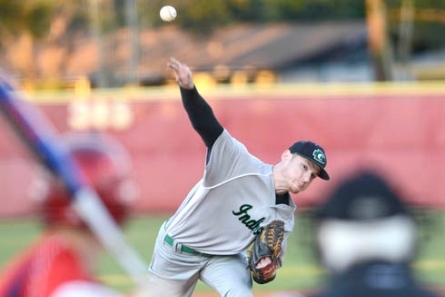 Bryan Baker, courtesy of nwfdailynews.com.
Biggest Steal: Bryan Baker, RHP, Choctawhatchee HS (FL), No. 1,199 overall
He's incredibly raw on the mound, but Bryan Baker has a chance to be a quality major league pitcher in time.
His fastball sits in the 87- to 91-mph range, touching 94 mph, but as he fills out his 6'5", 205-pound frame, the velocity figures to tick upwards. His changeup and curveball both have a long way to go before they can be considered even major league-average offerings, but his upside is considerable.
You typically don't find much upside in the 40th round of the draft. Pittsburgh did.
Biggest Reach: Buddy Borden, RHP, UNLV, No. 209 overall
Just because he shared Mountain West Pitcher of the Year honors with Braden Shipley doesn't mean that Buddy Borden is on the same level as the steal of the draft for Arizona—he's not even on the same planet.
While he has a clean, repeatable delivery, Borden has only one pitch, a plus fastball that sits in the low-90s, touching 95 mph every once in awhile. None of his secondary pitches is an average offering at this point, and while he throws strikes, a lack of a second quality pitch limits his ceiling severely.
Biggest Steal: Jake Bauers, 1B, Marina HS (CA), No. 208 overall
One of the best hitters in Southern California this season, Jake Bauers has a short left-handed stroke and a knack for making hard contact consistently. He already has some pop in his bat, something that will continue to develop as he rounds out his 6'1", 195-pound frame.
Bauers is slow, so first base is the only possible position for him to play where he wouldn't be a liability defensively. He's been compared to Oakland's Daric Barton, which, depending on how you view Barton, is either a good thing or a terrible burden to put on a recent high school graduate.
Biggest Reach: Bryan Verbitsky, RHP, Hofstra University, No. 86 overall
As someone who spent time at Hofstra and grew up in Levittown, I'd love to sit here and wax poetic about Levittown native Bryan Verbitsky, about how he's going to shock the world and put Hofstra baseball on the map.
He's not, and that San Diego took him as high as they did makes me scratch my head.
Verbitsky is a relief pitcher with a three-pitch arsenal, none of them incredibly overwhelming. His fastball sits in the high-80s, while he uses his changeup and slider to keep batters off-balance.
As he refines his game, Verbitsky may develop into a quality middle reliever for a major league bullpen. San Diego needs to get more bang for its buck in the third round than what he can offer, especially when you consider that he likely would have still been on the board later in the draft for San Diego to select.
Biggest Steal: None.
As my colleague Adam Wells astutely noted, it was an unusual draft for a team that typically does very, very well when it comes to developing talent.
The Giants' first few picks were all reaches, and there wasn't a player in their draft class who jumps out as someone that GM Brian Sabean got the better of his counterparts on.
Biggest Reach: Christian Arroyo, SS, Hernando High (FL), No. 26 overall
Christian Arroyo didn't crack the Top 100 pre-draft rankings for either MLB.com or Baseball America, so that should give you an idea of exactly how much of a reach it was for the defending World Series champions to take him in the first round.
He's a tweener in every sense of the word—Arroyo isn't quick enough to play in the middle of the infield and doesn't have the power that would be required to handle a corner infield spot, though he does have some pop in his bat.
There are questions about whether he'll be able to hit for average, and the power that he's flashed will be tested as he faces better pitching in the minor leagues.
To be honest, I'm not entirely sure what to make of Arroyo, other than this—there's no way that he was worthy of being the 26th overall pick in the draft.
Biggest Steal: Austin Wilson, OF, Stanford University, No. 49 overall
An impressive physical specimen at 6'5" and 245 pounds, Austin Wilson's tools are as good as any position player in this year's draft.
He has enough speed to handle center field but is a prototype right fielder, with the size, strength and cannon of a throwing arm that we've come to expect from players in that position.
Comparisons to Giancarlo Stanton and Dave Winfield are not out of line—but Wilson needs to improve his pitch recognition and simplify his swing, which currently has too many moving parts to it.
Biggest Reach: Ryan Horstman, RHP, St. John's University, No. 117 overall
I defer to Tom McNamara, Seattle's director of scouting, who explained to MLB.com's Jacob Thorpe why the Mariners selected Ryan Horstman in the fourth round of the draft:
He's a draft-eligible freshman, which is unique. St. John's actually talked to him about playing basketball, he's a real good athlete. We went in there late and he's got a good delivery, good arm action. We look at him as at 20 years old, he's a draft-eligible freshman, it's almost like taking a junior college guy or an older high school guy.
In case you haven't noticed, Seattle's minor league system has pitching talent oozing out of its ears—spending a fourth-round pick on a project like Horstman when the team is in need of impact bats in the system not only makes this a reach, but a questionable pick altogether.
Biggest Steal: Malik Collymore, SS, Port Credit SS (Canada), No. 305 overall
A terrific athlete who has an intriguing combination of power and speed, Malik Collymore could be a big part of a future middle infield in St. Louis, either at shortstop or second base.
While he has the arm strength to stick at shortstop, his overall defense needs work.
Primarily a line-drive hitter at this point in his development, Collymore has a short, compact swing and bat speed that, as his body continues to mature, will generate some solid power numbers.
Biggest Reach: Nick Petree, RHP, Missouri State University, No. 275 overall
One of the older players in this year's draft, 23-year-old Nick Petree lacks premium velocity on any of his pitches, severely limiting his ceiling.
His changeup is his most effective pitch, with some decent action down in the zone, but it doesn't differ much, in terms of velocity, from his fastball—which struggles to tick up to average velocity—allowing batters to sit on both pitches. He can throw both, along with his slider, for strikes consistently.
At best, Petree projects to be a decent fifth starter—certainly more should be expected from a ninth-round pick.
Biggest Steal: Ryne Stanek, RHP, University of Arkansas, No. 29 overall
B/R's lead baseball writer, Zach Rymer, nailed it with his reaction to the news that Tampa Bay landed Ryne Stanek with the 29th pick in the draft:
Ryne Stanek to the Rays? I expect him to be a Cy Young-caliber pitcher by, oh, July.

— Zachary D. Rymer (@zachrymer) June 7, 2013
One of the best arms in the entire draft, college or prep, Stanek has a four-pitch arsenal that includes a plus-plus fastball and plus slider. Whether his future lies as a starter or closer remains to be seen, but Tampa Bay sort of has a track record for developing pitchers with far less natural ability than Stanek.
He's going to be a special one by the time the Rays are done working their magic with him.
Biggest Reach: Stephen Woods, RHP, Half Hollow Hills East HS (NY), No. 188 overall
It's a dangerous game to doubt Tampa Bay when it comes to pitching, but Stephen Woods in the sixth round feels about four rounds too early to me.
But Rays director of scouting R.J. Harrison was pleased to land him where he did, as he told MLB.com's Adam Berry:
We think this kid is a good high school starting pitching prospect. The fastball, now at average and up to 93 mph on the top end, and an above-average curveball. The arm action and delivery says starting pitcher.
Biggest Steal: David Ledbetter, RHP, Cedarville University (OH), No. 99 overall
While most pre-draft rankings had David Lebetter nowhere near the Top 100 of this year's draft (Baseball America ranked him 210th in its Top 500), the more you see Ledbetter pitch the harder it is not to like him.
He has four pitches that are legitimately quality offerings, and he can throw them all for strikes, including a hard curveball, a sinking slider and a fastball that sits in the low-90s, touching 94 mph regularly. As he grows into his 6'0", 190-pound frame, the velocity on all his pitches figures to go up.
Ledbetter has smooth mechanics and an easily repeatable delivery, and with refinement, he could develop into a quality middle-of-the-rotation arm for Texas.
Biggest Reach: Isaiah Kiner-Falefa, SS, Mid-Pacific Institue (HI), No. 130 overall
At 5'10", 165 pounds, Isaiah Kiner-Falefa has a lot of maturing to do physically before we can even call him a legitimate prospect.
He has a solid approach at the plate but nothing to offer in the power department, and whether his bat will be effective against better pitching is a major reason why he's a reach at this point.
Biggest Steal: Jacob Brentz, LHP, Parkway South Senior HS (MO), No. 325 overall
Few left-handed pitchers in this year's draft have the arm strength that can rival Jacob Brentz, who touches 97 mph regularly with a fastball that typically sits a few ticks underneath that high number.
He has a clean arm action and an easy delivery, amazing since he's not been pitching all that long. His athletic 6'2", 195-pound frame would serve in the hope that he can develop his secondary pitches and command, though they're in the rudimentary stages.
It's hard to say what his ceiling is because he's so raw, but at an early glance, Brentz has a chance to be a front-of-the-rotation starter.
Biggest Reach: Phil Bickford, RHP, Oaks Christian High (CA), No. 10 overall
Phil Bickford has a live fastball that touches 96 mph and has good late sink, but that's it.
He lacks a quality secondary pitch with which to attack professional hitters , and those batters will simply sit and wait for his fastball—or make him pay for throwing a below-average slider or changeup.
While it's entirely possible that he'll develop those pitches and wind up in the big leagues with a solid three-pitch arsenal, you'd expect the 10th overall pick in the draft to be less of a project than Bickford looks to be.
Biggest Steal: Nicholas Pivetta, RHP, New Mexico JC, No. 136 overall
Nicholas Pivetta has the prototypical pitcher's frame at 6'5", 215 pounds—tall enough to throw downhill, but light enough to add some bulk as he acclimates himself to the rigors of becoming a professional ballplayer.
Whether he ultimately winds up as a starter or reliever will largely depend on how his secondary pitches develop. (I'm of the opinion that the bullpen is the place for him). Both his curveball and changeup have shown signs of becoming plus offerings.
He's got a bit of a funky delivery, and his overall refinement needs work, but Pivetta has the potential to be either a quality back-of-the-rotation arm, a power arm out of the bullpen or both, serving in a swing role for a contending club.
Biggest Reach: Austin Voth, RHP, University of Washington, No. 166 overall
For all intents and purposes, Austin Voth has one pitch, a heavy fastball that sits in the low- to mid-90s, and one that he can locate pretty much wherever he wants to.
His slider is below-average at best, while he never throws his changeup, and the lack of secondary stuff ensures that Voth is heading to the bullpen.
Even if he's able to develop his slider or changeup into a major league-average pitch, taking Voth in the fifth round was a reach, considering the more well-rounded arms that were still available to Washington at this point in the draft.