Bold Predictions for Atlanta Braves' Day 1 Draft Picks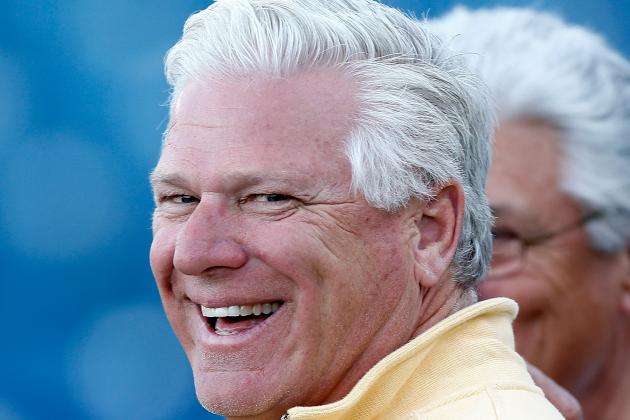 J. Meric/Getty Images

Day one of the 2013 MLB draft is in the books with rounds 3-10 set to begin on Friday.
With the No. 31 overall selection, the Atlanta Braves chose to add more pitching depth by selecting right-hander Jason Hursh out of Oklahoma State.
In the second round at pick No. 65, the Braves turned their attention to a positional player in Victor Caratini, a catcher out of Miami Dade Community College.
As is the case with most picks in the First-Year Player Draft, there is boom-or-bust potential.
What direction will the careers of the Braves' 2013 first-day picks go?
Begin Slideshow

»
The Braves selected the 6'1", 195-pound Hursh based on his electric fastball and hopes that he develops his off-speed pitches.
Hursh's fastball sits in the mid-90s and has topped out in the upper-90s, which helped him to a 6-5 record and 2.79 ERA in 106.1 innings this past season.
I'm envisioning a similar path for Hursh that Alex Wood took to get to the big leagues just this past week.
Both pitchers featured good fastballs but had injury concerns coming out of the draft—Hursh missed the 2012 season following Tommy John surgery. Wood's off-speed pitches were more developed than Hursh's, but scouting director Tony Demacio told Carroll Rogers of the Atlanta Journal-Constitution that they believe Hursh already has a "plus change[up]."
College pitchers are expected to ascend through the minors at a much quicker rate due to their polish and experience. There's some fine-tuning to do with Hursh, but he should be able to follow a similar path as Wood to make it to Atlanta at some point in 2014.
How will Hursh make the big leagues but never make a start for the Braves?
That's because I believe he projects to be a bullpen pitcher.
The Braves are fortunate to have plenty of talented, young pitchers in their organization in both Atlanta and the minors.
Pitchers Mike Minor, Kris Medlen, Julio Teheran and Brandon Beachy all are in their 20s and have established themselves in Atlanta.
Then you've got Wood, J.R. Graham and even Sean Gilmartin in the minors, who all look to have bright futures as starters (especially the case for Wood and Graham)—not to mention last year's first-round pick in Lucas Sims.
Hursh's dominant fastball, which helps him record high strikeouts and ground ball outs, and lack of feel for his off-speed pitches lead me to believe he winds up in the bullpen.
Major league bullpens are now power-heavy, and there's no doubt Hursh fits that mold.
Similar to Hursh, I see a position switch for Victor Caratini in his future.
Despite being drafted as a catcher, Caratini spent most of his playing time this past season at third base, where he hit .377 with six home runs in 175 at-bats.
Standing 6'1" and 205 pounds, Caratini looks to have potential at third or second base—both positions where the Braves lack a long-term answer.
Meanwhile, the catcher position looks more crowded with Evan Gattis and highly-touted prospect Christian Bethancourt. The Braves also used a high pick in last year's draft in Bryan De La Rosa.
The intrigue to Caratini in the second round was his potential at the plate (check out the video above of him crushing a home run).
Perhaps the Braves take the stance of never having too many catchers, but in the end, I see his bat being able to elevate him through the minors and winding up at a new position to help out the big league team.