San Diego Chargers Should Target These Free Agents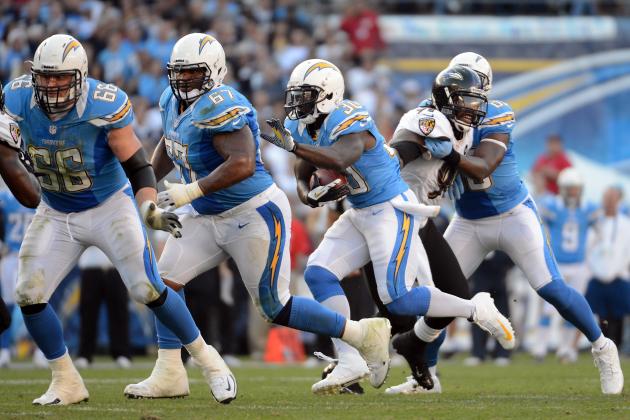 Harry How/Getty Images

Have you ever put on a pair of pants and found crumpled up dollar bills in the pockets? It feels like you won the lottery.
Thanks to getting rid of Jared Gaither, the San Diego Chargers "found" an extra $4.4 million in cap space.
With a total of $4.5 million in cap space (closer to $2.2 million after first-round pick D.J. Fluker signed), do the Bolts go after any free agents?
There are six veterans currently without a home the Chargers should court to call San Diego home in 2013, and they are presented from lowest desired to the top choice.
Begin Slideshow

»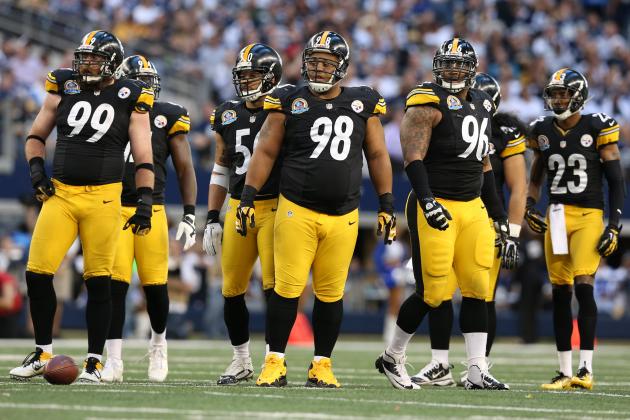 USA TODAY Sports
Hampton (98) was a force in Pittsburgh for 12 years.
Casey Hampton is the best nose tackle available in free agency. He earned five trips to the Pro Bowl during his 12 seasons with Pittsburgh.
He can still play at a high level, as witnessed by his 57 total tackles the past two seasons.
Despite his age (35), Hampton thinks he still has some gas left in the tank. The problem is Hampton might take away too many snaps from the younger players on a squad the team is looking to develop for the future.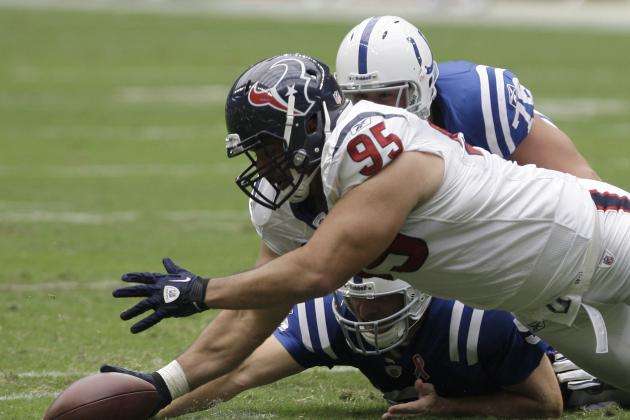 Thomas B. Shea/Getty Images

Shaun Cody is an eight-year veteran (four with Detroit, four with Houston).
Cody should not be considered a threat to Cam Thomas, Kwame Geathers or Byron Jerideau. Then why bring in a defensive lineman with injury concerns?
Cody would be a veteran leader and voice to a very young nose tackle group with a total of five NFL starts.
The problem with adding Cody is it goes against general manager Tom Telesco's philosophy of getting younger and faster. On the wrong side of 30 and with a history of injuries (back problems, broken ribs, punctured lungs), Cody should only be offered a contract if it is understood what his role would be on the defensive line.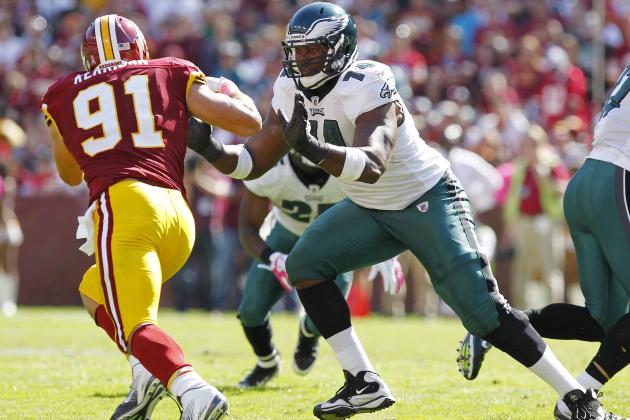 Geoff Burke-USA TODAY Sports
Justice (74) is a Southern California native.
If the rumors are true that first-round pick D.J. Fluker is having issues at right tackle, San Diego should consider picking up Winston Justice.
Justice was a stud at Long Beach Poly High School and the University of Southern California before being drafted by Philadelphia in 2006. He was traded from the Eagles to the Colts in 2012.
Justice is a veteran right tackle who could either start if Fluker is moved to guard or be brought in to help tutor the rookie in the nuances of the professional game.
Justice visited San Diego last month when the Chargers were looking for offensive linemen.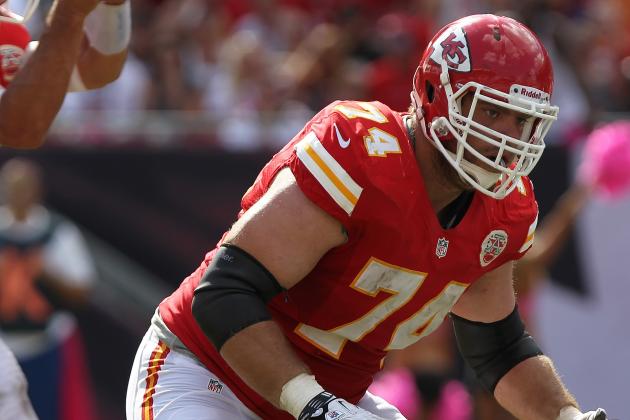 Kim Klement-USA TODAY Sports
Winston (74) knows the zone-blocking scheme.
Like Winston Justice, Eric Winston would be an insurance policy in case D.J. Fluker has to be moved to guard.
The former Kansas City Chief and Houston Texan is familiar with the zone-blocking scheme the Chargers are moving to and could be a solid addition to the offensive line.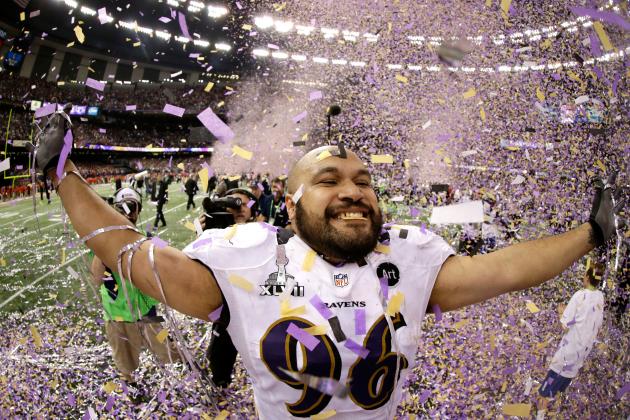 Ezra Shaw/Getty Images
Kemoeatu knows what it takes to win in the NFL.
Ma'ake Kemoeatu is older than Cody (34 compared to 30), but he knows how to win. At 6'5" and 345 pounds, Kemoeatu started in the middle of the defensive line for the Super Bowl Champion Baltimore Ravens.
Like Cody, he should not be considered a threat to Thomas, Geathers or Jerideau, and like Cody, he should be considered a veteran presence for a young group.
Anyone with 136 professional games as an interior defensive lineman will have injuries, and Kemoeatu missed the entire 2009 season recovering from an Achilles tendon injury. He also took the entire 2011 season off in order to shed 70 pounds. When he returned, he beat out younger players for the starting nose tackle position with Baltimore.
If Kemoeatu can show that type of work ethic to the current crop of Chargers defensive linemen, it could pay dividends for years to come.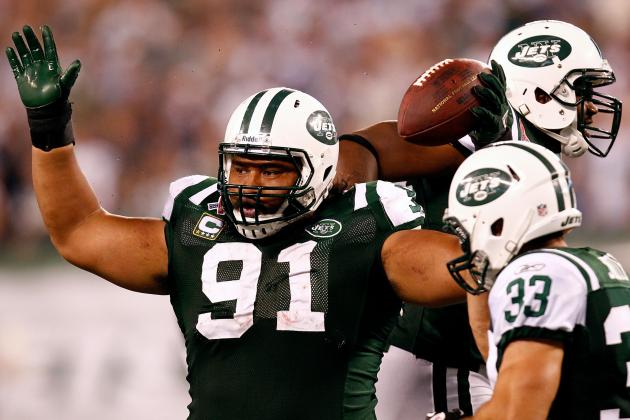 Jeff Zelevansky/Getty Images
Pouha (91) has position versatility the Chargers have favored this offseason.
Are you starting to sense a theme?
That theme would be: "The Chargers need a veteran nose tackle."
Sione Pouha was selected by the New York Jets in third round of the 2005 draft. Like Cody and Kemoeatu, Pouha has a major injury on his resume. The former Utah Ute had to sit out his entire second season in the NFL because of a knee injury.
Unlike Kemoeatu or Cody, Pouha has experience at defensive end as well as nose tackle. San Diego general manager Tom Telesco has shown a preference for free agents who can have position versatility, so that could work in Pouha's favor.
Another aspect that could be a positive for Pouha is his faith.
Pouha is a devout Mormon. He is also of Tongan descent. Manti Te'o is also a devout Mormon and of Hawaiian heritage. There are other San Diego Chargers who are members of the Church of Jesus Christ and Latter Day Saints (Eric Weddle), but the only player on the roster of Polynesian ancestry.
While it may seem a little silly to bring in a player based on his religion or heritage, the Chargers have gone out of their way to make Te'o feel at home. Pouha would not just be a mentor for Te'o. He could also play defensive end and nose tackle and help mentor the young d-linemen regardless of their beliefs or family tree.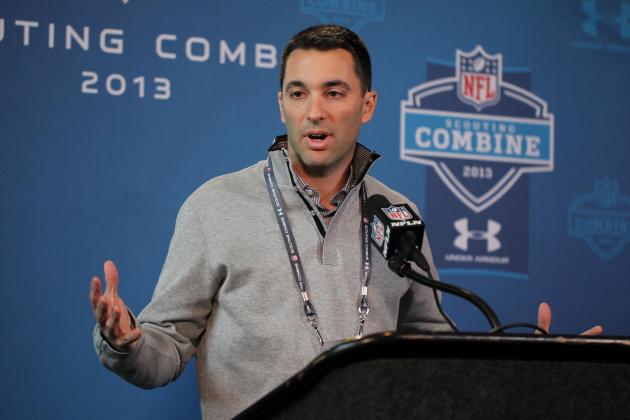 Brian Spurlock-USA TODAY Sports
New general manager Tom Telesco should not do anything with the new cap space.
The No. 1 thing the Chargers should do with the extra money is nothing at all. It would not be wise to acquire a player just to acquire someone.
San Diego needs to have a little wiggle room in case someone gets injured, and there is a real need instead of a desire.