2013 MLB Draft Prospects: Ranking the 5 Biggest Steals of Day 1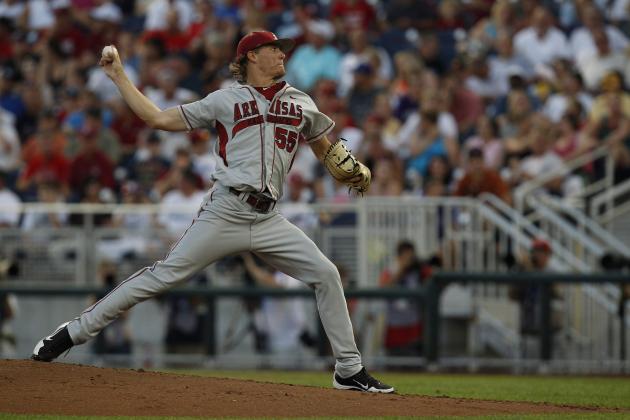 Bruce Thorson-USA TODAY Sports

Day 1 of the 2013 MLB draft is in the books. We saw the first 73 selections of this year's class on Thursday night, leaving just 1,127 picks remaining.
There were more than a few surprises in the first round, starting with Oklahoma right-hander Jonathan Gray falling to No. 3 overall after many expected him to be the No. 1 overall pick.
Yukon High School catcher Jon Denney, considered either the second- or third-best catcher in the class and a likely first-round pick, has yet to hear his name called after seeing five catchers taken. He enters Day 2 as the top name still on the board.
Focusing on Day 1 for a little longer though, here is a look at the five biggest steals of Day 1, with more steals no doubt on their way in the days ahead.
Begin Slideshow

»
Georgia high school outfielders Austin Meadows and Clint Frazier have been linked throughout the draft process, as they profiled as the two best prep bats in the class and also happened to be good friends who grew up just a few miles from each other.
While Frazier has the better raw power potential and went No. 5 overall to the Cleveland Indians, it is Meadows who has the highest overall ceiling.
Expected to be off the board by the time the Boston Red Sox picked at No. 7, at the latest, Meadows instead fell to the Pirates at No. 9.
Making things even better for the Pirates was the fact that high school catcher Reese McGuire, who they had been linked to at No. 9 throughout the weeks leading up to the draft, was still on the board when they picked again at No. 14.
The Rockies had three picks on Day 1, and they started off their draft with a bang when potential No. 1 overall pick Jonathan Gray fell to them at No. 3.
After taking two-sport star Ryan McMahon out of Mater Dei High School at No. 42 overall, they landed a first-round talent in Alex Balog with the No. 70 overall pick.
The 6'5" right-hander is a workhorse with a four-pitch arsenal that is highlighted by a fastball that can reach 96 and a slider/curveball combination that both rank as potential plus pitches.
He took a backseat to Kyle Zimmer last season, but was the ace of the San Francisco staff this year, going 3-4 with a 3.63 ERA and 67 strikeouts in 91.2 innings. Not overly impressive numbers, but he is a projectable arm with a relatively high floor given his repertoire.
Viewed by many as the top college arm after Mark Appel and Jonathan Gray, Shipley was in fact the third college pitcher taken, but it was unexpectedly after high schoolers Trey Ball and Phil Bickford. As a result, he fell out of the top 10, where he seemed like a safe bet to go entering the draft.
The starting shortstop at Nevada his freshman year, the right-hander made the move to the mound full-time last season and went 9-4 with a 2.20 ERA and 8.6 K/9.
He was terrific once again this season, going 7-3 with a 2.77 ERA and 102 strikeouts in 107.1 innings. He does not have as much mileage on his arm as most college pitchers, yet remains polished enough that he should still move quickly through the Arizona system.
While he didn't turn in the dominant season many expected him to entering the spring, and his stock dropped a bit as a result, Arkansas right-hander Ryne Stanek remains a potential frontline arm.
No team in baseball is better at developing pitching talent, and the Rays got the biggest steal of the first round right here in my opinion.
Even with his somewhat inconsistent performance, Stanek went 10-2 record with a 1.39 ERA this season. The question mark came in his 7.3 K/9 mark and middling offspeed stuff, but there is plenty of upside, especially at No. 29.
Five years from now when we look back on the 2013 draft, the Kansas City Royals may very well have wound up with the biggest steal of the entire draft with their selection of Sean Manaea at No. 34 overall.
The star of the Cape Cod League last summer, Sean Manaea went 5-1 with a 1.22 ERA and 85 strikeouts in 51.2 innings against the top amateur talent in the country. That shot him up preseason draft boards and made him a potential No. 1 pick.
While his numbers were solid, going 5-4 with a 1.47 ERA and 93 strikeouts in 73.1 innings this season, a decrease in velocity and injury issues that included a hip pointer and shoulder stiffness caused him to fall all the way out of the first round.
He's as high a ceiling as any pitcher in the class, and while he won't be a cheap sign here, this appears to have been the Royals plan all along, as they reached for Stephen F. Austin shortstop Hunter Dozier with the No. 8 overall pick and should be able to save some money signing him under slot.