The San Antonio Spurs have a way of doing this to teams.
What has worked for the Miami Heat against other squads doesn't fly against the savvy of Gregg Popovich. The Spurs unveiled their method to confine the late-game play of LeBron James and Dwyane Wade, and it paid off in their 92-88 Game 1 victory of the NBA Finals Thursday night.
"We didn't make adjustments, we just tried to contain them and make them take outside shots" Tony Parker #NBAFan http://t.co/g5m3ixlObx

— NBA (@NBA) June 7, 2013
San Antonio didn't dazzle with complexity, but their defense clamped down late in the game by limiting open looks near the rim. James finished with just six points in the second half and 18 points total, his lowest of the postseason. He did secure a triple-double, adding 18 rebounds and 10 assists, but he was playing into San Antonio's hands nonetheless.
Just like the Spurs did in the 2007 Finals, when LeBron was with Cleveland, they emphasized an interior shell to protect against his high-percentage points in the paint.
The relationship b/w PG (Parker) & coach (Popovich) is a special one. That says a lot. LeBron looked rattled in the 4th. Like 2007 LeBron.

— Jared Zwerling (@JaredZwerling) June 7, 2013
While James was still able to attack, Kawhi Leonard did a good job of at least staying in front of him and the Spurs' consistent help defense held him at bay. When LeBron did drive, he was met with black jerseys, often that of No. 21, Tim Duncan.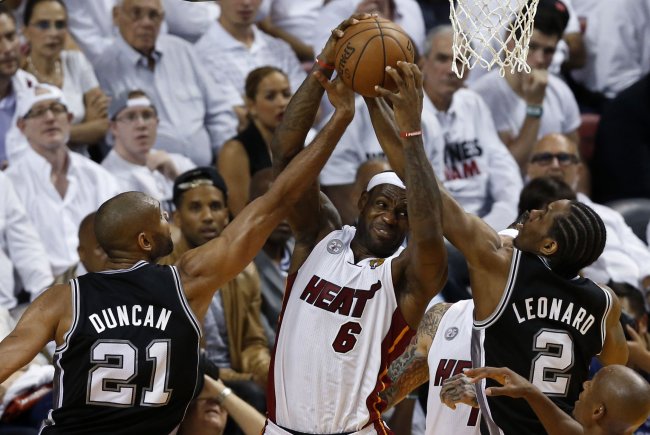 Derick E. Hingle-USA TODAY Sport
San Antonio kept it simple, and the Heat couldn't shoot out of it as they did early in the game. Miami shot 6-of-15 (40 percent) from three-point range in the first half but were just 2-of-10 from behind the arc in the second half.
James didn't possess the same level of urgency that he did in must-wins against the Indiana Pacers in the Eastern Conference finals. At times, he seemed perfectly content with moving along the offense. This is still part of who James is as a player; it's what makes him great, but it's also what makes him susceptible to disappearance.
I counted two passes where I felt LBJ should have continued driving. Also would have liked to have seen more of him in post in 4Q.

— Zach Lowe (@ZachLowe_NBA) June 7, 2013
LeBron sat the fourth quarter until the 9:00 mark, when he entered with the Heat leading 76-73. He took just four shots in the fourth quarter, tallying six points and one assist. The Heat needed him to play a take-over brand of basketball, and he didn't.
When Wade or Chris Bosh have been quiet, it's been James who has instigated to a point of dominance and saved the team. But if he isn't pushing the needle, the Heat flounder. Miami shot just 5-of-18 (27.8 percent) in the fourth quarter, finishing with five turnovers and just two assists in the final frame.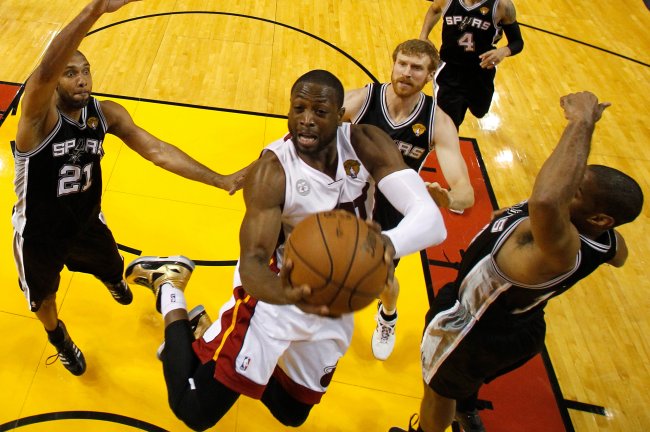 Pool/Getty Images
Wade was scoreless in the fourth quarter, a victim of similar defensive stylings that worked on James. Danny Green and Manu Ginobili stayed under defensively, playing back on Wade to protect against his drive and sagging underneath screens.
Like James, Wade didn't push the issue and delegated to his teammates. Bosh was 1-of-5, and 0-of-2 from three in the fourth quarter. In nearly 10 minutes of fourth-quarter play, the big man had just one rebound and two points. When the team tried to use him on rolls to the basket, Bosh was ineffective scoring in traffic.
Ray Allen, who was 3-of-4 from three-point range in the game, didn't get a single attempt in the fourth quarter. Wade asserted after the game that tired legs had to do with the team's fourth-quarter disappearance, which would certainly affect shot selection.
A lot of blood in the Heat's 4th-quarter shot chart: pic.twitter.com/q9FmpQiNIu

— John Schuhmann (@johnschuhmann) June 7, 2013
But where was the intensity? Adrenaline from playing in Game 1 of the NBA Finals was not enough? Nope, the "been-here, done-that" Heat were caught napping.
Spurs point guard Tony Parker, meanwhile, was the guy who took over. He scored 10 points on 4-of-8 shooting in the fourth, a quarter in which the Spurs outscored the Heat, 23-16.
The Spurs didn't exactly steal Game 1. LeBron James and his fellow superstars let them come in and take it without much of a fight.