UFC on Fuel 10 Results: Questions Heading into UFC 161 Evans vs. Henderson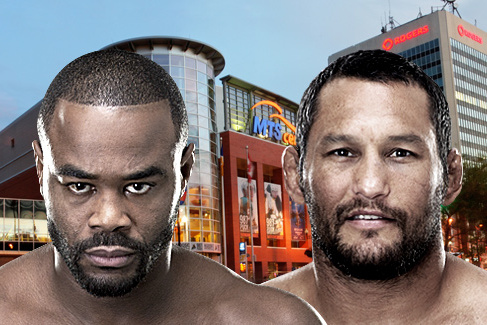 UFC on Fuel 10 is in the books and the full results are below:

Fabricio Werdum defeats Antonio Rodrigo Nogueira via submission at 2:41 of Round 2
Leonardo Santos defeats William Macario via submission at 4:43 of Round 2
Thiago Silva defeats Rafael Cavalcante via knockout at 4:29 of Round 1
Erick Silva defeats Jason High via submission at 1:11 of Round 1
Daniel Sarafian defeats Eddie Mendez via submission at 2:20 of Round 1
Rony Jason defeats Mike Wilkinson via technical submission at 1:24 of Round 1
Raphael Assuncao defeats Vaughan Lee via submission at 1:51 of Round 2
Felipe Arantes defeats Godofredo Pepey via TKO at 3:32 of Round 1
Ildemar Alcantara defeats Leandro Silva via unanimous decision (30-27 x3)
Rodrigo Damm defeats Mizuto Hirota via split decision (29-28, 28-29, 29-28)
Caio Magalhaes defeats Karlos Vemola via submission at 2:49 of Round 2
Antonio Braga Neto defeats Anthony Smith via submission at 1:52 of Round 1
MMA fans can now look north to Winnipeg, Manitoba, Canada for the next UFC event. The promotion will travel to the MTS Centre on June 15 to present UFC 161, a card that will be headlined by a light heavyweight fight between Rashad Evans and Dan Henderson.
As with every UFC card, there are some questions that beg to be answered by the event.
Begin Slideshow

»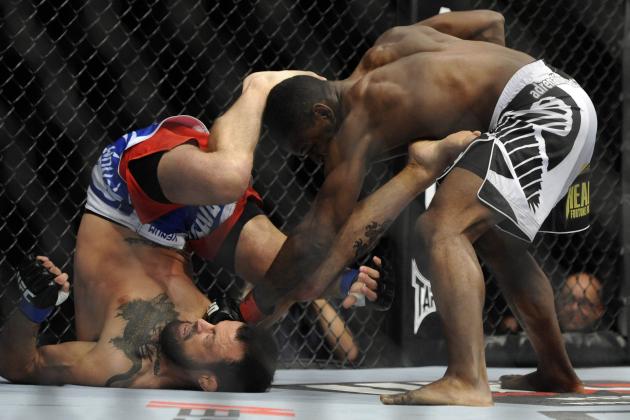 Rafael Suanes-USA TODAY Sports

Yves Jabouin (18-8) was on a nice little run prior to UFC on Fuel TV 5. He had put together three consecutive wins after moving down to the bantamweight division and was looking like he was on his way to getting his name "in the mix." Three minutes and 40 seconds after the cage door locked behind Jabouin and Brad Pickett, the momentum that Jabouin had gained since his bantamweight debut evaporated with a single uppercut.
Jabouin had been doing well keeping Pickett to the outside for most of the bout, but when Pickett snuck in he made it count, flattening him with one punch. The strategy seemed sound for Jabouin, keeping a heavy-handed opponent out of range, but he recently said, nope, that was not him.
Speaking to John Morgan of MMAJunkie.com, Jabouin said:
I think I was becoming too much of a technical, outside fighter, and I kind of went away from what I did in the beginning, which was work on the inside. I used to really, really work my hands, and that's when I had great success with knockout victories. I'm trying to really reach back to that time and really work my hands, my boxing, and really analyze my style overall.

The fine-tuning is going to make a hell of a difference. You guys are going to see a new version of the old Yves Jabouin where I used to come in and lay people out. There's going to be big changes.
Jabouin will get to put his fine tuning to the test at UFC 161 when he opens the card against Dustin Pague (11-7).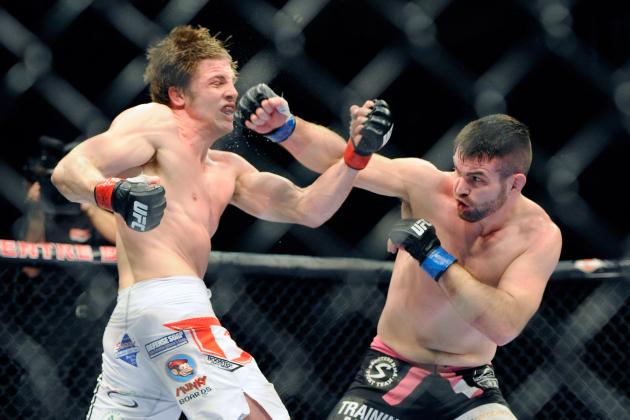 Eric Bolte-USA TODAY Sports

John Maguire opened his UFC career with a unanimous decision win over Justin Edwards. He followed that victory with a "Submission of the Night" win over DaMarques Johnson. Those two wins extended his professional winning streak to seven fights.
Maguire then learned that all good things must come to an end when he dropped his next two bouts, losing to John Hathaway and Matt Riddle by unanimous decision.
Maguire, a pink belt in gypsy jiu-jitsu, reassessed his career after the Riddle defeat and decided that a drop to lightweight was something he needed to consider. When Maguire faces Mitch Clarke at UFC 161, he will enter the cage at the lower weight.
Will the drop in weight pay off? Maguire better hope so, as three losses in a row always gets the attention of those who make decisions on which fighters remain on the UFC roster.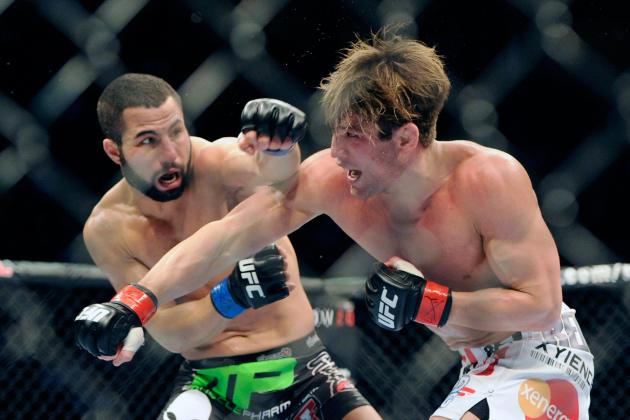 Eric Bolte-USA TODAY Sports

Sam Stout has been with the UFC for a long while, making his debut at UFC 58 where he defeated Spencer Fisher by split decision. Outside of three fights with the TKO promotion, he has been fighting inside the Octagon ever since, compiling a record of 8-7.
At 29, Stout is by no means an old man, but his length of service with the UFC means that he is pulling down some decent coin for a preliminary card fighter. Stout made $52,000 ($26,000 plus $26,000 win bonus) in his last fight.
In a stacked lightweight division, Stout may need to start worrying about that pay and time catching up with him. A loss at UFC 161 would put him at 2-3 in his last five and pretty far away from "the mix."
One thing that Stout does have going for him is his six "Fight Night" bonuses. The UFC has shown a great reluctance to release fighters it can count on to deliver exciting, fan-friendly fights.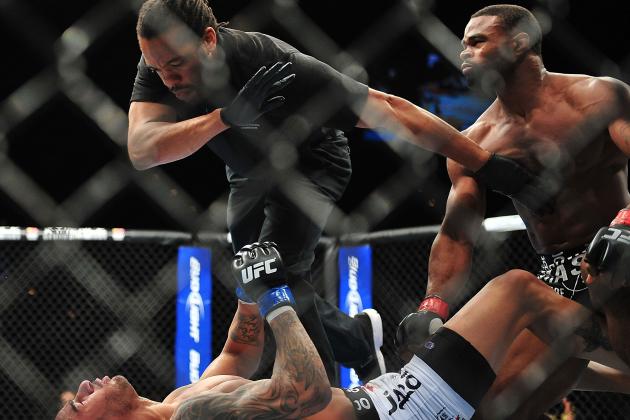 Gary A. Vasquez-USA TODAY Sports

"Tyron Woodley just made a statement ladies and gentlemen," said Joe Rogan following Woodley's UFC debut, and there was no hyperbole in those words. Woodley's 36-second knockout of Jay Hieron at UFC 156 was one of those moments that gets fans out of their seats and shouting "holy sh**t" or some other expletive.
The knockout victory seemed to indicate that Woodley's loss to Nate Marquardt in his previous fight, while pretty nasty in its own right, was just a bump in the road for the 11-1 welterweight.
That bump in the road theory will get put to the test at UFC 161 when he faces former Strikeforce champion Jake Shields, a fighter who also has something to prove after going 2-2-0-1 since joining the UFC in 2010.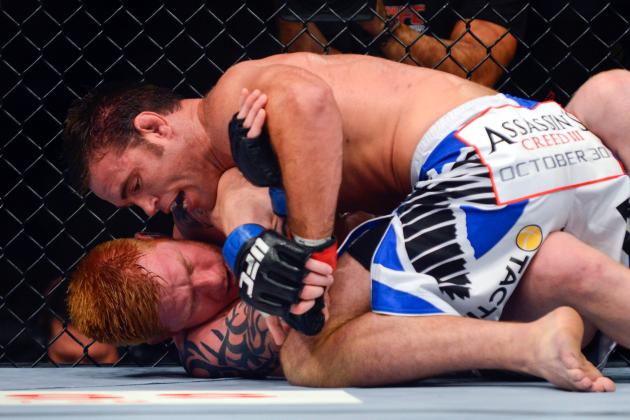 Ron Chenoy-USA TODAY Sports

Jake Shields entered the UFC with a great deal of fanfare. He was 25-4-1 at the time and had defeated Dan Henderson in his final bout with Strikeforce, retaining his middleweight title in the process.
After relinquishing that belt, he dropped to welterweight and squeaked by Martin Kampmann in his UFC debut, putting on a performance that may have been impacted by a rough weight cut.
The win set up a bout with UFC welterweight champion Georges St-Pierre, and although he did go the full five rounds with the champion, he walked away with a unanimous decision loss (50-45, 48-47, 48-47).
In his next bout, fighting days after the death of his father, Jake Ellenberger knocked him out in the first round. Shields bounced back after that loss, defeating Yoshihiro Akiyama by unanimous decision.
After that victory, Shields faced Ed Herman in a middleweight contest. Shields won the fight by decision, but that result was changed to a no-contest when Shields failed his post-fight drug test, ultimately serving a six-month suspension.
Shields will return to welterweight at UFC 161, facing Tyron Woodley.
This fight may be the last chance for Shields to get back in the thick of things in the welterweight division. He's currently outside the top 10 in the division, and if he hopes to break back into the rankings, he will need to soundly defeat Woodley.
If Shields does lose to Woodley, it would not be out of the question to see him released from the promotion. The loss would drop his UFC record to 2-3-0-1, and with a pretty steep salary, he may be deemed too expensive to keep around for a fighter outside the top 10.
Shields' last announced salary was UFC 121, where he pulled in $150,000 ($75,000 show, $75,000 win bonus).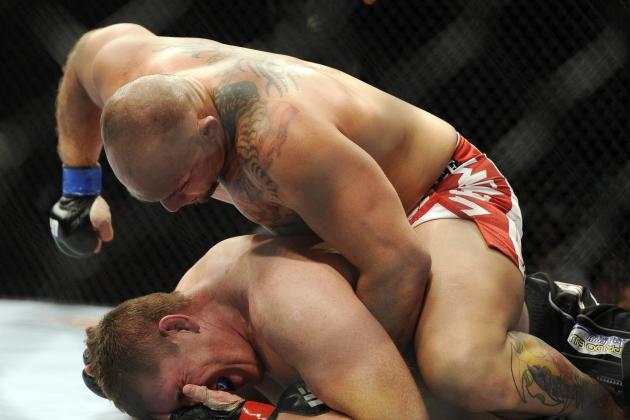 David Banks-USA TODAY Sports

At UFC 149, Shawn Jordan held his own against Cheick Kongo. Well, at least for the first two rounds. Jordan ran out of fuel in the third round. In his next outing, Jordan absorbed a fair amount of punishment at the hands of Mike Russow before taking advantage of an exhausted Russow and ending the fight in the second round.
With the information we have, the jury remains out on Jordan.
We may find out what the Jackson-Winkeljohn product is made of at UFC 161. Jordan will step into the Octagon in Winnipeg against Pat Barry, a fighter who has one thing in mind whenever he competes, wrapping up the fight early.
Jordan's chin was never really tested against Kongo, and while Russow did tag him a few times and bloody Jordan up, no one is going to mistake Russow for Barry in the power department.
UFC 161 will be a big test for Jordan.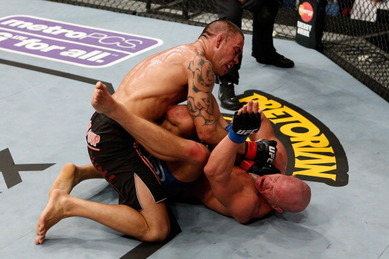 Josh Hedges/Zuffa LLC/Zuffa LLC via Getty Images
Ryan Jimmo had one of the most memorable UFC debuts of 2012. Jimmo joined the UFC with a 16-1 record and a reputation as a bit of a boring fighter, with six of his previous seven bouts going the distance.
Perhaps looking to lose that boring fighter tag, Jimmo came out aggressive against Anthony Perosh at UFC 149 and earned "Knockout of the Night" honors with his seven-second KO.
Jimmo could not capitalize on that performance in his next bout, dropping a unanimous decision to James Te-Huna at UFC on Fuel 7. The loss was Jimmo's first since he fell short in his professional debut in 2007.
At UFC 161, Jimmo will face Igor Pokrajac, and he will do so on the pay-per-view portion of the card. Jimmo and Pokrajac were originally slated to meet on the preliminary card but were moved to the main card when the Mauricio Rua vs. Antonio Rogerio Nogueira bout was scrapped due to injury to Nogueira.
What we'll be watching here is how Jimmo bounces back from his first defeat in a long time and if the pressure of fighting near the top of a pay-per-view card will affect his performance.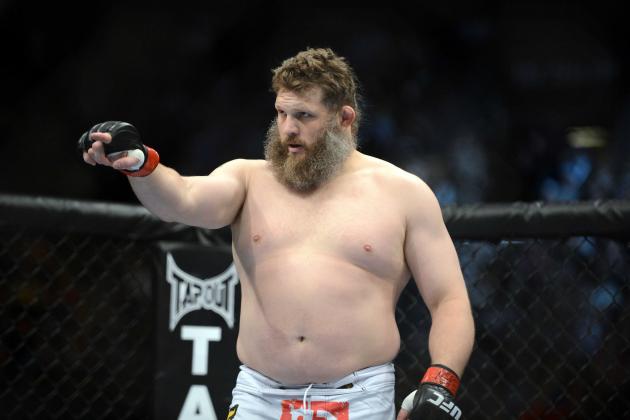 Ron Chenoy-USA TODAY Sports

Roy Nelson will close out his current UFC contract at UFC 161, then what?
Even with a loss to Stipe Miocic, the UFC will most likely extend a new offer to Nelson. Even with all the issues UFC president Dana White has with Nelson, letting him walk would be a mistake. Nelson is a wildly popular fighter who puts on the type of fights the fans that UFC brass as well as MMA fans want to see. He also puts money in the bank and asses in the seats for the UFC—two things the promotion loves.
The question isn't really if the promotion will offer him a deal, it's will the deal be to the liking of Nelson?
Nelson has a bit of a "me against the world" attitude, something that's totally understandable since his boss seems to malign him whenever possible. Will that attitude carry over into contract negotiations and make Nelson think he is getting a bad offer, or an offer not worthy of a top-10 heavyweight fighter with multiple "Knockout of the Night" bonuses to his name?
Hopefully, both sides can bury their personal differences in the name of sound business when UFC 161 comes to a close.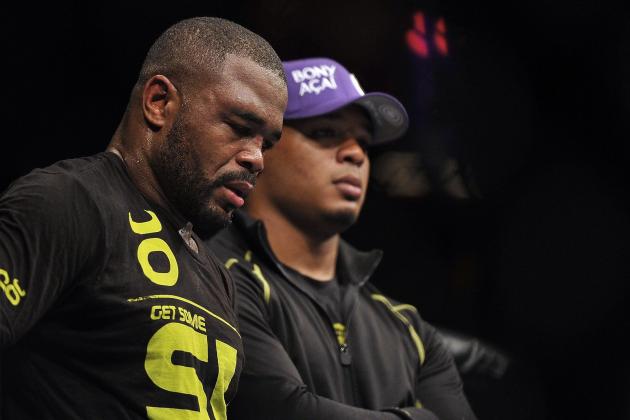 Paul Abell-USA TODAY Sports

Could UFC 161 be the end of the road for the title shot aspirations of Dan Henderson or Rashad Evans? Both fighters have a decent number of years and miles on their bodies, something that eventually catches up with even the most elite mixed martial artists. Both fighters are also coming off losses in their last bouts, losses that came at the end of rather lackluster performances.
No one will ever say that the Evans vs. Antonio Rogerio Nogueira bout or the Henderson vs. Lyoto Machida contest were either fighter's best moment. In fact, Evans went so far as to claim his performance stunk up the joint.
Yes, both fighters are ranked in the top 10 in the light heavyweight division, with Henderson ranked third and Evans coming in at sixth, but as we know, fights are not made based on rankings. A loss at UFC 161 and the vanquished, barring some incredible run, may never get another sniff at UFC gold.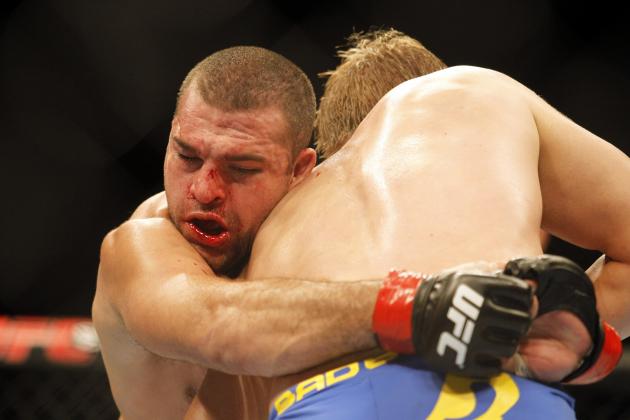 Joe Nicholson-USA TODAY Sports

Ah, the bottom-line question: Will the loss of UFC 161's original main event, UFC interim bantamweight champion Renan Barao vs. Eddie Wineland, coupled with the loss of Rua vs. Nogueira keep people from parting with their cash?
It's doubtful.
I'm not saying this is the best pay-per-view card anyone ever dreamed about, but it's far from the weakest event in UFC pay-per-view history. Evans vs. Henderson is a legitimate pay-per-view headliner, and Nelson vs. Miocic has the makings of a "Knockout of the Night" bonus winner. In addition, there is the first UFC women's bout to take place in Canada, plus the always exciting Pat Barry.
This card will do just fine.