Djokovic vs. Nadal: Score, Highlights for French Open 2013 Men's Semifinals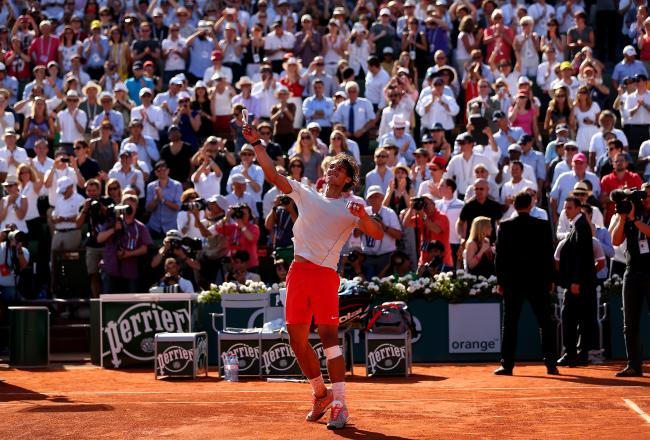 Clive Brunskill/Getty Images
Rafael Nadal remains the king of clay. The Spanish superstar eliminated top-ranked Novak Djokovic in a five-set French Open semifinal thriller Friday that lasted 4 hours and 37 minutes.
Nadal, a seven-time event champion, prevailed 6-4, 3-6, 6-1, 6-7 (3-7), 9-7, denying Djokovic an opportunity to become the eighth man to complete a career grand slam. The Serb fought back from a fourth-set deficit to force an epic showdown in the final frame but once again exits Paris empty-handed.
The hallowed red clay of Roland Garros played host to a memorable showdown between two of the game's greats. The victory adds to Nadal's growing legend as a French Open mainstay and continues his monopoly on titles at the tournament.
He is now 58-1 at the event, reaching his eighth final in nine years. Nadal is now 20-15 versus Djokovic, owning a 13-3 advantage on clay surface.
Nadal awaits a finals collision with the winner of David Ferrer versus Jo-Wilfried Tsonga, who is the first Frenchman to advance this far since 2008.
Nadal reaches his 8th RG final and bidding to become the first man in history to win 8 titles at the same Grand Slam #RG13

— Roland Garros (@rolandgarros) June 7, 2013
Rafael Nadal wins on break point, moves on to eighth French Open final in nine years!
For the third time in this match, Nadal is two points away from eliminating Djokovic. He is currently up 30-0, holding an 8-7 lead in the fifth set.
Round and round we go as Rafael Nadal is unable to earn a break point despite a remarkable between the legs shot that kept him alive for another volley during Djokovic's serve.
This fifth set is now more than 20 minuets longer than Serena Williams' entire semifinal victory yesterday afternoon. 75 minutes.
Remarkable!
The action continues to go back and forth in this battle of attrition. Nadal and Djokovic traded a pair of break points in the set, holding serve otherwise.
That all adds up to a 7-6 advantage for Nadal. Now it's Djokovic's turn to prolong the action. The pace is beginning to slow a bit as both stars battle growing fatigue.
Nadal, Djokovic swap games, knotted at 5-5 as drama grows!
Neither player is wavering in this marathon match, to the delight of a frenzied crowd at Roland Garros. The sports doesn't get much better than this.
With all the hype surrounding this match and the way it has fulfilled expectations, you're not alone if you forget this is only the semifinal round. The winner of this showdown will ultimately be a HEAVY favorite to prevail in Paris.
Penalty costs Djokovic, Nadal capitalizes with break point to even set at 4-4!
Djokovic is called for touching the net after landing a pivotal shot against Nadal. His momentum carried him into the net before the point was conceded, turning the tide of an intense eighth game of the fifth set.
Instead of looking at game point, Nadal gets a break point opportunity. Although he didn't convert on that chance, Nadal earns a break point moments later.
Keep that call in mind moving forward!
Nadal holds serve to trim the deficit to 4-3 here in the final set. Now he looks to steal a break point as Djokovic's nerves are tested.
This match has now lasted for four hours.
Djokovic answers Nadal, takes 4-2 lead in fifth set.
The top-seeded title contender is two games away from eliminating Nadal in a stunning comeback. Djokovic seized control from the get-go in this decisive set by winning a break point and hasn't surrendered that cushion.
Nadal is looking to avoid his second career loss in 59 French Open matches.
As we've mentioned before, Novak Djokovic can become the eighth man in tennis history to complete a career Grand Slam with a French Open title.
The event is his missing link and cost several notable players an opportunity to earn a career Grand Slam. Arthur Ashe, Jimmy Connors, Boris Becker and Pete Sampras are among notable stars who never conquered the competition in Paris.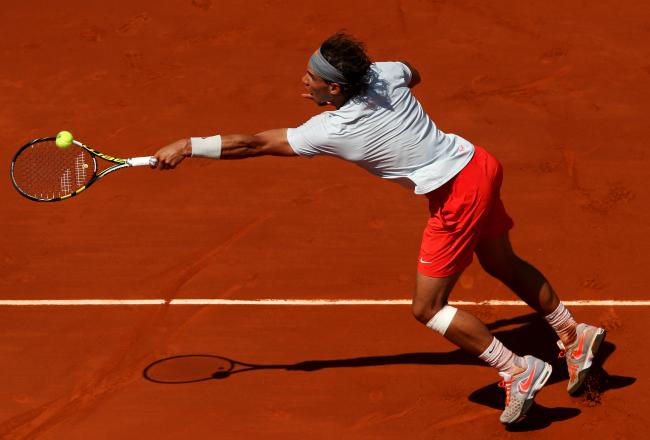 That hallowed red clay of Roland Garros is playing host to a classic clash that is now approaching four hours of action. Djokovic holds serve to take a 3-1 lead in the fifth set of this French Open semifinal.
Nadal now looking at an immensely important serve upcoming.
Djokovic leads 2-1 in fifth set!
John McEnroe just called Novak Djokovic the greatest returner in tennis history. Hi praise from a living legend.
Djokovic's uncanny return ability earned him a break point in the opening frame in this set but Nadal held serve next time around to cut the deficit to 2-1.
Rafael Nadal stumbles out of the gates in fifth set, starting things off with a double fault. His confidence is clearly wavering after coming so close to a match victory and allowing Djokovic to rally.
Djokovich opens the decisive set with a break point.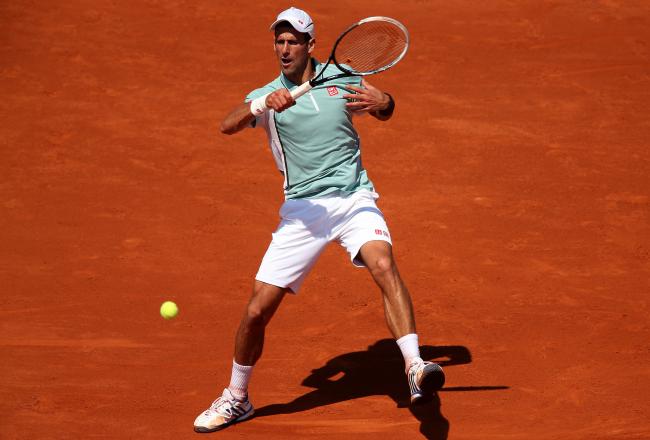 Djokovic prevails in fourth-set tiebreaker!
It's all on the line in set No. 5 after Novak Djokovc claimed a 7-6 victory in a do-or-die fourth set. He rallied from a late deficit and claimed a break point to force a tiebreaker, where the tourney's top seed surged to a 7-3 advantage.
For just the second time in his nine-year French Open career, Rafael Nadal is headed to a fifth set. He was just two points from claiming a victory in that fourth set, while holding serve.
Djokovic continues to ride a late wave of momentum. He now leads Nadal 4-2 in a tiebreaker session.
The top seed appeared to be on his last legs not to long ago. Instead, he's inching closer toward a fifth set.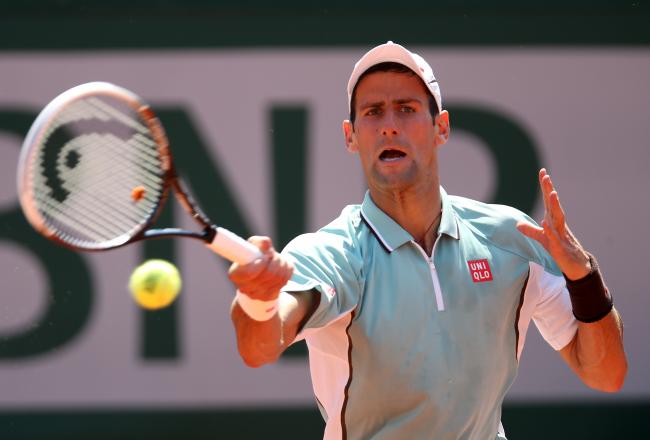 Djokovic lives up to his billing as one of the game's great returners! He forces a tiebreak by picking up a do-or-die break point.
A French Open title is the final hurdle remaining for Djokovic on his way to a career Grand Slam and he isn't ready to five up on the dream just yet.
Djokovic down to last chance as Nadal picks up break point!
Rafael Nadal is now serving with an opportunity to win the match. He won a break point to take a 6-5 lead in the fourth set.
Djokovic must respond with a break point of his own to prolong this battle.
File this back-and-forth match as another vintage showdown between two all-time kings of the sport.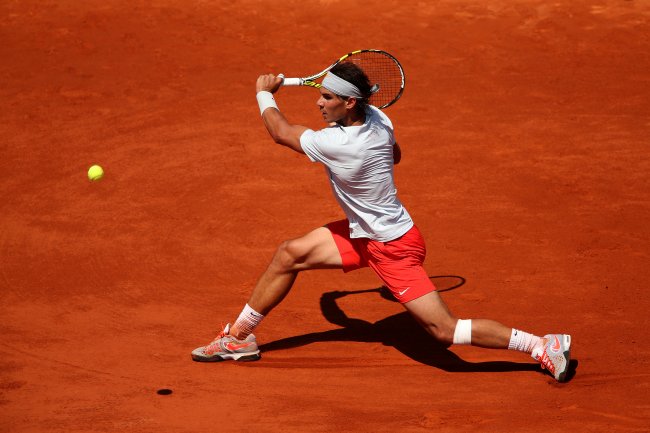 Clive Brunskill/Getty Images
Nadal takes care of business on his serve to knot things up at 5 games apiece here in the fourth set. We're starting to see both players deal with traction issues as the clay surface dries out.
Djokovic steps up at the right time to take 5-4 lead in fourth set!
Great players have a penchant for rising to the occasion and we're seeing top-seeded Novak Djokovic do just that right now at Roland Garros.
Trailing 4-3, he picked up a must-have break point. Djokovic followed by holding serve and is now within striking distance of forcing a fifth set.
Nadal claims 4-3 advantage, two games away from trip to French Open finals!
Nadal uses a break point to seize control.
It's gut-check time for Novak Djokovic, who is staring at a one-game deficit in this do-or-die set. Nadal, 57-1 at the French Open, looks to close things out.
Djokovic and Nadal locked in 2-2 tie in fourth set.
As we witness another marquee match unfold at the French Open, it serves as a reminder of the current Golden Age that has overcome men's tennis.
Three all-time greats have absolutely dominated competition during recent action. Roger Federer (13), Rafael Nadal (11) and Novak Djokovic (6) have won 30 of the past 32 Grand Slam titles.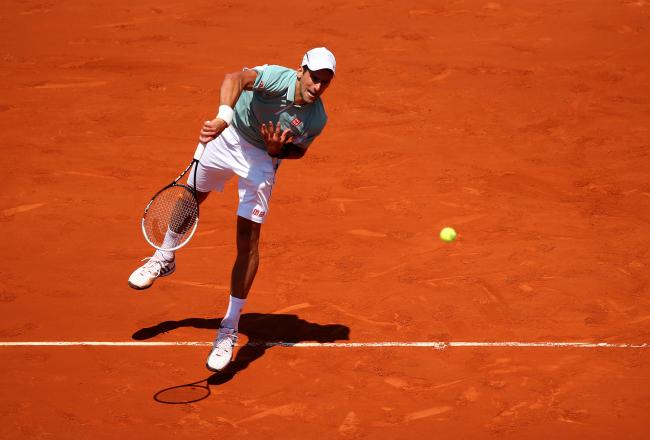 Action even at 1-1 in fourth set.
Djokovic takes opening game of the fourth set before Nadal answered by holding serve. He has won three of four Grand Slam matches against Nadal but has a tall task at hand.
Nadal has lost two sets just twice in his French Open career.
Nadal wraps up third set, 6-1!
Djokovic ended the second set winning four straight games but failed to sustain that success in the third frame. Nadal claimed five consecutive victories en route to a somewhat stunning 6-1 set win.
Nadal heads to the fourth set leading 2-1. He's one set away from yet another French Open finals.
For Djokovic, he's down to a last chance to change his fortunes at Roland Garros. This is the only Grand Slam event he has yet to win.
As I mentioned before, Djokovic has essentially shifted into cruise control here in third set after falling behind so swiftly.
This article is
What is the duplicate article?
Why is this article offensive?
Where is this article plagiarized from?
Why is this article poorly edited?