2013 MLB Draft Results: Future All-Stars Taken in Round 1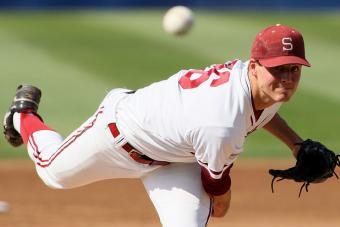 Courtesy of Stanford University

In Major League Baseball today, rookies are arguably more valuable than ever.
That's because after the 2012 season in which Bryce Harper and Mike Trout took the sport by storm, MLB executives understand how drastically young, top-flight talent can alter the fortunes of an entire franchise. With a decidedly solid crop of prospects on the market this year, a number of teams have significantly improved their rosters for the foreseeable future.
With Day 1 of the 2013 MLB draft in the books, here's a look at some of the teams that will look back on this evening fondly after having snatched up future All-Stars early in the draft.
Mark Appel
It isn't every year that the No. 1 pick is a slam dunk to be a star in MLB, but in the case of this draft, Houston's Mark Appel is just that.
Appel, who almost went to the Astros last year when Houston held the top pick, fell to Pittsburgh at No. 8, but the then-junior opted to return to Stanford in hopes of improving his stock among MLB scouts.
The move paid off, as he dominated the competition, going 10-4 for the Cardinal, pitching four complete games along the way.
Ironically, the decision not to draft Appel in 2012 will likely pay dividends for the Astros as well, because after such a strong senior campaign, the Houston native appears to be much closer to being ready to suit up for his hometown team.
After breaking a slew of records at Stanford, it's nearly time for Appel to assume his position as a franchise cornerstone for the Astros, and given how well he played this season, that may come sooner rather than later.
Austin Meadows
When prep star Austin Meadows fell to the Pirates at No. 9, Pittsburgh quickly snatched up the immensely talented outfielder, and rightfully so because players with his potential aren't around that late in the top 10 very often.
Meadows, who has committed to play for Clemson in the fall if he doesn't sign, slipped to the Pirates only due to his lack of experience against elite-level competition, but after hitting .535 as a high school senior in Georgia, he's clearly got the potential to carry that success over to the next level.
With his speed, arm, bat speed and raw talent at the plate, the lefty will be a standout in the majors. The only question is whether he'll have the power to put up big offensive numbers at the next level.
Kris Bryant
The Cubs got a potential franchise player in Kris Bryant at No. 2, as the San Diego star is coming off one of the most dominant offensive seasons in recent NCAA history.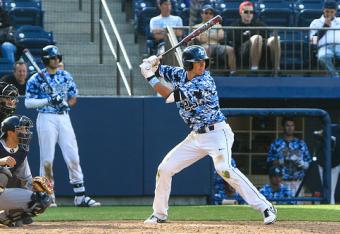 Bryant, who accounted for 31 of his team's 64 homers in 2013, has the power, discipline and eye of a traditional slugger, but also boasts impressive speed for a 6'5" third baseman, which has Cubs fans drooling at the prospect of having him anchor the heart of the order in the near future.
Though Bryant may need some seasoning before he makes the jump, he's got the raw talent, instincts and physical gifts to be a star, and given how much he's grown during his three years at San Diego, he'll blossom into a Cubs offensive stud very soon.
Colin Moran
After gutting the team of virtually all of its marketable talents, the Miami Marlins got a blue-chipper in Colin Moran with the sixth overall pick in the draft.
Moran, a University of North Carolina product, is a quality third baseman, who might have gone No. 2 had Bryant not been in this class, but the Marlins will be happy to find that they managed to get an elite prospect outside the top five.
As a junior, Moran batted .348 with a team-high 13 homers, but what's even more encouraging is how much the Rye, New York, native has improved during his three seasons with the Tar Heels, as his junior home run totals were more than his previous two seasons combined.
With the Marlins lineup looking dangerously thin, Moran could be starring for Miami before virtually everyone else from his class.
This article is
What is the duplicate article?
Why is this article offensive?
Where is this article plagiarized from?
Why is this article poorly edited?