5 Biggest Issues Facing the Washington Redskins as Mandatory Minicamp Approaches
Patrick McDermott/Getty Images
The Washington Redskins surprised many with their playoff campaign in 2012. They made an early exit after losing to the Seattle Seahawks in the first round, also losing Robert Griffin III to a torn ACL and LCL in his right knee.
In addition to Griffin's health, the Redskins are facing other issues that could derail another playoff run.
From the myriad of rookies that will be fighting for roster spots to how individual players will recover from injury—not just RG3—this list will deal with any issues that could effectively cost the Redskins their 2013 season. The rankings are based on how important each subject is the success of the Redskins.
*All Stats are from ESPN.com
Honorable Mentions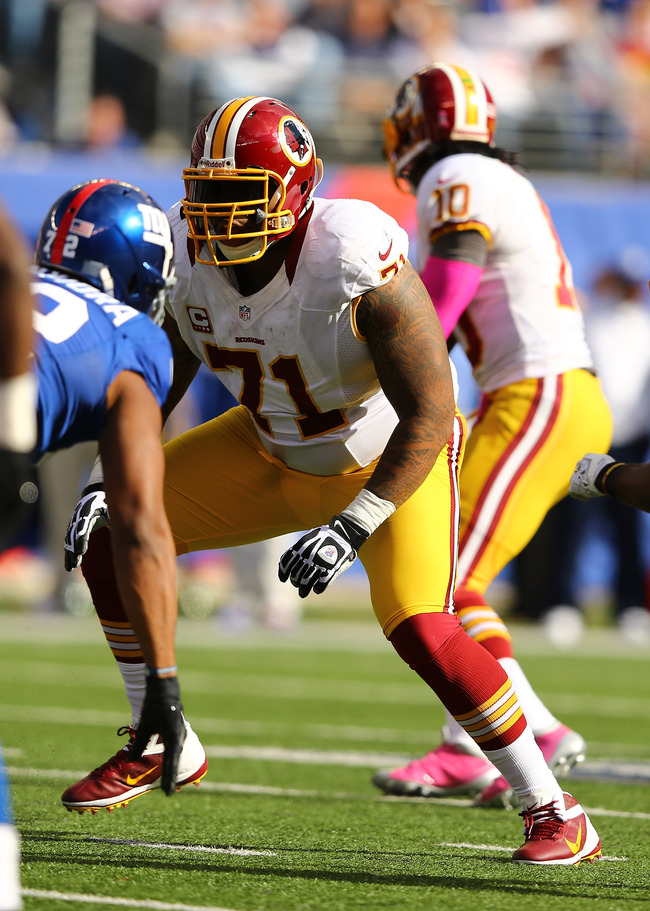 Al Bello/Getty Images
One of the biggest issues that the Redskins have had for years—while not pressing—is their inability to find a competent kick or punt returner. Many imagined Brandon Banks being that guy for the past few seasons, but his lack of size and consistency led him to the bench.
A kick returner won't make or break a season, but having a game-changer in the returning game would make the Redskins a much more dynamic team.
Another question heading into minicamp is how rookie David Amerson will acclimate to the defense. He led the nation in interceptions his sophomore year at N.C. State, but he failed to live up to those expectations the following season. If Amerson can eliminate the mistakes he made in his last season of college, he can be the eventual cornerback to take over for Deangelo Hall.
The last issue embodies a few problems within Redskins camp. The offensive line played surprisingly well last season but at times remained inconsistent. If Trent Williams can continue to anchor the line, the Redskins will dominate the run game.
5. Can London Fletcher Continue to Dominate?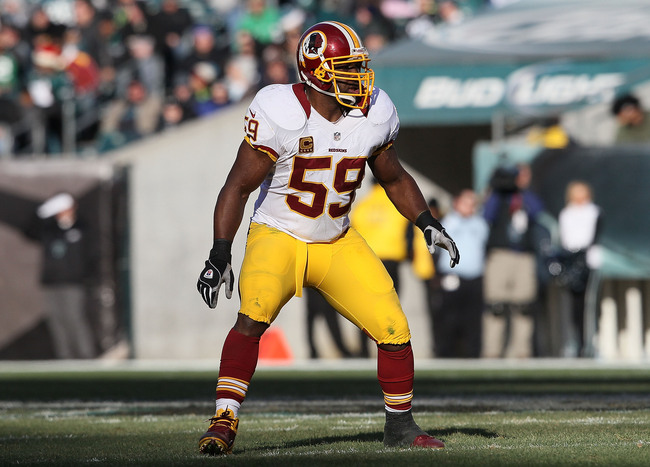 Alex Trautwig/Getty Images
London Fletcher has been the anchor for NFL defenses for the past 15 seasons, and the Redskins side for the last six; his consistent play and leadership abilities have truly brought the Redskins front seven together.
However, the 38-year-old linebacker is entering his 16th season in the NFL. Despite his unbelievable career—starting every game in every season—Fletcher's time in the league is clearly coming to a close.
For the Redskins defense to be successful, it needs Fletcher to continue his effective play for the next few seasons. Perry Riley might be his successor in the middle but clearly doesn't have the same level of talent as Fletcher.
Until a true replacement is drafted, the defense will continue to rely on Fletcher. If he can continue to get triple-digit tackles, Washington's front seven will be in good shape.
4. Who Will Be the Starting Safeties?

Redskins Poor Defensive Ability

Last season, the Redskins had a conveyer belt of starting safeties. Through injuries, suspensions and overall bad play, the Redskins were never able to find two consistent safeties to play the position effectively.
In this video, our safeties had no idea the situation they were in and played the ball terribly. With the Redskins up three points after RG3 marched them down the field, and with only one minute left, the Redskins just needed to play safely.
They did not.
The Redskins fell behind on a go route from Victor Cruz, and they lost the game.
They addressed this clear issue in the draft by picking Phillip Thomas and Baccari Rambo, two hard-hitting, playmaking safeties, but they are not shoe-ins for the starting roles.
The starting-safety battle was very competitive last year without these two rookies, so the competition will be even more grueling come minicamp.
If the Redskins can get two competent safeties out of the many participants—Thomas, Rambo, Reed Doughty, Brandon Merriweather, Jordan Bernstine, DeJon Gomes—their secondary will greatly improve next season.
3. Can Orakpo Stay Healthy?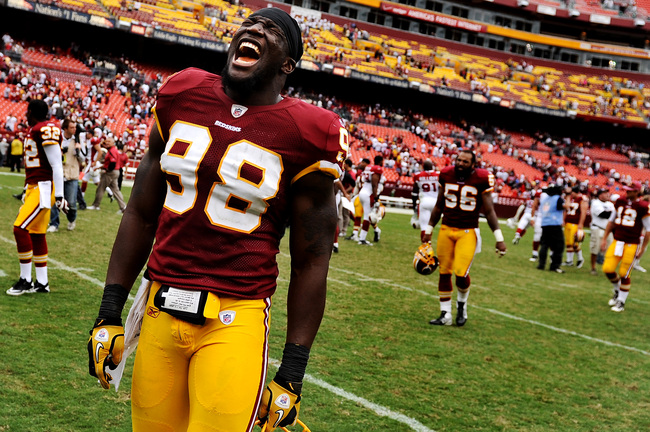 Patrick Smith/Getty Images
Brian Orakpo is a Redskins fan favorite, but was barely able to start last season. Expectations for the outside linebacker duo of him and Ryan Kerrigan were very high, but a pectoral injury in Week 2 quickly dampened them.
When healthy, Orakpo is an absolute force. He has the rare combination of power and speed that leads to one thing and one thing only: sacks. In his first three seasons, he was had 28.5 sacks.
Last season, he only had one, but that was in just over one game. With a few Pro Bowl trips under his belt, he has proven that he can be a dominant pass-rusher in the NFL.
If the Redskins linebacker can stay healthy, Washington will be able to absolutely dominate opposing offensive lines come next season. Most teams have one great pass-rusher, but with two—in Orakpo and Kerrigan—the Redskins will have one of the most talented linebacking tandems in the entire NFL.
2. Sophomore Slump?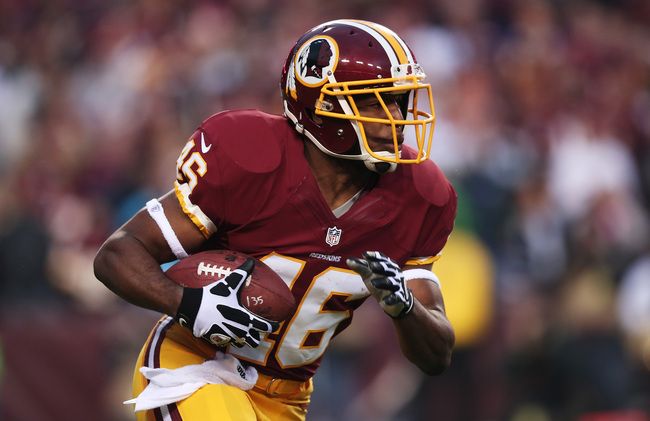 Win McNamee/Getty Images
The Redskins thrived last year because of RG3 but exceeded expectations because of rookie running back Alfred Morris. The sixth-round pick out of Florida Atlantic not only won the starting job, but also became one of the premier running backs in the league.
Mike Shanahan has made a career of turning late-round running backs into stars—Terrell Davis, Clinton Portis—and clearly did the same with Morris. He racked up an unbelievable 1,613 yards and 13 touchdowns, earning himself a few rookie-of-the-year votes and national recognition.
Morris was the second-most important player on the Redskins offense last season. His success opened up the field for RG3. Without Morris, Griffin III wouldn't have had the same success.
Often times a player who exceeds expectations in his first year can't live up to those same expectations the following season. If Morris can continue to pound the ball successfully, the Redskins offense won't take a step back in 2013.
1. RG3's Knee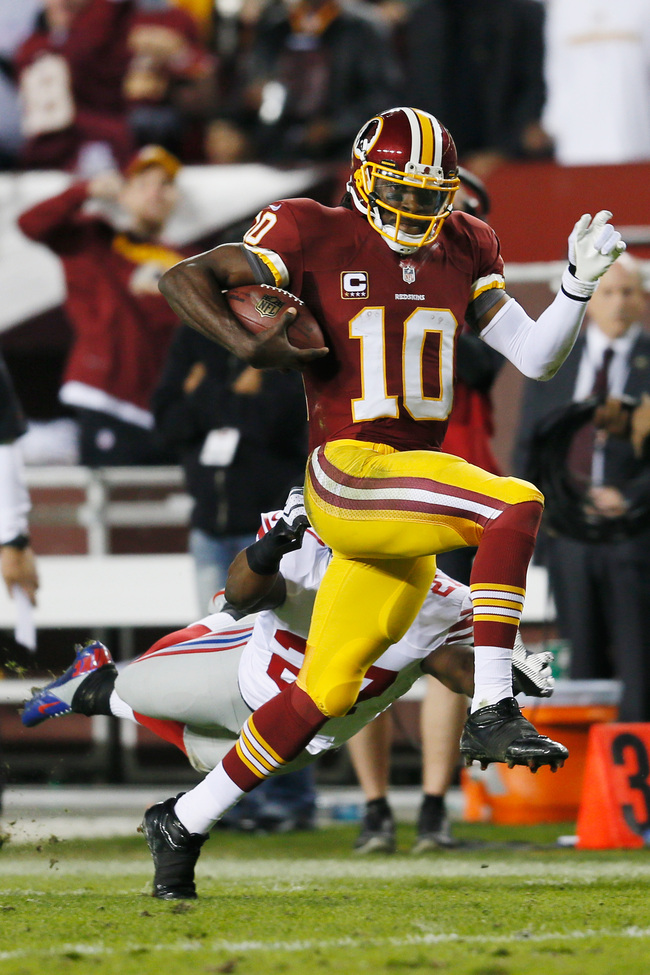 Rob Carr/Getty Images
The single most important person in the Redskins organization is Robert Griffin III. He brought Washington its most exciting season since the Redskins won the 1992 Super Bowl. His health and his recovery is by far the biggest question going into minicamp and going into next season.
His exciting season was capped off by winning The Associated Press 2012 NFL Offensive Rookie of the Year Award. However, his injury came at an unfortunate time, as he won't have the full six-to-eight months to recover.
But reports, like this one from ESPN's Adam Schefter (and commercials) continue to say that RG3 is preparing to start Week 1.
This is unbelievable news for Redskins nation.
Kirk Cousins is a great backup, but that's all he is. Without RG3, the Redskins are not a playoff team.
Keep Reading

Washington Redskins: Like this team?