What's Next for the Indiana Pacers?
Mike Ehrmann/Getty Images

The Indiana Pacers had a tremendous run this season.
They did what nobody thought they could do—push the Miami Heat to the brink of elimination.
But alas, they eventually came up short.
The Pacers head into this off-season with a new sense of optimism, but also plenty of unanswered questions.
Here are the five biggest issues facing the Pacers heading into this off-season.
Begin Slideshow

»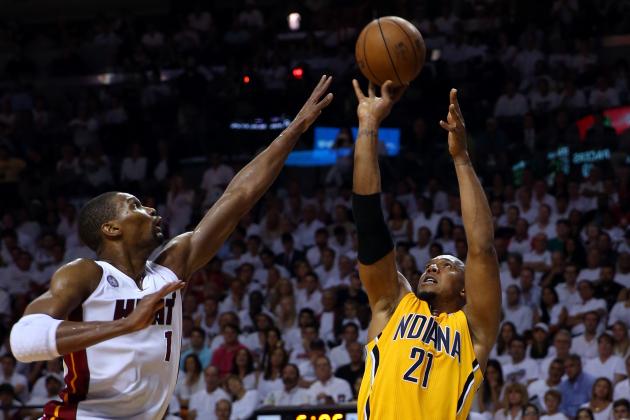 Mike Ehrmann/Getty Images

This season, David West cemented himself as one of the league's premier low post scorers.
Even more than that, he showed just how valuable he was to this team.
West is the type of player that every team wants. He has a way about him that inspires and motivates. He is a throwback to the days when power forwards were actually powerful. He refuses to back down from anyone and his teammates completely pick up on that vibe.
But now comes the tough part. The Pacers head into this off-season probably in the neighborhood of $8 million under the salary cap for next season. But they still have to exercise the team option on Lance Stephenson and they have plenty of other holes to fill as far as re-signing their own free agents.
But West is the top priority for this team.
This year, he made $10 million and he certainly earned it.
Now the Pacers have to figure out just exactly what he is worth and for how long.
Chances are, the Pacers are going to want to sign him for four years or less. A three year deal in the neighborhood of $10 million per season would be good, but there is a chance West could have multiple suitors.
But the Pacers must re-sign their big man.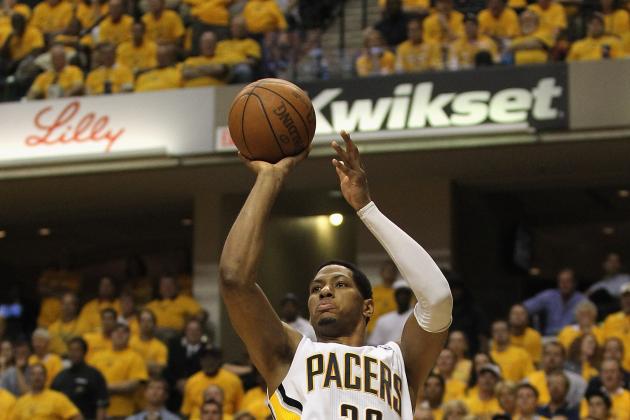 Jonathan Daniel/Getty Images

Danny Granger was the face of the post-Jermaine O'Neal Pacers.
He was a consummate professional, always did the right thing on and off the court and could score like few others in the league.
But after injuries robbed him of this season, he has also lost his spot as the alpha dog of this team.
Paul George has cemented himself as one of the league's elite young wings.
Sure, the Pacers could bring back Granger and try to pair the two together, but an even better idea would be to move their former All-Star small forward.
Granger has plenty of value on the open market, especially given the lack of elite scoring wings in the league.
The Pacers could potentially move Granger for a strong bench scorer, or another big man to add depth up front. Or, they could choose to load up on young talent or an upgrade at backup point guard.
Granger certainly has trade value and the Pacers would be wise to explore just how much they can get for him.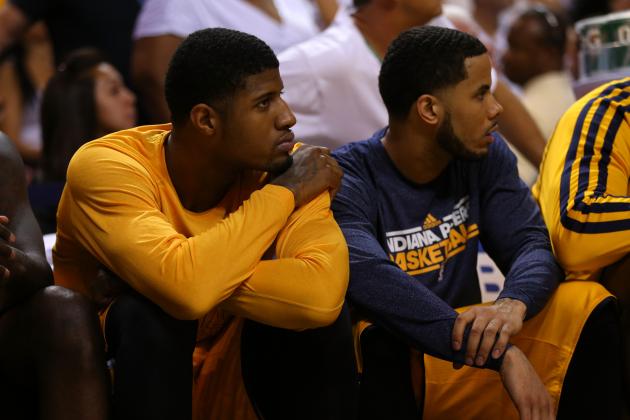 Mike Ehrmann/Getty Images

The Pacers were within a game of the NBA Finals despite the fact that their bench consisted of Tyler Hansbrough, D.J. Augustin and Sam Young.
Miles Plumlee, Gerald Green and Jeff Pendergraph were no shows in the playoffs. Sure, Ian Mahinmi gave the Pacers the opportunity to rest Roy Hibbert from time to time but he really didn't offer any kind of dynamic play.
The Pacers struggled to get points off the bench, forcing them to rely way too much on their starters for scoring.
What the Pacers need is a dynamic scorer off the bench. They need to bring in a combo guard like the Detroit Pistons' Rodney Stuckey, the Los Angeles Clippers' Jamal Crawford or the Philadelphia 76ers Nick Young.
They need a selfish scorer to come off the bench and add a new dynamic to this team.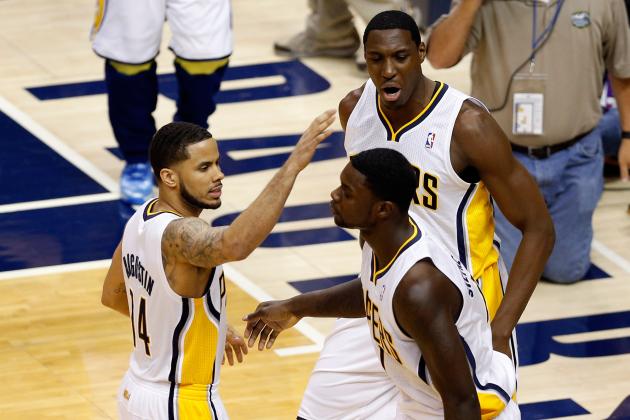 Joe Robbins/Getty Images

The Pacers have been searching for their ideal point guard combo for years.
For awhile, they settled on Darren Collison, with George Hill backing him up.
Obviously, Hill took the job and Collison left town.
So the Pacers took a flier on D.J. Augustin in the hopes that he could re-discover the game that led him to be a lottery pick.
Overall, Augustin didn't have a terrible year but he really didn't add anything to this team.
He really only had a few good performances in the playoffs and none against the Miami Heat.
The Pacers are happy with their point guard play when Hill is in the game, but they need to find a better backup.
They could opt for a combo guard with some size, a shoot-first scorer or a pass-first option.
The good news is that they have some options. There are a few solid options in free agency—such as Will Bynum, Jarrett Jack and Earl Watson amongst them.
There are also a ton of solid point guards in this year's draft, although the Pacers have other needs to worry about.
At the very least, the Pacers should be able to upgrade this spot.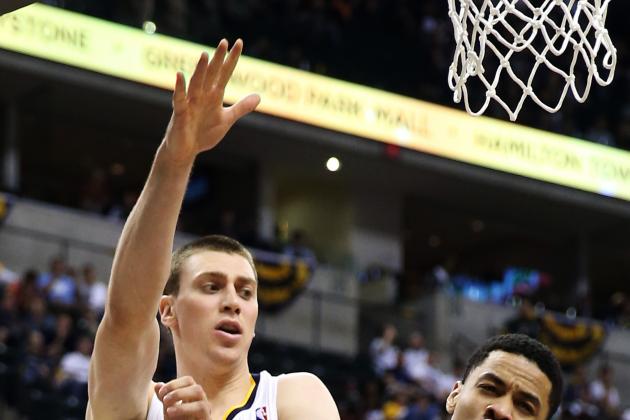 Andy Lyons/Getty Images

The Indiana Pacers thought that they had solved their lack of athleticism coming off the bench when they brought in Gerald Green.
Green was coming off of a really nice run in New Jersey for the Nets after being out of the league for a couple years.
But he found playing time much more difficult to come by in Indiana and eventually found himself outside of the playing rotation in the playoffs.
The problem with Green this year was that he just couldn't shoot. He finished the season averaging a pathetic 36 percent from the field.
His athleticism was not on display like it was last year and he essentially was a wasted pickup.
The Pacers need to bring in another athlete on the wings.
They shouldn't break the bank, but rather find a specialty player that can help on defense or in transition.
They could take a chance on Wesley Johnson or spend a little extra cash and bring in a player like Corey Brewer or Nick Young.
The bottom line is that they need to upgrade their bench wings.