10 High-Risk, High-Reward Prospects in the 2013 NHL Draft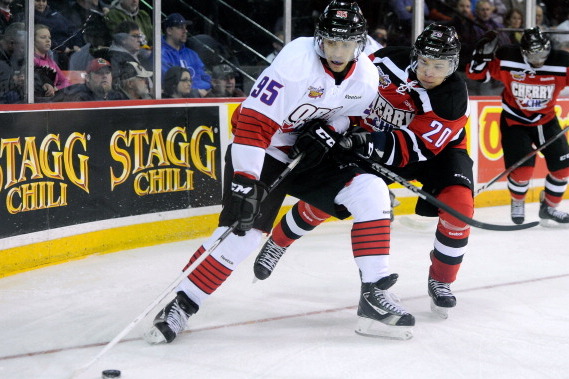 Richard Wolowicz/Getty Images
Top Prospects Battle at the 2013 CHL Top Prospects Game
The 2013 NHL Draft features a number of players who should have both an immediate and long-term impact on the organizations that select them.
Seth Jones, Nathan MacKinnon and Jonathan Drouin are the top-ranked prospects and are as near to being sure bets as there can be with eighteen-year-old hockey players.
While NHL clubs can be confident in knowing what they have with blue-chip prospects like Jones, MacKinnon and Drouin, there are question marks associated with most draft-eligible players.
The following 10 players, in ascending order, are high-risk, high-reward prospects.
They have tremendous upside, but lingering questions have influenced their draft rankings.
Begin Slideshow

»
Bogdan Yakimov carries some risk in that many young Russian stars, particularly those who do not compete in North America as juniors, are not locks to join their NHL teams after being drafted.
However, Yakimov is even larger than the highly-touted Valeri Nichushkin.
Yakimov is 6'5" and 202 pounds. He is the power forward whom most NHL teams continue to seek, especially at the center position.
He is not a gifted playmaker but has good scoring touch for a big man. The reward to the NHL team that selects him could be great.
If Jordan Subban were three inches taller, there would be no risk in selecting him in the 2013 NHL Draft.
However, Subban, at 5'9" and 177 pounds, can be considered high risk in that he might not be able to have an impact at the NHL level.
Subban would likely need to add some weight to play at the next level, although he is basically the same size as Boston Bruins defenseman Torey Krug.
Jordan also has a lot to learn in the defensive zone, but he has tremendous offensive gifts.
He is creative and can generate offense from the point–something that all NHL teams are looking for in today's game.
Some would argue that predicting goaltending brilliance with any 17- or 18-year-old is difficult.
Marc-Andre Fleury is a former first overall pick who is now languishing as the backup with the Pittsburgh Penguins.
Considering this, Eric Comrie of the Tri-City Americans would be a high-risk selection, especially in the first round. However, Comrie could be worth the risk.
Eric is very athletic, posted a solid .915 save percentage this past season and continues to grow.
He will not be making the jump to the NHL for years, but if an organization needs a quality prospect, he should be considered at the upcoming draft.
Once again, the KHL is a factor in considering the risky, but very talented Anton Slepyshev.
Slepyshev was eligible for the 2012 draft but went undrafted with all of the questions surrounding his availability to join an NHL team.
He is a former first overall selection in the KHL draft, and his skill cannot be questioned. Anton is not as dynamic a skater as some top prospects, but his puck-handling ability with speed, combined with a very good shot, is excellent.
Slepyshev is under contract until 2013-14, so it will be interesting to see if anyone takes a chance on this talented winger.
J.T. Compher is the type of player every NHL team wants and needs in its lineup.
He is a super-pest in the tradition of Ken Linseman, Esa Tikkanen and Brad Marchand.
The product of the U.S. National Team Development Program has a highly refined two-way game that is suited for third-line play in the NHL.
While Compher is unlikely to be a top point producer at the NHL level, he could develop into a valuable NHL agitator with some skill in a few years.
Like many players who play the game on the edge, Compher will find channeling his emotion and aggression to be the challenge in the years to come.
Adam Tambellini will not be available to an NHL team for a few seasons with his commitment to the North Dakota Fighting Sioux.
Also, the former Vernon Viper of the BCJHL has not played against top competition.
However, as the son of former NHL player and general manager Steve Tambellini, and the brother of former NHL player Jeff Tambellini, he has been around the game all of his life.
Tambellini has yet to prove himself against his best peers, but with his 6'2" frame, exceptional hockey IQ and a great shot, Tambellini has a lot of upside despite some risk.
NHL teams should begin to consider him early in the second round despite his ranking indicating something lower.
Nicolas Petan has the skills to play at the NHL level and may be a top-line producer.
At 5'9" and 165 pounds, the risk is whether or not he can continue to battle and score at the NHL level against top defensive talent.
Petan is a heady player, and the comparisons to Martin St. Louis are obvious when you watch his game. If he can transition to the wing, where he is likeliest to have the most success, he could be an impact player in the NHL
With the success he had in the rough-and-tumble WHL this past season with a league-leading 120 points, do not bet against him.
Eric Roy of the Brandon Wheat Kings offers mobility and goal-scoring ability as a defenseman, something all NHL organizations are seeking.
However, he also earned a -32 plus/minus rating in the 2012-13 WHL season. Granted, Brandon was not a strong team.
Roy has a lot of room to grow in the defensive end. He epitomizes a high-risk, potentially high-reward player in the 2013 draft.
Hunter Shinkaruk is one of the most talented players in the 2013 draft.
The Calgary product can play a gritty game, but at 175 pounds, there are legitimate questions if he can withstand the NHL grind.
Shinkaruk has an excellent all-around game that features playmaking abilities and a penchant for scoring goals in bunches.
Without the talented Emerson Etem as a linemate this year, his point totals fell from 91 to 86. This is not a trend that evaluators like to see.
Despite this slight dip, the reward far outweighs the risk, and Shinkaruk is worthy of being a top-10 pick.
Max Domi has skill to burn. The London Knights star proved night after night that he is one of the top junior players in the CHL.
At 5'9", Domi is considered undersized by some, but at nearly 200 pounds he has the build to more than handle the rigors of an 82-game schedule.
As it stands, Domi's defensive game is not where it needs to be for him to play top-line minutes at the NHL level as a center.
But with Domi's obvious skill with the puck, he has the potential to bring high reward to the team that drafts him in late June.