NHL Prospects Set to Be Offensive Standouts 2013-14 Season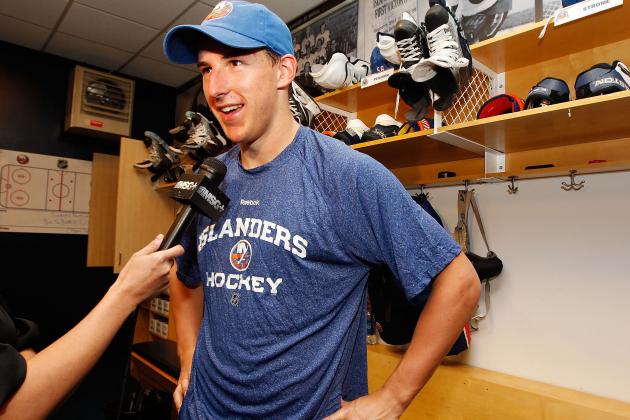 Mike Stobe/Getty Images

Steven Stamkos wasn't always the offensive threat he is today, and during the upcoming season prospects like Jonathan Drouin, Nathan MacKinnon and Ryan Strome will have a chance to set the league on fire.
There are a number of prospects with amazing offensive potential, and the 2013-14 season will give them an opportunity to showcase their talents. Here are the top prospects set to be offensive standouts during the 2013-14 season.
Begin Slideshow

»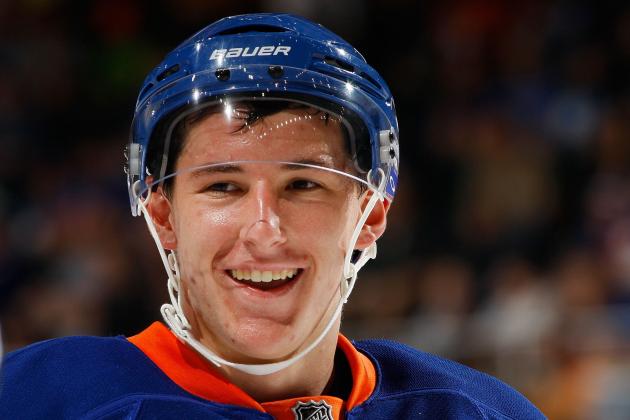 Mike Stobe/Getty Images
Strome is the Islanders' top prospect.
Ryan Strome tallied 94 points in 53 OHL games with the Niagara IceDogs in 2012-13, and he has a great chance to make an impact with the New York Islanders in 2013. At 6'1" and is almost 190 pounds, Strome is a sleek but strong forward with great offensive instincts.
Strome has great hands, he has a solid shot and he is calm under pressure. He made the jump to the AHL level once he finished his season with the IceDogs, and he netted seven points in 10 games. Strome will have the opportunity to play with John Tavares during the 2013-14 season, and that could be a very lethal duo.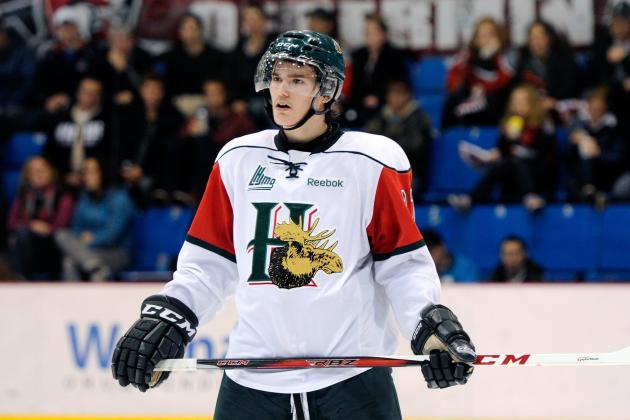 Jonathan Drouin is a top offensive prospect who should be a lottery pick at the NHL draft later this month. Drouin was a member of the Halifax Mooseheads of the QMJHL, and he had an explosive season.
The Mooseheads' winger had 105 points during the regular season and had 35 points during the playoffs. Drouin is an explosive skater with great hands, and he is a sniper who will likely be a contender for the Calder Trophy.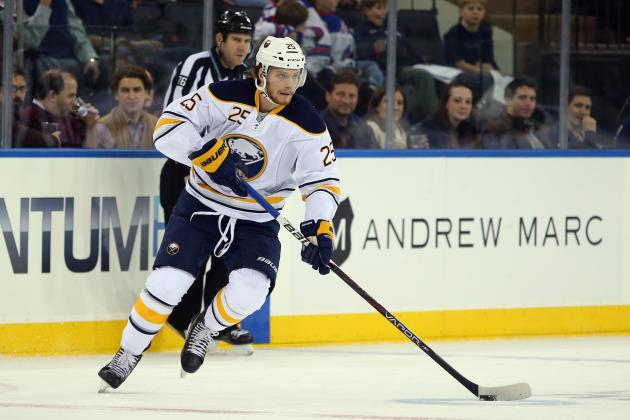 Bruce Bennett/Getty Images
Grigorenko should bounce back in 2013-14.
Mikhail Grigorenko had a bumpy start to his NHL career, but the Buffalo Sabres' prospect should rebound in 2013. He is a smart player with talent, and a full training camp and preseason should help his development.
Grigorenko is a 6'3" center who has great vision, but he had trouble adjusting to NHL action. The Sabres sent Grigorenko back to the Quebec Remparts when he struggled, and during his return to the QMJHL he dominated.
Grigorenko's blend of size, speed and skill should allow him to help the Sabres in 2013-14, and an 82-game season will allow him to develop some consistency.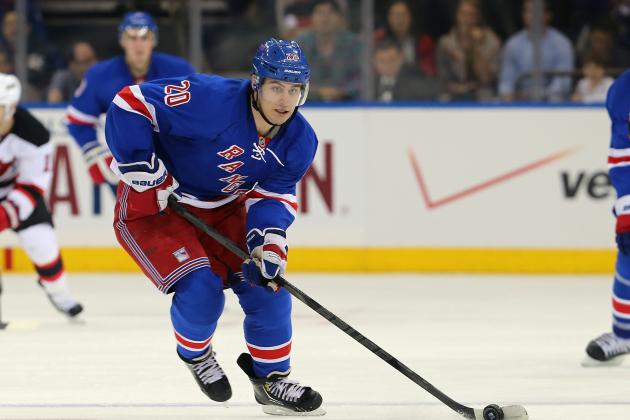 Bruce Bennett/Getty Images
Kreider has offensive talent that he can utilize in 2013-14.
Chris Kreider will have everything in his favor to start the 2013-14 season, and he should be able to thrive. With Carl Hagelin and Ryan Callahan questionable to start the season, Kreider should make the Rangers' top six out of training camp.
John Tortorella is gone, and Kreider will have a fresh start with a new coach that will evaluate what he can do for the team. Kreider has great offensive characteristics, and he was given limited ice time while Tortorella was behind the bench because of his inability to play consistent defense.
After a full training camp and preseason Kreider should be ready to prove himself, and if he doesn't get it done he will have no one to blame. This year could be huge for Kreider, and many are interested to see what he can do.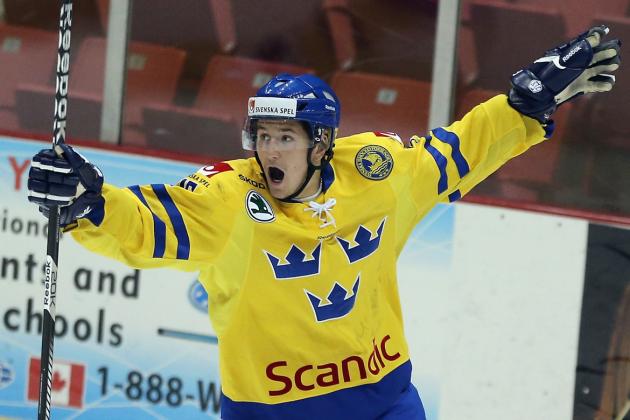 Bruce Bennett/Getty Images
Forsberg has a unique blend of talent.
Filip Forsberg was traded by the Washington Capitals to the Nashville Predators for Martin Erat in a deal that George McPhee will regret. Erat was a non-factor for the Capitals after being traded, and Forsberg is a player who could be a monster for the Predators.
The Predators have never had an elite scorer, and Forsberg has the potential to become that player. Forsberg is a 6'1" two-way winger with great speed, instincts and offensive potential.
With the Predators, Forsberg should get premium minutes and will have many opportunities to be an impact player. In 2013 Forsberg will get to showcase many of his talents, and this youngster should be in the running the NHL's Calder Trophy for rookie of the year.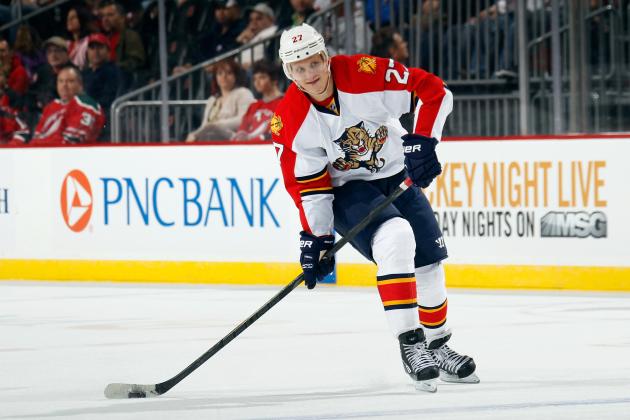 Bruce Bennett/Getty Images
Bjugstad is going to be an offensive monster.
Nick Bjugstad is joining a Florida Panthers team that will feature some serious skill in 2013. The 6'6" 215-pound center is going to be an absolute monster. He has size, speed and can really make magic with the puck.
Bjugstad is also a solid penalty killer, is great on the power play and can pass and shoot the puck with skill and accuracy.
In his last 80 games at the NCAA level, Bjugstad had 78 points, and he was solid in all three zones. Bjugstad has great offensive instincts, is a physical hitter and a great all-around player.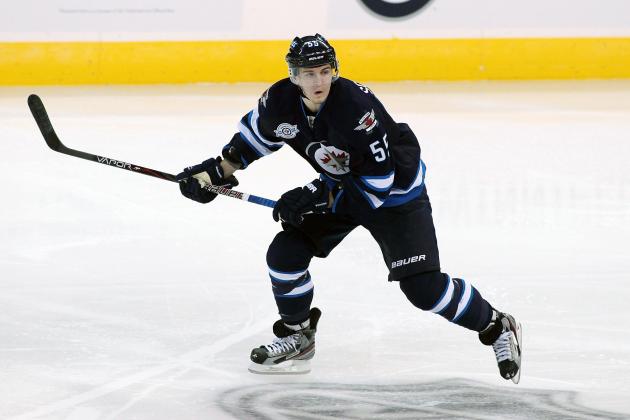 Marianne Helm/Getty Images
Mark Scheifele should start with the Jets in 2013-14.
Mark Scheifele is one of the Winnipeg Jets' top prospects, and he should be on the team's roster in 2013-14 after a strong campaign with the Barrie Colts in 2012-13. Scheifele had 79 points in 45 games with the Colts, and in 2013 he could be the Jets' No. 2 center.
He is a well-sized forward at 6'3" and almost 190 pounds, and that should allow him to be a dominant puck-carrier. Scheifele is a great passer, has solid vision and could help transform the Jets' top six in 2013.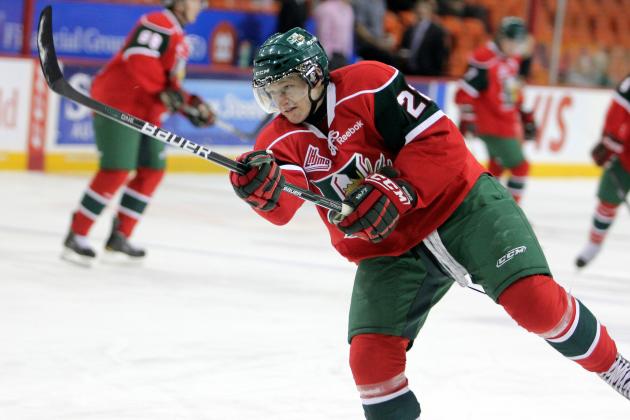 Nathan MacKinnon is a top offensive prospect. (Metro News CA)
Nathan MacKinnon is one of the top offensive prospects eligible for the 2013 draft, and he should be drafted either No. 2 or No. 3 overall. The Colorado Avalanche will likely select Seth Jones, and that will leave MacKinnon on the board.
MacKinnon is the top center in the draft. He is a creative playmaker and has solid instincts that should allow him to transition to the NHL with ease. His smarts and ability to read the ice is a huge plus, and this should allow him to be an offensive standout during his rookie season.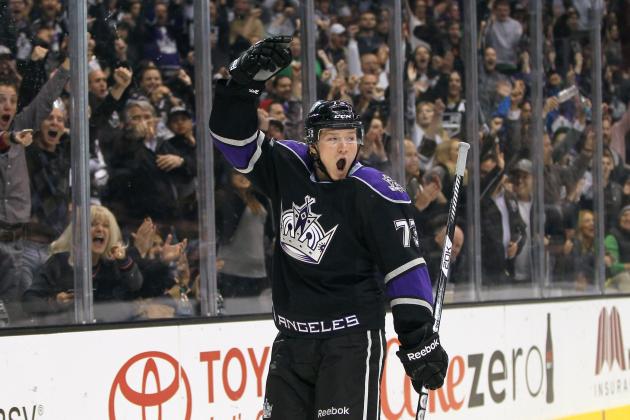 Victor Decolongon/Getty Images
Toffoli should be a Calder Trophy candidate in 2013.
Tyler Toffoli has played well for the Los Angeles Kings thus far in the Stanley Cup playoffs, and he will have a chance to compete for rookie of the year in 2013. Toffoli is a skilled forward who has average size at 6'0" and under 190 pounds, but he knows where to go when he is on the ice.
He isn't a great skater, but he is a solid positional player who gets to the right place at the right time. In 2013-14 Toffoli will have a chance to be a key player, and he has the skill set to do great things next season.