10 Biggest Issues Facing New York Giants as Mandatory Minicamp Approaches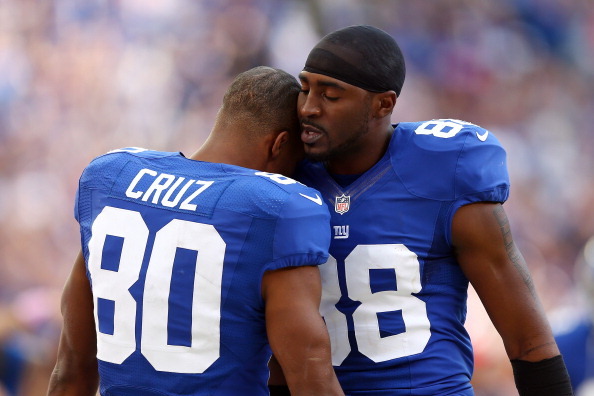 Elsa/Getty Images

With mandatory minicamp around the corner, the New York Giants are looking to put poor finish to their 2012 season behind them and regain the magic of their 2011 Super Bowl campaign.
In order to do that, they must have several key situations work out in their favor.
Some of these issues, such as who wins certain position battles, are fully in the organization's control. Some, such as whether or not key players can stay healthy, are about luck. Others still—whether or not certain receivers decide to show up—will require the cooperation of management with its players.
Regardless of type, the following questions are ones that the Giants must have answered in order to be successful in 2013.
Read on to see the Giants' biggest concerns as minicamp begins.
All stats courtesy of ESPN.
Begin Slideshow

»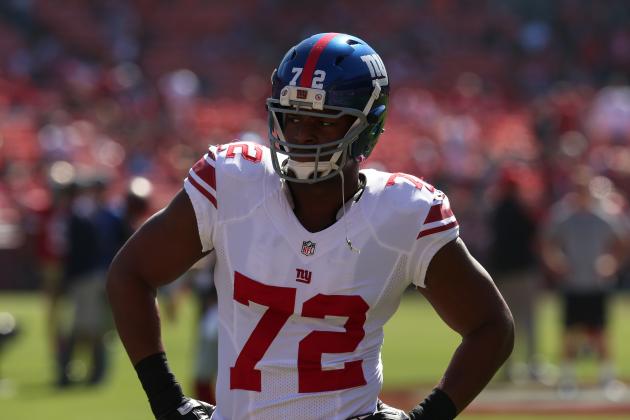 Stephen Dunn/Getty Images

There are other issues the Giants face outside of the ensuing top ten. While not necessarily as pressing, these issues will still affect their performance this upcoming season.
For instance, will the defensive line miss Osi Umenyiora, or was it the right time to part ways?
Who wins the backup quarterback battle? Will the Giants give the clipboard to veteran David Carr or rookie Ryan Nassib?
What position will rookie lineman Justin Pugh play? The Giants' first-round pick played left tackle in college, but his biggest knock during the draft was that his arms were too short to play tackle in the NFL. Will the Giants slide him inside to guard or allow to play his more familiar position?
Also, will kicker Josh Brown adequately replace Lawrence Tynes? Tynes was second in the NFL last season with 33 made field goals, and he missed only two attempts from inside 40 yards. The 34-year-old Brown, who only played last year because the Cincinnati Bengals lost their regular kicker, Mike Nugent, will have to be consistent.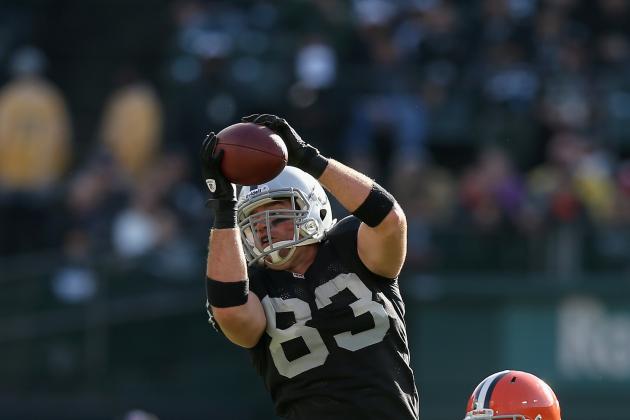 Ezra Shaw/Getty Images

Brandon Myers is coming off a strong 2012 season with the Oakland Raiders, in which he caught 79 passes for 806 yards and four touchdowns.
However, with Myers coming to New York, the Giants will have their fourth different starting tight end in as many years.
The constant turnover actually hasn't bothered quarterback Eli Manning too much. He managed to get the previous three—Kevin Boss, Jake Ballard and Martellus Bennett—at least 500 yards and four scores in each of their respective seasons.
Still, it'd be nice to have some consistency with the position. Myers certainly has the potential to be that guy, but don't expect too much, as he's signed to a one-year deal.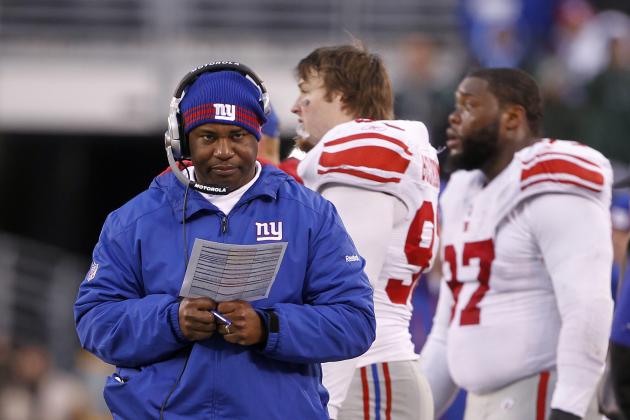 Rich Schultz/Getty Images

The Giants were in control of their own destiny late in the 2012 season. They headed into Week 15 with an 8-5 record and the division lead, only to lose two straight while giving up a combined 67 points.
The defense righted the ship, holding the Philadelphia Eagles to seven points in a Week 17 win, but at that point the Giants lost control of their own fate and didn't get the help they needed to make the playoffs.
Some of the blame has to go to defensive coordinator Perry Fewell, whose unit did not finish on the strongest of notes. In fact, Fewell's defense has gotten progressively worse during his tenure. The Giants ranked seventh in yards allowed in 2010, Fewell's first year in New York. The following year, they fell to 27th. Last season, only the New Orleans Saints allowed more than the Giants' 383.4 yards per game.
If Fewell wants to keep his job, he needs to make the Giants defense respectable again so it can at least give the offense a chance to win games.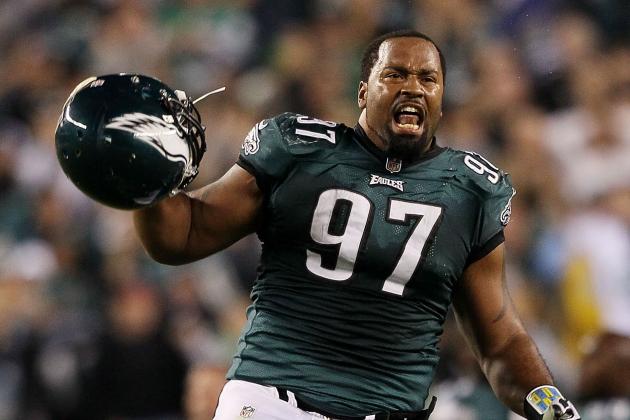 Alex Trautwig/Getty Images

A big reason Fewell's defense has declined is because the line hasn't pressured the opposing quarterback as effectively as it used to. Despite being mediocre in terms of yards allowed in 2011, the Giants were third in sacks during their Super Bowl year. Last year, though, they fell to 22nd in the league, sacking opposing quarterbacks just 33 times.
The Giants could use a guy like defensive tackle Cullen Jenkins, who has 16.5 sacks the last three seasons, to be a disruptive force in the middle. Last year, Jason Pierre-Paul was the only Giant to record more than the four sacks that Jenkins registered.
The 300-pound tackle will also be expected to team up with fellow interior linemen Linval Joseph and rookie Johnathan Hankins to bolster the Giants' 25th-ranked rush defense, which allowed 129.1 yards per game last season.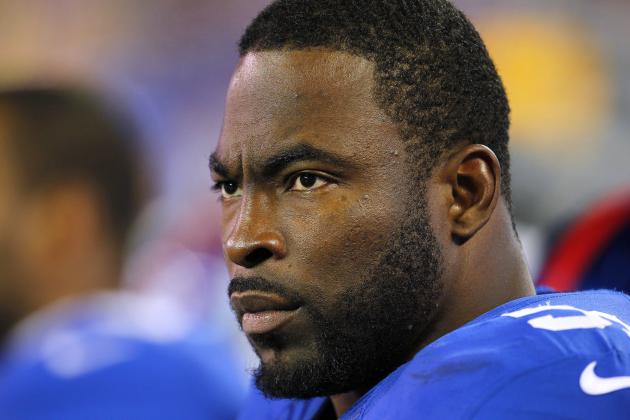 Rich Schultz/Getty Images

The reason Fewell may be on the hot seat and why Jenkins needs to produce is because Justin Tuck, once a staple of the defensive line, has become a shell of his former self.
Bleacher Report's Gary Davenport explained how Tuck's earlier success may have just been byproducts of the Giants system and playing with good teammates.
However, Davenport also said Tuck is now refocusing himself. With guys like Jenkins and Hankins brought in, Tuck could have the pieces around him he needs to succeed again. It may feel like ages ago at this point, but this is still the Justin Tuck who produced multiple double-digit sack seasons.
He may not recreate that kind of performance in 2013, but anything close would be a huge step up from the past few seasons.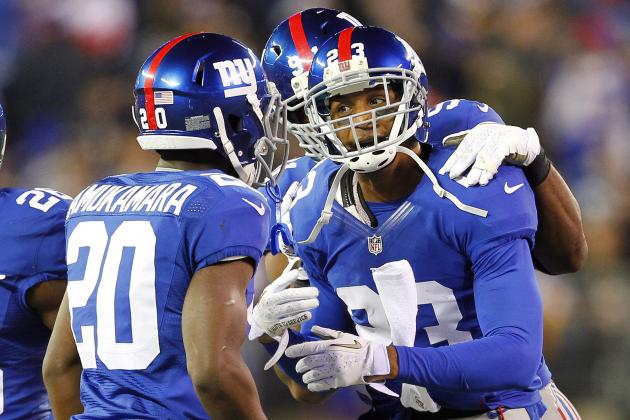 Rich Schultz/Getty Images

The Giants were just 28th in passing yards allowed last season, in large part due to a injury-riddled secondary that lacked depth.
Those problems persist going into this season.
In two NFL seasons, cornerback Prince Amukamara has missed 12 games. Meanwhile, Terrell Thomas, who can contribute at both corner and safety, will try to get on the field for the first time since 2010, having missed the last two seasons due to knee injuries.
The Giants will also be relying on aging veterans Corey Webster, Antrel Rolle and Aaron Ross, all of whom are 30 or older.
If New York's aging players can avoid breaking down and younger guys can overcome their history with injuries, the secondary should see an improvement in 2013.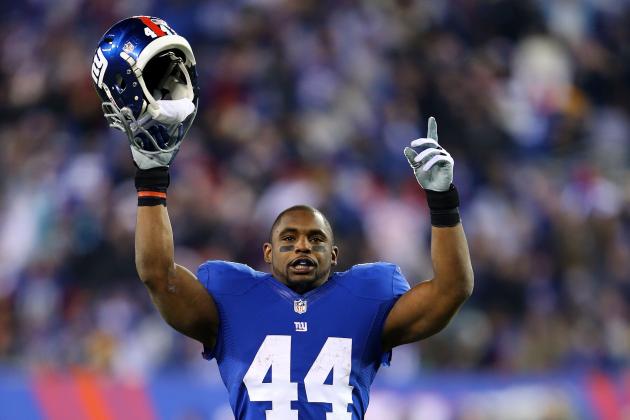 Al Bello/Getty Images

Like some of the guys in the Giants secondary, Ahmad Bradshaw battled nagging injuries over the years. However, when he was playing, he was dynamic, producing two 1,000-yard seasons and averaging at least 4.5 yards per carry in all but one season.
Now, Bradshaw's release creates a position battle in the backfield.
ESPN currently lists David Wilson, the team's first-round choice in 2012, as the starter. However, Andre Brown, who actually rushed for more yards and touchdowns than Wilson last year—before season-ending leg in jury in Week 12—will play a role as well.
The pair will need will need to produce in order to maintain balance in the Giants offense.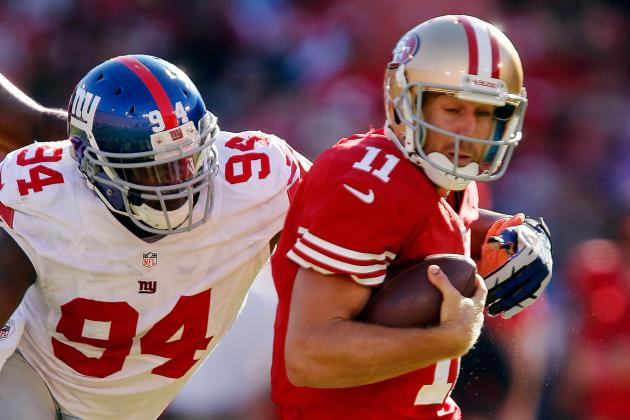 Brian Bahr/Getty Images

In his seven years with the Giants, Mathias Kiwanuka has played both defensive end and outside linebacker. This year, he's expected to predominantly play defensive end, which The Star-Ledger's David Hucthinson said Kiwanuka is happy about.
However, Kiwanuka playing solely on the defensive line leaves a hole at the outside linebacker spot. This will be filled by Spencer Paysinger, who has just 38 total tackles in two seasons. Paysinger likely will have better numbers by virtue of getting more snaps, but the overall production at the position will likely decrease.
Why, then, is Kiwanuka moving to defensive line? It's because the Giants need more depth in this area, which became a major concern due to a certain injury...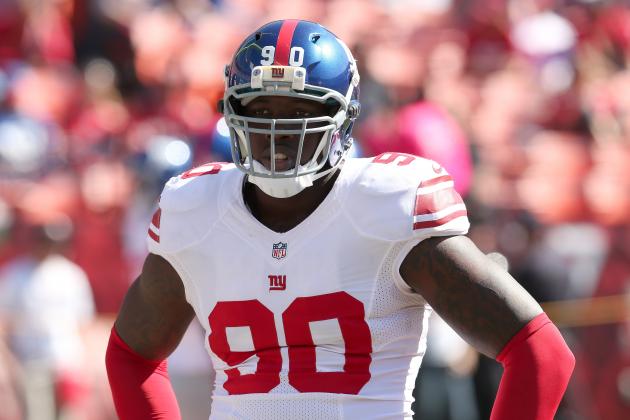 Stephen Dunn/Getty Images

That injury is to Jason Pierre-Paul's back.
The expected timetable for Pierre-Paul's recovery from back surgery is 12 weeks. According to NBC's Josh Alper, head coach Tom Coughlin doesn't expect his star defensive end to be ready by the start of the season.
Sticking Kiwanuka at defensive end will help, but Pierre-Paul is the Giants' best defensive player. Last season he led the team in sacks and was fifth in total tackles. They don't have any one person who can truly replace him.
The Giants will certainly miss Pierre-Paul's presence if he's unavailable for the season opener at Dallas on Sept. 8—and, really, any games after that. If and when he finally returns, Pierre-Paul will have to shake off the rust quickly and return to leading the New York defense.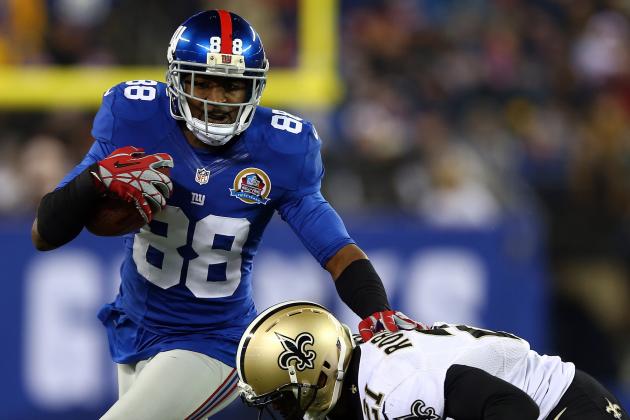 Elsa/Getty Images

While most of the Giant's issues are on defense, the biggest ones are on offense. For starters, wide receiver Hakeem Nicks hasn't been attending voluntary workouts.
On the surface, this doesn't seem like a big deal; after all, the workouts are optional. However, according to ESPN's Dan Graziano, Nicks has not informed his team as to why he is not partaking in the workouts, much to the chagrin of Tom Coughlin.
Profootballtalk.com's Mike Florio suggested Nicks may be sitting out to prevent a potential injury that could ruin a future contract once his rookie deal is up at the end of this season. Even if that's the case, the lack of communication between Nicks and the Giants isn't a good sign for fans who want to see the two-time 1,000-yard receiver stay in New York past 2013.
Giants fans can find solace that Nicks is at least signed through this year.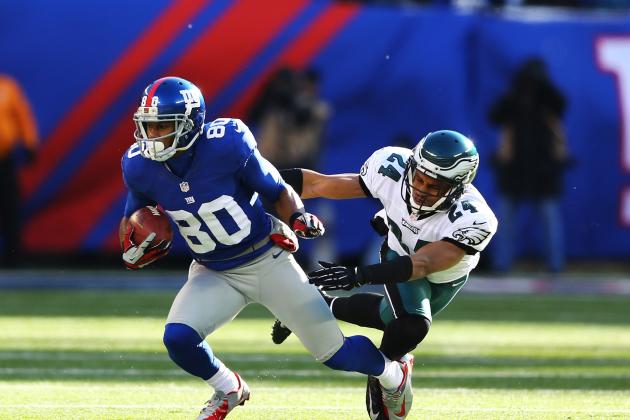 Al Bello/Getty Images

Unlike Nicks, fellow receiver Victor Cruz is not at workouts because he is currently not under contract.
The Giants placed a first-round tender on the restricted free agent, offering him a one-year, $2.879 million deal, which Cruz has not accepted. He can still take the deal, but if he signs with another team, the Giants will receive that team's first-round draft pick as compensation.
Cruz broke out in 2011 with 1,536 yards and nine touchdowns, following it up last year with 1,092 yards and 10 touchdowns. Simply put, he is New York's most explosive weapon. If he's going to maintain a strong connection with Eli Manning, he needs to re-sign with the team, and quickly.
For now, all Eli can do is hope and wait.