The 2013 NBA playoffs are winding to a close, and Thursday evening's Game 1 of the Finals will feature the San Antonio Spurs taking on the defending champion Miami Heat in a matchup for the ages.
Both of these rosters sport an incredible amount of postseason experience, and specifically, on pro basketball's biggest stage, as Alex Kennedy of HOOPSWORLD.com points out:
The Heat and Spurs rosters have a combined 182 Finals games played and 4 Finals MVPs (Tim Duncan, Dwyane Wade, Tony Parker, LeBron James).

— Alex Kennedy (@AlexKennedyNBA) June 6, 2013
With so much star power and veteran savvy on both squads, it's difficult to discern which players will rise to the occasion and perform the best in what should be a fantastic series.
The most notable players are clearly Miami's reigning MVP LeBron James, franchise cornerstone Dwyane Wade and Chris Bosh, while the Spurs have their own star-studded trio featuring Tim Duncan, Tony Parker and Manu Ginobili.
Let's take a look at which players will have the best Finals performances based on how the teams match up.
LeBron James, SF, Miami Heat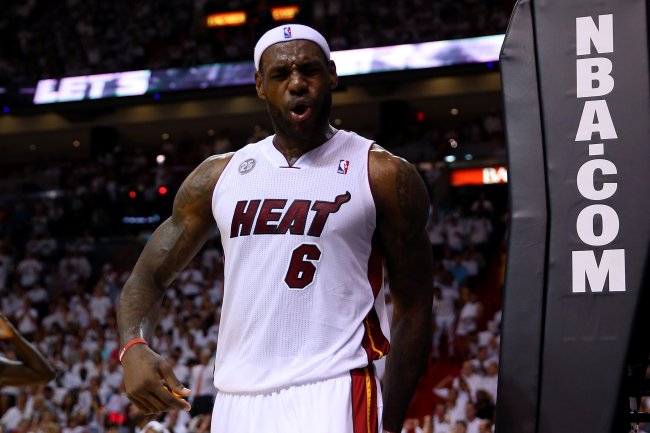 Mike Ehrmann/Getty Images
The last time James faced the Spurs in the NBA Finals was when he was a member of the Cleveland Cavaliers in 2007. James' fellow starting five mates consisted of Daniel Gibson, Sasha Pavlovic, Drew Gooden and Zydrunas Ilgauskas.
It wasn't exactly a title-winning recipe for success, and the Cavs were over-matched and swept. Although James hasn't received the expected help from Wade and Co., it has been enough to get the Heat back to the brink of the NBA's pinnacle.
San Antonio is consistently a premier defense, but it doesn't necessarily have an answer for James, who is essentially unstoppable when he gets it going.
Should the Heat elect to deploy a smaller lineup with James at the 4, he would have the advantage in the post over anyone and could take his opponent off the dribble with ease. The Spurs need to make sure they avoid that scenario at all costs.
With the way James distributes laser-precise passes, whether he's handling it or working off the ball, he's going to be a threat anywhere on the court.
In last year's Finals, he averaged 28.6 points, 10.2 rebounds and 7.4 assists in winning the MVP award. It wouldn't be surprising to see him put up similar numbers this time around, but his scoring should increase due to Wade being hobbled.
Tony Parker, PG, San Antonio Spurs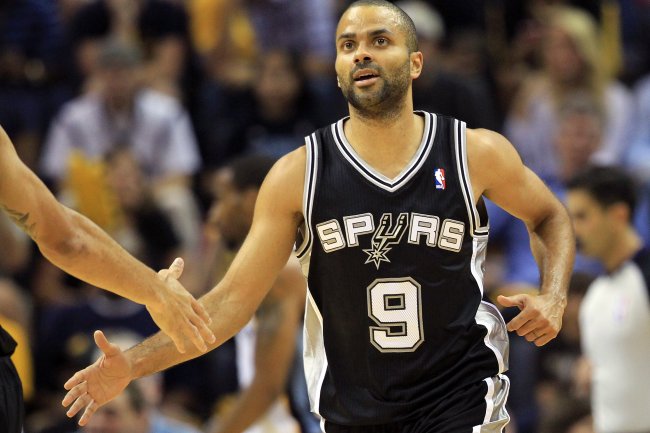 Ronald Martinez/Getty Images
The Heat will rely heavily on Mario Chalmers and Norris Cole to slow down Parker, which is the biggest matchup disadvantage in the series for Miami.
As improved as Memphis Grizzlies PG Mike Conley Jr. is, his Spurs counterpart dismantled the him and the No. 1-ranked defense in the NBA in the West finals, including a 37-point Game 4 performance in clinching the sweep.
In that context, it's hard to fathom what Parker could do to Miami's duo if he maintains such a level of play.
Erik Spoelstra preaches defense in South Beach, and the Heat are a fundamentally disciplined unit on that end of the floor with active hands and quickness on the perimeter that forces a lot of turnovers.
The problem is that Parker is among the craftiest players in the game at the rim, and the Heat lack a true paint enforcer to consistently deny him. Unless Parker's mid-range game is off, Miami doesn't have a true answer for what he brings to the table.
ESPN's Stephen A. Smith confirmed that assertion in highlighting what makes the Spurs such a tough team to beat:
And don't get me started on the Spurs depth, consistency, perimeter shooting and how there's no answer for Tony Parker. And what is SA zones

— Stephen A Smith (@stephenasmith) June 6, 2013
As a past Finals MVP—ironically the year that the Spurs beat the Cavaliers—Parker has been able to take advantage of mismatches at his position in the past. This isn't as wide of a gap as it was in 2007, but Parker should have the best series for San Antonio based on who he'll be facing on a nightly basis.
Dwyane Wade, SG, Miami Heat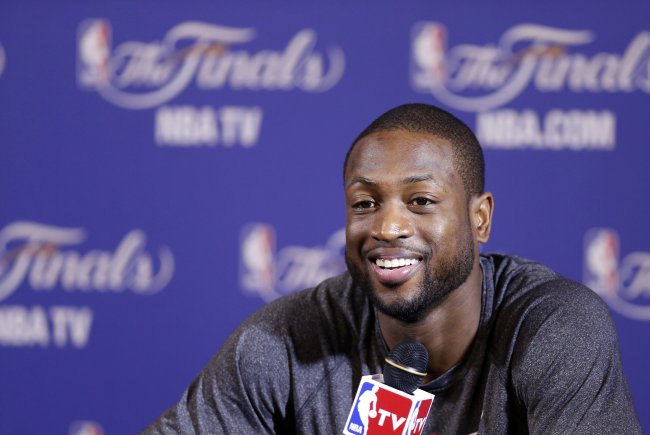 Derick E. Hingle-USA TODAY Sport
Wade has had perpetual knee problems that have visibly slowed him in the postseason, but he's still the Heat's second-leading scorer. After incredibly efficient shooting in 2012-13, the playoffs have seen Wade's worst field-goal percentage in years he's advanced past more than the opening round.
What will be the outcome of the NBA Finals?
Still, if there's anyone to give James the support he needs, the other former Finals MVP on this Miami squad is the one to provide it. He did just tie a playoff-high with 21 points in the Heat's Game 7
win
over the Indiana Pacers in the Eastern Conference Finals.
Defense will be a key for Wade, because he'll have to persistently chase sharpshooters Danny Green and Ginobili off the three-point arc.
The Spurs ranked first in assists per game this season and move the ball as well as any team in the Association. That puts the onus on Wade to be limber on the perimeter, despite the fact that he's clearly not 100 percent.
Expect Wade's career-low playoff point total to hover around the 14.1 per contest he's currently averaging, but it will be proportionately significant since these games should be primarily low-scoring.
It will be what Wade does outside of the box score that will define this series and make or break the Heat's chances at a repeat.
Tim Duncan, PF, San Antonio Spurs
Facing the NBA's worst rebounding team during the regular season, there's no reason that Duncan shouldn't be able to average a double-double.
As mentioned before, the Heat don't possess any particularly imposing players on the lower block. When Duncan isn't coming off of pick-and-roll plays to hit open jumpers, he should be able to maneuver in the paint and finish inside with consistent success.
Speaking of repeated greatness, Stuart Scott of ESPN noted how grand of an achievement it would be for Duncan to win yet another NBA championship:
Tim Duncan.. Excellence & gentleman defined. A chance, now, for Timmy to win championships in 3 DIFFERENT decades!!

— Stuart Scott (@StuartScott) May 28, 2013
Chris Bosh simply doesn't play a physical brand of basketball, and that's not going to bode well when he's matched up with Duncan. The 37-year-old is still quick enough to battle effectively for position on the glass and continues to play at a high level.
Considering how quick Miami is on the perimeter and that Manu Ginobili scored in single digits in three of four games against the Grizzlies in the prior series, there aren't many options for San Antonio outside of Duncan to step up and win another Larry O'Brien Trophy.