MLB Draft Tracker 2013: Live Analysis, Highlights and Pro-Player Comparison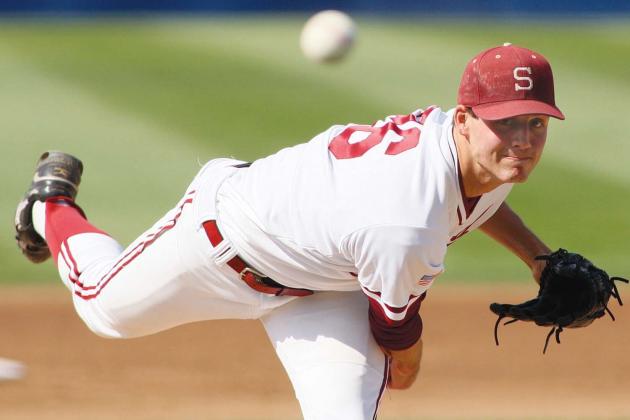 Image courtesy of Stanford University
All those months spent watching and evaluating talent are over. This is where scouting departments really make their money, as the Major League Baseball draft begins on Thursday night with the first two rounds and the competitive balance round.
The mystery of whom the Houston Astros take with the No. 1 pick will be settled early on, and the trickle-down effect on the rest of the draft is going to be felt as soon as the Chicago Cubs make their pick.
We will have you covered with all the latest up-to-date information on every pick made on Day 1, with pick-by-pick analysis as it happens. The slideshow will be updated right after picks are made, so if you don't see the most recent selection, just hit the refresh button on your browser.
Begin Slideshow

»
Mark Appel is the right choice for the Astros, who probably won't save much money with the pick but get the best player available in the class. He is going to move through their system quickly, gives them a front-line starter to build the rotation around and certainly has the talent to be the No. 1 pick.
With three plus pitches (fastball, slider, changeup) and command that is much better compared to last year , when he was the Pittsburgh Pirates' No. 8 pick, Appel may not have quite the ceiling that Oklahoma's Jonathan Gray does, but his floor is higher and he is more of a sure thing.
Pro Comparison: Mark Prior
The Cubs went with the best position player in this draft class. It may be a bit of a surprise, but Kris Bryant brings one of the most rare commodities in the game today: big-time, right-handed power. He hit 31 homers for San Diego this season.
Even with some questions about where he will play in the field, Bryant has the tools to be a huge power hitter in the middle of the lineup for a long time.
Pro Comparison: Troy Glaus
The big three college players are off the board in the first three picks. The Rockies get exactly what their system needs with a big, right-handed flamethrower in Jonathan Gray. We know they can score runs, and Kris Bryant's bat would have fit nicely in Coors Field, but you need some pitching if you want to compete.
Gray isn't as polished as Mark Appel, but he has a bit more upside with a better fastball and similar slider. He does need to find a consistent changeup to reach his ceiling, and his lack of a track record before this year is a bit of a red flag. However, he has the stuff to be a true No. 1 starter.
Pro Comparison: Matt Harvey
My love for the Twins' farm system keeps growing, as they've now added the best high school pitcher in the draft. Kohl Stewart has a plus-plus fastball, spins a good breaking ball and has decent feel for his entire arsenal already.
He is committed to Texas A&M to play quarterback and pitch for the baseball team, but the Twins should have no problem convincing him to never set foot on campus.
Pro Comparison: Shelby Miller
In a bit of a surprise, the Indians nab Clint Frazier with the No. 5 pick. He has the best bat speed in the draft, and it's not even close. He gets through the zone so quickly that he projects to have plus power.
There is some doubt about Frazier's position. He probably isn't a center fielder, but has enough arm strength to play right field. He was announced as a third baseman, which is interesting. He is raw and will have to improve his pitch recognition, but he has room to grow.
Pro Comparison: Justin Upton
The Marlins get the most polished hitter in the draft. Colin Moran had an incredible 60-22 walk-to-strikeout ratio this season for the Tar Heels. He has a great eye and approach at the plate, and should find above-average power.
Moran does have the arm strength for third base, but his range is fringy and could push him to first base.
Pro Comparison: Dustin Ackley
Upside is the name of the game for the Red Sox, who take 6'6" left-hander Trey Ball with their first-round pick. He is a two-way player with some potential as a hitter, but a brighter outlook as a pitcher.
Just 18 with a ton of untapped ability, Ball already touches 93 mph with his fastball and has some feel for a breaking ball. He has a very good ceiling.
Pro Comparison: Ross Detwiler
The Royals go off the board for Hunter Dozier with the No. 8 pick. He exhibits good skill with the bat, including some power and a feel for the strike zone. He is too big for shortstop in pro ball and will, in all likelihood, move to second base.
Pro Comparison: Dan Uggla
Austin Meadows has the highest ceiling of any high school player in this draft. He is very raw on the field, but can flash four above-average-or-better tools. He is a good center fielder with plus speed and an average throwing arm.
His offensive game is questionable, but his movement is so smooth and natural that he should be able to generate plus power down the road.
Pro Comparison: Colby Rasmus
The Blue Jays love upside, and that is exactly what they are getting with Phil Bickford. He is all high-risk/high-reward right now with a fastball that touches 97 mph and incredible arm strength and speed that could make him a monster down the line.
However, Bickford doesn't currently have any kind of breaking ball in his arsenal. His curveball is marginal at best, and the changeup is not quite there yet. He could develop them and become a No. 2 starter, but there is a ton of risk involved with a pitcher who has little feel for an off-speed pitch.
Pro Comparison: Jeff Samardzija
The Mets get the most polished high school hitter in Dominic Smith. He has one of the best swings in the entire draft and big-time power potential. He controls the strike zone very well and will hit for average, too.
Not that it matters much considering the low premium placed on fielding at the position, but Smith is also a very good first baseman. He has very soft hands, an excellent glove and an arm that gets wasted at first base.
Pro Comparison: Todd Helton
DJ Peterson is an interesting player in this year's draft. He has a very good bat, though it is geared more for contact than power. He also isn't likely to stay at third base due to limited range, resulting in a switch across the diamond to first.
There is more value if he can stay at third base, and you would have to imagine the Mariners will give him every opportunity to do so. Either way, Peterson will hit in the big leagues.
Pro Comparison: Freddie Freeman
Hunter Renfroe isn't your typical SEC outfielder. He has a tremendous set of tools with plus speed and power, making him a prime candidate to stay in center field in professional baseball.
The questions come when you examine his career prior to 2013, when Renfroe wasn't really on the prospect map. Perhaps this year was his coming-out party and there are only more good things to come. The Padres are certainly counting on it.
Pro Comparison: Drew Stubbs
High school catchers in the first round are a rarity, but Reese McGuire impressed the Pirates enough for them to snag him at No. 14. He is a very good defensive catcher with a tremendous throwing arm and good athleticism behind the plate.
McGuire's bat is a question mark, as he must tighten up his swing and will need to improve his pitch recognition, but his defense gives him a chance to be at least an everyday starter on a first-division team.
Pro Comparison: Kurt Suzuki
Arizona has a ton of young pitching already in the big leagues, with Archie Bradley on his way in Double-A, but as the old saying goes, you can never have too many arms. Braden Shipley has only been pitching full time for two years, but he has exploded thanks to a plus fastball-changeup combination.
Shipley is still developing his curveball, which projects to be an above-average offering. He has a good feel for his stuff and solid control already. Based on his talent, he could've gone in the top 10. Good value for the Diamondbacks.
Pro Comparison: Clay Buchholz
The Phillies built the farm system that would help them win a championship in 2008 by drafting athletes, so Crawford makes perfect sense here. He is the only true shortstop worth a first-round selection.
Crawford isn't an electrifying offensive player, with decent bat speed and a good path through the zone, but not much physical projection to hit for power. He does have a plus glove at short, along with range and a strong throwing arm. If he can hit a little bit, he will be a solid player.
Pro Comparison: Erick Aybar
Tim Anderson has been one of the biggest pop-up players this spring, with tremendous athleticism, good offensive potential and plus-plus speed. He will have to prove himself against quality competition, but the White Sox need to add more high-upside athletes to a depleted system.
There are questions regarding Anderson's ability to stay at shortstop because his arm is fringy, though he has the range and footwork to stay there.
Pro Comparison: Jose Reyes
Hey, the Dodgers took a pitcher. Who knew?
Chris Anderson has one of the best arms and bodies of any pitcher in this class. His fastball is a plus pitch already. He also possesses a good curveball and slider, though he will have to get his feet back under him thanks to some heavy usage by the college coaching staff.
Pro Comparison: Matt Garza
Marco Gonzales is one of my favorite pitchers in this draft. He doesn't have a good fastball, which is why he lasted until the 19th pick, but he has incredible pitchability and makes up for his lack of velocity on the heater with a great changeup.
There is little effort in his delivery and a four-pitch mix that will give him a long big-league career. Gonzales' ceiling projects as a back-end starter, but he will move quickly through the ranks and gives an already loaded system a safe arm to bet on.
Pro Comparison: Jason Vargas
The Tigers want hard-throwing righties, so Jonathon Crawford fits their mold perfectly. His delivery and command are suspect, however, which could push him to the bullpen. At his best, he features a plus fastball-curveball combination with a decent changeup.
Pro Comparison: Andrew Cashner
Catching has been an issue for the Rays, so they are hoping that Nick Ciuffo is the answer to their problems. He has the best defensive profile of any catcher in this draft, with very good receiving skills and a plus throwing arm. He is still learning to block balls in the dirt, but is a good enough athlete that he will soon master it.
Offensively, Ciuffo has a good swing with some loft at the end to project for above-average power. He may strike out too much to hit for a high average, but there is bat speed to keep him in the .260 range.
Pro Comparison: Alex Avila
Hunter Harvey gives the Orioles yet another highly projectable arm they can add to a system that has produced Dylan Bundy, who will return soon, and the recently promoted Kevin Gausman. He is 6'3", 175 pounds and already shows an average fastball with a live arm.
When he fills out, Harvey's heater should settle in the 91-to-94 range. He also has a curveball that flashes above-average and a changeup he will have to throw more in professional baseball.
Pro Comparison: Jarrod Parker
Alex Gonzalez has been a helium guy leading up to the draft thanks to a very solid four-pitch mix and a fastball that has average velocity but is still very effective because he can cut or sink it.
Already showing solid control and developing command, Gonzalez should move relatively quick through a Rangers system that is loaded with a lot of high-risk, high-reward players at the lower levels.
Pro Comparison: Matt Cain
The Athletics continue the trend started last year by going after a high school player in the first round. McKinney is one of the most polished high school hitters in the class, with a great swing from the left side.
McKinney has little arm strength and average speed, so he is a left fielder in pro ball, but he is going to be a very good hitter. He doesn't project to hit for better-than-average pop, but there is nothing wrong with a corner outfielder who hits .280 with 15-to-20 homers.
Pro Comparison: David Murphy
The Giants go off the board with Christian Arroyo in the first round. He has serviceable baseball skills with some offensive tools, including above-average power, and enough feel for shortstop to be a fringe-average defender there.
Pro Comparison: Jhonny Peralta
The Yankees had a lot of room to play with their first pick, since they have two more before the end of the first round. They decided to go the direction everyone anticipated, as Eric Jagielo has been linked to them in virtually every mock draft.
Jagielo is a solid player with some polish to his game. He has above-average power and hit tools, with some arm strength and the lateral mobility to stick at third base. He could move quickly and get a call-up by 2015.
Pro Comparison: Mike Moustakas
Phillip Ervin may not be a center fielder in the big leagues, as his speed is just average and could limit his range. But he has good arm strength and could move to right field. His calling card is what he does with the lumber, showcasing a very good swing with surprising pop for a 5'11" player.
Pro Comparison: Ron Gant
The Cardinals go back to the left-handed-pitching well for their second pick with Rob Kaminsky. He is a bit short for a prototypical starter, but his stuff should tick up a notch when his frame fills out. He has an average fastball, but complements it with a very good curveball. His changeup is still a work in progress.
Pro Comparison: Scott Kazmir
The Rays get the best value of the first round with Ryne Stanek, who has the stuff to be a front-line starter even though the results on the field this season weren't always what you want to see. He is a big, physical pitcher with a plus fastball-slider combination at his best. He could end up pitching out of the bullpen as a shutdown closer, but will be given every opportunity to start.
Pro Comparison: Edwin Jackson
After going with a safe pick earlier, the Rangers go back to their bread and butter with a high-upside, raw athlete in Travis Demeritte. He is as raw as raw can get, but the tools are incredible with tremendous athleticism and bat speed that only Clint Frazier can rival. It will take time to see the results, but he could be a star.
Pro Comparison: Brandon Phillips
The Braves have a thing for college pitchers who have had Tommy John surgery, with Alex Wood last year and Jason Hursh this year. Hursh has a very good, plus fastball but lacks a quality secondary pitch and has the injury history that could limit him to a relief role.
Pro Comparison: Jonathan Broxton
Aaron Judge immediately catches your attention with his height, as he stands 6'7" and uses his leverage to drive the ball with great authority, though he has had some issues showing it in games. There are holes in his swing, and he has been known to struggle with pitches down in the zone, but if his hit tool develops enough, he should hit 25-to-30 homers.
Defensively, while the Yankees drafted him as a center fielder, Judge is going to end up in right field, where his good range and plus arm strength are best utilized.
Pro Comparison: Mike Morse
The Yankees close the first round with a high school lefty in Ian Clarkin. He already displays a very good fastball-curveball combination from the left side, and with room to fill out, he will add more velocity in a few years. His upside is that of a No. 3 starter with two plus pitches and good feel.
Pro Comparison: Mark Mulder
No. 34 Kansas City Royals select Indiana State LHP Sean Manaea
The Royals surprised with Hunter Dozier as their first pick, possibly as a way to save money for this pick. Manaea was a presumed top-10 pick before the season started, but his stock fell during the year when his stuff dropped and he got hurt at the end of the year. If he can get back to full strength, he is a steal right here with a plus fastball-slider combination.
No. 35 Miami Marlins select St. Ignatius HS LHP Matt Krook
Krook has a very good pitchers frame at 6'4", 200 pounds, even though he lacks the projection of most high schoolers. He has an above-average fastball with some movement, though his arm action could push him to the bullpen down the road.
No. 36 Arizona Diamondbacks select Marshall RHP Aaron Blair
Blair is a high-floor kind of pitcher with a good fastball that has movement and a clean delivery. He brings a three-pitch mix to the table, highlighted by a plus changeup, and could end up as a back-end starter down the line.
No. 37 Baltimore Orioles select Parkview HS OF Josh Hart
A very good athlete to get at this spot, Hart has very good bat speed and should have no problems staying in center field. He won't hit for a lot of power, but does show a good feel for hitting that can lead to a good average.
No. 38 Cincinnati Reds select Cal State Fullerton RHP Michael Lorenzen
A two-way player in college, Lorenzen's future is on the mound. He has a tremendous fastball that can touch triple digits and some feel for a curveball. He has the profile of a dominant late-inning reliever.
No. 39 Detroit Tigers select Texas RHP Corey Knebel
Another reliever, Knebel fits what Detroit wants in a pitcher: Right-handed and hard throwing. He will move quickly and should have no problem fitting into the back of a bullpen.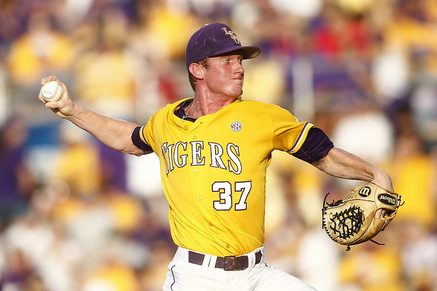 Image courtesy of LSU
No. 40 Pick: Houston Astros Select UC Irvine RHP Andrew Thurman
A good value selection, Thurman boasts four pitches that he can throw in any count with a ton of confidence. He is a low-ceiling, high-floor pitcher who could end up as a decent No. 3 starter when all is said and done.
No. 41 Pick: Chicago Cubs Select Missouri LHP Rob Zastryzny
Zastryzny has a decent fastball-curveball combination, but lacks a consistent third pitch to get left-handed hitters out. He will have to find a third pitch to remain in the rotation, as his stuff doesn't profile well in relief.
No. 42 Pick: Colorado Rockies Select Mater Dei HS 3B Ryan McMahon
McMahon has very good pop from the left side, which will help the Rockies replace the pick they thought they could get earlier when Kris Bryant went No. 2 overall. He has good bat speed and profiles well at third with a good arm and lateral movement.
No. 43 Pick: Minnesota Twins Select LSU RHP Ryan Eades
A more typical Minnesota draft pick, Eades is a solid pitcher with an above-average fastball and changeup, control over all his pitches and a good feel for a breaking ball that is still developing.
No. 44 Pick: Miami Marlins Select Arizona State RHP Trevor Williams
Williams has a solid three-pitch mix but doesn't miss as many bats as you would like for someone who can touch 94 with his fastball. He projects as a good No. 4 starter in the big leagues.
No. 45 Pick: Boston Red Sox Select Seminole State JC RHP Teddy Stankiewicz
Stankiewicz was taken by the Mets last year, but didn't sign and went to a junior college to be eligible for this year's draft. He has a good fastball already and plenty of room to grow at just 19 years old.
No. 46 Pick: Kansas City Royals Select Northwest Mississippi Community College LHP Cody Reed
Reed is very raw with some upside as a No. 3 starter with a very good fastball and frame to build on. He needs to work on spotting his fastball and developing consistency with his off-speed stuff.
No. 47 Pick: Toronto Blue Jays Select Woodford County HS RHP Clinton Hollon
The Blue Jays love projectable arms, so Hollon makes perfect sense for them. He already has a plus fastball and a good changeup, but lacks a consistent breaking ball and the control is really lacking right now.
No. 48 Pick: New York Mets Select Basic HS RHP Andrew Church
Church is also an unpolished thrower at this point, with an above-average fastball and a developing changeup-curveball combination that could make him a solid mid-rotation starter at his peak.
No. 49 Pick: Seattle Mariners Select Stanford OF Austin Wilson
Loaded with tools but hobbled by injuries this season, Wilson dropped because of a poor season. He has tremendous tools, with big power and arm strength. He was a first-round talent who fell because of an inconsistent season.
No. 50 Pick: San Diego Padres Select Gilbert HS SS Dustin Peterson
The brother of DJ Peterson, Dustin is a better athlete and will play second base in professional baseball in the future. He has a good feel for hitting already with some pop in his bat, and has quick-twitch actions at shortstop but a fringe arm that will push him over to second.
No. 51 Pick: Pittsburgh Pirates Select Dana Hills HS LHP Blake Taylor
The Pirates are betting on a lot of upside in this draft, with Taylor showing a good fastball already and a strong 6'3", 210-pound frame. He needs to develop his off-speed stuff, but is young and has the kind of frame to pitch 200 innings in a season.
No. 52 Pick: Arizona Diamondbacks Select Terrebonne HS SS Justin Williams
Williams is a big-body 17-year-old at 6'3", 215 pounds, meaning he is not going to stick at shortstop. He has some of the best power in the draft, but a big swing leaves a lot of questions about how much he will be able to tap into it during games.
No. 53 Pick: Philadelphia Phillies Select California C Andrew Knapp
In a weak draft for college catchers, Knapp was the best of the bunch but doesn't project as more than a fringe starter. He has some knowledge of the strike zone, but won't hit for average or power. His defense is solid behind the plate, with a good throwing arm and some athleticism. He could be a backup on a first-division team.
No. 54 Pick: Milwaukee Brewers Select Hazelwood West HS RHP Devin Williams
The Brewers really nailed this pick. Williams has a great fastball already and a solid curveball, especially for a high schooler. He is 6'3", 165 pounds with a ton of projection. He could be a No. 2 starter.
No. 55 Pick: Chicago White Sox Select Durant HS RHP Tyler Danish
Danish uses a three-quarters arm slot and doesn't project as a starter due to inconsistent command and inability to get on top of the fastball. He could end up as a late-inning reliever with a power fastball and a "slurvy" breaking ball that still needs work.
No. 56 Pick: Los Angeles Dodgers Select Minnesota LHP Tom Windle
Despite what Tommy LaSorda said on the draft telecast, Windle is not a hard thrower. He is a control pitcher with a good feel for the strike zone and a solid fastball-breaking-ball combination. His ceiling is that of a No. 4 starter.
No. 57 Pick: St. Louis Cardinals Select Gaither HS SS Oscar Mercado
The best defensive shortstop in the draft, Mercado would have been a first-round selection if he could hit. He is very slight at 6'1", 175 pounds and doesn't produce much loud contact with the bat, though he does have some bat speed and can hit line drives.
No. 58 Pick: Detroit Tigers Select Vanderbilt LHP Kevin Ziomek
The Tigers broke their tradition by going with a finesse left-handed pitcher. Ziomek has good potential as a pitcher who can change speeds to keep hitters off balance, but doesn't blow you away with anything.
No. 59 Pick: Los Angeles Angels Select Warren East HS LHP Hunter Green
Green is another first-round talent with high upside. He will add more velocity to his fastball in the future and has a decent breaking ball already. He projects as a No. 3 starter in the future.
No. 60 Pick: Tampa Bay Rays Select Desert Ridge HS SS Riley Unroe
If Unroe's body can stick at shortstop, he will be a great value pick. He is already 6'0", 180 pounds, but has good offensive potential with some polish and the kind of bat speed that should produce average power down the road.
No. 61 Pick: Baltimore Orioles Select Santiago HS C Chance Sisco
Sisco is a good hitting catcher with projection. He has bat speed and quick hip rotation to generate some pop with the bat. His biggest asset on defense is a plus throwing arm, but he still needs to work on receiving.
No. 62 Pick: Texas Rangers Select West Florence HS RHP Akeem Bostick
Bostick has a big arm with a plus fastball, but he is all arm and doesn't incorporate his lower half into the delivery enough to project as a starter right now. He also lacks an effective off-speed pitch, but the Rangers love projectable arms.
No. 63 Pick: Oakland Athletics Select Oklahoma LHP Dillon Overton
Jonathan Gray's teammate, Dillon Overton, was thought to be the first-round pick between the two this year. Then his stuff took a step back, as his fastball looked average and the off-speed offering wasn't as crisp. If he can get back to his old self, he is a potential No. 2 starter.
No. 64 Pick: San Francisco Giants Select Watauga HS 3B Ryder Jones
Jones is a projectable high school third baseman with a quick stroke to the ball and power that projects as plus down the line. He is a decent athlete who could stick at third, but may end up in right field.
No. 65 Pick: Atlanta Braves Select Miami Dade CC C Victor Caratini
Caratini has a very good swing from the left side, though he is a switch hitter, with an ideal catcher frame at 6'2", 205 pounds. He has athleticism and arm strength to stick behind the plate.
No. 66 Pick: New York Yankees Select Rancho Bernardo HS 2B Gosuke Katoh
A reach at this spot because Katoh has limited athleticism and virtually no power in his swing. He will have to hit for a high average and get on base to be an everyday player, as well as prove he can be an above-average defender at second.
No. 67 Pick: Cincinnati Reds Select Gahr HS 3B Kevin Franklin
Franklin is the definition of an all-or-nothing hitter right now. He starts his swing very early and is able to wait back, but he is going to have trouble adjusting to off-speed stuff. He can hit the ball a mile when he makes contact, but how often is he going to do that?
No. 68 Pick: Washington Nationals Select Dallas Baptist HS RHP Jacob Johansen
Johansen could end up as a reliever thanks to a big fastball and huge frame at 6'6", 235 pounds. He doesn't have any other pitch in his arsenal, so he will need to develop something in order to pitch at the back of games, but the arm strength and speed are incredible.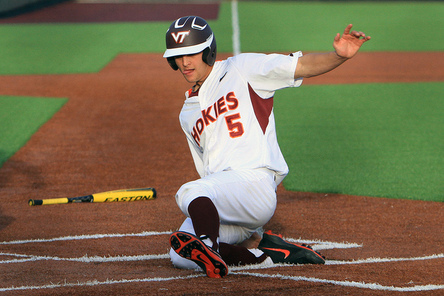 Image courtesy of Virginia Tech
No. 69 Pick: San Diego Padres Select Serra HS OF Jordan Paroubeck
Playing at the same school as Dominic Smith, Paroubeck has very impressive tools and an easy swing that will tap into some power down the line. He is a high-risk, high-reward prospect and represents good value at this spot.
No. 70 Pick: Colorado Rockies Select San Francisco RHP Alex Balog
The Rockies add another big pitcher. Balog has a durable pitcher's frame, an above-average fastball and a slider-changeup combination he will also mix in. He isn't going to miss enough bats to profile as more than a back-end starter.
No. 71 Pick: Oakland Athletics Select Virginia Tech 3B Chad Pinder
Pinder is a player who doesn't wow you with any skill, but is just a solid all-around player. He has a good hit tool that projects for some average in the future, even if there is only fringe power. He could end up as a second baseman due to underwhelming arm strength.
No. 72 Pick: Milwaukee Brewers Select Wharton HS SS Tucker Neuhaus
Neuhaus is an unpolished, raw hitter who will have to transition from shortstop down the road, but he has a great body and swing that lead to big power projection. He won't have much value anywhere else, so his pop has to come around.
No. 73 Pick: Miami Marlins Select Arkansas RHP Colby Suggs
A teammate of Ryne Stanek, Suggs is a reliever who is going to rise quickly through the minors. He doesn't have elite stuff, but his frame works well out of the bullpen and he could be a seventh- or eighth-inning arm.