4 Missing Pieces Keeping the Philadelphia Flyers from Being a Playoff Team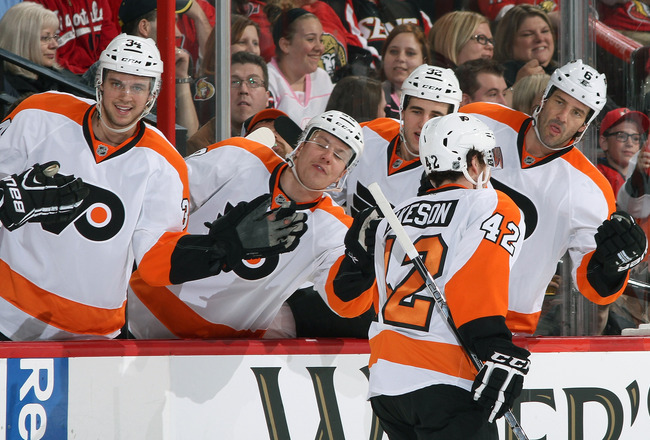 Jana Chytilova/Freestyle Photo/Getty Images
Missing the playoffs is certainly not the norm for the Philadelphia Flyers.
Just twice in the past 18 seasons have the Orange and Black failed to qualify for the postseason.
And while the Flyers put together a nice run to close the lockout-shortened 2013 campaign, it was too little too late for a team many pundits predicted could claim the Eastern Conference and possibly the Stanley Cup.
And while Philadelphia may not have as many issues as some of the other clubs that finished outside of the playoff picture, the Flyers certainly still have some holes to fill.
Here are the four most critical missing pieces keeping the Flyers from being a playoff team.
Proven Veteran Goal Scorer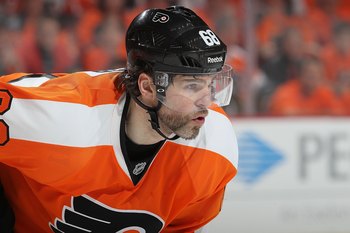 Jim McIsaac/Getty Images
The Flyers received some nice offensive contributions from several players this past season but lacked that veteran goal-scoring presence needed at key moments in critical games.
Jakub Voracek was a revelation, recording a career-high 22 goals in just 48 games. Claude Giroux is Claude Giroux. He notched just 13 goals but paced Philly in overall scoring for the third consecutive season. Wayne Simmonds finished second on the team with 15 goals, while Matt Read buried 11 conversions in his sophomore season.
Clearly, Philadelphia's offensive future is bright when you consider that Read is the elder statesmen of that group at a grizzled 26 years old. And that doesn't include 21-year-old offensive phenom Brayden Schenn and up-and-coming 20-year-old Sean Couturier.
But what the Flyers boast in young offensive talent, they lack in proven veteran goal scoring.
Who knew how impactful the loss of the now-41-year-old Jaromir Jagr would actually be?
After shelling out $3.3 million last season in Jagr's return to the NHL, Philly wasn't prepared to match the $4.5 million this year that the Dallas Stars offered the future Hall of Famer. That seemed like a sensible decision at the time, but it left the Flyers without proven goal scorers.
Scott Hartnell, who led the team with 37 goals last season, recorded just eight in 32 games this year. Meanwhile, with 286 career goals on his resume, Daniel Briere managed just six conversions in 34 games this season.
In the end, Jagr's leadership in the locker room and established goal-scoring presence were desperately missed.
Ironically, Jagr is one option the Orange and Black could turn to (again) to fill that void this summer. The active leader in goals (681) will hit the open market unless the Boston Bruins elect to re-sign him after acquiring the sniper at the trade deadline.
Jagr will be 42 next February, but another 16 goals and 35 points in just 45 games this year prove he's still dangerous.
Another alternative for the Flyers could be 35-year-old Jarome Iginla. Third among active goal scorers with 530 career conversions, Iginla isn't as dangerous as he once was but would be a phenomenal supplemental offensive piece amidst a blossoming corps of Philadelphia forwards.
The Pittsburgh Penguins snagged the 11-time 30-goal scorer at the trade deadline to load up for a Cup run, but it remains to be seen if Iginla fits into their long-term plans. He'll likely command at least $5 million per season on the open market, but that could be money well spent by the Flyers.
Names like Teemu Selanne (675 career goals) and Patrik Elias (375 career goals), who are both set to become unrestricted free agents, would also work, but it's unlikely that either player is prepared to leave his current situation.
Big, Physical Defenseman
Richard Wolowicz/Getty Images
This is something the Flyers haven't had since the loss of Chris Pronger.
Philadelphia is built around the heritage and tradition of the Broad Street Bullies and will always be viewed as a physical and intimidating team. But the Orange and Black just haven't had that intimidation factor for the last season-and-a-half.
Players like Pronger don't come around very often. His hulking 6'6", 220-pound frame was enough to intimidate most players. They were never quite certain that he wouldn't cross-check them in the teeth just for crossing Philly's blue line.
A leader and future Hall of Famer like that is irreplaceable, but the Flyers must find a way to add some size and physicality to their blue line.
Existing defensemen like Braydon Coburn and Kurtis Foster have a similar stature to Pronger (Coburn is 6'5" and 220 lbs, while Foster is 6'5" and 225 lbs), but neither brings an overwhelmingly physical presence to his game. Foster was brought in to be a right-handed shooter on defense, while Coburn does a lot of things well but hasn't developed into an exceptional defenseman in any one area.
Nicklas Grossmann can be physical when healthy. Unfortunately, the Stockholm native missed 18 games this season with a concussion.
Luke Schenn was a solid physical addition to Philadelphia's back end last summer, but the Flyers need more.
One way to bulk up on defense this summer could be through the draft, where Philadelphia holds the 11th overall selection. One player who could still be on the board with that pick is Rasmus Ristolainen.
At just 18 years old, the Finnish defenseman already checks in at 6'3" and 210 pounds and has displayed a willingness to play physically in front of his own net. Ristolainen won't dominate the highlight reel with bone-crushing open-ice hits, but he possesses a physicality and mean streak that would fit perfectly in Philadelphia.
If that doesn't work, the Flyers could always turn to free agency, where heavy hitters like Douglas Murray and Rob Scuderi are set to hit the open market.
Another Defensive Power-Play Quarterback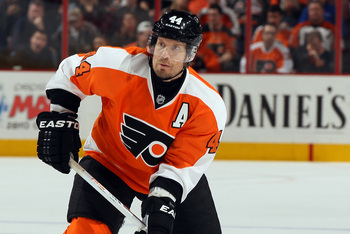 Elsa/Getty Images
Kimmo Timonen can run the point on one of Philadelphia's power-play sets but what about the second unit?
Andrej Meszaros was once considered a viable option on the man-advantage, but after suiting up in just 11 games last season after a pair of lengthy injury stints, it's a wonder if the former first-round pick will ever be the same player again.
Meanwhile, existing blueliners like Coburn, Grossmann and Luke Schenn provide a steadying defensive presence on the back end but lack the offensive creativity and mobility to quarterback a power play.
What's worse, Timonen only has one year remaining on a one-year extension inked with the Flyers in early February. The 38-year-old defenseman will turn 39 late next season, and while still productive, he is entering the twilight of his career.
As such, Philadelphia is not far away from losing its only existing bona fide power-play point man.
As such, the Flyers have a pressing need to acquire at least one, if not two, such bodies in the months to come.
All signs point to the New York Islanders parting ways with the smooth-skating Mark Streit, and while that might be an expensive option for the Orange and Black, it's an option.
Some more cost-effective options could come in the form of veteran free agents to-be Sergei Gonchar and Joe Corvo. And while players like that would provide a short-term solution with little financial impact, it wouldn't address Philadelphia's long-term need for defensive power-play quarterbacks.
Defensive Depth
Rob Carr/Getty Images
Not only do the Flyers need to get bigger and tougher on defense, but they also need to get deeper.
By far, Philadelphia's most glaring weakness heading into this past season was the team's defense corps. It lacked game-breakers, true shutdown defenders and depth.
Those deficiencies were exposed when injuries limited Coburn to 33 games, Grossmann to 30 and Meszaros to just 11 this year. In other words, three of the team's top-five defenders lost a combined 74 man-games due to injuries.
As a result, Timonen was forced to play more minutes than his 38-year-old body could handle, while Schenn was forced into action far more than he should have been.
The long-term positive result that may have come from all of the injuries is depth on defense, at long last.
Free-agent acquisition Bruno Gervais, who was brought in as a depth defenseman, logged regular minutes and could fill in on the team's bottom defense pair moving forward.
Kent Huskins was picked up at the trade deadline from the Detroit Red Wings and could also be a solid depth blueliner next year, should the Flyers opt to re-sign him.
In addition, youngsters like Oliver Lauridsen and Brandon Manning saw action at the NHL level. As a result, they could be ready to join the big club full time sooner than anticipated.
And then the team can look to free agency for more depth, where the likes of Streit, Ryan Whitney and Jordan Leopold could be available come July 1. Even aging stars like Gonchar or Corvo could provide a nice boost on the back end.
In any event, the Flyers know all too well where a lack of defensive depth can land a team. They won't make that mistake again.
Keep Reading

Philadelphia Flyers: Like this team?