Remember Kerlon and Ariel Ortega? It's B/R's 10 Forgotten Players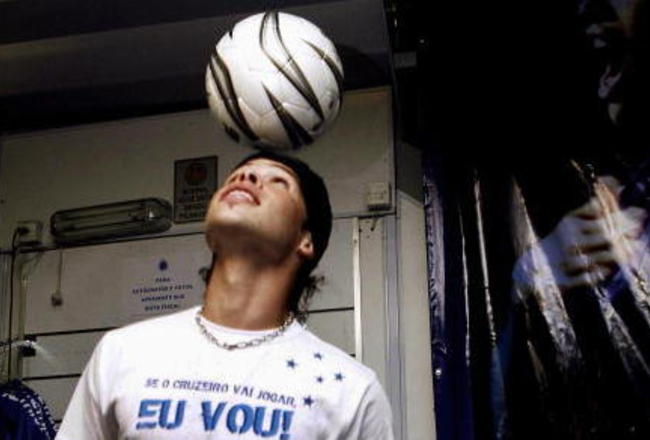 (Getty Images)

The world of professional football can be a cruel place.
For every Ryan Giggs or Francesco Totti who enjoy a prolonged career in the spotlight, there is a player who is forgotten more quickly than a cancelled sitcom.
Here follows ten stars who were on everybody's lips during the peak of their careers, but who have failed to make an impact on the annals of soccer history...
Kerlon
Around six or seven years ago, a wave of excitement swept across YouTube as a young Brazilian named Kerlon continually displayed his signature trick: the seal dribble.
Sadly, an original trick does not a career make.

After leaving Cruzeiro in 2008, Kerlon spent injury-plagued periods with Inter, Chievo and Ajax before heading back to Brazil in 2011.
He never made the full Brazilian national team and now plays for Fujieda MYFC in the third tier of Japanese football.
Alvaro Recoba
In the late 90s, Uruguayan midfielder Alvaro Recoba was the man who was supposed to launch Internazionale into the stratosphere. Among other skills, his free kick abilities could rival Beckham and Roberto Carlos on the biggest stage.
After two seasons at the San Siro, however, his stock started to fall and he was loaned out to Venezia. In 2001 he received a ban for playing under a fake passport and had diminishing impact until he was transferred to Panionios of the Greek Super League in 2008.

The 37-year-old should be remembered as a star, but he is still quietly plodding away in his home country with Nacional.
Jay-Jay Okocha
By the time he arrived at Bolton in 2002, Jay-Jay Okocha had already carved out a successful career with PSG, Fenerbahce and Eintracht Frankfurt.
Midfielder Okocha was adored at the Reebok Stadium, helping Bolton avoid relegation in his first season and picking up the captain's armband in the second. Thanks to his dizzying skills and brilliant goals, he was the player everyone wanted in their team.
But in 2006 he moved to Qatar and effectively killed his career. He returned to England with Hull in 2007, but due to fitness issues he rarely featured.
Fernando Redondo
Defensive midfielder Fernando Redondo signed for Real Madrid in 1994, winning Champions League medals in 1998 and 2000.
The highly lauded Argentinean moved to Milan in 2000, but picked up an injury in training that left him unable to play for nearly two-and-a-half years.
Showing that he was a stand-up guy, he insisted on suspending his £2.74 million annual salary while injured, and according to The Guardian, he even tried to give back the house and car the Rossoneri had given him.
He recovered and won another Champions League title in 2003, but he certainly isn't remembered with the reverence he deserves.
Incidentally, his cousin Santiago Solari also played for Madrid, and has also been forgotten!
Michael Bridges
When Michael Bridges broke through with Sunderland in the 1996-97 season, he was considered one of the most exciting young forwards in the country.
He earned a £5 million move to Leeds in 1999, where he helped fire the Elland Road side into third place in the Premiership.
After picking up an injury in a UEFA Cup match with Besiktas, however, Bridges faced four seasons in the wilderness.
He subsequently signed for Bolton, Sunderland (again), Carlisle and Hull, but his best seemed to be behind him. The 34-year-old retired in 2011 while playing for Newcastle Jets, but quickly changed his mind and continues to play for the A-League side today.
Asamoah Gyan
Ghanian striker Asamoah Gyan enjoyed successful spells at Udinese and Rennes before joining Sunderland in 2010.
Before becoming a popular figure in the Premier League, Gyan had also put his name on the map with the Black Stars: he scored the fastest goal of the 2006 World Cup (68 seconds) and scored three times at the 2010 tournament.
Unfortunately, in the 2010 quater-final against Uruguay—in which Luis Suarez kept his country in the game with a goal line handball—Gyan missed his spot kick in the shoot-out. In 2012, he missed again in an Africa Cup of Nations semi-final.
In 2011, Gyan was loaned to UAE side Al Ain. He was unpopular for admitting he had effectively moved for money, but is now earning £140,000 a week with a permanent contract.

The move out of the spotlight helped Gyan become a forgotten man, but his bank manager surely thinks it was worthwhile.
Ariel Ortega
From early in his career with River Plate, Argentinean forward Ariel Ortega was touted as the next Maradona, thanks to his penchant for scoring superb goals with the greatest of ease.
However, the man nicknamed El Burrito ("the little donkey") was appropriately stubborn and seemed to sabotage his own career.
He was sent off in the 1998 World Cup for head butting Edwin van der Saar, he was banned for four months from Fenerbahce after failing to return from international duty and his reputation for drinking too much and training too little adversely affected the fondness with which he is remembered.
Lee Hendrie
In 12 years with Aston Villa, midfielder Lee Hendrie made over 250 appearances and scored 27 goals. After leaving for Sheffield Utd. in 2007, however, his career took a sharp decline.
Following fruitless spells at Derby and Bradford plagued by injury and personal problems, Hendrie spent a season in Indonesia, before turning out for a host of non-league sides including Kidderminster Harriers, Chasetown and Redditch Utd.
He was declared bankrupt in 2012 and retired last month after a season at Conference side Tamworth.
David Odonkor
In his prime, Borussia Dortmund youth product David Odonkor was surely the fastest winger in the west.
The BVB star featured in the 2006 World Cup and Euro 2008 for Die Mannschaft, but a series of serious knee problems put a huge dampener on a promising career.
He only featured in 51 games for Real Betis between 2006 and 2011, and subsequently was unable to win a contract with Glasgow Rangers after a week-long trial. He now plays for FC Hoverla Uzhhorod in Ukraine.
Jlloyd Samuel
Defender Jlloyd Samuel accrued over 200 Premier League appearances with Aston Villa and Bolton between 1998 and 2011, but the Trinidad & Tobago international has fallen off the face of the Earth since leaving England.
After various injury issues, Samuel ended up in the Iran Pro League with Esteghlal. He is considered one of the best players in Iran and won the league title last season, but the 32-year-old is no longer on most football fans' radars.
Keep Reading