No matter how you look at the first round of the 2013 MLB draft, there will be winners and losers.
There will be prospects that go to teams that fit their needs. There will be teams that get the opportunity to take top prospects that weren't expected to be there heading into Thursday night's draft.
There will be prospects that fall in the draft, and those that don't get the money they want will either decide to go to college or stay in school an extra year. There will also be teams that mess up their picks by neglecting their needs and taking a prospect that just doesn't fit at all.
The first round of the draft is essential to building a World Series contender—it's where the cream of the crop is, and the players taken usually have the highest potential at becoming stars in the big leagues.
But not every team is going to have a perfect first round. That being said, let's predict the winners and losers of Thursday night's first round.
Winner: Mark Appel, RHP, Stanford
This year will not be a repeat of last year for Stanford's Mark Appel. This time a year ago, Appel came into the draft as one of the top prospects available. He had the potential to go No. 1 overall to the Houston Astros. Some teams feared that Appel's agent, the mighty Scott Boras, would demand too much money for him.
Appel dropped to No. 8 and the Pittsburgh Pirates were willing to make him a sizable offer. The slot value was only $2.9 million, according to the Associated Press, via ESPN.
The Pirates decided to incur the penalty for offering more than the slot value and offered $3.8 million. Appel declined and decided to return to Stanford for his senior season.
Things will be different for Appel this year. He will probably go within the first two picks in the draft, either to the Astros or the Chicago Cubs.
competing gm predicts cubs will pick stanford rhp mark appel at No. 2 if astros pass on him again.

— Jon Heyman (@JonHeymanCBS) June 3, 2013
He'd be a great fit with either team and the best part is that Boras won't be getting in the way this time around, according to Brian T. Smith of the Houston Chronicle. Appel will be signing a contract this year—and a large one.
Jim Callis of Baseball America recently released the assigned pick values for the first round of the draft. The Astros can spend up to $7.8 million on the No. 1 overall pick and the Cubs can spend up to $6.7 million on No. 2 without incurring a penalty. It's likely that Appel would get a big piece of the pie regardless of which team takes him.
Loser: Pittsburgh Pirates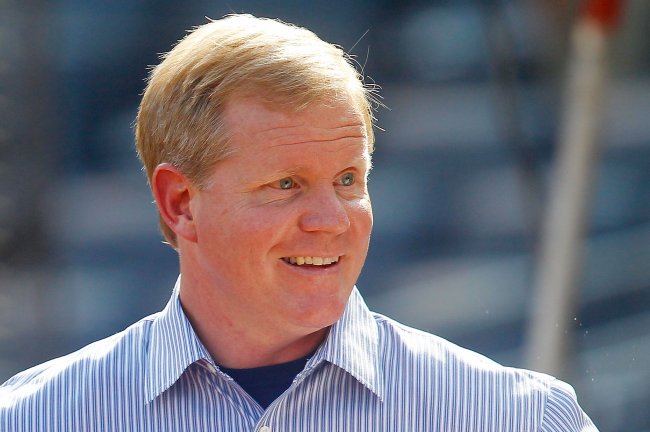 Jared Wickerham/Getty Images
Yes, losers for the second year in a row.
The Pittsburgh Pirates are in a tough spot entering the draft. They desperately need to take a catcher. In order to get the best one available, Pittsburgh needs to hope that Reese McGuire is still on the board at No. 9—the compensation pick for failing to sign Appel a year ago.
While Pittsburgh can decide to wait until the 14th pick to take a catcher, that doesn't seem like the best way to go. B/R's MLB Prospects Lead Writer Mike Rosenbaum has Pittsburgh going with McGuire with the ninth overall pick in his final mock draft, and I think that's a very likely scenario.
But if the Pirates select McGuire, they may have a tough time getting him to sign a professional contract. There's always a risk with high school players, not definitively knowing whether they're going to sign or decide to go to school.
McGuire is committed to the University of San Diego, according to his Perfect Game profile. Pittsburgh needs to convince him not to go. But if the Pirates are going to be stingy with their money like they were with Appel—even though he wanted more than the slot value—they won't be able to sign McGuire.
hearing good things about washington (state) prep catcher reese mcguire. should go high. big year for high school catchers.

— Jon Heyman (@JonHeymanCBS) June 5, 2013
McGuire is easily the top catcher in this year's draft class and by going to San Diego he could be the No. 1 overall pick in a couple of years. He's only going to get better. If Pittsburgh wants him in its system, the Pirates are going to have to wow him with an offer. I just don't see that happening. Pittsburgh will get a compensation pick for 2014.
Winners: Colorado Rockies
The Rockies are sitting pretty with the No. 3 pick in this year's draft. Colorado will likely have the Astros and Cubs making the decision for them. It's expected that the Rockies will end up taking the best player on the board after the first two selections have been made.
The Rockies are likely going to get a star.
Colorado needs to find a prospect that can turn into an ace. The Rockies could also use a bat that will eventually hit in the heart of their lineup. There are plenty of scenarios of what could happen with the first two picks, but the Rockies will likely get to choose between Appel, Jonathan Gray, Kris Bryant, Colin Moran and Kohl Stewart.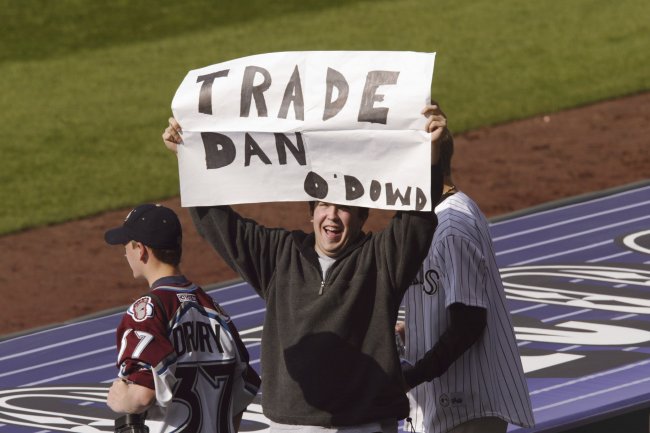 Brian Bahr/Getty Images
Each of those five prospects has high potential and could turn the franchise around. The Rockies reached for David Dahl in last year's draft, but I don't see any way that Colorado can mess this pick up. There will be three top prospects right in their face. The Rockies could close their eyes and just point to one of them on the draft board.
Patrick Saunders of The Denver Post believes that if available, Colorado will go with Bryant—a top slugger out of San Diego. If the Rockies take Gray or Appel, they're getting an ace in the making. If the Rockies take Moran or Stewart, they're getting either a top bat or the best prep pitcher in the class.
The Rockies can't lose the first round.