Los Angeles Dodgers MLB Draft Results: Scouting Profiles for 2013 Picks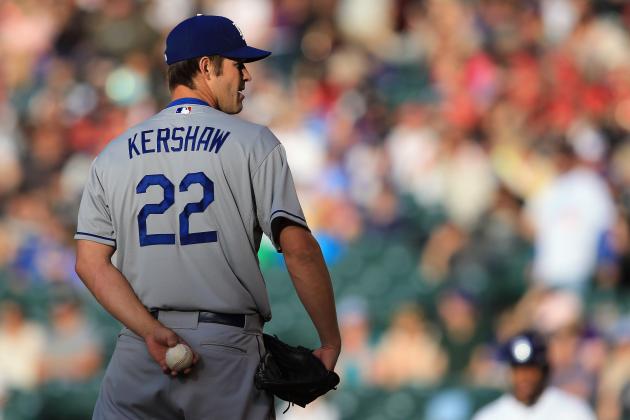 Doug Pensinger/Getty Images
Will the Dodgers find the next Clayton Kershaw in tonight's MLB Amatuer draft?
The Los Angeles Dodgers wrapped up the 2013 MLB amateur draft hoping to have a lot more luck than they've had on the field this year. The Dodgers are currently last in the NL West with a 27-35 record, but the draft gave fans a chance to focus their attention on the future.
Fans should be encouraged by what the Dodgers did in last year's draft, the first under the Guggenheim Baseball Management regime. The team was clearly intent on restocking a farm system that was woefully neglected during the Frank McCourt era.
2012 early-round picks like shortstop Corey Seaver and right-handed pitcher Ross Stripling are already showing great promise in the minor leagues.
Old age, injuries and pending free agency have created a cloudy future for the Dodgers' starting rotation. Beyond Clayton Kershaw, Zack Greinke and Hyun-Jin Ryu, Los Angeles does not have one other starter who is certain to be with the team beyond 2013.
With that in mind, the Dodgers targeted mostly college pitchers with high ceilings in this year's draft.
Their best current pitching prospects, RHP Zach Lee and LHP Chris Reed should both be ready to make their major league debuts as soon as next season. However, the Dodgers' minor league system needs better depth behind those two.
This draft tracker provides scouting reports on every player that Los Angeles selected through the first 10 rounds.
Begin Slideshow

»
Right-handed pitcher Chris Anderson is perhaps the hottest college prospect in the draft in terms of his movement up draft boards this spring. Playing for little-known Jacksonville University made it easy to overlook him, but he entered the draft as a consensus top-20 pick.
At 6'4", 215 pounds, Anderson has a solid frame that could still fill out, as he is still just 20 years old. Even now, he has a fastball that has topped out at 97 miles per hour, and projects as a potential No. 2 starter at the major league level.
He has been known to struggle a bit at times, but Anderson's ceiling projects as high, if not higher, than many of the top pitchers from bigger college programs.
The Dodgers once again chose to add depth to their minor league pitching by selecting left-handed pitcher Tom Windle out of the University of Minnesota.
Like Anderson, Windle has a solid frame—at 6'4" and 215 pounds—and a plus fastball. Windle also has two good secondary pitches, including an above-average changeup and a solid slider.
Windle emerged as an All-Star in the Cape Cod league last year, catching the eye of many major league scouts. He continued to improve his draft stock with a very good junior season at Minnesota, leading the Big Ten conference in strikeouts and finishing as a first-team All-Big Ten pick.
He finished the 2013 season with a 6-4 record, 2.14 ERA, 0.208 BAA and 86 strikeouts in 92.2 innings pitched.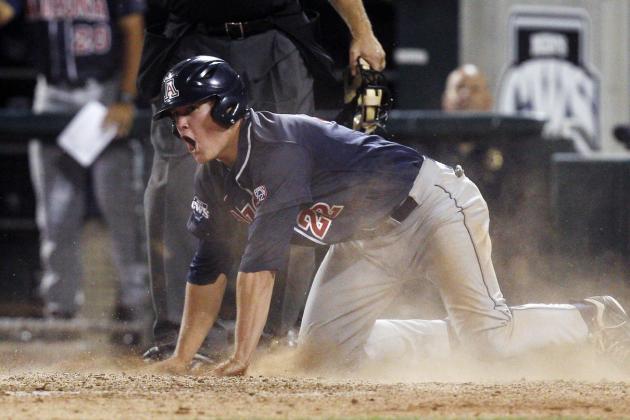 Bruce Thorson-USA TODAY Sports
Brandon Dixon celebrates during the 2012 College World Series.
The Dodgers selected third baseman Brandon Dixon with their third-round pick. Los Angeles finally broke away from selecting starting pitching, but did select its third straight player from the college ranks.
Dixson was the hero of Arizona's 2012 run through the College World Series, but was more of a defensive specialist than a threat offensively. That is until 2013 where he became an offensive juggernaut.
In 55 games this season, Dixon delivered a .369 batting average while scoring 56 runs, driving in 51 and stealing 30 bases in 37 attempts. While he only hit six home runs, his 6'1", 213-pound frame suggest that he could develop power.
As a three-year college player, Dixon could accelerate through the minors relatively quickly. With the future of current Dodgers third baseman Hanley Ramirez uncertain beyond 2014 (when he'll become a free agent), Dixon could emerge as a more immediate solution at the hot corner than last year's first-round pick, Corey Seager.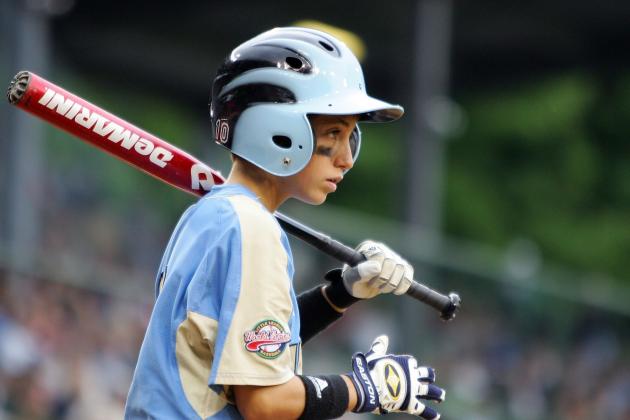 Jim McIsaac/Getty Images
From LLWS to the MLB draft. What a journey for Cody Bellinger.
The Dodgers once again broke from their 2013 draft trend by selecting their first high school player: first baseman Cody Bellinger. Bellinger is the son of former major leaguer Clay Bellinger, who won two World Series titles as utility man for the New York Yankees in 1999 and 2000.
Cody has a bit of a claim to fame himself, having played in the 2007 Little League World Series. Now the 6'4", 180-pound lefty has a chance to follow in his father's footsteps as a future big leaguer.
According to MLB.com, Bellinger has been favorably compared to current Washington Nationals first baseman Adam LaRoche, as both a fielder and hitter. He is also an excellent pitcher, and is currently committed to play at Oregon in the fall.
No word on whether he will stick with his commitment or join the Dodgers minor league system this summer.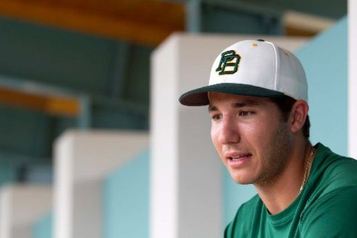 Image courtesy of blogs.palmbeachpost.com
The Dodgers make it back-to-back sons of former major leaguers, selecting right-handed pitcher J.D. Underwood with their fifth-round pick. J.D.'s father, Tom Underwood, had an 11-year MLB career (1974-84) with six organizations.
The younger Underwood is currently committed to attend University of Miami in the fall, after spending the last two seasons becoming a star in the JUCO ranks.
If he chooses to sign with Los Angeles, Underwood will focus on pitching. He has a fastball that tops out in the low-90s, but has command of a curveball and changeup.
Based on this scouting report, Underwood projects to be a No. 3, 4 or 5 starter at the major-league level.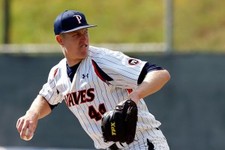 Image courtesy of baseballamerica.com
The Dodgers drafted their second straight JUCO player, selecting right-handed pitcher Jacob Rhame in the sixth round. Los Angeles has now gone with pitching with four of its first six picks.
Rhame has average size at 6'1" and roughly 200 pounds. He has a fastball that tops out in the low-90s with that pitch, but also has a changeup and curve that he can throw for strikes.
Here is a scouting report from one of his outings earlier in the spring.
Rhame is unlikely to sign with the Dodgers, likely heading back to a four-year college in the fall (he is committed to Texas State).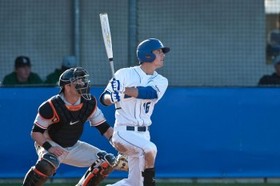 Image courtesy of presidiosports.com
The Dodgers selected their third consecutive player from the college ranks by taking shortstop Brandon Trinkwon in the seventh round. Trinkwon entered the 2013 college season as one of the better draft-eligible middle-infield prospects, and his 2013 season did nothing to diminish his stock.
Here is a more complete, preseason scouting report on the 6'1", 160-pounder.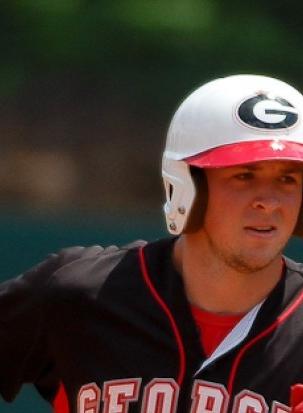 Georgia shortstop Kyle Farmer
Los Angeles has gone heavy on college players early on, and that trend continues with Georgia shortstop Kyle Farmer. The 6', 205-pound senior hit .290 in 52 games, leading the Bulldogs in RBI with 44.
Farmer was originally drafted by the New York Yankees in the 35th round of the 2012 draft, but he chose not to sign and returned to college.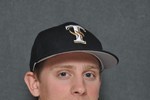 Henry Yates is an outfielder selected by the Dodgers in the ninth-round of the amateur draft. The 6'2", 190-pounder had an outstanding senior season, hitting .415, scoring 33 runs and driving in 45 runs in 45 games played.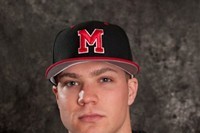 Image courtesy of gomounties.com
The Dodgers rounded out their Day-2 draft picks by selecting right-handed pitcher Nick Keener of Mansfield University in Pennsylvania in the 10th round. The 5'11" redshirt Junior made 10 relief appearances for the Mountaineers this season, posting a 7.43 ERA in 13.1 innings pitched, while striking out just four batters.
The scouts must have been impressed with his stuff, because the numbers don't pop out at you in a positive way.