Predicting the 15 Highest Rated Players in Madden NFL 25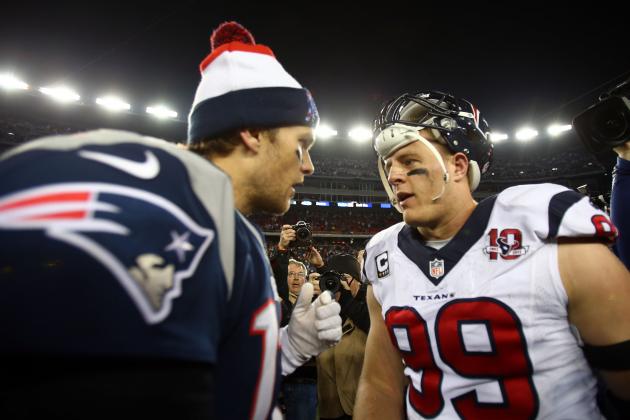 Elsa/Getty Images

It's the itchy time for NFL fans everywhere. It's been weeks since the 2013 NFL draft, months since the Super Bowl and even longer since most teams played a down.
There hasn't been any football on the TV in forever, and training camp is many weeks away. Preseason feels like it'll never come.
So, we turn to Madden.
The Madden series of video games has been the best way fans can get their fix for years on end. This season will be the 25th anniversary edition of the game, and it can't be released soon enough.
Every fan wants to know how powerful their team is going to be—and if their team's star player is going to be rated among the league's best.
Every gamer wants to know which team is going to be the hardest to stop this season so they can start getting ready to helm their chosen juggernaut through ranked game after ranked game.
The ultra-crazy junkies will be socking away their spare change to score the very best ultimate team cards.
Which will be the best of the best players, the elite of the elite? Here's my projection of the 15 highest-rated players in Madden 25.
All statistics are sourced from Pro Football Focus, except where noted. A subscription may be required to view PFF links.
Begin Slideshow

»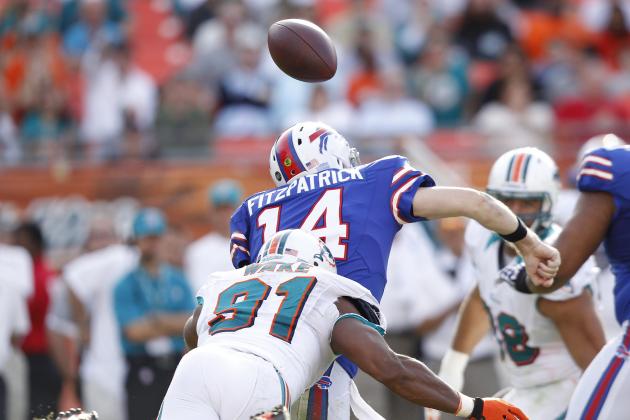 Joel Auerbach/Getty Images

Since taking the long journey down from the Canadian Football League to the Miami Dolphins, Cameron Wake has consistently terrified quarterbacks with his blazing edge speed.
In 2012, though, the 31-year-old took his game to a completely different level, leading all 4-3 defensive ends with 15 sacks and 23 quarterback hits. He added 46 hurries, bringing his Pro Football Focus Total Pressure up to a league-leading 83.
Wake not only made the Pro Bowl, he was named first-team All-Pro.
In Madden 13, Wake started at 93 overall and finished at 97; I see him starting at 97 in Madden 25.
Projected rating: 97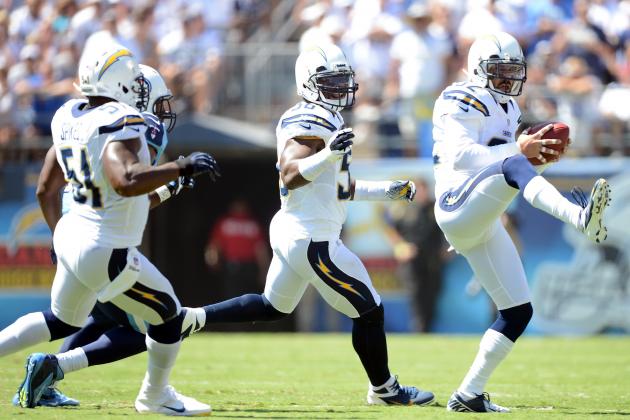 Harry How/Getty Images

Eric Weddle has been one of the most consistently underrated players in football over the past few seasons. Once players get their hands on Madden 25, though, it'll be hard not to notice what a phenomenal two-way player Weddle is.
Last season, Weddle came in second among all safeties in solo tackles (89) and fourth in stops (37). He also held opposing quarterbacks to an NFL passer efficiency rating of just 54.3. He allowed 21 of 34 targets to be caught, and for just 7.0 yards per catch.
Weddle came into last season as a 95 overall player and finished at 96. The 28-year-old should get a slight initial boost in Madden 25.
Projected rating: 97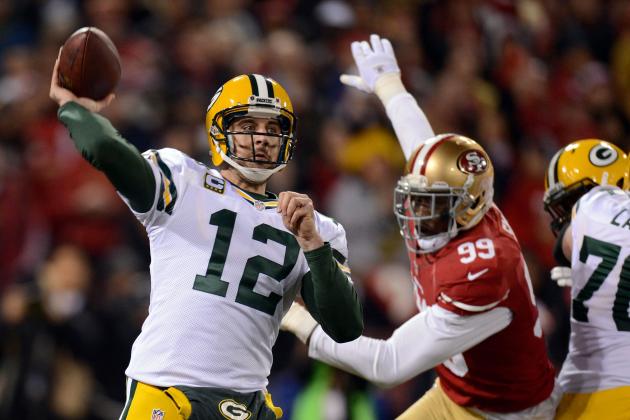 Thearon W. Henderson/Getty Images

Aaron Rodgers has been one of the most consistently excellent quarterbacks in football over the past several seasons, and his top-notch Madden ratings have reflected that.
However, Rodgers' production slipped from an insane 2011 season to a merely awesome 2012. Per Pro Football Reference, Rodgers led the NFL in touchdown percentage (7.1 percent) and NFL passer efficiency rating (108.0), but he was sacked more often than anyone else (51 times).
It's not necessarily on Rodgers that he spent much of 2012 running for his life and making something out of nothing, but 99 overall ratings can't be handed out on reputation alone.
Look for Rodgers' rating to climb as the 2013 season wears on.
Projected rating: 97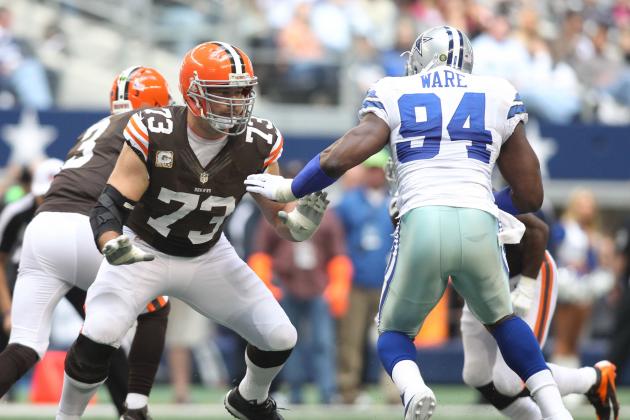 Tim Heitman-USA TODAY Sports

Joe Thomas has been a stalwart pass-protector ever since being drafted No. 3 overall in 2007.
Nothing changed in 2012. Thomas kept his Pro Bowl streak alive by keeping pass-rushers away from quarterback Brandon Weeden. That makes six straight nominations in his six-season career—an incredible accomplishment.
However, per Pro Football Focus, Thomas struggled a bit in run-blocking last season (graded at minus-2.4). Thomas also lost out on first-team All-Pro honors in 2012, breaking a three-year streak.
Thomas started Madden 13 at 97 overall and finished at 98; an initial rating of 97 for Madden 25 is more than fair.
Projected rating: 97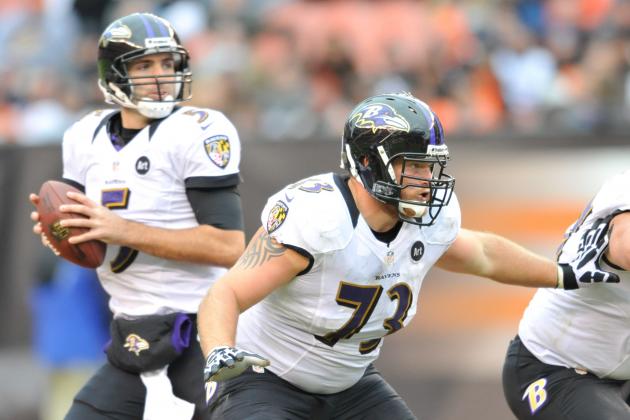 David Richard-USA TODAY Sports

Over the last two seasons, Marshal Yanda hasn't gotten the attention his exceptional play deserves. Maybe people are too distracted by the merry-go-round of Baltimore Ravens offensive tackles or the rejuvenation of aged center Matt Birk.
The juggernaut running tandem of Ray Rice and Bernard Pierce have Yanda to thank for the holes they blew through on the way to a Super Bowl championship.
Yanda received the highest Pro Football Focus run-blocking grade of any right guard in 2012, and he had the second-highest pass-blocking grade.
Yanda was named to his second straight Pro Bowl squad at the end of last season, and the 28-year-old should pick up right where he left off in his Madden ratings: 97 overall.
Projected rating: 97
Kim Klement-USA TODAY Sports

There's no question that Darrelle Revis, when healthy and playing for the New York Jets, is the best cornerback in football and worthy of a 99 overall rating.
However, Revis is not healthy. He is rehabbing an ACL injury suffered last season. Though the Associated Press reports (via ESPN.com) Revis is "hopeful" he'll be ready at the start of the season, there's no guarantee that will be so.
Further, Revis won't be playing for the Jets. For the first time in his career, he will wear colors other than green and white. He'll also have to adjust to defensive coordinator Bill Sheridan's system and style.
Giving Revis a little room to grow in his Madden 25 rating makes perfect sense.
Projected rating: 97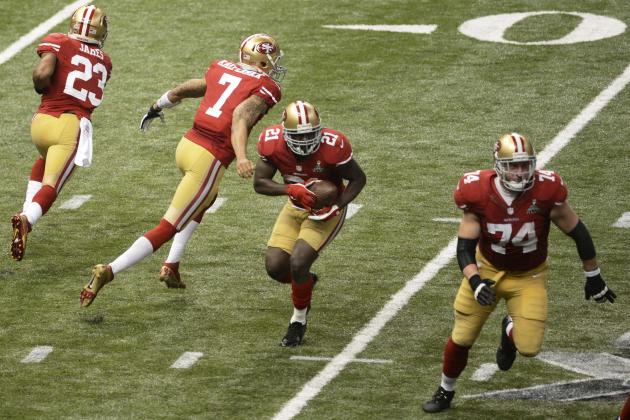 Richard Mackson-USA TODAY Sports

Joe Staley isn't what most football fans think of as a prototypical left tackle. He has the height (6'5"), but his lean 315-pound frame and Mid-American Conference pedigree don't remind most fans of Jonathan Ogden or Walter Jones.
Nevertheless, Staley was considered one of the best tackles in football again last season, making his second straight Pro Bowl. Pro Football Focus wasn't nearly so kind, naming him the 17th-best tackle to start more than 10 games on the left side.
Staley rocketed up the Madden rating charts from 87 overall to 96 overall. The athletic tackle played some of his best football when leading the way for Colin Kaepernick and the 49ers' Pistol-based zone-read offense.
Coming off a wave of Super Bowl hype, I see Staley starting out very high in Madden 25.
Projected rating: 98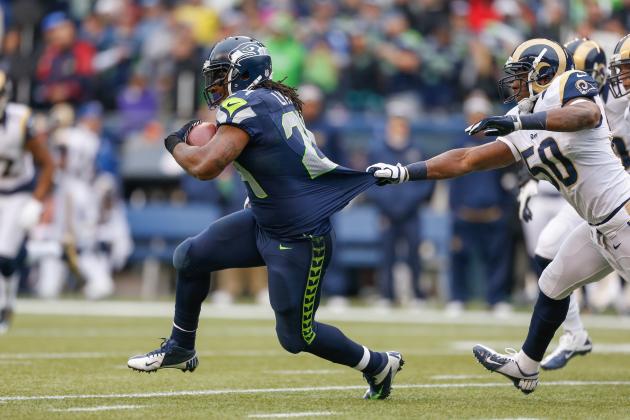 Otto Greule Jr/Getty Images

Marshawn Lynch did not have the historic season Adrian Peterson did. However, he still registered 1,590 yards on just 315 carries for an outstanding 5.0 yards-per-carry average.
Lynch also hit pay dirt 11 times for the Seahawks, which was important in keeping defenses honest against rookie quarterback Russell Wilson. Most impressively, Lynch broke or eluded 58 tackles last season (second to Peterson).
Lynch's balanced blend of strength, acceleration and power took him to 97 overall last season. Given the expectations for the Seahawks, it would be no surprise if Lynch started Madden 25 even higher.
Projected rating: 98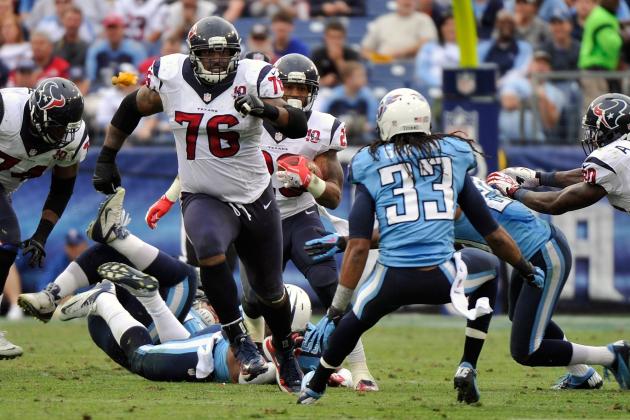 Frederick Breedon/Getty Images

If you ask most football fans to name the best left tackle in the NFL, they'd rattle off five or six names before the Houston Texans' Duane Brown—if they named him at all.
When the Associated Press, Pro Football Writers Association and Pro Football Focus named the best left tackle in the NFL last season, they all named Brown.
At 6'4", 320 pounds, Brown had a breakout season last year, and his Madden 13 ratings reflected it. He improved from an initial 92 overall to 97 overall.
As the reigning top offensive tackle, though, and at only 28 years old (by the time the season starts), Brown will surely see a slight boost from there.
Projected rating: 98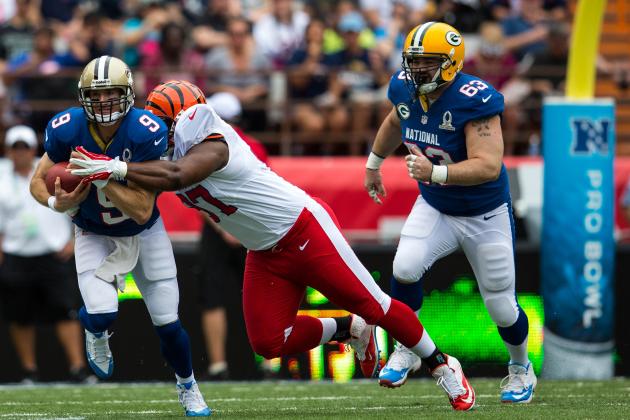 Kent Nishimura/Getty Images

Geno Atkins has been a personal favorite of mine since he ran riot over his fellow draft prospects at the 2010 Senior Bowl.
The 6'1", 300-pounder hasn't lost anything off his incredible first few steps, and his pass-rush moves are even better.
After racking up a ridiculous 12.5 sacks in 2012 as a defensive tackle, Atkins couldn't be much better. His Madden 25 rating will certainly reflect that.
Projected rating: 98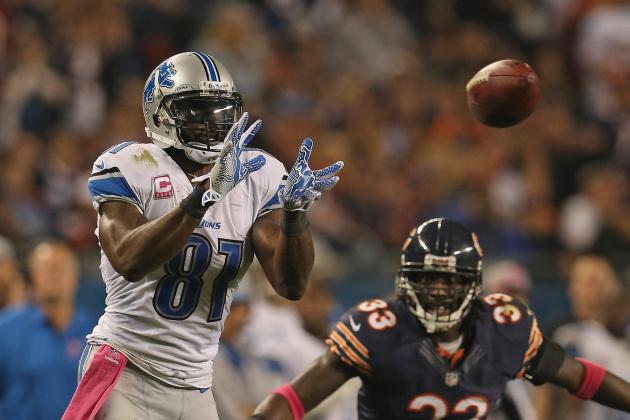 Jonathan Daniel/Getty Images

Calvin Johnson was Madden 13's cover boy, and he obliterated the infamous "Madden Curse" by gaining 1,964 yards, breaking the NFL's single-season receiving record. Johnson also led the NFL in receptions, with 122, and was named an All-Pro for the third straight season.
All of that said, for a player who went wire-to-wire with a 99 overall rating, Johnson only finished the season with five touchdowns. As ESPN.com's Kevin Seifert notes, Johnson was stopped at the 1-yard line a shocking six times—but sometimes that one yard is the difference between winning and losing.
It was often exactly that for the Detroit Lions, who went 4-12 thanks to a series of excruciating losses. Johnson deserves all the credit in the world for his record-breaking season, but he shouldn't be given a perfect rating by default.
Projected rating: 98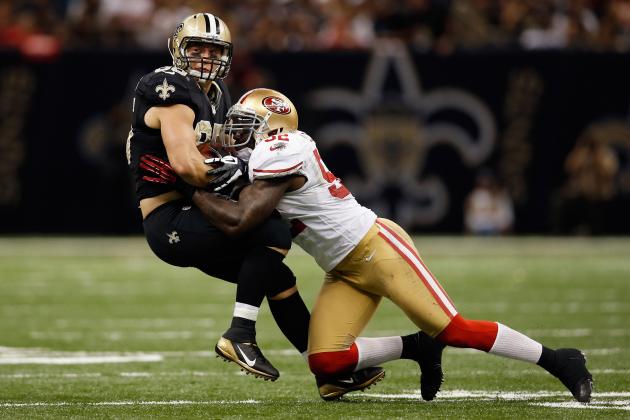 Chris Graythen/Getty Images

Patrick Willis has been one of the best linebackers in the NFL since the day he stepped on the field. Six Pro Bowl nods and five first-team All-Pro honors in six seasons is practically unheard of.
Turning 28 just before the Super Bowl, Willis has shown no signs of slowing down. In fact, Pro Football Focus graded Willis far and away the best inside linebacker in football in 2012.
Willis is well known for his bone-crushing hits on running backs, but he's also a force in the passing game. He was PFF's highest-graded coverage inside linebacker.
Look for his 98 end-of-season rating to get a Super Bowl bump.
Projected rating: 99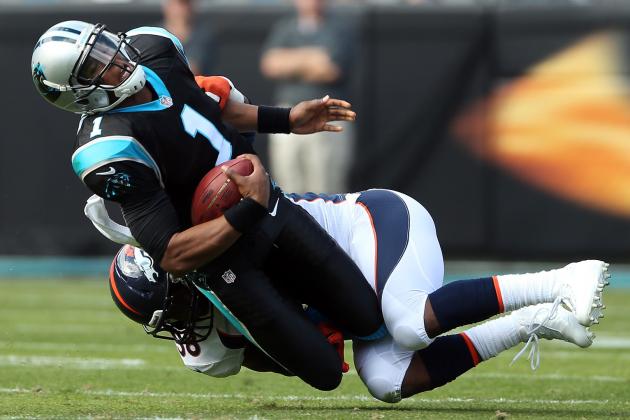 Streeter Lecka/Getty Images

Much of the talk about the Denver Broncos' run to the AFC Championship Game centered around the incredible comeback of Peyton Manning. Rightfully so, as Manning went from "proving he still had the strength in his arm to throw a football" to "sixth career first-team All-Pro honors."
Still, Miller had a monster season.
The second-year player took a great leap forward from his spectacular rookie year, locking up first-team All-Pro honors of his own on the strength of 18.5 sacks, 15 quarterback hits and 52 hurries.
Miller was so much better than every other 4-3 linebacker that it's hard to express in words. Pro Football Focus graded Miller at a mind-blowing plus-78.5, leaps and bounds ahead of second-place Jerod Mayo (plus-17.1).
Projected rating: 99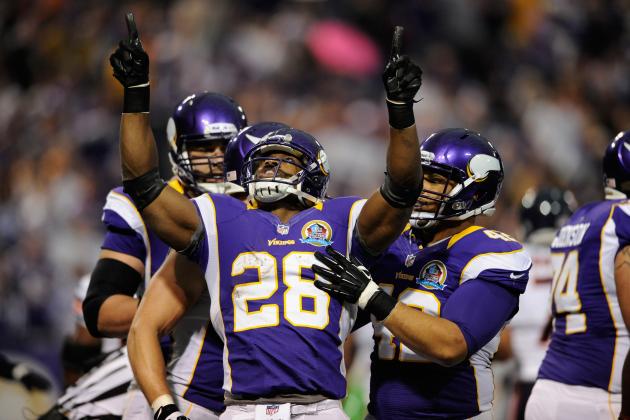 Hannah Foslien/Getty Images

What is left to say about Adrian Peterson? At age 27, he rehabbed a torn ACL in a shockingly short eight months. Then, he not only had the best season of his career, but he had one of the best seasons any running back has ever had.
Peterson pounded out 2,097 yards in 2012, just nine yards short of Eric Dickerson's all-time record. He did it on 348 carries, averaging 6.0 yards per carry.
Peterson added 12 rushing touchdowns and 40 receptions for another 217 yards and a score. It's no wonder why he walked away with Pro Bowl, first-team All Pro and Associated Press NFL MVP honors.
Projected rating: 99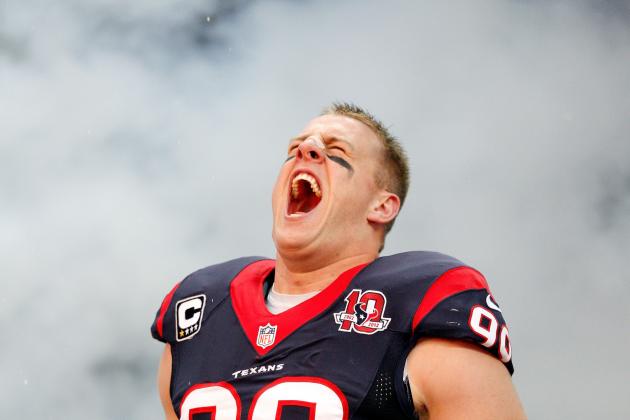 Bob Levey/Getty Images

In one season, J.J. Watt redefined his position.
A 3-4 defensive end is supposed to be a space-eater, a player who takes on blocks and clogs up running lanes. Sometimes they use power moves or split a double-team and take down the passer, but they're mostly there to make the linebackers' jobs easier.
Now, a 3-4 defensive end can rack up 20.5 sacks, 25 quarterback hits and 30 quarterback hurries. A 3-4 defensive end can finish tied for 10th in the NFL in passes defensed.
Somehow, Watt swatted away as many passes at the line as first-team All-Pro cornerback Charles Tillman broke up.
No matter how you look at Watt's performance, there's no denying it: 2012's Defensive Player of the Year should be Madden 25's best player available.
Projected rating: 99