Sharapova vs. Azarenka: French Open 2013 Women's Semifinals Highlights, Recap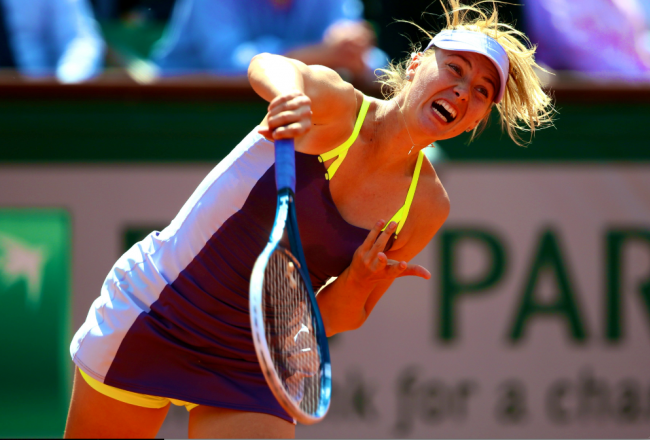 Maria Sharapova has defeated Victoria Azarenka 6-1, 2-6, 6-4 in the first French Open semifinal of the day.
Sharapova will look to defend her title from last year on Saturday.
Though she did have many patchy spots in the match she showed that her power and mental strength may be enough to challenge a potential (and likely) Serena Williams in the final at Roland Garros.
The second semifinal (featuring Serena Williams and Sara Errani) will be broadcast live on NBC. The live blog for that match is here.
Thanks for tuning in, folks!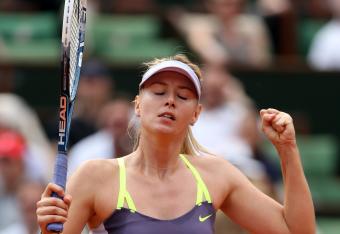 Sharapova defeats Azarenka 6-1, 2-6, 6-4.
While Azarenka showed much determination and courage to come back, it was not enough for her to reach her first Roland Garros final.
I don't think Sharapova showed enough skills today that could challenge Serena but we'll see.
And while I predicted the approximate duration of time of the match and the winner, I was way off with the scoreline.
Here is the live blog for the Serena-Errani match, which will be broadcast live on NBC.
And make that 5-4.
Sharapova will serve for the match one more time. Let's see if nerves play a part in the conclusion of this first semifinal.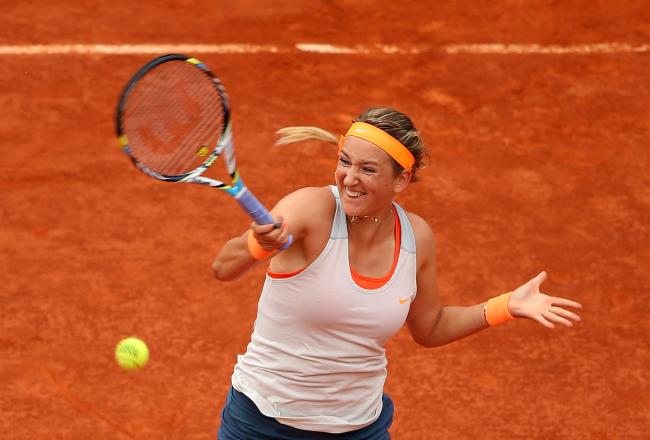 Azarenka fights off a few match points as Sharapova helps by contributing some double faults.
5-3 now.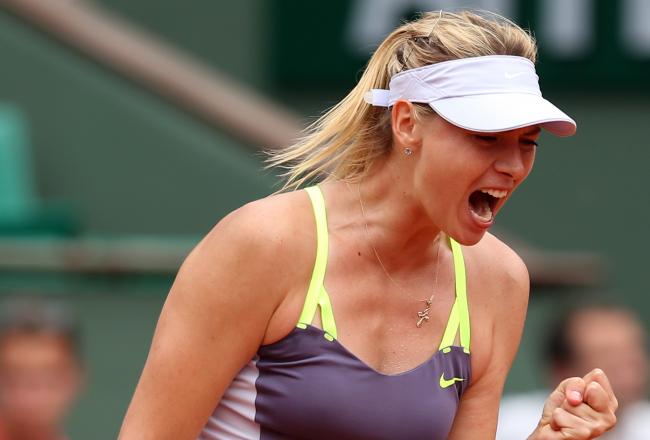 Sharapova goes up a double break on Vika. 5-2!
This one looks like it'll be over soon.
Finally a player is able to hold serve!
Sharapova extends her lead to 4-2 in this set.
I am sitting courtside not sure I have ever heard Shazza scream as loud ad she is right now ?

— Brad Gilbert (@bgtennisnation) June 6, 2013
Make that three breaks in a row.
Sharapova now leads 3-2 in the final set in this topsy-turvy affair.
Both players are grinding it out and we will have a winner shortly.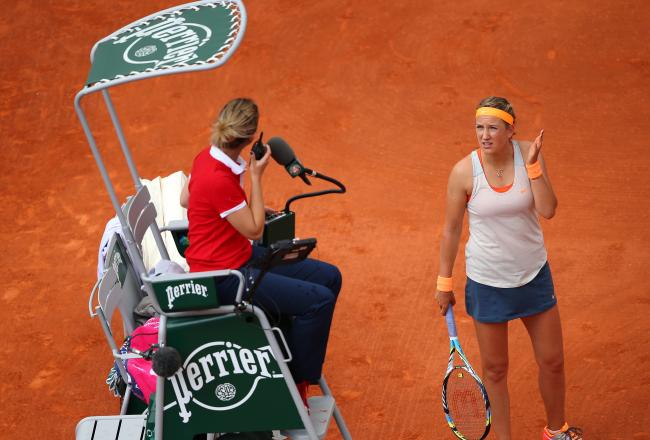 A bizarre service game from Sharapova leads to a break back by Azarenka.
The score is now 2-2 after several aces and double faults from the Russian.
Sharapova utilizes angles and her unprecedented power to earn the first break of the final set!
2-1 to the Russian star. She has been the better player since returning from the rain delay.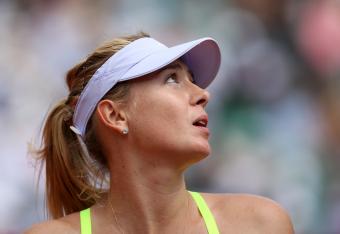 Sharapova with a tough hold! 1-1
Vika faces a break point but fights it off and moves ahead 1-0 in this decisive final set.
Aza starting to work her way back in the match with Shazza, lets hope there is some more twist to this plot

— Brad Gilbert (@bgtennisnation) June 6, 2013
And the players are back on the court after roughly a half hour.
Who will be the better player after the rain delay?
There is a temporary rain delay, though the rain appears to have stopped coming down just now.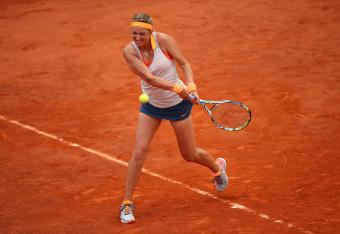 The second set ends on a double fault and the momentum was swayed significantly to the other opponent.
Azarenka takes the second set 6-2 in a now-lopsided affair.
There is a slight drizzle of rain and play may be delayed shortly.
In the meantime, the players play on.
Azarenka goes down 0-30 on her serve but plays four safe and smart points to recover and extend her lead to 5-2.
This one looks like it's going to a third set. Stay tuned.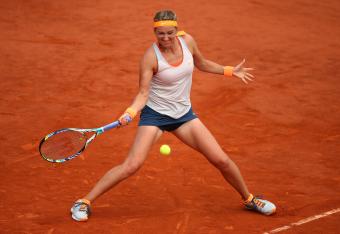 Azarenka breaks Sharapova! 1-6, 4-2 to Vika.
Azarenka moves up 3-2 in this second set but it is still on serve.
I think Sharapova is easing up a little bit on these baseline rallies and it is allowing her opponent to win more games.
Winning a few more games may lead to taking a set, and then who knows?
Vika is still attempting a comeback here in the second set. She is serving a little bit better.
I am amazed how much Shazza has improved over the last few years on clay she used to never be able to slide, made such a diff in her game

— Brad Gilbert (@bgtennisnation) June 6, 2013
Azarenka holds for the first time in the opening game of the second set.
I think Vika will find a way to level the playing field here and boss Sharapova around a bit more.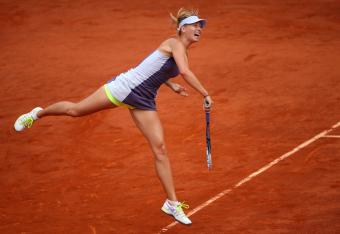 Besides breaking Sharapova at love in the first game of the first set, Azarenka has put on a lackluster performance and lost six straight games.
All three of her service games started with her going down 0-40.
Sharapova wins the first set 6-1.
I think winning this match to go on to the final would mean much more for Azarenka's career.
She is still incredibly young and is continuing to improve, but she must establish herself on clay and grass surfaces.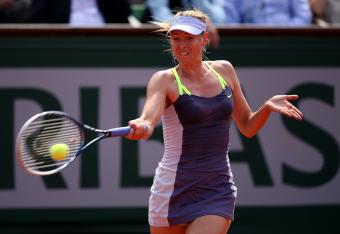 Maria Sharapova has definitely been the fresher player out there. 4-1.
Sharapova is the first to hold to go up 2-1 in the opening set.
Thinking Sharapova v Azarenka very close. My head says Vika based on better form here, my gut says Maria based on her heart, going with head

— Matt Cronin (@TennisReporters) June 6, 2013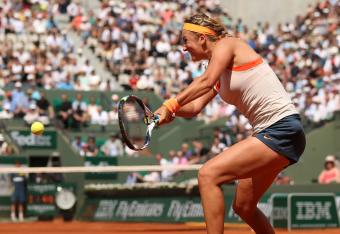 Azarenka digs herself out of a 0-40 hole to get back to deuce but it isn't enough.
Break and break back to start off the match. 1-1.
Sharapova serves first to get the match started.
Vika hits a dropshot and subsequent winner, followed by three unforced errors from Maria.
Two of the points Maria lost were due to double faults.
Azarenka breaks and goes up 1-0.
This article is
What is the duplicate article?
Why is this article offensive?
Where is this article plagiarized from?
Why is this article poorly edited?