MLB Mock Draft 2013: Mike Rosenbaum's Final 1st-Round Projections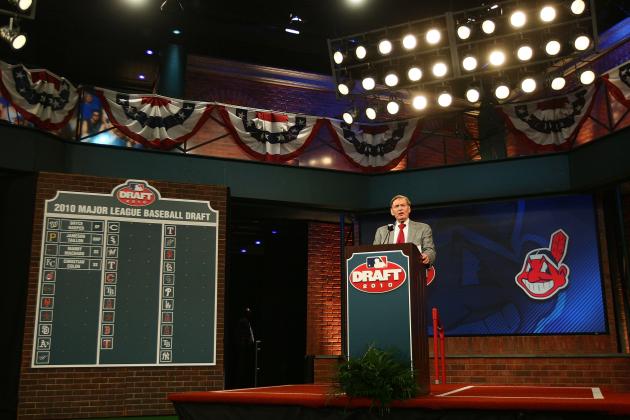 Mike Stobe/Getty Images

With the 2013 MLB Rule 4 draft set to commence on Thursday night, it's time to take one final stab at predicting how the first round will unfold.
For the second consecutive year, the Houston Astros have the No. 1 pick and will drastically impact how the first round unfolds. In 2012, they decided to cut a well-below-slot deal with 17-year-old Puerto Rican shortstop Carlos Correa. As a result, the organization was able to sign all of its key, early round selections.
Although this year's crop of talent may be weaker compared to previous drafts, it's loaded at the top with college standouts Mark Appel, Jonathan Gray, Kris Bryant and Colin Moran.
But which player will the Astros select with the No. 1 pick?
Here's a look at my final mock draft of the year.
Begin Slideshow

»
Slot Value: $7.7904 million
Analysis: Although recent speculation from Jon Heyman of CBS Sports suggests the Astros may attempt to cut a deal with Colin Moran, I see that being a waste of a valuable No. 1 pick.
Landing Moran at a significant discount would once again ensure they sign each early round pick, but I'd be shocked if they passed on Jonathan Gray, Mark Appel or Kris Bryant.
Of the three, I still see Gray is their guy, and I'm standing by it.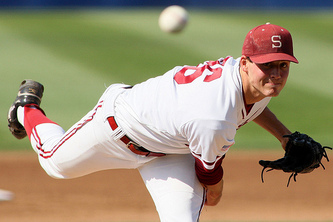 Courtesy of Stanford
Slot Value: $6.7084 million
Analysis: Basically, the Chicago Cubs are just waiting to see who the Astros pick before committing to a specific player.
Even though a case can be made for Kris Bryant right here, there's no chance they'll pass up a potential ace, especially with a system that's devoid of projectable arms.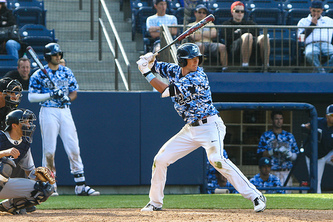 Courtesy of San Diego
Slot Value: $5.6264 million
Analysis: This could be either Gray or Appel if something unexpected happens, but I believe the first three picks will unfold as anticipated.
For those of you worrying about how he'll fit in with Nolan Arenado already entrenched at the hot corner, try not to read too far into it. The Colorado Rockies will make room for both of their potent bats.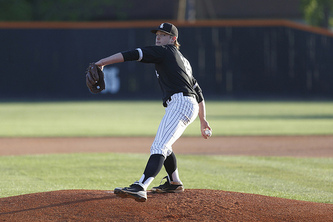 Courtesy of St. Pius X High School
Slot Value: $4.5444 million
Analysis: If Gray, Appel and Bryant are the first three players off the board, then Kohl Stewart is seemingly the next logical choice here.
And considering they need more power arms in their already promising farm system, the Minnesota Twins should be willing to meet the right-hander's presumably lofty signing demands.
Slot Value: $3.787 million
Analysis: The Cleveland Indians are praying that either Bryant or Moran make it to them. And if the latter doesn't cut a deal with the Astros at No. 1, there's a realistic chance that they'll get him.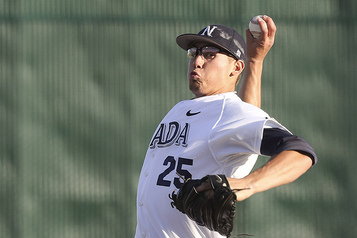 Courtesy of Nevada
Slot Value: $3.5165 million
Analysis: Although I could also see Braden Shipley going to the Twins with the fourth pick if there's a shakeup within the top five, the Miami Marlins should be able to land Shipley.
Another option here would be Austin Meadows.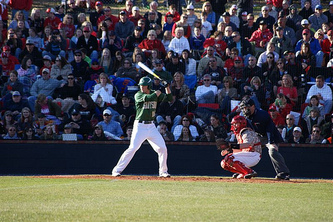 Courtesy of Grayson High School
Slot Value: $3.2465 million
Analysis: Boston should have its choice of either Clint Frazier or Austin Meadows with its first pick.
While Frazier is the more advanced player at the moment and has the potential to make a more immediate impact in the major leagues, I expect the Red Sox to go with Meadows, who has a higher ceiling.

Slot Value: $3.1378 million
Analysis: As ESPN.com's Keith Law (subscription required) recently noted, the buzz within the industry is that the Kansas City Royals are all over Phil Bickford.
Although the organization would benefit by landing an impact bat right here, you can't fault them for taking the high-risk, high-reward route.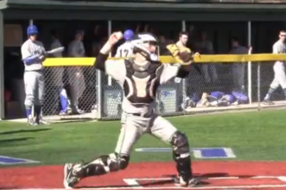 Courtesy of MLBDirt
Slot Value: $3.0296 million
Analysis: The Pittsburgh Pirates aren't quite sure who they are going to select with each of their Top 15 picks, but it seems like a safe assumption that Reese McGuire will be one of them provided that he's signable.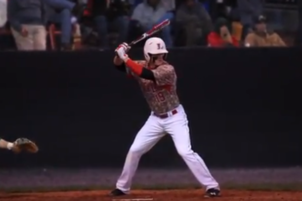 Courtesy of BaseballAmericaVideo
Slot Value: $2.9214 million
Analysis: I wouldn't be surprised if Frazier's already off the board by the time the Toronto Blue Jays make their pick. If that's ultimately the case, expect them to target another high-ceiling prep player like Trey Ball.
Slot Value: $2.8403 million
Analysis: Part of me wanted to go with Dominic Smith right here, but it's hard to envision the New York Mets, who need impact bats in their system immediately, investing in a high school player with a proven hitter like D.J. Peterson still on the board.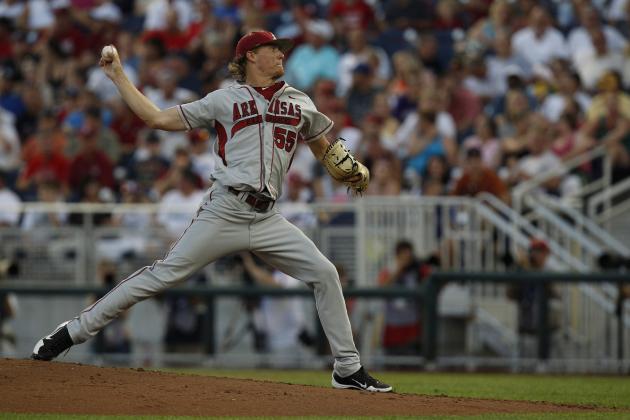 Bruce Thorson-USA TODAY Sports

Slot Value: $2.7591 million
Analysis: The Seattle Mariners will likely sit back and wait to see who falls in their lap at No. 12, hoping that it's a high-ceiling player such as Meadows, Frazier or Bickford.
However, if the Top 10 plays out as anticipated, grabbing Ryne Stanek here makes sense. He's likely to come off the board within the next five picks anyway.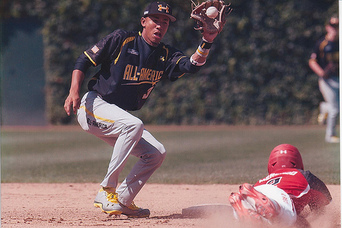 Courtesy of Lakewood High School
Slot Value: $2.678 million
Analysis: The last time the San Diego Padres selected a shortstop with their first pick was Matt Bush in 2003, and we all know how that turned out.
After selecting a high school arm in two of the past three years, expect the Padres to target a high-ceiling prospect at a premium position.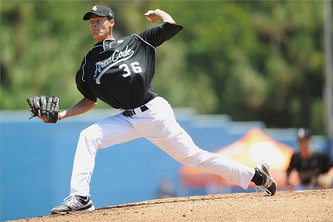 Courtesy of New Castle High School
Slot Value: $2.5698 million
Analysis: Even if the Pirates select Reese McGuire with the ninth pick, they have every reason to double down on high school talent if Ball makes it this far.
If not, expect them to go after one of the better college bats still on the board.
Slot Value: $2.4345 million
Analysis: I've had Hunter Renfroe going to the Arizona Diamondbacks in both of the previous mock drafts, and I'm sticking with it.
The only way they wouldn't land the toolsy outfielder is if he's already off the board, which is definitely possible.
Slot Value: $2.2993 million
Analysis: Much like some of the other teams with a mid-first-round pick, the Philadelphia Phillies will have to wait and see what's still available at No. 16.
If Dominic Smith is already off the board, I could see them showing interest in an up-the-middle player such as Tim Anderson, or even a high-ceiling right-hander such as Hunter Harvey or Devin Williams.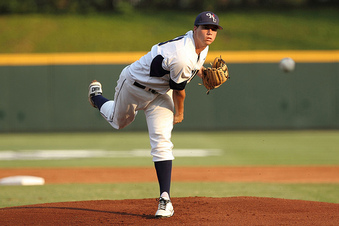 Courtesy of Oral Roberts
Slot Value: $2.164 million
Analysis: Landing Alex Gonzalez with the 17th pick may represent the best-case scenario for the Chicago White Sox. He's also a fit for several teams with a Top 15 pick.
If he's unavailable, the South Siders also would be in on another college player such as Chris Anderson or Aaron Judge.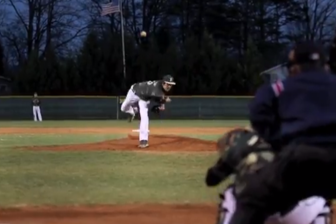 Courtesy of BaseballAmericaVideo
Slot Value: $2.1099 million
Analysis: If the Los Angeles Dodgers decide to draft one of the high-ceiling prep arms, it could mark a turning point in the draft.
More specifically, it could trigger a domino effect as the remaining teams drafting at the back end of the first round may feel forced to target a younger pitcher ahead of schedule.
Slot Value: $2.0558 million
Analysis: Even if the Dodgers take a pitcher ahead of them, the St. Louis Cardinals are still in great position to address their organizational needs in a variety of ways.
Considering that Pete Kozma is not their long-term solution at shortstop, grabbing Tim Anderson with the 19th pick could turn out to be a huge steal.
Slot Value: $2.0017 million
Analysis: After talking with a National League scout who watched Devin Williams hit 93 to 96 mph with improved secondaries yesterday morning, I'm beginning to wonder whether the right-hander will even last this long into the draft.
Regardless, expect Williams' name to surface near the middle of the first round on Thursday.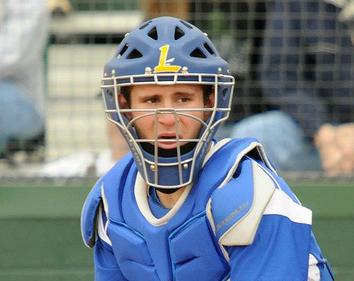 Courtesy of Lexington High School
Slot Value: $1.9747 million
Analysis: Although the Tampa Bay Rays haven't been directly linked to Nick Ciuffo, the industry consensus is that the left-handed hitting catcher will be their first pick.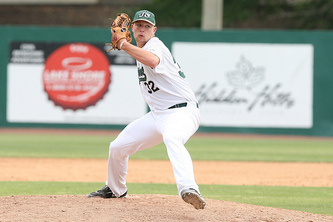 Courtesy of Jacksonville
Slot Value: $1.9477 million
Analysis: While the Baltimore Orioles may consider one of the high-ceiling outfielders still on the board such as Aaron Judge, Josh Hart or even Austin Wilson, they're also in need of at least one projectable arm.
A college pitcher such as Chris Anderson, Aaron Blair or even Jonathan Crawford would make sense.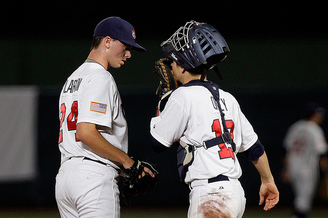 Courtesy of James Madison High School
Slot Value: $1.9206 million
Analysis: Just as they did last year, the Texas Rangers will presumably target a pair of young, high-ceiling prospects in the first round.
With that first pick, expect them to pursue a player like Ian Clarkin, who figures to come off the board shortly thereafter.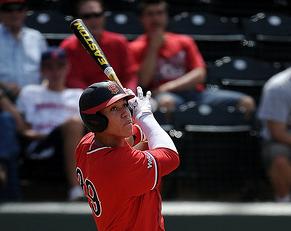 Courtesy of Fresno St.
Slot Value: $1.8935 million
Analysis: After going all-in on high school hitters in the first round of the 2012 draft, the Oakland A's are expected to target either a prep arm or college bat.
Depending on how they feel about Kyle Serrano, I believe the organization is more likely to go with a high-risk, high-reward college hitter such as Judge or possibly even Austin Wilson.
Slot Value: $1.8665 million
Analysis: Given their successful track record of drafting young pitchers, the San Francisco Giants seem poised to add a much-needed left-hander to their already impressive collection of promising right-handers in the low minors.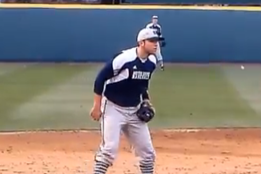 Courtesy of Steve Fiorindo (BullpenBanter.com)
Slot Value: $1.8394 million
Analysis: This is where things could get interesting, as the New York Yankees will make three selections before the end of the first round. The only question is whether they'll prioritize hitters or pitchers.
Given the lack of pure hitters in this year's class, and especially those who project to hit for both average and power from the left side, I'd expect them to target a player like Eric Jagielo with the initial pick.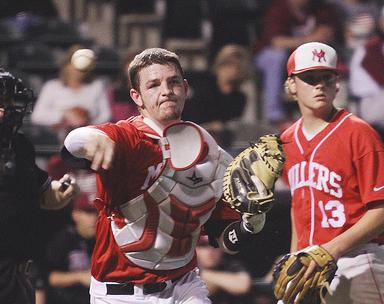 Courtesy of Yukon High School
Slot Value: $1.8124 million
Analysis: Even though drafting a catching prospect may not be at the top of their list, the Cincinnati Reds won't be able to pass on Jon Denney's thunderous bat if he's available this late into the first round.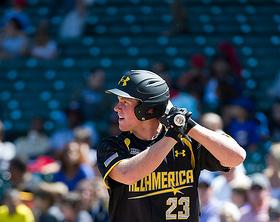 Courtesy of Plano West High School
Slot Value: $1.7853 million
Analysis: While there are several scenarios where Billy McKinney is selected before the Cardinals' second pick (one of which involves them drafting him 19th overall), he should be close to a lock at this spot if still available.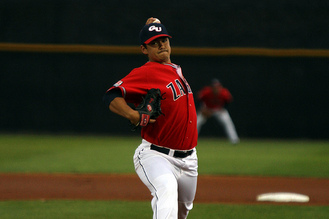 Courtesy of Gonzaga
Slot Value: $1.7583 million
Analysis: Assuming that the Rays draft a younger player with their first pick, they'll be in a great position to add a high-floor arm before the end of the first round.
Gonzaga left-hander Marco Gonzales should still be available and is seemingly a fit for the organization. If he's off the board, they may also explore Hunter Green or Cody Reed.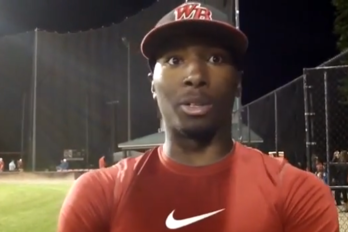 Courtesy of Athens Banner-Herald
Slot Value: $1.7312 million
Analysis: Travis Demeritte has always struck me as the type of position prospect the Rangers love. He's athletic, toolsy and absolutely loaded with potential.
Still, I wouldn't be surprised if they select him 23rd overall and then target a prep arm with their second pick.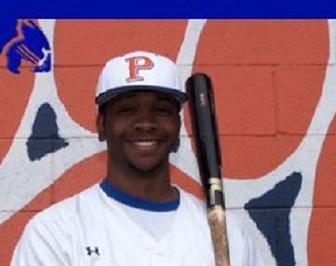 Courtesy of Parkview High School
Slot Value: $1.7042 million
Analysis: It's no secret that the Atlanta Braves tend to target players out of their own backyard. They drafted both Lucas Sims and Alex Wood with their first two picks last year.
If Josh Hart is already spoken for by this pick, then it makes sense for the organization to pursue either a comparable outfielder such as Phil Ervin, or one of the better left-handers still on the board such as Cody Green or Rob Kaminsky.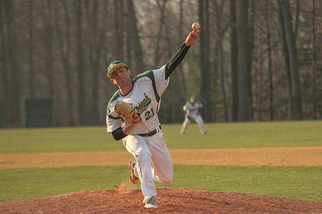 Courtesy of St. Joseph Regional High School
Slot Value: $1.6771 million
Analysis: Due to their perennially low drafting position and ongoing struggles in developing pitching prospects, the Yankees have a rare opportunity to cash in with back-to-back picks to conclude the first round.
Although it may not play out in this exact order, I have a strong feeling that the Bronx Bombers will select Rob Kaminsky with one of their final picks. If not, then they'll still have a few other promising options in Alex Balog and Andrew Thurman.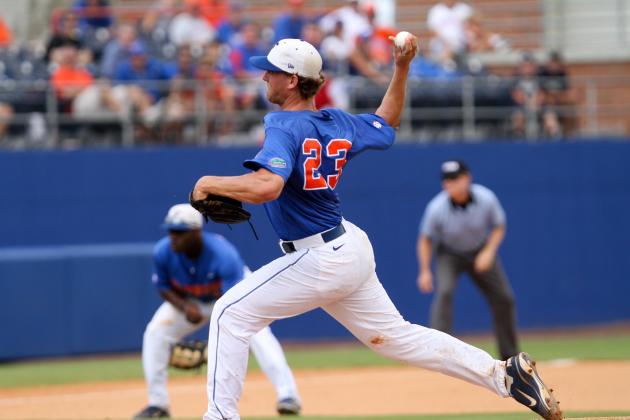 Rob Foldy-USA TODAY Sports

Slot Value: $1.6501 million
Analysis: It's difficult to predict who the Yankees will select with their third first-round pick, as there should be an abundance of talent still on the board. But who ever they draft will have to be signable.
The organization may choose to target pitchers who have fallen in the first round, such as Jonathan Crawford, Ryan Eades or Andrew Mitchell. I also wouldn't rule out them taking a stab at left-hander Sean Manaea if they believe he's signable.