5 College Football Coaches Who Stuck Around Too Long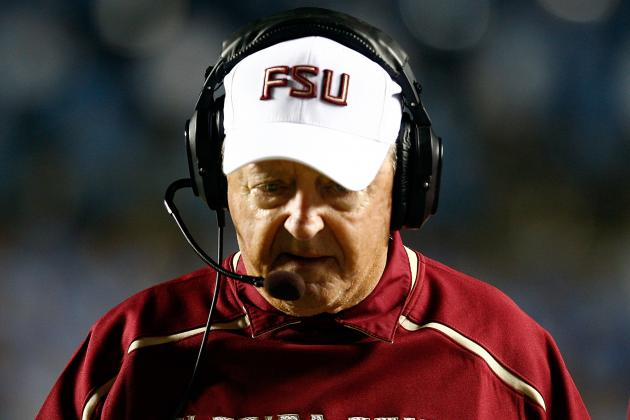 Scott Halleran/Getty Images

Football coaches don't know when to get the heck out of dodge, and we have witnessed this at some of the most prestigious programs in the country. Guys who are the reason certain schools are as big as they are today have stayed in college a lot longer than they should have.
The reason this happens is quite simple. Coaches have been around the game their entire life and wouldn't know what to do with themselves if they were ever forced to walk away. Some people are just wired to work constantly and when your work is your passion, leaving can be your worst nightmare.
Begin Slideshow

»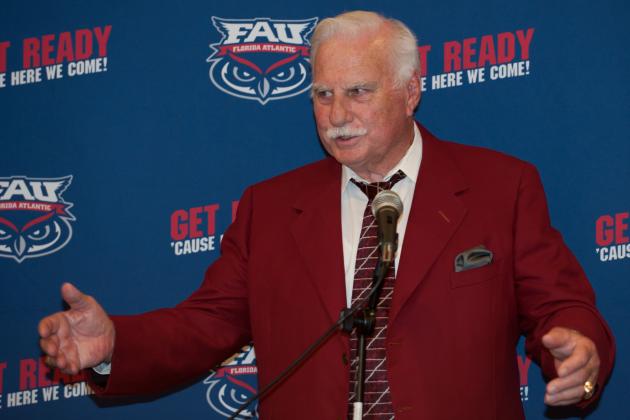 Steve Mitchell-USA TODAY Sports

Howard Schnellenberger is a football legend. He was the offensive coordinator for the 1972 undefeated Miami Dolphins and helped build the Miami Hurricanes by leading them to their first national championship in 1983.
After all of the glory days, Schnellenberger then struggled coaching Louisville and spent one season with Oklahoma where he finished with a 5-5 record. He retired in 1995 with what would have been a career coaching record of 100 wins and 77 losses.
But Schnellenberger decided to return to coaching in 2004, and he coached the FAU Owls for eight seasons. It was a startup program in Boca Raton, Florida that Schnellenberger thought he could turn into a winner kind of like the Hurricanes. The 41-56 record and two bowl victories was a success for what he had to work with, but it wasn't necessary.
Schnellenberger spent a lot of time behind the scenes with the program, raising money and helping get FAU Stadium built in 2011. He did great things to get the program off the ground financially, but his coaching didn't have the same impact. He limped toward the finish line with a combined 10-26 record in the last three seasons.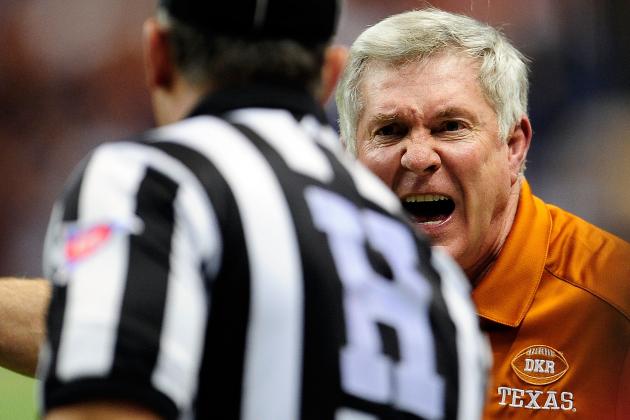 Stacy Revere/Getty Images

Some coaches just get burned out or lose the magic touch. Like anything in life, you can't expect to be great forever, and all great things eventually come to an end. Well, here you have Mack Brown of the Texas Longhorns.
Brown has coached Texas since 1998. He's won a national title, two Big 12 Championships and is a two-time Big 12 Coach of the Year. His 150-43 record with the Longhorns is extremely impressive, and he has only missed bowl season once in 15 years coaching the program.
The downside is that Brown is a combined 22-16 in the last three seasons, with nine wins being the most in a single year. With the recruiting classes and endless flow of talent coming in and out, there is really no excuse for the mediocrity. Everything is bigger in Texas, and you better believe those expectations are a lot greater than the Holiday and Alamo Bowl.
It's time for Brown to call it quits if he can't find a way to turn things around this season. Damaging a legacy any further is the last thing this legendary coach wants.
Unlike a lot of coaches who don't leave until they finally realize they can't win any longer, Woody Hayes didn't lose many ball games. He won 76 percent of his games as the Ohio State head coach, which includes a cool 205-61-10 record. He reached a bowl in each of his final seven seasons, including a decent 7-4-1 record his final year.
The problem with Hayes is that he was a ticking time bomb. He was known throughout the sport for having a nasty attitude and being rude with reporters. He wasn't the type of guy you would want to invite over for dinner, and when he punched a Clemson player during the Gator Bowl in 1978, it was the last straw.
That frustration wasn't the first incident involving Hayes, as he shoved a photographer during the 1973 Rose Bowl and had an incident with a cameraman during the 1977 game against Michigan.
Hayes had a short fuse and really made the Ohio State program look bad at times. Sure, he brought five national titles and 13 Big Ten titles, but his off-the-field antics were a sign that he should have left sooner than he did.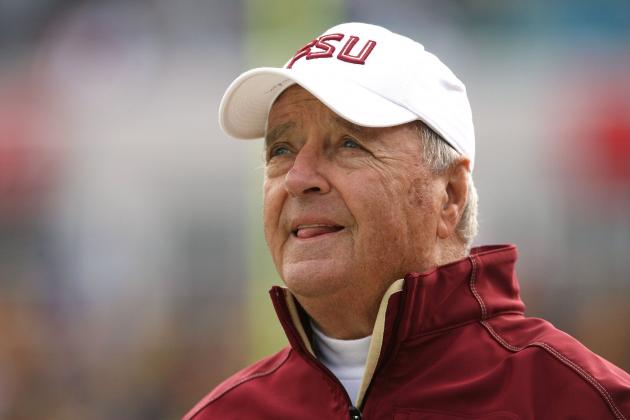 Doug Benc/Getty Images

Bobby Bowden was another coach who struggled in the later stages of his career to produce wins. He won two national championships with Florida State in the '90s and won 12 ACC titles, but very little was accomplished in the last four years of his career.
Bowden is now considered the all-time winningest coach in college football with 357 victories. He reached 32 bowl games in his career, which is second all-time, and he was inducted into the College Football Hall of Fame in 2006. Nobody is going to tell a Hall of Fame coach that it was time to leave, which is why Jimbo Fisher was named the "head coach in waiting."
Bowden was going to leave on his terms.
Well, he should have made his decision a little sooner. Despite having rosters filled with NFL talent, Bowden failed to reach a BCS bowl and finished the season ranked only once in his final four seasons.
Florida State is a college football powerhouse because of Bowden, but he didn't need to stay around as long as he did.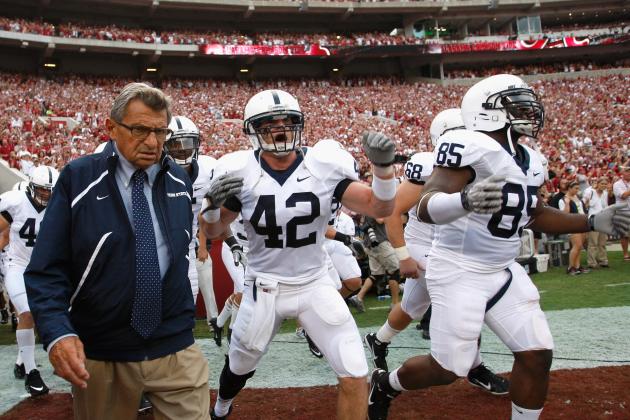 Kevin C. Cox/Getty Images

Scandal or no scandal, Joe Paterno should have retired a long time ago. Penn State had a hard time remaining relevant, only producing three seasons of double-digit victories in his final 12 years on the sidelines.
Paterno built Penn State and is the reason it is the powerhouse program it is today. He was the coach from 1966-2011, led the Nittany Lions to two national titles and was the all-time winningest coach before the NCAA removed victories after the sex scandal.
The former Penn State coach was with the program so long that it was all he knew. He didn't know how to leave or what he would do with himself if he did decide to step down. After all, it was going to be his choice because nobody could tell a guy of his stature that it was time to go. Paterno was Penn State, but unfortunately, he was past his prime and wasn't winning games any longer at a high level.
The fallout involving Jerry Sandusky and others made the ending that much worse.