2013 MLB Mock Draft: Best Fits for Each Organization Selecting in First Round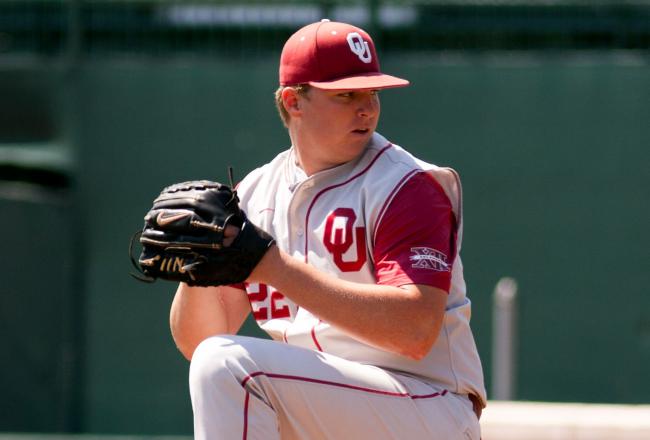 Kyle Laferriere-USA TODAY Sports
The top prospects in the MLB draft might take a few years before becoming household names, but there is a lot of talent available in this year's class.
Considering that most of them will need plenty of seasoning before getting to the major leagues, teams selecting in the first round should often select the best player available instead of need. Still, there are some exceptions, which is what makes the draft so exciting.
Scouts all have differing opinions on each player, but here is a look at the smartest picks for each team in the first round.
1. Houston Astros: Mark Appel, RHP, Stanford
There is some debate whether Houston would like to draft a player that might come cheaper with the first overall pick. Mark Appel certainly does not fit into that category after turning down the Pittsburgh Pirates deal a year ago.
Still, the point of the draft is to take the player who will help the team the most. In this case, that player is Appel.
The pitcher not only has the stuff to succeed quickly in his professional career, but he has displayed the poise and command to prove himself at a high level. He also has performed well in big games, something that should not be overlooked.
If the Astros want a safe pick with a lot of upside, Appel is the perfect option.
2. Chicago Cubs: Jonathan Gray, RHP, Oklahoma
Which pitcher will reach the majors first?
When you have a pitcher capable of throwing 100 MPH with his fastball, he will be a valuable prospect.
Jonathan Gray is more of a work in progress compared to Appel, but he has a good feel for the game and should be able to become a front-of-the-line starter in the majors.
3. Colorado Rockies: Kris Bryant, 3B, San Diego
Kris Bryant is the best power bat in the class, and it is not all that close. The third baseman led the nation in home runs and should continue to knock balls over the wall when he switches to a wooden bat.
4. Minnesota Twins: Kohl Stewart, RHP, St. Pius X HS (Texas)
As a two-sport athlete who also holds a scholarship to play football at Texas A&M, Kohl Stewart has loads of potential. His high-90s fastball has scouts dreaming of a potential ace.
The problem is that he is as raw as they come and will likely need a lot of seasoning to reach the majors, if he is ever able to get there. He might even have to rework his delivery as well.
5. Cleveland Indians: Colin Moran, 3B, North Carolina
If you had to pick one hitter to get to the majors the quickest, it would have to be Colin Moran. The North Carolina product has the best approach at the plate of anyone in the class.
He knows how to pick his pitches, and is certain to make a nice impact with his bat early in his career.
6. Miami Marlins: Ryne Stanek, RHP, Arkansas
Miami needs help right away, and Ryne Stanek is the type of player who can get to the big league club in a hurry. The pitcher already has four solid pitches that will help him keep hitters off balance.
Although he still has plenty of room to improve each of his offerings, Stanek has the intelligence and the pitches to be successful against experienced batters in his first year.
7. Boston Red Sox: Austin Meadows, OF, Grayson HS (Georgia)
Early in the draft, teams often look for high-upside players with a lot of tools to help them succeed at the next level. In this class, it is hard to find a better option than Austin Meadows.
The outfielder is a fantastic athlete who has shown he could be an above-average hitter at the next level with enough speed to help him in the field and on the base paths.
On the other hand, he is yet to display these skills in games, and it might take a long time before he is able to contribute at the major league level.
Meadows is one of the biggest boom-or-bust prospect in the draft, but it might be worth the risk for the Red Sox.
8. Kansas City Royals: Braden Shipley, RHP, Nevada
Considering Braden Shipley has only been a full-time pitcher for a few years, his ability to get people out is outstanding. The former shortstop can throw in the upper 90s and is still learning his secondary pitches.
With some time to get better, Shipley could end up being an above-average major league pitcher.
9. Pittsburgh Pirates: D.J. Peterson, 3B, New Mexico
The Pirates have a strong farm system full of some of the best arms in the minors, but they are lacking infield depth. D.J. Peterson is a good pure hitter who will end up at either first or third base.
Although Peterson might not be a great defender at the next level, his hitting ability will put him on a fast track to the majors
10. Toronto Blue Jays: Trey Ball, LHP/OF, New Castle HS (Indiana)
Trey Ball is in the unique position that he could legitimately be a quality pitcher or outfielder as a professional. Toronto will eventually have to decide which position is better, but they can draft him as is and decide later.
With this kind of athleticism, you cannot really go wrong.
11. New York Mets: Clint Frazier, OF, Loganville HS (Georgia)
Not only do the Mets lack quality outfielders in the majors, but there are few players at the position at any level of the minors. They desperately need players to at least give some hope for the future.
While Clint Frazier will not help the major league club anytime soon, he is a potential five-tool player with a solid hitting approach and good speed. The team should have no problem drafting for high-upside at this stage.
12. Seattle Mariners: Dominic Smith, 1B, Serra HS (California)
The hope for Dominic Smith is that he puts on some muscle and starts hitting for power. Currently, he projects to be a quality hitter who will post high averages, but he loses value with his inability to hit the long ball.
With plenty of time to grow, however, this should only be a minor issue at the draft.
13. San Diego Padres: Reese McGuire, C, Kentwood HS (Washington)
The scary part of selecting a catcher this early in the draft in the high possibility that the player does not stick behind the plate. When projecting high school talent, many of them are forced to move out of the position, which loses a lot of value.
However, this will not be an issue with Reese McGuire, who is already a very strong defensive catcher. He has a natural receiving ability to go along with by far the strongest arm in the class.
Additionally, he has shown the ability to hit with a little bit of power from the left side, which always has value for an organization.
McGuire has a lot of potential with his offense, but it is his defense that will carry him far as a professional.
14. Pittsburgh Pirates: J.P. Crawford, SS, Lakewood HS (California)
Pittsburgh should continue to add infield depth, including J.P. Crawford at shortstop. The California native is arguably the best defensive middle infielder in the class, and that will take him far at the next level.
Crawford still must improve as a hitter if he wants to move up through the system, though.
15. Arizona Diamondbacks: Hunter Renfroe, OF, Mississippi State
Which outfielder will have the better MLB career?
Hunter Renfroe has the tools of Austin Meadows or Clint Frazier, plus the seasoning of a few years in college to make him closer to major league ready.
While his upside is a little lower than those high school bats, he can contribute in a lot of different ways.
16. Philadelphia Phillies: Sean Manaea, LHP, Indiana State
The Cape Cod League is a place for college players to truly stand out over the summer, and few players did a better job of that last year than Sean Manea.
With one of the best fastballs in the class—not just in speed but also movement—the Indiana State pitcher will almost certainly be successful early on.
17. Chicago White Sox: Alex Gonzalez, RHP, Oral Roberts
It takes more than a good fastball to succeed as a professional. Fortunately, Alex Gonzalez knows how to complement his first pitches with a strong slider that he uses as an out pitch.
If he can get control of his changeup as well, he can move through the system quickly.
18: Los Angeles Dodgers: Tim Anderson, SS, East Central CC
Teams always need to add depth in the middle infield, and the Dodgers are as desperate for help in this spot as anyone.
Tim Anderson might never be great in any category, but he is a bit of a jack of all trades and should be able to stick at shortstop throughout his career.
19. St. Louis Cardinals: Marco Gonzales, LHP, Gonzaga
The best thing that Marco Gonzales has going for him right now is his changeup. While this is a pitch that many young players overlook, it can be deadly for a pitcher who knows how to use it.
Gonzales has a good feel for pitching and that should help him in his career.
20. Detroit Tigers: Nick Ciuffo, C, Lexington HS (South Carolina)
Nick Ciuffo is next in a list of talented high school catchers in this year's class. He does not have McGuire's arm, but he is as good defensively to make him a valuable asset.
If his power increases in the next few years, he could be an All-Star at the position.
21. Tampa Bay Rays: Devin Williams, RHP, Hazelwood West HS (Missouri)
Like most high school pitchers, Devin Williams will be drafted almost exclusively on his potential.
He is incredibly raw at this point, relying mostly on his fastball which sits at about 95. He also has a curveball, although it still needs some work.
Still, he has the frame to put on more muscle, which will give him more velocity on his fastball. If he can gain command of more pitches, Williams could be an above-average pitcher down the road.
With plenty of pitchers already in the Rays system, they can afford to be patient.
22. Baltimore Orioles: Chris Anderson, RHP, Jacksonville
Although Chris Anderson is a late riser in this draft, he is easily one of the top pitchers available. He already has three solid pitches, and his curveball could be a plus offering.
His ability to throw these pitches for strikes will give him a strong chance to succeed down the line.
23. Texas Rangers: Hunter Harvey, RHP, Bandys HS (North Carolina)
Organizations always like prospects with pedigree. Hunter Harvey fits in that category as the son of former All-Star Bryan Harvey. If he can continue to improve his command, the youngster could end up as good as his dad.
24. Oakland Athletics: Jon Denney, C, Yukon HS (Oklahoma)
If Jon Denney can stick at catcher, he will be a very good prospect. He already has a strong bat which will only get better with time. He must keep improving as a receiver and he will be through the minors in only a few years.
25. San Francisco Giants: Matt Krook, LHP, St. Ignatius College Prep (California)
San Francisco is never shy about drafting high school pitchers with potential. Matt Krook can be the next in line with his ability to throw in the mid-90s.
The question for Krook will be his secondary pitches. Either he develops them to become a starter, or he will spend his time in the bullpen.
26. New York Yankees: Aaron Judge, OF, Gonzaga
One thing Aaron Judge is certain to be good at is the ability to hit for power. He has impressive strength with the timing to hit the ball far with consistency.
No matter where in the outfield he ends up, this home-run ability will stick with him.
27. Cincinnati Reds: Kyle Serrano, RHP, Farragut HS (Tennessee)
As the son of Tennessee head coach Dave Serrano, there is a decent chance Kyle Serrano decides to spend the next few years in college. This presents a bit of a risk for whichever team drafts him.
However, the pitcher is good enough to make him worth the risk.
Serrano is advanced for his age with a good command of multiple pitches. Instead of just relying on a fastball, he has a plus curveball that would get a number of professional hitters out right now.
Even though he has never pitched higher than at the high school level, he could move quickly through the minors with any organization.
28. St. Louis Cardinals: Ian Clarkin, LHP, Madison HS (California)
Left-handed pitchers who can throw a hard fastball with a good breaking ball are hard to find. Ian Clarkin can do both of those things, and his curveball will get hitters out on both sides of the plate.
St. Louis has the ability to draft for upside, so Clarkin would be a smart pick.
29. Tampa Bay Rays: Hunter Dozier, SS, Stephen F. Austin
At 6'4", 220 pounds, it seems unlikely that Hunter Dozier will be able to stay at shortstop for much longer. The good news is that he is also a good hitter who can hit for plenty of power.
Dozier is relatively advanced at the plate, which makes him a pretty safe pick for this stage in the first round.
30. Texas Rangers: Billy McKinney, OF, Plano West HS (Texas)
While defense and speed might never be there for Billy McKinney, his bat will take him a long way. His approach at the plate will allow him to hit for a high average on a yearly basis.
There is also few places that know how to harness hitting talent better than the Rangers.
31. Atlanta Braves: Hunter Green, LHP, Warren East HS (Kentucky)
Even with a number of good pitchers already in the system, Atlanta knows that you can never have too many quality arms. This is where Hunter Green comes in as one of the better southpaws in the class.
The high school pitcher has a lot of room to grow, and hopefully can put a few miles per hour on his fastball to make him more dangerous.
32. New York Yankees: Jonathan Crawford, RHP, Florida
As a pitching prospect, stuff trumps everything else. However, Jonathan Crawford has also shown the ability to be successful in the SEC, which is something that should also be considered. With three picks in the first round, the Yankees could do much worse.
33. New York Yankees: Eric Jagielo, 3B, Notre Dame
After grabbing an outfielder and pitcher with the first two picks, it is time for the Yankees to select an infielder to boost the system.
Eric Jagielo has tons of power and should be able to hit plenty of home runs out of Yankee Stadium if given the opportunity.
Rob Goldberg is a member of Bleacher Report's Breaking News Team. Follow him on Twitter for the latest updates.
This article is
What is the duplicate article?
Why is this article offensive?
Where is this article plagiarized from?
Why is this article poorly edited?