Stephen Strasburg vs. Johnny Cueto: Which Ace's Health is More Crucial to Races?
Use your ← → (arrow) keys to browse more stories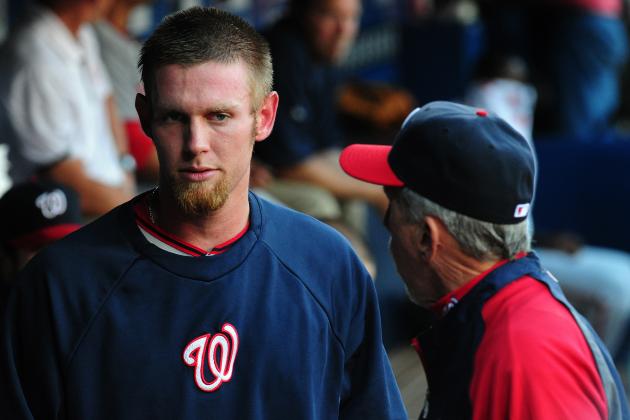 Scott Cunningham/Getty Images
Stephen Strasburg has officially been placed on the disabled list.
Aces in Major League Baseball are hard to come by.
Out of 30 teams, only half can claim to have a true ace.
That's what makes the injuries to Stephen Strasburg (oblique) and Johnny Cueto (lat) all the more distressing for their teams.
Both are among the 15 true aces in baseball and both are currently on the disabled list.
So, which ace's health is more crucial to divisional races?
The Case for Strasburg
When Strasburg was drafted No. 1 overall in 2009, he was thought to be the guy who would help the Washington Nationals leave mediocrity in the rear-view mirror.
Last year, he did just that, as the Nationals won the division title for the first time since the Montreal Expos did so in 1981.
This year, things haven't gone so well for the Nationals or Strasburg.
Coming into Wednesday, the Nationals had a record of 29-29 and were seven games behind the Atlanta Braves for the division lead.
Strasburg has pitched well with a 2.54 ERA, but isn't getting any run support, as his 3-5 record shows. He's has eight quality starts and has given up one earned run or less in his last five starts.
One of the main reasons he's picking up losses is not only lack of offense, but also the fact that he's given up nine unearned runs.
This injury is just among the latest setbacks for the Nationals.
RT @washtimessports: Stephen Strasburg to 15-day disabled list with lat strain, latest blow to #Nats: washingtontimes.com/blog/nationals…

— Amanda

Comak

(@acomak) June 5, 2013
Consistency on the Washington pitching staff has also been an issue, with Jordan Zimmermann being the only regularly reliable option.
Gio Gonzalez has shown improvement in five of his last six starts. Dan Haren has looked decent in his last two starts as well.
However, for the Nats, it begins and ends with Strasburg.
After a great 2012 season, Strasburg was shut down (as we all knew would happen) and the Nationals lost in the divisional series to the St. Louis Cardinals.
Had Strasburg been there, Game 5 might have ended differently.
While there have been struggles club-wide for the Nationals this year, the fact remains that they're better with him.
The Case for Johnny Cueto
There's no question that when Cueto is healthy for the Cincinnati Reds, he can be one of the best pitchers in the National League.
Thus far, Cueto is 3-0 with a 2.17 ERA and 34 strikeouts.
However, Cueto has been injured once this year already, having strained his right triceps in a game against the Pittsburgh Pirates. It was an injury that sidelined him for five weeks.
Following his return, Cueto allowed four runs in 20 innings across three starts.
Now, he returns to the disabled list.
No, Johnny, No! The DL Grabs Johnny Cueto Again: Is it possible to function without a lat? If there is a means... bit.ly/12032rc

— Josh

Bresser

(@JoshBresserBRM) June 5, 2013
It's a loss the Reds could feel, despite the fact they were 5-1 in games Cueto would have started when he was on the shelf earlier in the year.
If this is only a 15-day stint, Cueto's spot in the rotation will see the Colorado Rockies (Wednesday), Chicago Cubs (June 11) and possibly the Milwaukee Brewers (June 16).
Needless to say, it's not a string of starts the Reds really need to worry about.
Which pitcher is more important to their team? (Explain in comments)
Verdict
Strasburg is more crucial to the Nationals than Cueto is to the Reds.
Cincinnati will continue to win ballgames without Cueto pitching over the next three starts.
All you have to do is look at the stats for the rest of the Cincinnati pitching staff.
Add in the fact that the Reds have a much better offense than the Nationals and it's clear who needs their ace more.
Washington is 28th in OPS (.658), while Cincinnati is 12th (.735). In fact, the only major offensive category the Nationals have been better in is triples (14-7). Outside of that, Cincinnati owns Washington in terms of offense.
Both teams will miss their aces. But when it comes down to which team will miss theirs the most, it has to be the Nationals.