It's Thursday again, and that means TNA Wrestling will be presenting a new episode of Impact Wrestling!
Coming off the heels of what was one of the best pay-per-views so far in 2013, TNA will be looking to keep the huge amount of momentum going as it heads into the summer months. Confirmed for this episode is the fallout of their 11th anniversary show this past Sunday, Slammiversary, the debut of TNA's newest star, the start of an annual summer tournament and one match so far.
Let's see what TNA Wrestling has in store for the fans this week!
Quinton "Rampage" Jackson Makes His TNA Debut
On May 30, TNA president Dixie Carter tweeted that she had just signed a big free agent. The wrestling world has many free agents out there. Three that immediately came to the mind of fans were Dave Batista, Bill Goldberg and Montel Vontavious Porter.
None of them were the big signing, though, as Batista, Goldberg and MVP all denied it on their respective Twitter accounts. Who was the big signing the president was talking about?
It was announced Tuesday that the big signing was not only for TNA, but also for Bellator and Spike TV. The newest TNA wrestler would be MMA fighter and former UFC Light Heavyweight champion Quinton "Rampage" Jackson. Hours later, Dixie would confirm that Jackson would be making his TNA debut this week on Impact Wrestling.
What will Rampage Jackson have to say? Will he disappear like fellow MMA fighter King Mo?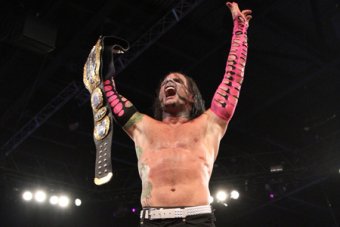 The Bound for Glory Series Officially Begins
In 2011, TNA Wrestling debuted the Bound for Glory Series. Featuring 12 wrestlers, the tournament saw them fight it out in singles matches, tag team matches, multi-man matches and even contests with extreme stipulations.
A victory would gain a competitor points, while a loss gave them nothing. Only if you lost by disqualification would you lose any points. The most a wrestler can gain is 10 points by winning via submission, but sometimes more points are awarded for specialty matches.
The wrestler with the most points at the end of the series then goes onto Bound for Glory for a shot at the TNA World Heavyweight Championship.
The first winner of the series was Bobby Roode, who ended up failing to capture the title from Kurt Angle. Last year saw Jeff Hardy win the series, and he proved more lucky as he defeated Austin Aries to become the new champion. It's a new year, though, so the 2013 Bound for Glory Series is anyone's game.
At Slammiversary, Gut Check winners Jay Bradley and Sam Shaw fought for a coveted spot in the series. The match saw Bradley win, so he now moves onto a spot in the tournament. This week on Impact Wrestling, the remaining 11 wrestlers will be revealed and the series will officially begin.
Who will the other 11 TNA stars be? Which one of them will start out strong with a victory? Could there be any rule changes this year?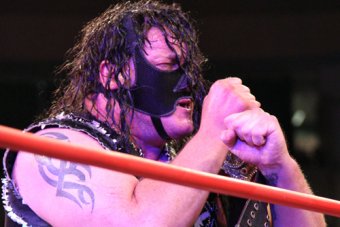 A Monstrous Return: How Will the Aces & Eights Respond to Abyss Winning the Television Championship?
Joseph Park has been a target of the Aces & Eights ever since Park began to investigate them. He would be kidnapped and tortured last year, and the abuse continued into 2013. At Slammiversary, the former lawyer was set to finally gain some revenge on the group by not only fighting Devon, but also trying to take the TNA Television Championship away from him.
His brother, Abyss, had returned a few weeks ago to help Sting and Kurt Angle defeat the Aces & Eights, and he teased another appearance last week. Would he help his brother win his first title in TNA?
Park never got his chance to go for the belt, as Devon and Knux took him out backstage before the match. Devon would win by forfeit, but Abyss soon made his way out for the start of a new match. When the smoke cleared, Abyss was the new TNA Television champion.
How will the Aces & Eights react to losing the title? Will Devon get his rematch? What will Joseph Park have to say about Abyss' title win? Will The Monster be present on this week's show?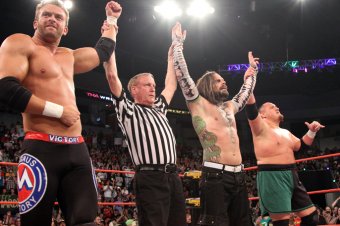 TNA vs. Aces & Eights: What's Next in the War Between Them?
It has been almost a year since the Aces & Eights debuted to start a war with TNA Wrestling. The gang would take out many wrestlers throughout the year, including Sting, Kurt Angle, Magnus, Samoa Joe, Jeff Hardy and many more.
With president and TNA World champion Bully Ray at the helm, the Aces & Eights have taken control of the company. While TNA would gain victories each week, the gang would be standing tall by the end of the shows.
At Slammiversary, the TNA Army was looking good. Samoa Joe, Magnus and Hardy took down Mr. Anderson, Garett Bischoff and Wes Brisco in the second match of the night, which gave the company some major momentum against the group. It continued when Abyss defeated Devon for the Television Championship, and things were looking good for the TNA Army as a result.
Just like before, though, the Aces & Eights would gain all of that momentum back by the end of the night when Bully Ray retained his World Championship against Sting. With the Aces & Eights having the momentum, what's next in their war with TNA Wrestling? Can the TNA Army finally knock them down a few pegs? Or will the Bully Ray-led group stay in control?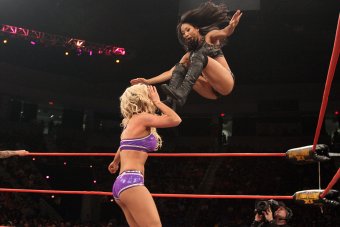 Last Knockout Standing: What's Next for the Knockouts Division?
For the past couple of months, Gail Kim and Taryn Terrell have been at war. Gail had abused Taryn both physically and verbally while she was the Knockouts referee, and Taryn's retaliation ultimately got her fired.
She would gain a wrestling contract with TNA, though, so she kept her sights on Gail. The two Knockouts would trade victories until Gail adopted a ring post figure-four leglock to her arsenal. She took out Taryn as a result, and soon went on to injure then-Knockouts champion Velvet Sky and take out Tara as well.
A few weeks ago, TNA announced that Taryn would be returning, and that she and Gail would be battling in Last Knockouts Standing at Slammiversary.
At the event, the two women had what was one of the best matches of the night. They tore each other apart throughout the contest, which saw both Knockouts proving just how tough the women of TNA really are. After a cutter from the walkway to the floor, Taryn was the last Knockout standing.
After a great and very physical match, where does the Knockouts division go from here? Does Taryn Terrell's victory put her in line for a shot at the TNA Knockouts Championship? How will Gail Kim respond to the loss?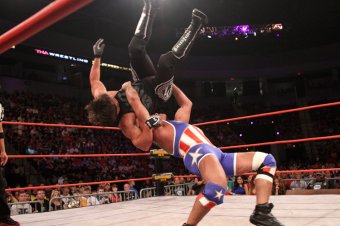 The Hall of Famer: Will AJ Styles Seek Revenge on TNA's Newest Hall of Fame Inductee Kurt Angle?
TNA's 11th anniversary show proved to be a great night for Olympic gold medalist Kurt Angle. In the middle of the show, TNA president Dixie Carter announced the newest inductee into the TNA Hall of Fame. After calling out everyone on the roster, she revealed the inductee to be Angle, who got a thunderous ovation from the crowd in Boston.
Later on in the night, he faced off against AJ Styles. Styles' refusal to choose a side in the TNA/Aces & Eights war set off Angle, which renewed their long rivalry. In the second-to-last match of the night, Angle and Styles delivered a straight-up wrestling match.
After the two TNA stars threw everything they had at one another, the newest TNA Hall of Famer defeated his former partner and long-time nemesis.
Slammiversary marked Styles' return to PPV, but Angle proved to be the better man that night. With a loss to Angle and him being overlooked for the Hall of Fame in favor of Angle, the Phenomenal One will no doubt be looking for a bit of revenge.
How will AJ Styles respond to the loss? Will he seek revenge, and if so, how will he get it? Can Kurt Angle continue to one-up the TNA original?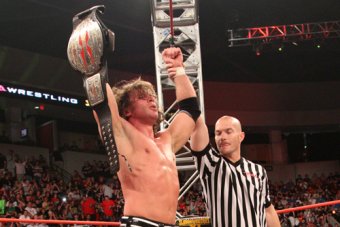 James Storm, Gunner and Chris Sabin vs. Austin Aries, Bobby Roode and Kenny King
At Slammiversary, TNA fans saw three new champions crowned. Two of those champions were new X Division champion Chris Sabin and new World Tag Team champions James Storm and Gunner.
Sabin was the first to be crowned in Ultimate X, and it was quite the accomplishment. Coming back from back-to-back knee surgeries to become a five-time X Division champion is certainly something to be celebrated. Add in Hulk Hogan's massive endorsement for him and the fact that Sabin has the opportunity to cash in Option C for a World Championship match, and he definitely had quite a night.
Storm and Gunner were a surprise in winning the tag titles. Seeing a newly formed team up against champions Chavo Guerrero and Hernandez, an established team like Bad Influence and a team of former World champions in Austin Aries and Bobby Roode was quite the obstacle to get over.
They outlasted all of them, though, and now Storm is a 12-time World Tag Team champion, while Gunner got his first taste of tag team gold.
This week on Impact Wrestling, Former X Division champion Kenny King looks for a bit of revenge as he teams with Aries and Roode, whom Storm and Gunner pinned to win the belts, to take on the new X Division and Tag Team champions.
Can King, Aries and Roode defeat the men that defeated them at Slammiversary? Will Sabin, Storm and Gunner keep their momentum going strong?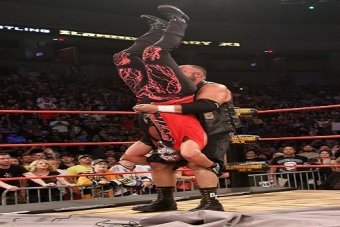 The Bully Retains: What's Next for Sting Now That He's Out of the Title Picture?
One of the main reasons that Bully Ray is TNA World Heavyweight champion is Sting. He convinced Hulk Hogan to trust the Bully as a partner in the fight against the Aces & Eights. Bully would soon marry Hogan's daughter, Brooke, and the Hulkster began to trust him more and more now that he was family.
Hogan named Bully the No. 1 contender for Jeff Hardy's World Championship and the match took place at Lockdown in March. Bully's intentions were finally revealed when he hit Hardy with a hammer to win the title and reveal himself as the president of the Aces & Eights.
After a bit of a falling out between Sting and Hogan, the Icon returned and soon became the No. 1 contender for Slammiversary. During the contract signing, Bully Ray had a stipulation. While Sting wanted No Holds Barred, Bully wanted to make it so that Sting could never have another shot at the title ever again if he lost. The 15-time World champion accepted, and his acceptance would come back to haunt him.
After two vicious piledrivers—one of which was on the unprotected ring—and some help from the Aces & Eights, Bully Ray retained the TNA World Heavyweight Championship. As a result, Sting is forever out of the World title picture.
How will Sting respond to the big loss? Will Bully Ray brag about the situation? Could Hulk Hogan find a loophole to get Sting back in?
This episode of Impact Wrestling looks to be carrying the momentum over from Slammiversary and then some. As a result, fans could be looking at quite the exciting show. How will it turn out? Tune in to find out!