Bold Predictions for the Boston Red Sox's Top 5 Previous Draft Picks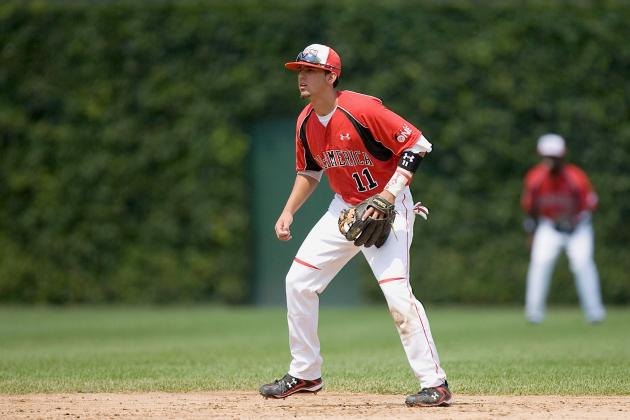 Dilip Vishwanat/Getty Images
Deven Marrero was the Sox's No. 1 overall choice last year.
With the 2013 MLB draft coming up on Friday, now is a good time to look back at how the Boston Red Sox's previous first-round choices have fared. Some of them may lack the pedigree that made them one of the most talked-about players in the draft, but make no mistake—these guys are good.
They didn't get taken in the first round by accident.
Boston has had a balanced approach over the years, not favoring any particular position for its top overall selection. This year, though, the team will have just one first-round choice, which is a dramatic shift from years past. Under the old collective bargaining agreement, Boston often had two or three of the top 40 selections.
With such added importance now put on the team's No. 1 overall selection, let's look at Boston's previous five choices and make some bold predictions about each player's career.
Begin Slideshow

»
Boston's top pick from last year's draft has gotten off to a fine start in his professional career, playing well enough with the Low-A Lowell Spinners last year to warrant a call-up to High-A Salem this season.
Unfortunately, he has two significant roadblocks in his way to grabbing an MLB job in the future: Jose Iglesias, who is showing that he belongs in the bigs with his bat as well as his already sterling defense, and Xander Bogaerts, the team's top prospect.
Bogaerts is less of a concern, as many expect him to move to third base or a corner outfield spot before Marrero would be ready for MLB consideration. Iglesias, while outstanding so far in 2013, has a long way to go before he proves he is the long-term solution the Sox are looking for.
Bold prediction: Marrero will be the Sox's starting shortstop by mid-2015.
Barnes is considered the Sox's best pitching prospect and could be making an impact on the MLB roster soon. After zooming through Class A last year, he got off to a good start with Double-A Portland this season, posting mostly good starts interspersed with a couple of disastrous efforts that inflated his ERA.
With a dearth of front-line pitching prospects in the system, the Sox have high hopes for Barnes. A rotation of veterans is liable to suffer a breakdown at any moment, and this inherent risk means that we may see Barnes a little earlier than the team might want.
Bold prediction: Barnes will make his MLB debut in early 2014.
Vitek's development has been slow, due in part to the Sox seemingly not knowing where to put him on the diamond. After being drafted as a second baseman and moved to third, Vitek was relocated to the outfield about a month ago in Double-A Portland.
The larger issue is whether he has the requisite power to make it to MLB as an outfielder. Vitek has hit for a decent average at every minor league stop, but his lifetime slugging percentage of .364 in 1,045 minor league at-bats is a disturbingly low number. If he has any hope at making the MLB roster, he will have to raise that number.
Bold prediction: Vitek will never play an MLB game for the Red Sox.
*Sent to Padres in Adrian Gonzalez trade.
At 22 years old, Fuentes is still a young and developing player. However, he also has flashed significant promise this year with Double-A San Antonio and could be moving on up in the Padres system in the near future.
The cousin of Carlos Beltran has shown home-run pop that few thought he would develop. He has hit five home runs (tied for a career high) and 13 doubles in 55 games this season. He also has excellent speed, stealing 21 bases and playing outstanding outfield defense despite not having a great arm.
Bold prediction: Fuentes reaches MLB before any Sox OF prospect other than Bryce Brentz.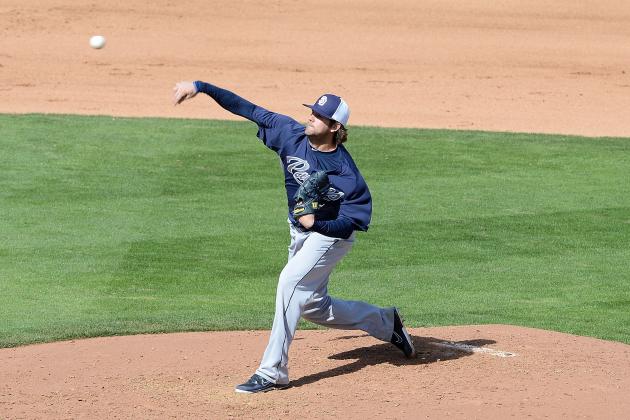 Jennifer Stewart/Getty Images

*Sent to Padres in Adrian Gonzalez trade
The Sox hated giving up Kelly, but given their need for a power-hitting first baseman, they had to do it. They got to see Kelly's development pay off late last year, as the right-hander made his MLB debut on August 27 for the Padres at the age of 22.
While he didn't fare all that well in his six starts (6.21 ERA, 1.69 WHIP), Kelly did earn some valuable experience that he'll be able to use in 2014. He is currently out with Tommy John surgery. This would typically be a red flag, except that pitchers seem to come back from this injury just as good, if not better, than they were before.
Bold prediction: Kelly will have a better MLB career than any current pitcher in the Sox's farm system.