San Diego Chargers' WR Breakdown: Complete Evaluation and Depth Chart Analysis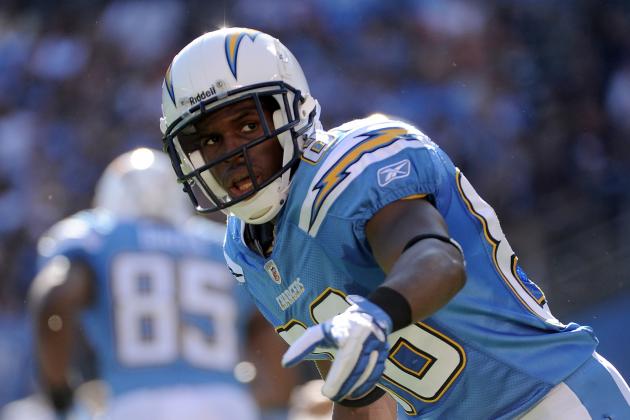 Harry How/Getty Images

The San Diego Chargers couldn't afford the luxury of signing a marquee wide receiver in free agency this offseason, but don't feel bad for Philip Rivers just yet.
The Chargers' 2013 receivers unit doesn't look all that different from the 2012 class. In fact, just two players will join last season's group of Danario Alexander, Malcom Floyd, Robert Meachem and Eddie Royal.
However, those two players could make all the difference on offense for Rivers.
Here is a breakdown of the receivers unit with depth chart predictions.
Begin Slideshow

»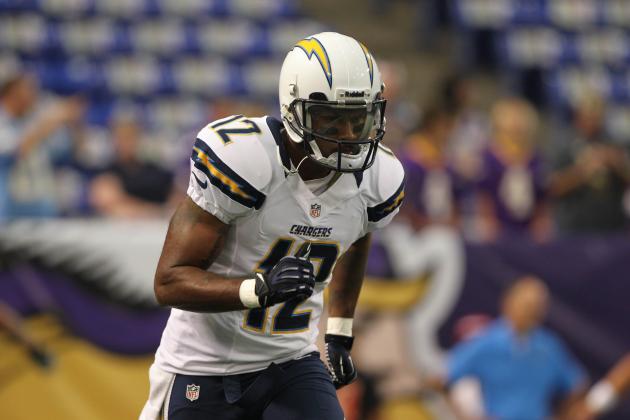 Brace Hemmelgarn-USA TODAY Sports

It's looking more and more like Robert Meachem will be getting the short end of the stick in San Diego.
A forgettable first season with the Bolts and the addition of Keenan Allen in the draft will force Meachem to compete for some playing time on this depth chart.
On top of that, rumors that Meachem could be traded are already beginning to swirl around.
If the 28-year-old remains in San Diego through the 2013 season he'll have to outwork Danario Alexander, Malcom Floyd and a fully healed Vincent Brown for the top spots.
The odds aren't in his favor at the moment, but coaches and the front office are standing by Meachem this season.
From a front office standpoint, keeping Meachem is a cheaper option for the Chargers as cutting him would result in a $10.625 million cap hit opposed to his 2013 salary of $6.875 million, per U-T San Diego's Michael Gehlken.
That being said, Meachem will likely end up as San Diego's fifth or sixth receiver on the depth chart barring a trade.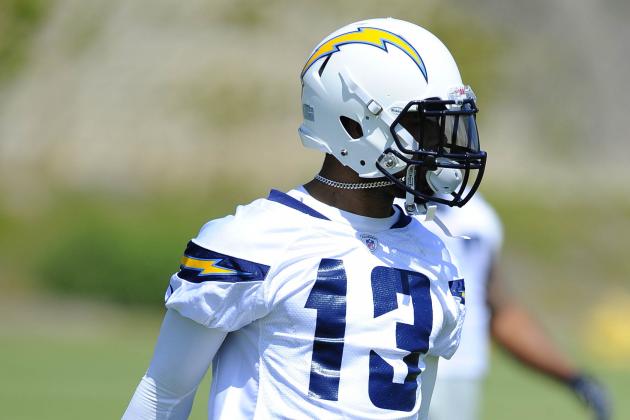 Christopher Hanewinckel-USA TODAY Sports

The Chargers surprised a lot of people on the second day of the draft when they picked Manti Te'o in the second round, but an equally surprising move was the selection of Keenan Allen in the third.
The former Cal receiver has been recovering from a knee injury that he suffered during the 2012 season, but he's been participating in drills during San Diego's OTAs, indicating that all is well with the knee.
If he's able to return to the playing field at 100 percent this season, Allen should have no problem challenging for playing time.
With Danario Alexander, Malcom Floyd and Vincent Brown likely to see work on the outside, Allen could be an option to pair with Eddie Royal in the slot.
History proved last season that Royal had trouble staying healthy, and if that situation were to occur once more, Allen would be a great alternative to slide in.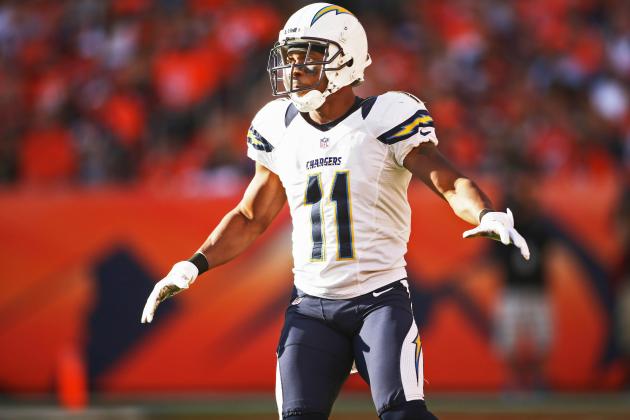 Chris Humphreys-USA TODAY Sports

Eddie Royal and Robert Meachem are in the same boat in 2013. Royal, however, may be in a better position than Meachem to prove he's not a bust.
Battling a hamstring injury for much of last season, Royal managed to catch just 23 passes for 234 yards and a touchdown with the Chargers.
At the very least, Royal was expected to make an impact in the return game, but he couldn't even give that to San Diego, finishing the year with 64 yards in punt returns.
Despite last season's shortcomings, Royal has reportedly been working as the team's top slot option during OTAs according to Michael Gehlken of U-T San Diego—a fair indication that the team is prepared to give him another shot now that he's healthy.
However, Royal isn't out of hot water just yet.
According to Rotoworld, the Chargers could save $1.5 million against the cap in releasing Royal. And with Keenan Allen joining the team, Royal's job could be in danger.
For now though, Royal will be the Chargers' top option in the slot for 2013, but the pressure is on to have the type of season like the ones he had in Denver when Mike McCoy was calling the Broncos' plays.
Stephen Dunn/Getty Images

It hasn't taken long for the new coaching staff to begin incorporating Vincent Brown on offense. As Michael Gehlken reported earlier this week, Brown has been rotating with the team's starters during OTAs.
After missing the entire 2012 season with an ankle injury, Brown is expected to be a big part of the offense according to head coach Mike McCoy.
Expectations are so high for Brown that it's quite possible he pushes Malcom Floyd for his spot opposite Danario Alexander.
What folks still need to remember, however, is Brown will technically be playing his sophomore season in 2013 because of the injury last year.
The third-year receiver has the potential, but can he live up to the hype right out of the gate?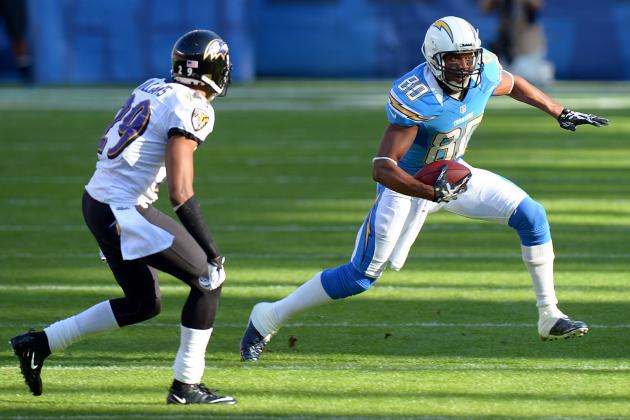 Jake Roth-USA TODAY Sports

Malcom Floyd is, by far, the Chargers' most reliable receiver on the depth chart.
The past three seasons, Floyd has been good for more than 700 yards receiving and at least five touchdowns. In 2012, the eight-year veteran had a career-high 56 receptions despite missing the last two games of the season with an ankle injury.
Even though he'll be tested by the up-and-coming Vincent Brown, Floyd should still be a featured part of the offense.
Until the arrival of Danario Alexander midway through the season, Floyd acted the part of San Diego's No. 1 receiver, but he may be playing the opposite side of the field more with Alexander returning for 2013.
Coming off another highly productive year, Floyd will be a solid No. 2 or 3 receiver to mix in with Brown and Alexander.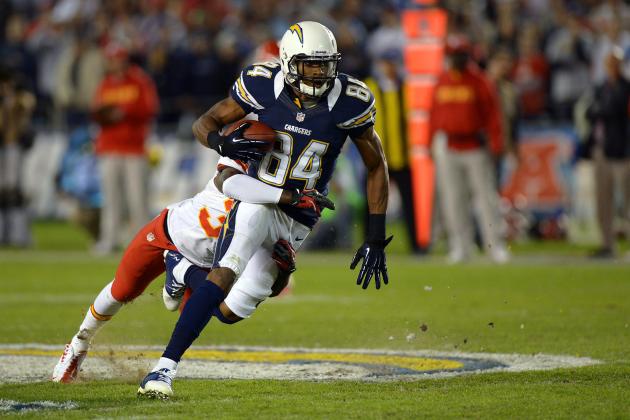 Jake Roth-USA TODAY Sports

Signed off the street midseason, Danario Alexander crashed the Chargers' depth chart with a career year in just 10 games.
Some of DX's numbers absolutely blew away the combined totals of free-agent acquisitions Robert Meachem and Eddie Royal.
It was pivotal that San Diego found a way to keep Alexander after the 2012 season, and thankfully the Chargers were able to do so with the lowest possible tender.
The lone concern with the 24-year-old is whether his knees can handle another NFL season. The biggest reason so many teams veered clear of Alexander in free agency was his history of five knee surgeries.
If Alexander can stay healthy and remain such a dynamic target for Philip Rivers, there's no limit to the type of season he could have.