As reaction trickles in surrounding the latest ESPN.com and "Outside the Lines" report on Tuesday evening involving baseball's quest to punish the players involved with Tony Bosch and Biogenesis, baseball continues to be played on the field.

With the likelihood of a fight between the MLBPA and MLB, expect the cloud of long-term suspensions to hang over the 20 names—with more possibly to come—indicted in the documents and Bosch's word.

The sport enters June with great pennant races on the horizon, along with the possibility of parity overtaking the summer standings. What should be a great race for October will now be shook up by the possibility of significant players missing games or spending time in a court room rather than the diamond.
Of the names currently connected with Biogenesis, Ryan Braun, Alex Rodriguez, Francisco Cervelli, Jhonny Peralta, Nelson Cruz and Bartolo Colon currently loom the largest when assessing how the pennant chase could be altered by the latest news.

Nationals left-handed pitcher Gio Gonzalez would be a part of the group, but the feeling is that he's not in any danger of a possible suspension.

Here's a look at how the respective teams, and overall league, would be impacted if any of those players were to be removed from their club for a significant amount of time:


Ryan Braun

The 2011 MVP is currently playing on a 22-35 team, sitting 15.5 games out of first place in the NL Central and looking farther and farther away from contention by the day.

Yet his presence in Milwaukee's lineup can change the course of a top heavy NL Central race throughout the summer.
Through the first 57 games of Milwaukee's schedule, they have already played 10 games against both St. Louis and Pittsburgh, two of the three teams currently within 3.5 games of each other atop the division standings. That means Braun has competed in more than half of the games the Brewers will play against those two rivals.

On the other hand, Milwaukee has only played three games against Cincinnati. Over the next four months, they'll compete against the reigning division champs 15 times, possibly without Braun for many of them.

Forget about the 2013 Brewers. Braun's potential absence can still alter who wins the NL Central this year.


Alex Rodriguez

Heading into play on June 5, the New York Yankees, despite an overall 33-25 record, have posted a .688 slugging percentage against opposing left-handed pitching.

While the returns of Kevin Youkilis and Mark Teixeira will help with that mark, perhaps no player on their 40-man roster can make a difference as much as a healthy, productive Alex Rodriguez.

For his career, Rodriguez has a .944 OPS against left-handed pitching. To put that into perspective, a .944 OPS would rank 7th in all of baseball this year.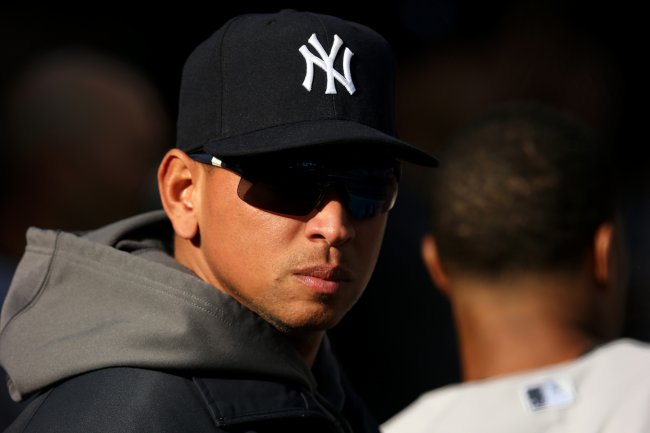 Jonathan Daniel/Getty Images
Due to the drop in runs scored and pitching dominance in the game today, Rodriguez's bat would still have a major, major impact on days the opposition threw a lefty against New York.

In a division that features Jon Lester, David Price, Mark Buehrle, Felix Doubront and Wei-Yin Chen, New York can use all the help they can get.

If the A-Rod misses time due to suspension, the extra win or two he could provide in a head-to-head AL East game could be the difference.


Francisco Cervelli
By the way, Cervelli could be suspended to.

— Andrew Marchand (@AndrewMarchand) June 5, 2013
When New York allowed Russell Martin to sign with the Pittsburgh Pirates in free agency, the Yankees catching situation, at least offensively, looked like a black hole that would bring down the offense all season long.

Then Cervelli emerged in April to hit .269/.377/.500, smashing three home runs and walking nearly as many times as he struck out.

While expecting that kind of production out of the 27-year-old when he returns from injury seems outlandish, his ability to grow as a hitter, along with playing stellar defense behind the plate, can be vital to a team that has barely outscored the Houston Astros this season.


Jhonny Peralta

On a Detroit Tigers team that includes Miguel Cabrera, Prince Fielder, Torii Hunter and Victor Martinez, it's easy to lose sight of the season that Peralta is putting together.

Coming off a dreadful 2012 in which the Tigers shortstop posted a . 689 OPS, the 31-year-old is on fire, posting the third highest wRC+ among shortstops in all of baseball.
My latest at @BR_MLB: Jhonny Peralta and 6 others providing huge seasons in walk year.... http://t.co/lk4xXjG91A

— Jason Martinez (@mlbdepthcharts) May 29, 2013
The only names he trails on that list: Troy Tulowitzki and Jean Segura. Considering their standing as NL counterparts, Peralta is currently deserving the nod to start for the AL in the All-Star Game.

Detroit can probably withstand his loss due to their immense offensive depth, but the timing of a suspension could be a big factor here.

If suspensions and appeals drag these players in and out of October, Peralta's loss would be huge for the defending AL champs.


Nelson Cruz

Part of the reason why the Texas Rangers have been able to overcome the loss of Josh Hamilton in the middle of their lineup is the immense power of Nelson Cruz.
Last 33 at-bats for Nelson Cruz have included four home runs -- so he's on one of those rolls he gets on. http://t.co/yKuTh1FP63

— Buster Olney (@Buster_ESPN) May 16, 2013
Despite his free-swinging approach and streaky nature, Cruz can carry the Texas lineup at times, boasting an isolated slugging percentage and slugging percentages in the Top 10 of all outfielders in the sport.

Once again, the Rangers are in first place in the AL West, but with an offense that has departed from the Top 5 in runs scored, they'll need Cruz in there to fend off Oakland and Los Angeles over the next four months.


Bartolo Colon

Perhaps the player in baseball that would least look like a "steroid" user, Colon's association with Biogenesis and PED's can be a major hurdle for the bulky right-hander and the Athletics.

For a mostly young staff in Oakland, Colon represents the veteran, an innings eater and one of the most prolific strike-throwing artists in the game.
At 40 years and 2 days old, Bartolo Colon is oldest @Athletics pitcher ever to have a scoreless outing with at least 9 K's and no walks.

— MLB Stat of the Day (@MLBStatoftheDay) May 27, 2013
Heading into his next start this week, Colon has posted a 42/4 strikeout-to-walk ratio this season, good for the second best in all of baseball behind Adam Wainwright.

With a 3.33 FIP, Colon is currently profiling as a better pitcher than names such as Mat Latos, Justin Masterson and Matt Moore.

His availability is vital to another A's run in the AL West this summer.
Which potenial suspension would impact the pennant races most?
Comment below, follow me on Twitter or "like" my Facebook page to talk all things baseball!