NFL: 12 Players Under the Most Pressure in 2013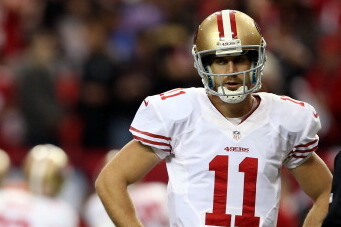 Streeter Lecka/Getty Images

I guess it goes without saying that every player in the NFL is under some kind of pressure. However, I can guarantee that the right guard doesn't feel nearly as much as the quarterback.
With the beginning of the preseason only a couple of months away, it's time for some guys to start feeling the heat. Why would one in particular feel such pressure?
Maybe he's the new guy on a team. Perhaps he's now the most highly paid. Or maybe he simply hasn't answered the call as has been expected of him and it's a make or break year. For any or all of these reasons, all eyes will be on these 10 guys to see how 2013 goes.
Begin Slideshow

»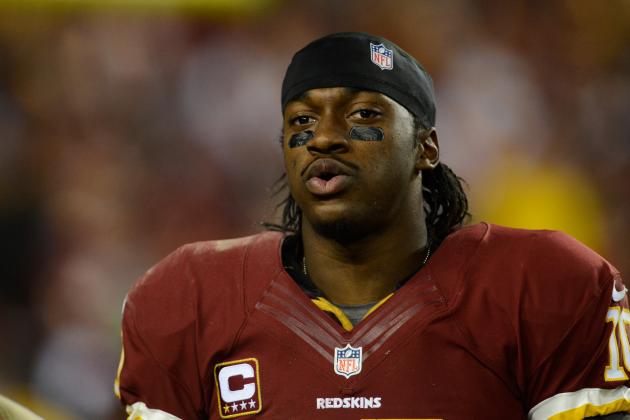 Patrick McDermott/Getty Images

The thing to understand about why I say this is that I'm not at all saying it to imply RG3 is in any danger of losing his job. He will be under center in the nation's capital for years to come.
So why is he under pressure to perform? Well, a couple of reasons factor in.
First of all, he's held all of these press conferences to discuss his progress, how he's feeling, how he's doing, etc. It's good to update people, but the daily announcements and progress reports have probably left some sour tastes around the fanbase and the league.
Secondly, everyone saw what Adrian Peterson did last season after a torn ACL. It may be unfair, but we've seen how people felt about Derek Rose sitting out the NBA season following his ACL injury—the criticism mostly stemmed from Peterson's speedy recovery.
I don't doubt people will look at Griffin the same way. Two NFL players following ACL injuries come to mind and those are Adrian Peterson and Carson Palmer. Which one will Griffin compare to?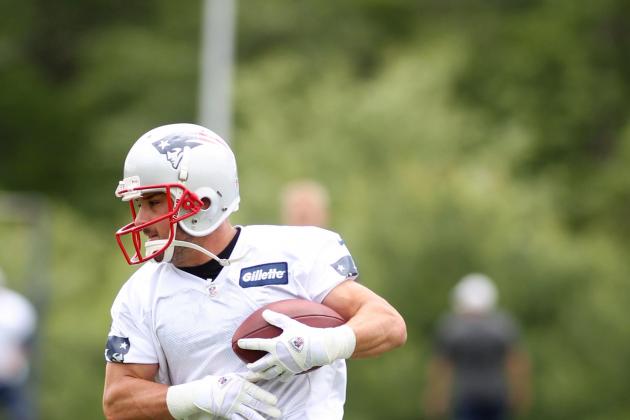 Stew Milne-USA TODAY Sports

Danny Amendola was already in the position to fill big shoes with the departure of Wes Welker. Replacing his production in New England was never going to be an easy task to begin with.
And then the Aaron Hernandez scandal began, and all of a sudden, more pressure was likely added to the Pats' new receiver since one of the team's leading catchers won't be on the field.
Amendola has had some decent seasons in a Rams' uniform, but has never even come close to what Welker did in New England. You can doubt his abilities, but with Tom Brady throwing the ball, it's kind of hard not to be confident.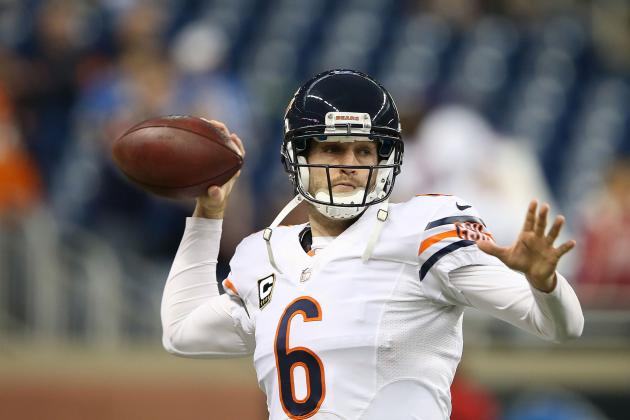 Leon Halip/Getty Images

To say Jay Cutler's job is in any jeopardy this season would be silly. Love him or hate him, Cutler has been a decent quarterback his entire career.
However, that has been the problem—he's been decent, but never great. The Chicago Bears have now collapsed in consecutive seasons down the stretch, and Cutler was largely inconsistent throughout the team's last six games in 2012.
It seems to be something that he's made a career out of, and with Lovie Smith having already hit the bricks, it's not out of the question that Chicago may look for a new franchise man come next April. If Cutler can't get the Bears on the road to success in 2013, he may find himself on the ropes.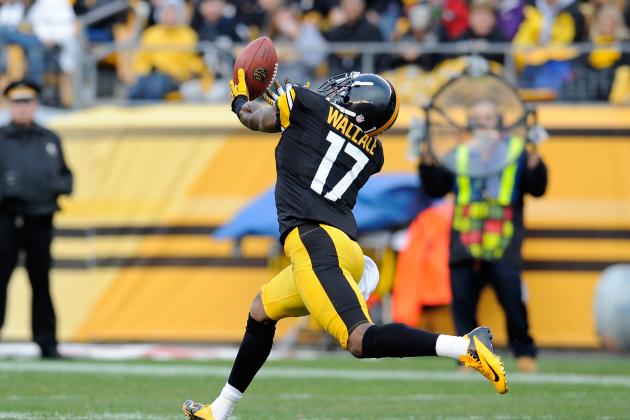 Joe Sargent/Getty Images

Mike Wallace is by no means on a short leash in Miami—he hasn't even suited up for a game yet.
Wallace has been a Pro-Bowl caliber receiver for the Pittsburgh Steelers over the last four seasons, posting 32 touchdowns and 4,000+ yards in that time. What people seemingly don't realize is why Steeler fans don't enjoy Wallace.
The team offered him a huge contract before the 2012 season, which he rejected, missed training camp, and promptly put up a mediocre season. He's also been known to drop a lot of passes.
So, the problems that seem to be arising are now in Miami. It will be interesting to see if the prominent receiver continues down this path.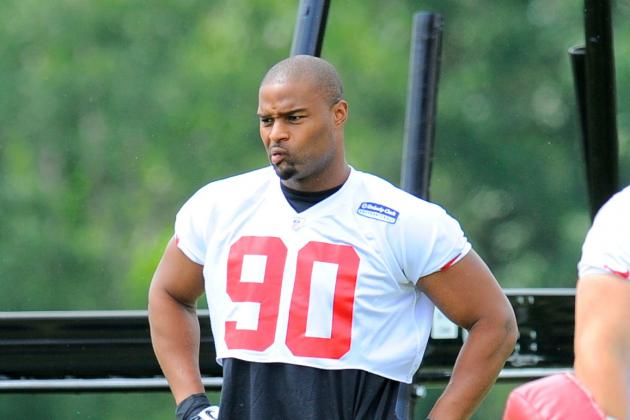 Dale Zanine-USA TODAY Sports

Even the star defensive end that is Osi Umenyiora will find it difficult to replace John Abraham.
The expectations for Umenyiora are probably not as high in Atlanta as they would have been in previous years, but you can bet they will expect him to make an impact. In 2010, Umenyiora was one of the best defensive ends in the league, amassing 11.5 sacks and forcing 10 fumbles.
Since, he's fallen off considerably, only seeing action in nine games in 2011 and having a rather pedestrian (by Umenyiora's standards) season in 2012. After Abraham's 2012 campaign—one that saw him force six fumbles and accumulate 10 sacks—the Falcons are expecting Umenyiora to make an impact.
Under most circumstances, a perennial Pro-Bowler like Umenyiora wouldn't be under the gun so much. But when you attempt to replace a great player, the eyes move in your direction.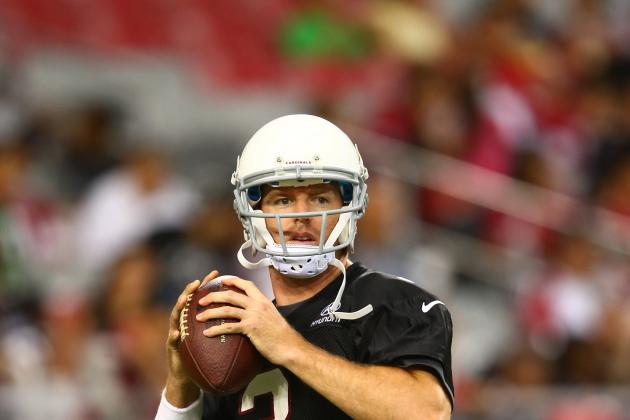 Mark J. Rebilas-USA TODAY Sports

The curious case of Carson Palmer will continue in Arizona this season, and at first glance, it doesn't look good for the Cardinals. Why?
Well, Palmer hasn't exactly been a great quarterback recently. His time in Oakland saw him have very erratic performances—keep in mind, he was pretty limited in terms of receivers.
I have been a critic of Palmer's since his time in Cincinnati, particularly after the 2005 season, one in which he's never come close to duplicating. It was by far the best of his career, and it was ended in a wild card playoff game against the Steelers when he tore his ACL.
Now, he's seemingly scared most of the time, overthrows receivers, and isn't the most sure-handed quarterback. All signs point to issues in Arizona.
However, when you examine his career as a whole, he could help the Cardinals. He's thrown 189 touchdowns and 130 interceptions, a decent ratio. That aside, with his struggles in recent years, Palmer may just have one season to show he can help Arizona before they move on to Teddy Bridgewater thoughts.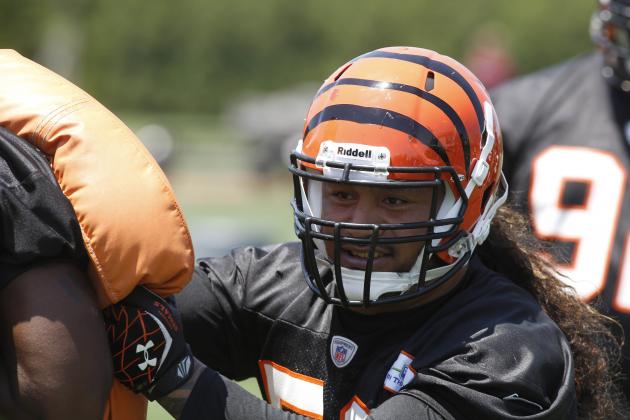 David Kohl-USA TODAY Sports

The re-signing of linebacker Rey Maualuga in Cincinnati was one of the biggest controversies the team had this offseason. While there were a few who saw a reason to keep him, the bigger majority of the town seemed to be calling for his head.
Maualuga was absolutely torched by Houston tight end Owen Daniels in the Bengals' playoff game this past postseason, allowing him to catch nine balls—all of which were uncontested. He also proved to be inefficient in stopping Arian Foster up the middle.
For now, he's slated to be the Bengals' starting middle linebacker again in 2013, raising a lot of eyebrows from fans in the Queen City. You can bet that he will be under the microscope every single play.
It won't be long before already-disgruntled fans start calling for Vontaze Burfict to start in the middle.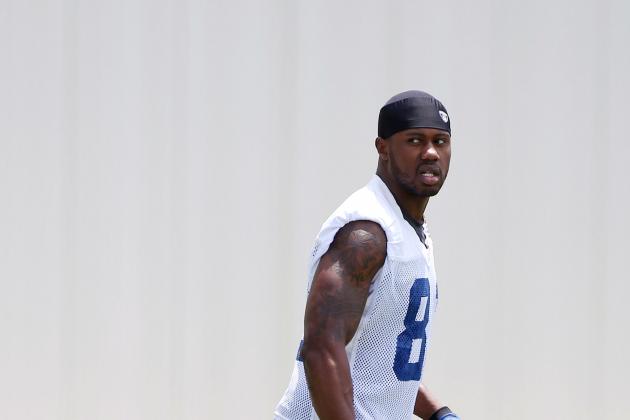 Brian Spurlock-USA TODAY Sports

After being the seventh overall pick in the 2009 NFL Draft, Darrius Heyward-Bey has largely been a disappointment in the NFL. He's still got a lot of opportunities ahead of him after only four seasons, but he is definitely more on the "bust" side of things thus far.
Heyward-Bey has now moved over to the Indianapolis Colts, a team with a much more stable quarterback situation. Andrew Luck is at the helm now, and he's a much more promising passer than Heyward-Bey was ever really working with.
It is an interesting situation in terms of the receiving corps with veteran Reggie Wayne still around and last year's emergence of T.Y. Hilton. Throw them all together with Coby Fleener, and Heyward-Bey could be fighting for more action as the season goes.
He isn't necessarily in any immediate danger of losing any position, but the clock is ticking on the former Maryland standout.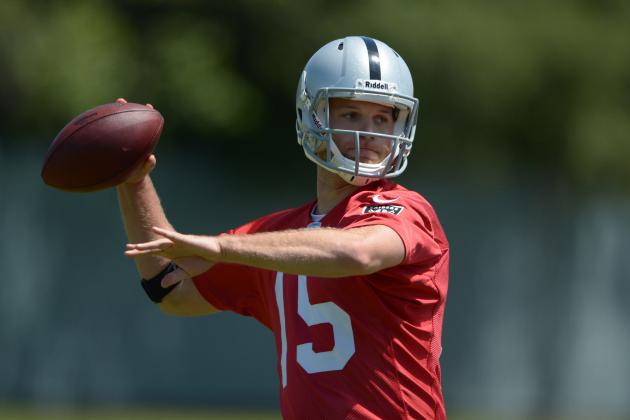 USA TODAY Sports

Matt Flynn is in danger of suffering the same fate as Kevin Kolb. In limited time, a team is trusting him to take over the starting role and be a team leader.
Make no mistake, what Flynn did back in 2011 against the Lions was incredible, but he's essentially just set himself up to be under the microscope all the time. He's entering a rough situation in Oakland, having no receivers who could really be defined as a true No.1.
In terms of arm strength and decision-making, Flynn seems to have the skills. When it comes to a lifelong backup finally getting his chance, things are magnified and everyone wants to see how he'll do.
If Flynn can be successful in the train wreck that is currently Oakland, it will be a true definition of how good he is.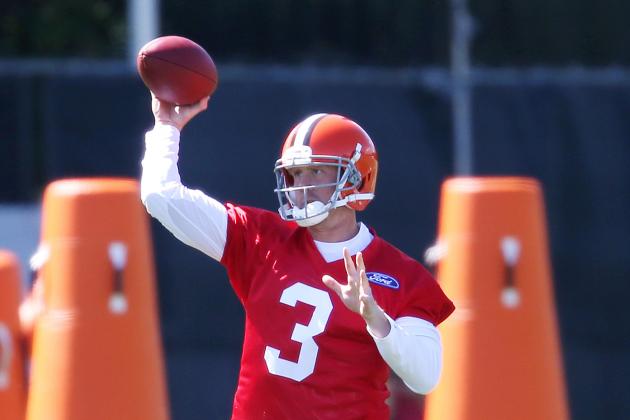 Ron Schwane-USA TODAY Sports

The situation in Cleveland seems to be on the upswing, and I think this team could be a big shock in the league this season.
A lot of criticism is swirling around Brandon Weeden, and has been since he was drafted last year. He certainly didn't do much to quiet the criticism in his rookie campaign, only managing 14 touchdowns.
Now, Jason Campbell is threatening to take some time away from Weeden. While I have nothing against Campbell and definitely think he's a suitable backup, Weeden needs one more chance. Not every rookie succeeds in the first season.
It will be tough for Weeden, though. He already has criticism aimed at him, but he'll be without receiver Josh Gordon for the first two weeks of the season. The good news is that Trent Richardson looks primed and ready to go, so the full pressure of the offense shouldn't be squarely on Weeden.
Unfortunately, Cleveland is already threatening to take the job from him, so it will require a good season for Weeden to keep his job.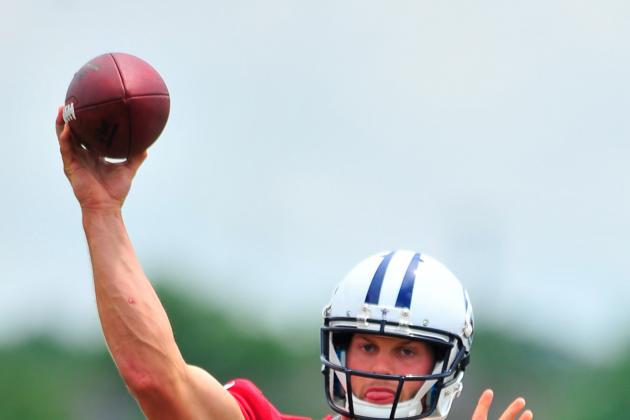 Jim Brown-USA TODAY Sports

There were times in Jake Locker's limited rookie experiences where he thought he was really going to have a good future in the NFL.
Then the 2012 season came along, and those thoughts turned to doubt. He struggled with injuries and inconsistency all season long, and threw for only 10 touchdowns in 11 games.
Now, to give Locker a little break, the team as a whole was a letdown in 2012. He wasn't the only one in that uniform that struggled. The Titans added Justin Hunter in the draft to give Locker another receiver to target, and the addition of right guard Chance Warmack should help his protection.
After so much inconsistency, the 2013 season needs to be the one where Locker puts up or shuts up. If his struggles continue, Tennessee may be looking for a way to go on without him.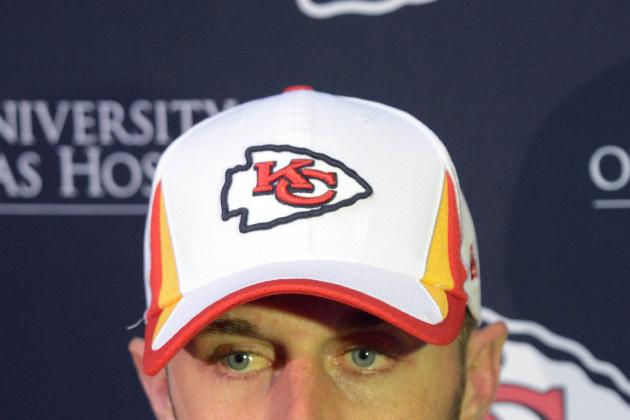 Denny Medley-USA TODAY Sports

Alex Smith has become quite the controversy in the NFL. Following years of mediocrity, Smith blossomed once Jim Harbaugh went to San Francisco, only to lose his job to Colin Kaepernick.
Now, Smith will take his talents to Kansas City to team up with Andy Reid. I don't envy Smith. He's in a position that a lot of previous quarterbacks have failed in, and that's the position of Chiefs' starting quarterback.
I don't see him fairing any better—Smith is quite the efficient quarterback, tossing 30 touchdowns and 10 interceptions over his last 26 games. The numbers sound impressive but let's look at the facts: 30 touchdowns after 26 games really isn't all that impressive, thus decreasing his credibility as an effective quarterback.
With a new team, it will be interesting to see if Smith can continue maturing into a franchise quarterback, something he finally seemed to be becoming. It will be an uphill battle, particularly with a system that isn't nearly as built for success as the 49ers were.