1 Thing Every 2014 5-Star College Football Recruit Can Improve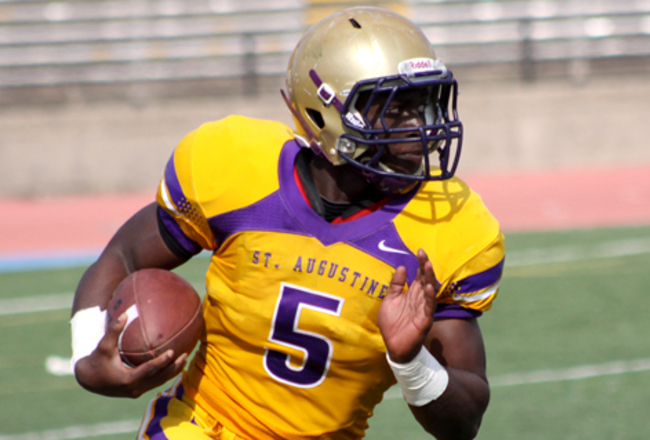 247Sports

How many stars are attached a recruit's name is the first thing a fan looks for when reading about a prospect. The 5-star rating is coveted by every recruit. But over time, various recruiting services have become too generous with this honor.
This year, however, the widely recognized ESPNU 150 has given only 11 recruits a 5-star badge. As great as those elite recruits are, they still can get better.
For example, the nation's best wide receiver prospect could stand to become a better route-runner while a future left tackle must clean up his footwork.
Player evaluations are based on review of tape at Scout.com, Rivals, 247Sports & ESPNU.

11. Quin Blanding, S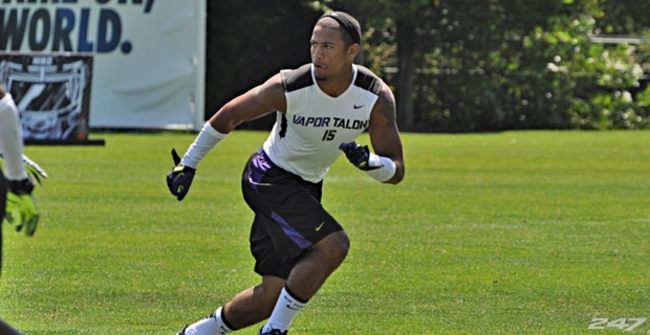 247Sports

Blanding, who has excellent instincts, range and ball skills, is the best safety prospect in the country.
An athletic defender, the 6'2", 200-pound Blanding has a high ceiling and should make an early impact for Mike London at Virginia.
What Blanding must improve is his technique in man coverage. He has the hip flexibility to cover slot receivers, but he must improve on his fundamentals such as hand placement when pressing and initial footwork.
10. Lamont Gaillard, DT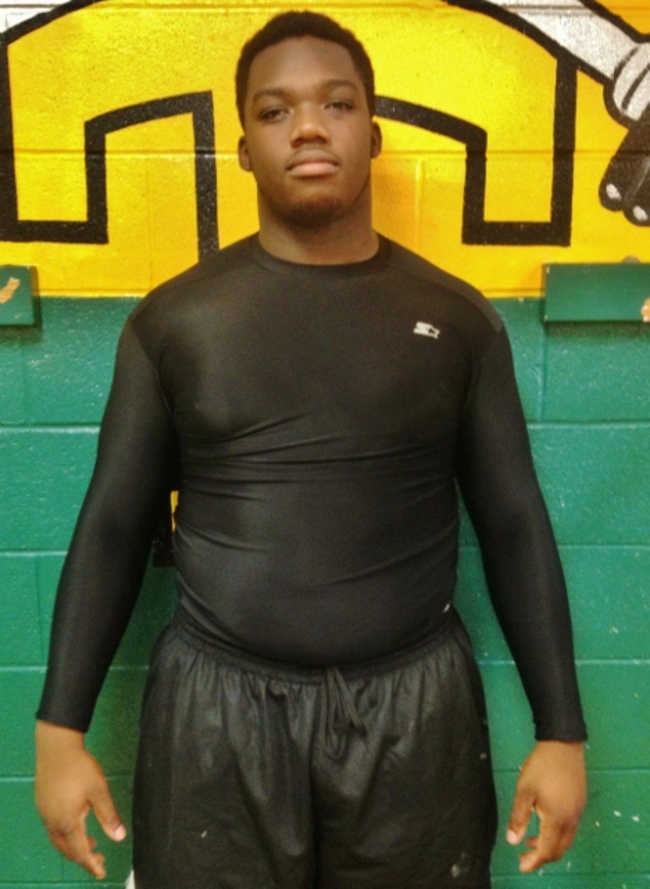 247Sports

Gaillard is an explosive defensive tackle from North Carolina who can fire out of his stance, play with leverage and has great strength in the trenches.
At 6'4" and 300 pounds, his power allows him to toss high school blockers aside and make tackles. However, in college, Gaillard must get better at extending his arms to press blockers off him at the point of attack.
9. Marlon Humphrey, CB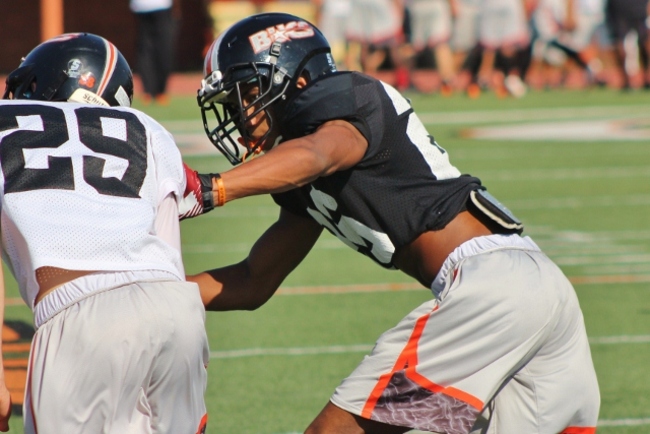 247Sports

Humphrey is one of the best cornerback prospects in recent memory. His instincts and awareness compare favorably to 2013 Florida signee Vernon Hargreaves.
The 6'0", 180-pound Alabama native has outstanding anticipation skills. Humphrey works well in off-man and zone coverage schemes, which is why he must improve his press-man ability.
Once Humphrey adds strength and more explosion to his jams, re-routing receivers at the line will become another added weapon in his arsenal.
8. Speedy Noil, WR/ATH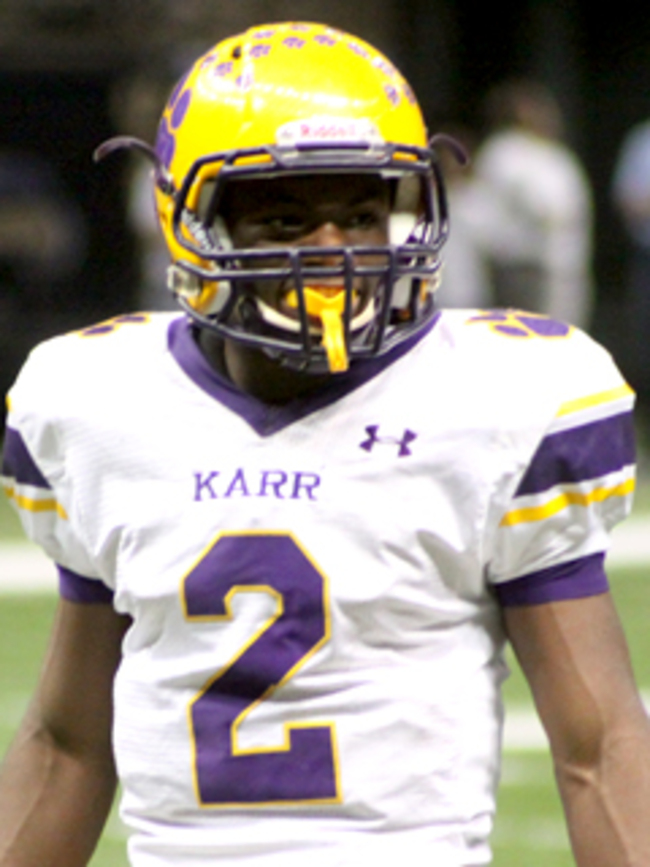 247Sports

Noil has a chance to be a multipurpose player in the mold of St. Louis Rams WR Tavon Austin.
The 5'11", 176-pounder from New Orleans has outstanding play speed and shows natural vision as a runner. He plays quarterback for his high school team, so he's only had limited reps as a receiver.
It is critical for Noil's development that he began to hone his route-running skills. He also must improve his ability to read coverages and make sight adjustments.
7. Cameron Robinson, OT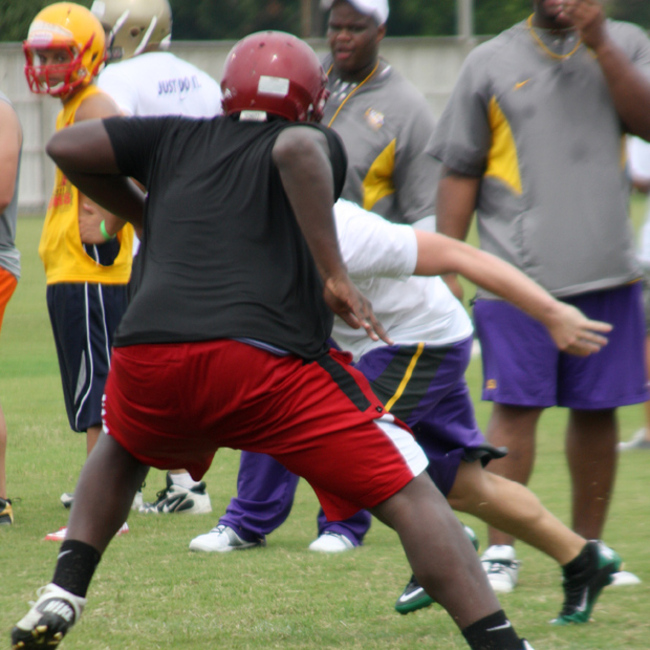 247Sports

Robinson is a 6'6", 330-pound dancing bear of a left tackle prospect. The big man is light on his feet, bends well at the knees and has good athleticism.
Robinson also is a strong blocker in the run game, which helps him as a pass protector due to his ability to give a hard punch to rushers. His footwork is adequate, but it needs improvement.
There at times when Robinson gets by on being bigger, stronger and more athletic than his competition. Improper footing, kick-sliding and striding will be corrected by his college offensive line coach.
6. Myles Garrett, DE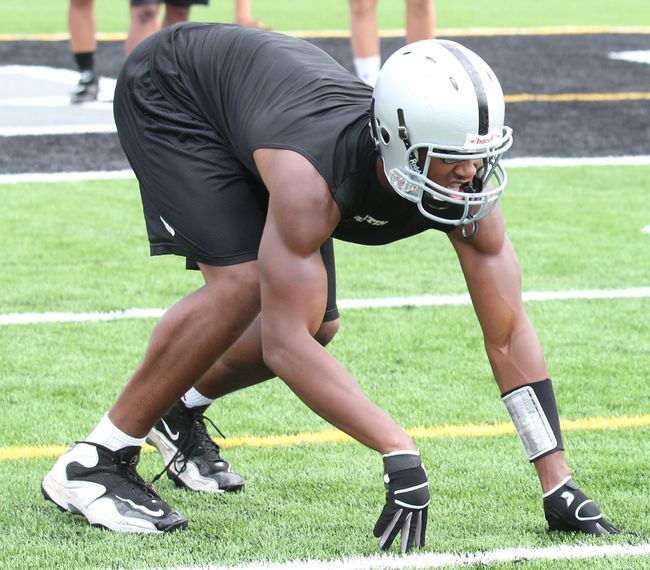 247Sports

With his strength and speed to get up field, Garrett has no problem converting speed to power when rushing. The 6'5" defensive end will weigh more than 250 pounds as a freshman and should be ready to contribute as a nickel rusher.
Garrett needs to work on his ability to shed blocks as a run defender. As with 2013 Auburn signee Carl Lawson, Garrett has the strength to shed. He just needs to get better at keeping blockers away from his body.
5. Adoree' Jackson, CB
247Sports

Jackson is an exceptional athlete who also is an accomplished sprinter and long-jumper.
As a cornerback, however, Jackson needs to polish his technique. He doesn't have any athletic limitations nor are his instincts a problem.
Jackson, who is 5'10" and 185 pounds, just needs to improve his coverage technique, as he can get too wild and careless with his fundamentals when competing.
4. Da'Shawn Hand, DE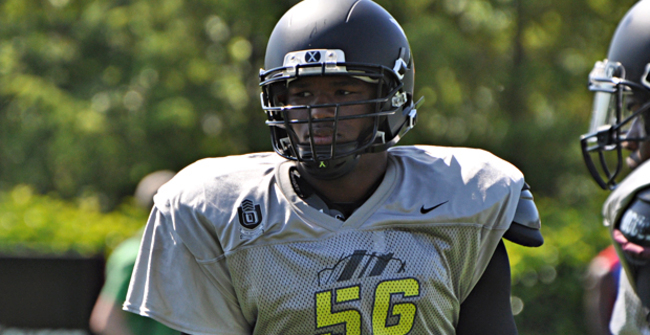 247Sports

Some feel Hand is a superior defensive end prospect to 2013 No. 1 recruit and Ole Miss signee Robert Nkemdiche.
Hand, who is 6'5" and 247 pounds, can explode off the line, convert speed to power as a rusher and plays with great pursuit quickness when stalking runners.
Hand, however, can be a "high-striker" at times when he is tackling a ball-carrier. Instead of sinking his hips and putting his facemask in his target's chest and exploding through them, Hand sometimes chooses to hit people too high around their shoulder pads.
3. Andrew Brown, DT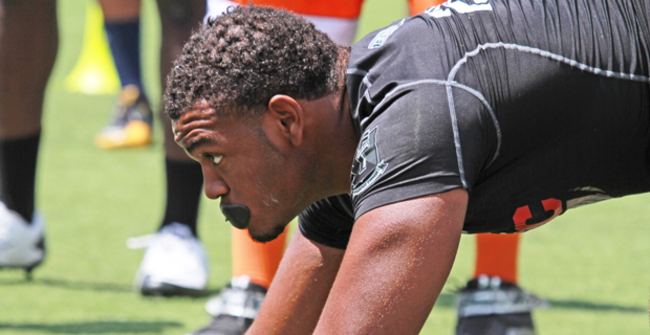 247Sports

The top defensive tackle on the board, Brown has great snap quickness and strength to be dominant in the interior trenches.
Brown's development should not hit a plateau in college if he improves his anchor ability and consistency at denying blockers access to his body. As forceful as he is at times, Brown, who is 6'4" and 295 pounds, struggles when he allows powerful blockers to get their hands on his chest.
He also has to get quicker when it comes to anchoring vs. running plays. Brown can surrender his spot at times to offensive lineman looking to pave run alleys.
2. Jabrill Peppers, CB

247Sports

Peppers is a remarkable athlete who can play several positions. He is a smart and instinctive football player who is committed to Michigan.
It is a tough task to find a weakness in his game as a cornerback. Perhaps Peppers, who is 6'1'' and 205 pounds, could continue to improve his skills in run support off the edges.
1. Leonard Fournette, RB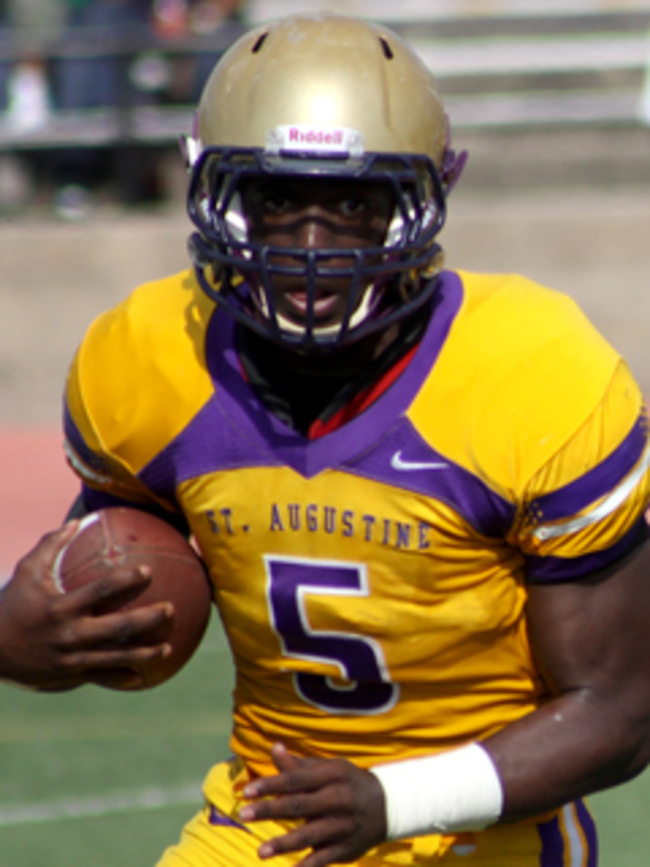 247Sports

As a running back prospect, the 6'1", 225-pound Fournette has everything needed to be successful in college.
Speed, instincts, power, quickness and hands, Fournette has it all. However, since the circumstances call for it, it must be suggested that he improve on his ability to cut at full speed.
That's a hard task for big backs such as Fournette, but it would allow him to not have to decelerate as much to change directions, which would allow him to make even more big plays.
Edwin Weathersby is the College Football Recruiting Analyst for Bleacher Report. He has worked in scouting/player personnel departments for three professional football teams, including the New York Giants and Cleveland Browns.
Keep Reading