20 Athletes Wearing Clothing NOT as a Joke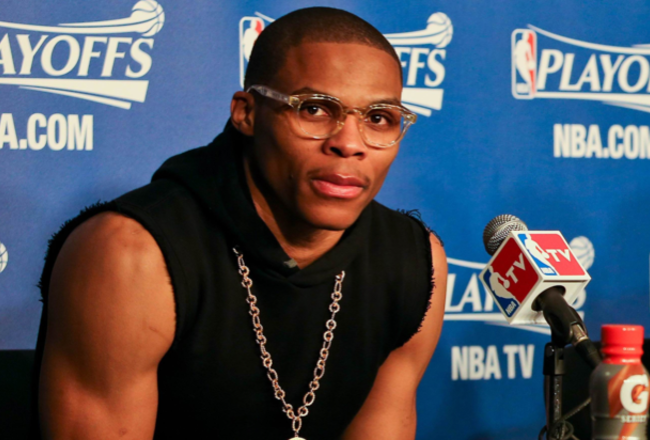 Professional athletes are ego-driven animals. Then again, how many of us can't say the same thing about ourselves? It's just that they have a lot more fodder to feed their egos than most of us normals.
Performing exceptionally in their sport is one way they feed the beast. The headlines they make from coming up big when it counts is enough to earn ample SportsCenter mentions to keep ye old ego good and bloated year round.
Then again, you've probably heard that old saying, "There's more than one way to skin a cat." Which is a very unsavory way of explaining that there are plenty of other ways to get attention, too.
One of those other ways is fashion. What an athlete wears can garner almost as much attention as what he does on the field of play. Depending on how outlandish their wardrobe or personal style is.
More garish = More headlines.
Donning a sharp suit on a red carpet may get you a mention on the best-dressed list. But that's nothing compared to the attention that some athletes receive for their deliberate attempts to land on the worst-dressed-ever list.
Here are 20 athletes wearing clothing NOT as a joke.
20. Kevin Durant's Got Your Back...Pack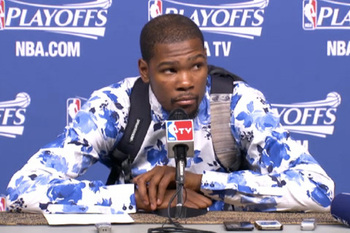 Image via style.mtv.com
The fashion sense of Thunder point guard Russell Westbrook gets a lot more attention than his bigger, badder teammate Kevin Durant. Which is only fair, considering Durant gets all the attention on the court.
But that's not to say that Durant doesn't do his best to keep up with Westbrook in terms of looking absolutely absurd during postgame press conferences.
He has certainly donned his share of head-scratchers, satisfying the ever-drooling sports media desperate to see what he managed to concoct this time.
Durant is known for bold floral prints, extremely fitted (to the point of looking uncomfortable) suits, and a backpack permanently strapped over his shoulders.
It's almost as if he's concerned the bus is going to leave without him or the locker room will be padlocked after his presser, so he just prefers to err on the side of caution.
Someone needs to tell him he's Kevin &%$*#$& Durant and that his stuff is safe.
19. R.A. Dickey: The Force Is Not with That Onesie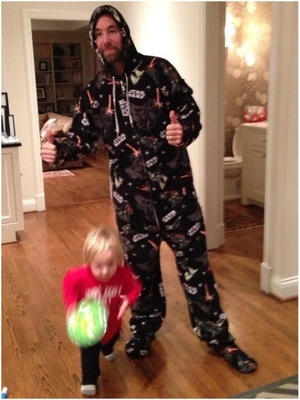 Image via @RADickey43
The levels of nerdom that come with being a Star Wars geek know no bounds, as proven by the Christmas gift that Blue Jays pitcher R.A. Dickey displayed with glee via Twitter in December 2012.
Dickey is far too old to be wearing footie pajamas, but I suppose this kind of nonsense is what keeps us young. At least that's what I'm telling myself.
The jammies were actually a gift from Lucas Films, which means he probably will be buried in them. After all, they were his favorite gift of the entire year.
I have to give credit to Dickey for keeping it in the home though—because this is a show that many other athletes prefer to take on the road.
18. Joakim Noah Is Like the Honey Badger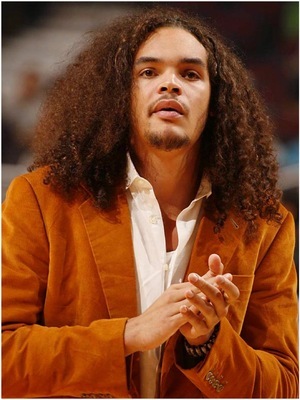 Image via midwesternsports
He just don't care.
Bulls bad boy Joakim Noah is well known for looking a little nutso on game day. He's got that big hair pulled up in a messy bun and a permanent scowl plastered across his face.
Minus that exceptional draft day photo with NBA commissioner David Stern, I don't think I've ever seen this guy crack a smile. Granted, that smile was big enough to last a lifetime.
Although as goofy as he looks on the court, Noah isn't really any better off when left to his own devices. You're never gonna see him pulling a Tom Brady—posing in GQ with a baby goat or donning a tuxedo and sharing camera time with an angry Rottweiler.
When Noah lets his hair down, he really lets his hair down. Then he puts on a rust colored corduroy blazer and a puka shell bracelet and calls it a day.
I'd say that he didn't put any effort into this ensemble, but obviously he time-traveled back to the '70s and wrestled it away from Starsky or Hutch.
17. Sheldon Richardson: Jets Fans WISH This Was a Joke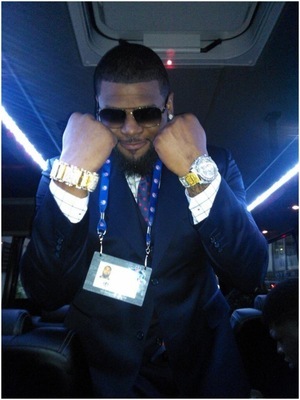 Image via gamedayr.com
Ah yes, to be a Jets fan. It's got to be positively brutal.
If you asked me to draw a picture of someone the Jets would select No. 13 overall in the NFL draft coming off a 6-10 season, it would probably look something like this photo of Sheldon Richardson out of Mizzou.
Sunglasses inside: check! Diamond earrings: check! A gold and diamond bracelet on one wrist and a gold and diamond watch on the other: check! A complete lack of self-awareness and a bloated ego: check!
And before you start arguing semantics with me, accessories count as clothing. So shhhhh.
Richardson was coming off shoulder surgery in 2011, a suspension in 2012, and never knows when to shut his mouth. For example! He mocked Georgia for playing "old-man football" just a few days before the Bulldogs blew out Missouri 41-20.
We'll see how long the latest guy to impress Rex Ryan in practice lasts in the league, but the fact that he looked like this on draft day 2013 is a joke lost on Richardson. And likely the entire Jets organization.
16. Steve Nash Wears What Steve Nash Wants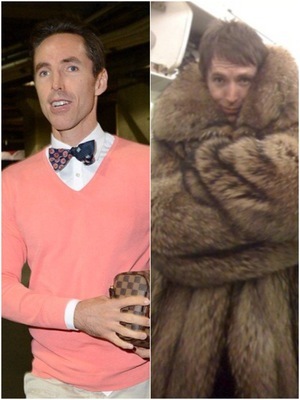 Images via @NBA & @SteveNash
Because he's Steve Nash. He's been playing professional basketball since Larry King discovered the wheel. That's seriously no joke.
The Lakers point guard has always had a very eclectic fashion sense. Sometimes he's dressed to the nines in a designer suit—red carpet-ready in every sense of the term.
And then there are the days that he's not.
I guess because he's an NBA superstar, he feels comfortable wearing pink, carrying a purse, or even rocking a very engulfing fur coat. Today he's a hipster, tomorrow he's Liz Taylor, the next day he's Cristiano Ronaldo.
Who can keep up...with his fashion. Everyone can keep up with him on the court these days.
15. Floyd Mayweather Just Wants You to Respect Him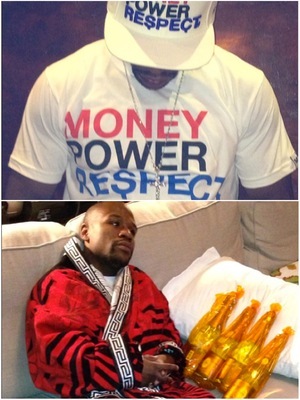 Images via floydmayweather [instagram]
Boxer Floyd "Money" Mayweather Jr. is completely devoid of any semblance of a sense of humor, so you know nothing he wears is a joke. Nothing he says is a joke—it's usually mean or threatening. Or mean and threatening.
Which makes the fact that he dresses like a complete lunatic all the time even funnier. Covering himself in animal carcasses and draping himself in diamonds is Mayweather's idea of classy. Not that he's entirely wrong. Marilyn Monroe had similar sensibilities.
Money is one of the biggest talkers in all of sports, but everything he says, does and wears suggests some underlying self-esteem issues. All he wants is your respect, dammit!
Obviously that's why he's posing in his silk robe next to a few of his best friends—bottles of champagne. There he goes channeling Marilyn Monroe again.
14. Von Miller's PJ Pool Party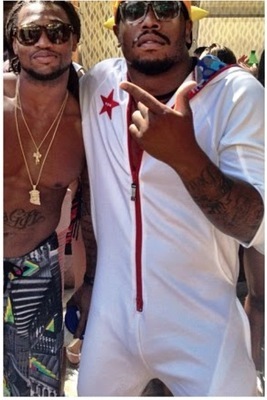 Image via ShotOfGin
Wearing a onesie made for a grown ass man is almost always a terrible idea. I mean…why are adults suddenly dressing like infants? It's just upsetting.
I suppose that's just the world in which we live though. A world that has varying degrees of ridiculousness of a grown man donning footy pajamas.
Well, it doesn't get much more ridiculous than Broncos defenseman Von Miller rocking this creepshow outfit at a Las Vegas pool party in May 2013. It's a pool party. In Las Vegas. Was a bathing suit completely out of the question?
I'd like to say he was probably a "hit with the ladies" sarcastically, but I can't. Miller is rich and plays professional football—surgically reassembled broads were likely tripping over themselves to get near him.
Imagine the same scenario with "your dad" in place of "Von Miller." Exactly.
13. Tyson Chandler Is a Fashionista? I'm Confused.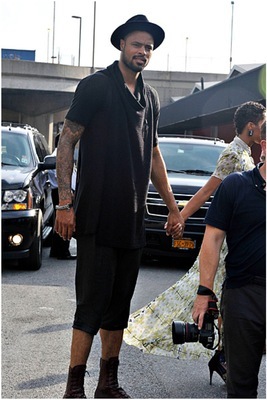 Image via Getty
Knicks big man Tyson Chandler is, yet another, of the NBA's so-called fashionistas. His love of fashion is well known, as he's a fixture on the scene of New York Fashion Week every year.
And he's definitely not being dragged there by the lady in his life—Chandler makes no secret of that fact. In a 2012 interview with Matthew Lynch of Women's Wear Daily, he discussed his modest collection of capes, some of his most "dramatic" wardrobe pieces.
The cape thing is pretty weird, but at least it has kind of a superhero vibe to it. There's absolutely no excuse for a man wearing a cowl neck jersey, capri pants, a pork-pie hat and mid-rise red leather boots.
Seriously. None.
12. Manny Being...Stupid
Image via SI
You'd like to believe that the smile on the face of former MLB slugger Manny Ramirez in this photo indicates that he's in on the joke. But anyone who knows anything about the guy knows he isn't.
"Manny being Manny" was a phrase that came about over the course of his career to explain away all of his outlandish and increasingly horrible behavior. It's basically a synonym for being a total a-hole.
The fur coat he donned way back in his early days with the Indians was just a sign of things to come. Wonder if Ramirez ever realized people were laughing at him, not with him.
Nevermind, I don't wonder. I know he never did.
11. Brent Burns Channels His Inner Homeless Man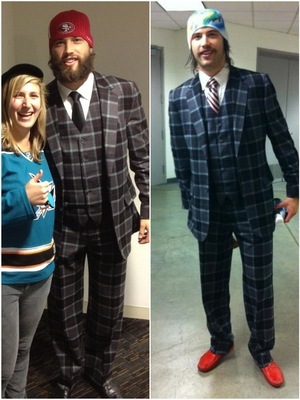 Images via hfboards.hockeysfuture.com
Have you ever wondered what it would look like if you took a homeless man off the street, strapped some ice skates to his feet, pushed him out onto the ice, and it turned out he actually had quite a talent for the game?
No? That's odd.
Well, be that as it may, it would look pretty much like Sharks forward Brent Burns. Unshaven and just generally unkempt, with an interesting, if not impressively consistent, taste in "formal wear." If a three-piece plaid suit is considered formal.
Just in case it was mistaken for formal, Burns always likes to remind you it isn't by pairing it with a completely random winter knit hat. Oh Canada! At least he's not wearing a tuxedo made of denim.
A win's a win.
10. Metta World Peace's Teachable Moment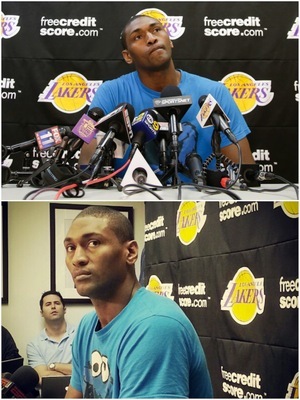 Images via Chris Carlson/AP & Complex.
NBA player Jason Collins made the decision to come out as gay in April 2013, making him the first openly gay male athlete actively playing in a major American sports league. The story sure made some waves, but no one addressed the announcement quite like the Lakers' Metta World Peace.
Then again, no one ever does anything quite like The Artist Formerly Known as Ron Artest. Am I right?
Wearing a Cookie Monster t-shirt, MWP praised Collins for being brave enough to just fully be himself—something he admitted he wasn't able to do that very day. MWP went on to explain that, while he felt comfortable with his shirt, he decided not to wear the matching hat and pants.
Thanks to Collins, maybe next time Metta will feel free to wear the entire Cookie Monster ensemble without worrying about being judged by you and society.
Look at that face—you know he's serious as a heart attack about the whole thing. He's so not joking, but it's so funny. Props to MWP for his message of tolerance though...the irony of him condemning Collins or anyone else in that moment would have been too overwhelming to bear.
9. Cristiano Ronaldo Never Leaves Home Without One Thing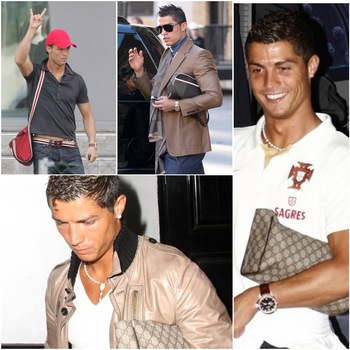 Images via VK, fanpop & Getty
His purse, duh.
Granted, I'm not sure that any man carries a purse as a joke—at least not more than once—so obviously Real Madrid superstar Cristiano Ronaldo isn't out for laughs.
He is, however, out and about all over the world, routinely spotted clutching his "man's bag" of the moment. Like a classier version of The Situation from Jersey Shore, if The Situation was talented and carried a purse.
Although, Ronaldo is particularly partial to Louis Vuitton. I suspect it's because he likes everyone to know his purse costs more than a few months worth of your rent.
You're a little mad now aren't you? Tell the truth. Initially you thought it was funny, but now I bet you're just filling with rage. Like Ronnie from Jersey Shore after too much "Ron Ron Juice."
If you're not...click here to check out his girlfriend that he won't commit to and was recently alleged to have cheated on her with a Brazilian model known as "Miss BumBum." That'll do the trick.
8. John Rocker Is Still Nip-Tacular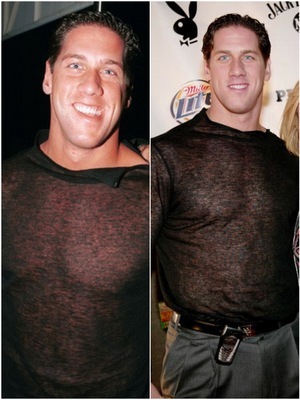 Images via Deadspin & Getty.
There's nothing about former MLB pitcher John Rocker that is a joke. Unless you count the man himself—which we do. Rocker made an absolute mockery of himself while being profiled for Sports Illustrated in December 1999.
He explained how tolerant and not racist he was by hurling racial slurs at teammates and railing about immigrants, gays and people with AIDS. So it should come as no surprise that he's exactly the same terrible person today as he was 15 years ago.
What's kind of a surprise? That he keeps showing up to events in sheer, black, nipple-bearing shirts. Apparently he's overcome some of his homophobia issues—maybe by dating men? Who knows.
Potential new lifestyle aside, Rocker is still fighting the good fight! He's lobbying for a task force to be implemented in professional sports to address the dearth of rich white male athletes today. Because of course he is.
7. Kobe Bryant's Christmas Miracle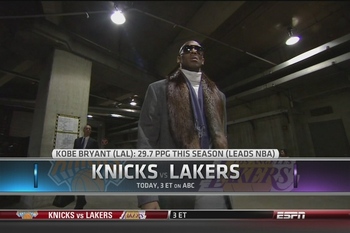 Image via ESPN
When I said "Christmas Miracle," it was in no way a reference to the fact that the Lakers beat the Knicks on Christmas Day 2012. Although, considering the lumps the Lakers took this year, that may be the last fond memory for fans from a season fraught with disaster.
The game wasn't particularly impressive—I remember those snow white uniforms Los Angeles wore better than anything that happened on the court.
Off the court? Totally different story.
Lakers superstar Kobe Bryant walked into the Staples Center that day with more swagger than you could muster in a lifetime. It takes quite a confident man to stroll out in front of a national audience wearing a mink coat without even the hint of a smile.
Yes, he looked extremely stupid. No, he didn't care.
6. Stevan Ridley Definitely Got Yelled at for This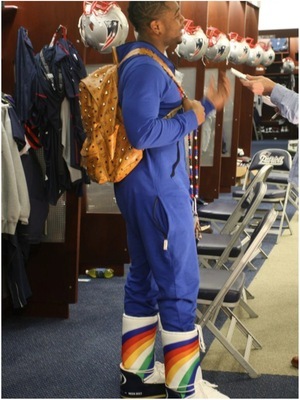 Image via BarstoolSports
In January 2013 Patriots running back Stevan Ridley gave an interview wearing this. (See photo.) Full-on onesie pajamas, accessorized with a bejeweled backpack and a colorful necklace that dangled directly at his crotch.
As if that wouldn't have been enough on it on, Ridley upped the ante with some kicks he stole from Rainbow Brite. Obviously he had them customized into moon boots, because he'd have looked silly in girl boots!
I kid. He couldn't have looked more ridiculous had he ganked Rainbow Brite's entire outfit for the interview. Seriously—would a skirt make this look dumber?
The interview occurred in the week leading up to the Pats' playoff game against the Ravens. That one they got blown out in. Hey, but at least Ridley looked cool.
5. Russell Westbrook Looks Good Enough to Eat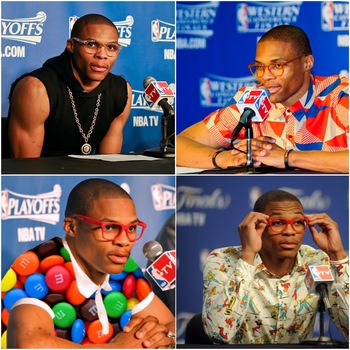 Images via Getty, FoxSports & TheScore
There are some people out there who consider Thunder point guard Russell Westbrook a fashion icon of sorts. Let's just hope they are color blind. Actually, let's just hope they're entirely blind.
As hard as it is for us plebs to believe, Westbrook isn't dressing like a human M&M as a joke. He's quite serious about all this. I think it's a side effect of playing in the shadow of Kevin Durant.
It's like scurvy...or rickets—but instead of being caused by a lack of Vitamin C or D to feed his body, it's caused by a lack of attention to feed his ego.
Russell, repeat after me: "I'm good enough. I'm smart enough. And doggone it, people like me!"
4. Ryan Lochte's Fashion Strategy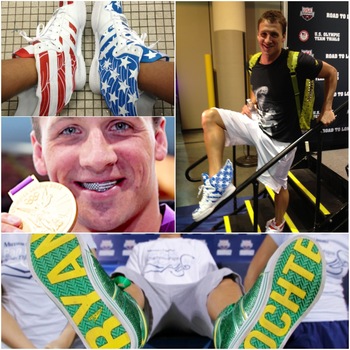 Images via style.mtv, theatlantic, Getty & 3wiresports.
On one hand, I want to give swimmer Ryan Lochte credit for all of his accomplishments as an Olympic swimmer. I respect his ability. I respect his drive. And I respect his competitive nature.
On the other hand, I want to make fun of him for being, quite possibly, one of the dumbest athletes in the history of sports. That sounded harsh…but I struggled trying to sugarcoat it.
Lochte's license plate says "Jeah," his catchphrase ™. His patriotic shoes are Olympic themed and have the American flag on them. His grill also has the American flag on it. And his other shoes are outfitted with his name on the bottom.
Is anyone else thinking that everything this guy does fashion-wise is an attempt to remember what he does, where he is, where his car is parked, and figure out which shoes are his when asked to take them off at a party?
That's assuming Lochte can read—which isn't a given. Although, I'm pretty sure that even apes can recognize their own name spelled out with wooden blocks. So…there's that…I guess?
3. LeBron James Stole Your Grandma's Curtains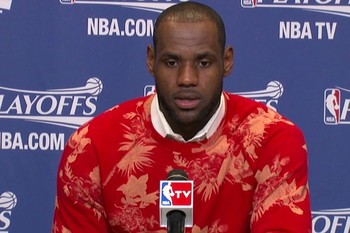 Image via NBA.com
Obviously this is a Miami thing, because Heat superstar LeBron James was never known to dress like '50s upholstery back when he was balling in Cleveland. The Rust Belt population has a lower tolerance for taking fashion risks.
As someone born and raised in the Rust Belt, I can personally attest to that. I went to a nice suburban school, but good gravy I can't imagine the spectacle that would've ensued had someone showed up wearing something like that.
Dressing like a South Florida retiree is a hobby of King James. Actually, it's more of a game—one in which he's constantly battling teammate (and BFF) Dwyane Wade for supremacy.
It's the only game he ever loses. D-Wade's diminishing skills on the court are no match for LeBron's these days. But there's one place he always wins...
2. Dwyane Wade Stole Your Grandma's Uglier Curtains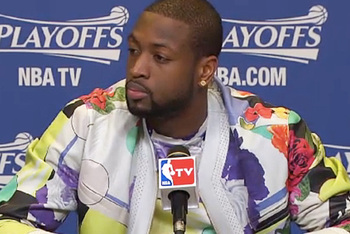 Image via style.mtv.com
On the runway.
Dwyane Wade's interesting fashion choices always make him the subject of headlines, keeping him there right alongside LeBron James. Now if you're thinking that these are spur of the moment choices that just happen to be attention grabbers, think again.
In May 2013 it was reported that D-Wade had already picked out every single outfit he planned to wear straight through the NBA Finals. The report came straight from the horse's mouth, too. The horse, in this case, being Wade's fashion consultant Calyann Barnett.
She revealed their presumptuous fashion planning during an interview on ESPN's morning show Mike and Mike. Which is funny—you'd think First Take's Skip Bayless would be far more interested in that sort of thing.
1. Dwyane Wade Does It Again...and Again...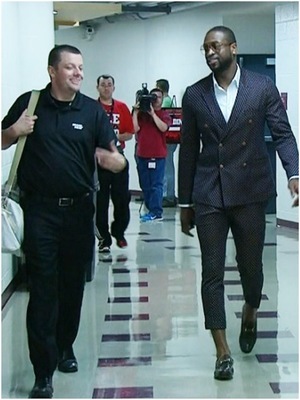 Image via Esquire
Hey, I just told you that Dwyane Wade's postseason looks are a meticulously crafted art of fashion, planned out weeks—if not months—in advance.
Making him deserving of the top two spots. The big winner, if you will.
If you consider pairing a pinstripe suit jacket, skinny polka dot capri pants and dress shoes without socks—the last of which he completely ripped off from Don Johnson—a "win."
So congrats to D-Wade. It takes a lot of time and effort to look that stupid.
Yes, I know he'll be crying when he wins his second consecutive championship trophy in a couple of weeks. And no, I don't care.
**What I do care about is you...following me on the Twitter. Let's talk about fashion and sports...or just sports, preferably. Follow @blamberr
Keep Reading