On Wednesday, the Baltimore Ravens visited President Barack Obama at the White House in celebration of their Super Bowl victory this past February.
Here's the team on stage with the President via the Ravens' Twitter account:
. @BarackObama takes the stage! pic.twitter.com/6TUnpYqmCA

— Baltimore Ravens (@Ravens) June 5, 2013
UPDATE: Friday, June 7th at 4:12 p.m. ET by Kyle Vassalo
Will Brinson of CBS Sports provides Matt Birk's comments on why he chose not to go to the White House:
"I wasn't there. I would say this -- I would say that I have great respect for the office of the presidency, but about five or six weeks ago, our president made a comment in a speech and he said, 'God bless Planned Parenthood.'

Planned Parenthood performs about 330,000 abortions a year. I am Catholic. I am active in the pro-life movement, and I just felt like I couldn't deal with that. I couldn't endorse that in any way."
---End of Update---
And here's head coach John Harbaugh shaking hands with the President before presenting him with his honorary uniform, via Baltimore sportscaster Gerry Sandusky:
John Harbaugh at White House. "Mr. President we want you to know we plan to be back here next year." pic.twitter.com/rRZpeY2MKo

— Gerry Sandusky (@GerrySandusky) June 5, 2013
According to the Sun Sentinel, former players such as linebacker Ray Lewis, safety Ed Reed and linebacker Dannell Ellerbe were also on hand to join the team to celebrate the moment. Lewis has since retired, while Reed and Ellerbe signed with new teams this offseason.
During his speech, the President had a few jokes in store for several of the players, including Super Bowl MVP Joe Flacco, as Aditi Kinkhabwala of NFL.com noted:
Pres Obama says to Flacco, Good timing w that contract, Joe. Then says: You're going to challenge Biden for most pop person from Delaware.

— Aditi Kinkhabwala (@AKinkhabwala) June 5, 2013
He also added, "I don't know about you, Joe, but I think that qualifies as elite" when running down his postseason accomplishments.
The Commander in Chief had a few jokes in store for Lewis and Reed as well, via Jarrett Bell of USA Today:
Obama sez @raylewis triceps injury "came from that dance he does." Also sez gray-haired Ed Reed looks "like an old man."

— Jarrett Bell (@JarrettBell) June 5, 2013
Lewis had a joke of his own in store for Obama, as the President quickly quipped back, "I will not being doing that dance" as the crowd laughed.
Of course, the President warned the Ravens that they were in for a tough battle when they meet his favorite team, the Chicago Bears, next season, via The White House on Twitter:
Obama to the Ravens: "Best of luck next season. You're going to need it in Week 11 when you go to my hometown to take on the Chicago Bears."

— The White House (@whitehouse) June 5, 2013
But he also praised the team for their resilience shown throughout the season and postseason, then congratulated them on their amazing achievement. He also made it a point to mention the team's charitable donations this season, via The White House on Twitter:
President Obama on the @Ravens: "That's the spirit of this entire team. Last year, they donated more than $1 million to charitable causes."

— The White House (@whitehouse) June 5, 2013
The team certainly seemed to soak in its visit to the White House, as evidenced by the Ravens' Instagram account.
Here's Joe Flacco and Dennis Pitta outside of the Blue Room.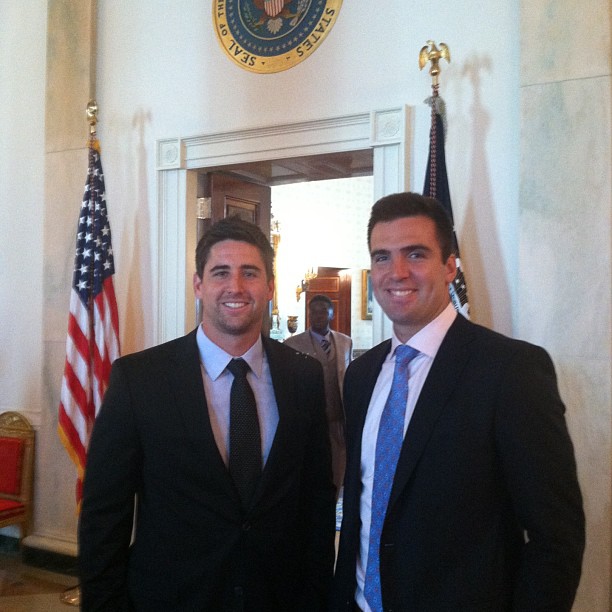 And here's Lewis and Ozzie Newsome chatting in the White House,
via the team's Twitter account
:
Two legends in the White House. #RavensAtTheWH pic.twitter.com/iAXyAtWc9f

— Baltimore Ravens (@Ravens) June 5, 2013
Meanwhile,
Gino Gradkowski was busy
with former president George W. Bush. Well, sort of.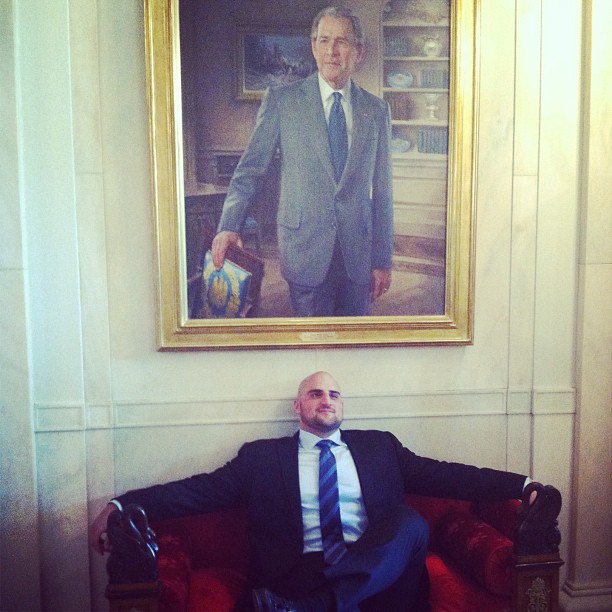 Torrey Smith kept himself occupied posting pictures. Here, he is shown
posing with the jersey
the team presented to President Obama.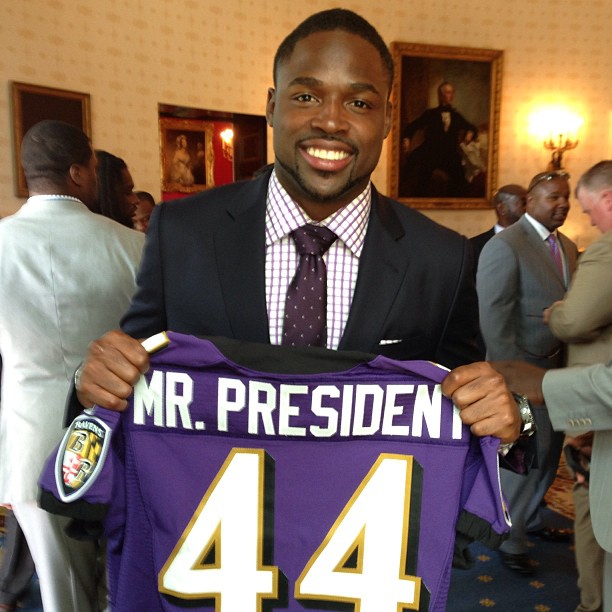 Here's one more of
Smith with former president Bill Clinton
—his likeness, at least.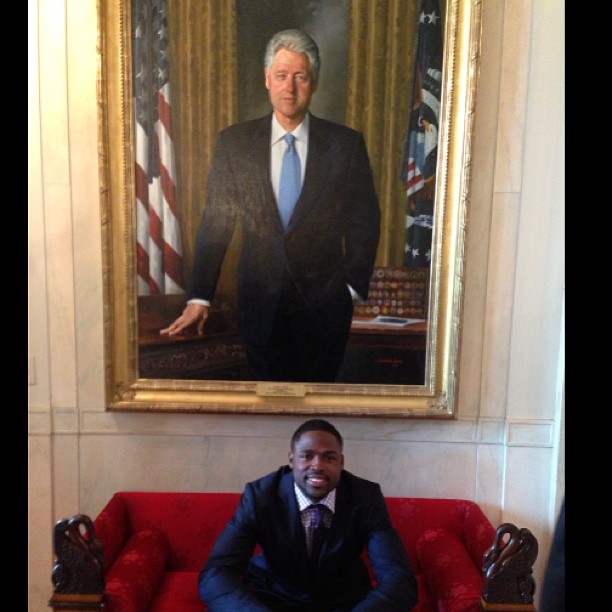 The ceremonies aren't quite finished for the Ravens, as noted by
Aaron Wilson of The Baltimore Sun
:
Ravens' private ring ceremony is Friday night when players, coaches and other members of the organization get their Super Bowl XLVII rings

— Aaron Wilson (@RavensInsider) June 5, 2013
In other words, the Super Bowl winning Ravens have a heck of a week to look forward to.