UFC: 10 Most Anticipated Fights of the Summer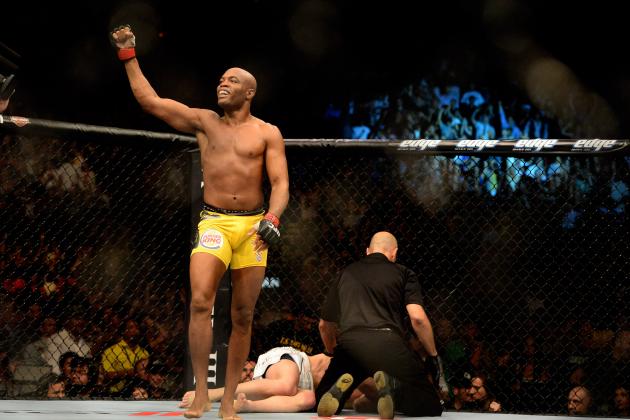 Mark J. Rebilas-USA TODAY Sports

The UFC announced a slew of August fights on Tuesday, which has now basically set the promotion's summer schedule.
From this weekend's UFC on Fuel TV 10 through Labor Day, the UFC has eight events on top.
Over the course of these eight events, we will be treated to several title fights. We will also enjoy fights between some of the promotion's biggest stars. We'll also see some of the organization's fastest-rising stars.
Here are the 10 matchups that I am most looking forward to and how I believe those fights will play out.
Begin Slideshow

»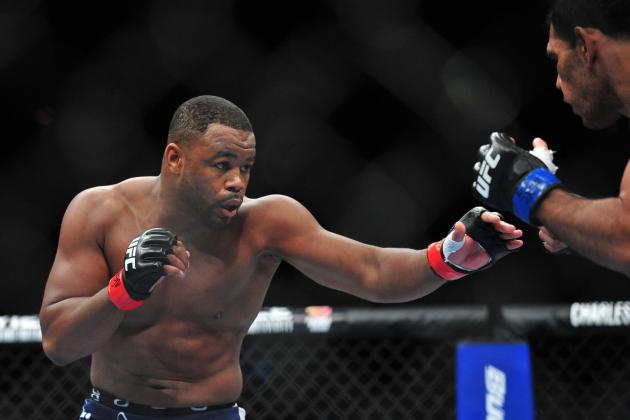 Gary A. Vasquez-USA TODAY Sports

When Rashad Evans squares off with Dan Henderson in Winnipeg, Canada, we will see two of the sport's all-time greats at a crossroads in their illustrious careers.
Evans, at 33 years old, is coming off back-to-back losses for the first time in his career, while Henderson is fresh off a split-decision loss to Lyoto Machida. Needless to say, the 42-year-old Henderson's championship aspirations are in a now-or-never state.
With both fighters needing a win to have one last chance at UFC glory, expect to see some fireworks.
While they are very strong wrestlers, I expect that this fight will take place mainly on the feet. With that being said, I expect that Evans will use his superior speed and athleticism to outpoint Henderson.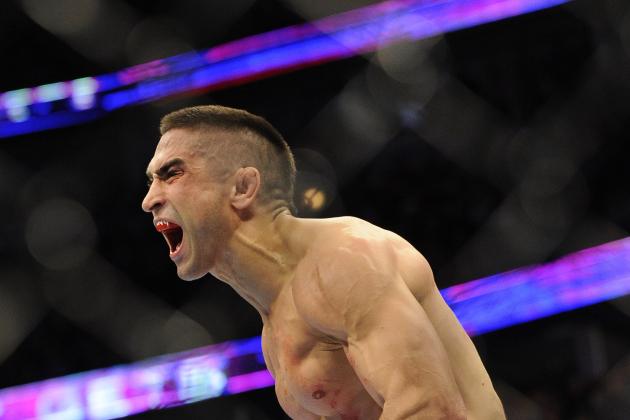 David Banks-USA TODAY Sports

We should all be looking forward to Chan Sung Jung vs. Ricardo Lamas on the UFC 162 undercard.
This will mark the "The Korean Zombie's" first fight in over a year. Fourteen months have passed since he dominated Dustin Poirier en route to a fourth-round submission victory.
It was Jung's third consecutive win inside the UFC, and his stock had never been higher than it was at that moment. Unfortunately, an injury sidelined him, cooling his stardom considerably.
The UFC has given Jung a top-level opponent upon his return. With a victory, Jung will put himself back into the title picture.
Ricardo Lamas is among the hottest fighters in the featherweight division. Currently riding a four-fight win streak with wins over Cub Swanson and Eric Koch, Lamas has proved that he belongs among the division's elite.
In fact, it's likely that the winner of this fight will have the opportunity to fight for the 145-pound title either later this year or in early 2014.
Considering both fighters can push the pace and consistently look for the finish, I expect to see an explosive ending to this fight.
Given all the time off, I just don't see Jung being able to hang with Lamas for 15 minutes. I expect the referee to show some mercy and call an end to this fight before the final bell.
Lamas will win by TKO.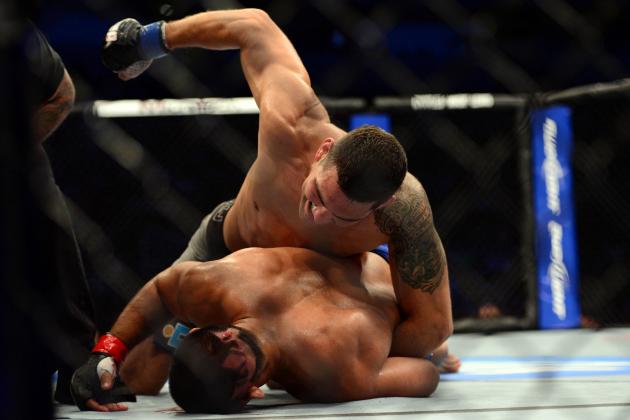 Anderson Silva will be looking to defend his UFC middleweight crown for an unprecedented 11th consecutive time.
His opponent, Chris Weidman, has other ideas.
Silva is the greatest fighter to ever step into the Octagon. For proof, look no further than his 16-0 career record within the organization. Of those 16 fights, 14 have ended early by knockout or submission.

Silva has only been truly tested once inside the cage, and that was nearly three years ago when he fought Chael Sonnen.
In that fight, Silva snatched victory from the jaws of defeat when he locked on a triangle armbar and submitted Sonnen, after Sonnen had dominated the first four rounds of the five-round championship tilt.
The good news is that he lived to see another day as the 185-pound champion. The bad news is that his next foe is Weidman. Weidman is a stronger, faster and more athletic version of Sonnen.
He possesses the wrestling pedigree that proved so disastrous for Silva in that first fight with Sonnen.
Here's the difference: Once Weidman takes Silva down, he has the ability to defend submission attempts while also delivering vicious ground-and-pound.
That's right—I predict that Silva's reign ends at UFC 162. The referee will stop this fight, with Weidman winning via TKO.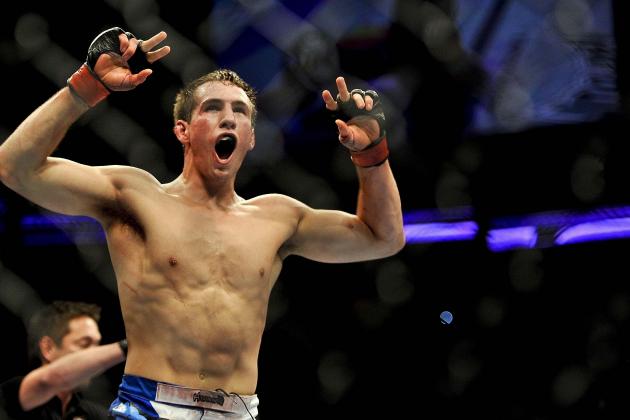 This is another fight with title implications—well, sort of. For the winner, this fight offers an opportunity to fight for the welterweight title.
However, should he win, it's uncertain if Rory MacDonald would agree to meet his friend and training partner Georges St-Pierre in a title scrap.
Of course, while the fight has not yet been booked, it looks likely that St-Pierre will defend his title later this year against No. 1 contender Johny Hendricks. Should Hendricks dethrone St-Pierre, it's possible that MacDonald would take the title opportunity that he would have earned with a win here.
Regardless, that's a what-if situation. The fact remains that MacDonald has to first beat Jake Ellenberger.
That will prove to be no easy task.

Ellenberger is 8-1 in his UFC career since dropping his promotional debut to perennial contender Carlos Condit.

The lone setback came at the hands and knees of Martin Kampmann, who finished Ellenberger, but not before Ellenberger had Kampmann in serious trouble.
That's because Ellenberger packs some serious power—the kind of power that can cause serious problems for any man at 170 pounds.
Punching power aside, I suspect that MacDonald will use his technical prowess to gain the early advantage in this fight. The early advantage should allow MacDonald to exploit Ellenberger's propensity to tire in the later rounds.

I feel confident that MacDonald will avoid the big power shots from Ellenberger and eventually earn himself a clear decision victory.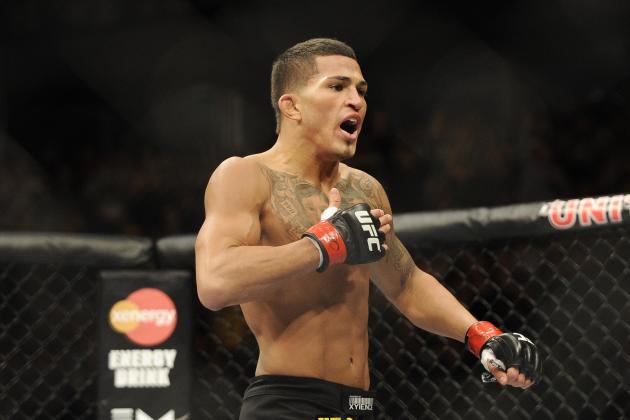 David Banks-USA TODAY Sports

Jose Aldo, the undisputed featherweight king, is riding an impressive 15-fight winning streak.
Anthony "Showtime" Pettis has won seven of his last eight fights in the lightweight division, a run that put him among the top of the heap of contenders at 155 pounds.
Given his situation, I was as shocked as anyone when I read that Pettis, shortly after Aldo won a unanimous decision against former lightweight champ Frankie Edgar, had requested a fight with Aldo.
There are a multitude of story lines here.
If Aldo wins, will he move to 155 and fight for the lightweight title?
If Pettis wins, will he remain at 145 and defend the featherweight belt?
Would the UFC allow someone to hold multiple belts at once?
Both men tend to maximize their speed and athleticism advantages in the cage. With both fighters neutralizing each other in this regard, I believe that Aldo will use his strength and technical acumen to wear Pettis down.
In the end, we should see Aldo with his hand raised after winning another unanimous decision.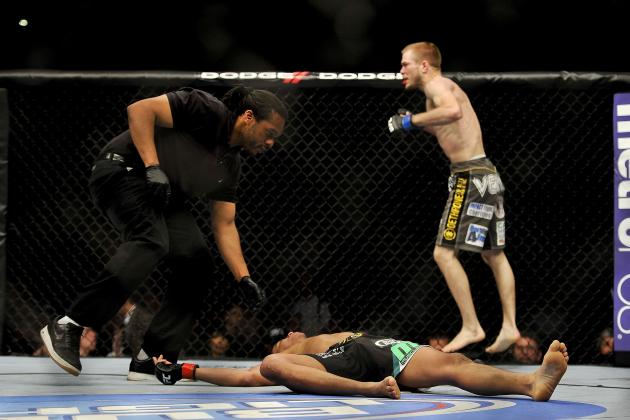 Paul Abell-USA TODAY Sports

McDonald vs. Pickett is one of the rare UFC matchups that involves one fighter coming off a win and another coming off a loss.
McDonald lost his shot at the interim belt in his last fight when he was forced to tap against Renan Barao. But trust me when I say there is no shame in dropping a fight to Barao.
For that reason, this fight still makes sense, despite Pickett having won a hard-fought split decision against Mike Easton in his last foray into the cage.
On a stacked card, this fight would have to be among the early favorites for fight of the night. Both fighters will push the pace and looking to finish the fight. It should be action packed from the opening bell.
Looking at both fighters' bodies of work, I'm hard pressed to believe that this fight will end well for Pickett.
Pickett will likely oblige McDonald in a stand-up affair, and with the kind of power that McDonald has, I'm not sure that's such a good idea.
McDonald will be too much for Pickett on the feet and will collect his 16th professional win.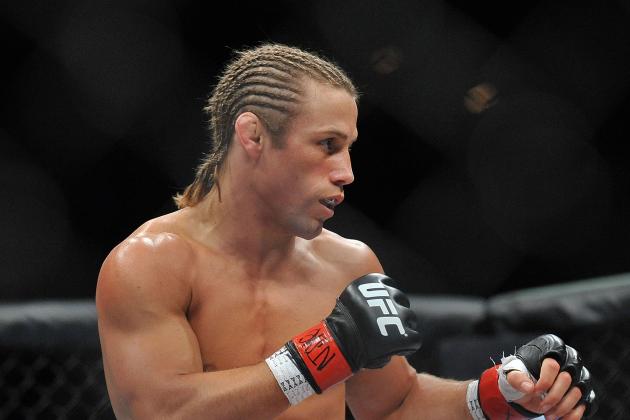 Gary A. Vasquez-USA TODAY Sports

Urijah Faber is one of the best bantamweight fighters in the world, but his problem, and the UFC's, is that he is not the best one in the world. Despite multiple opportunities, he has never held a belt in the UFC.
Yuri Alcantara is likely a fighter that a majority of the public is unfamiliar with. Clearly, this is a giant step up in competition for him.
The majority of people are going to look at this bout and see it as a cupcake fight for Faber. Perhaps it's a fight to help him gain some momentum toward another crack at the belt.
Unfortunately, a majority of people are in for a rude awakening. Alcantara is more than capable of holding his own in this fight. It will stand as Alcantara's formal introduction to MMA fans around the world.
After he stops Faber at UFC on Fox Sports 1, the sky is the limit for Alcantara.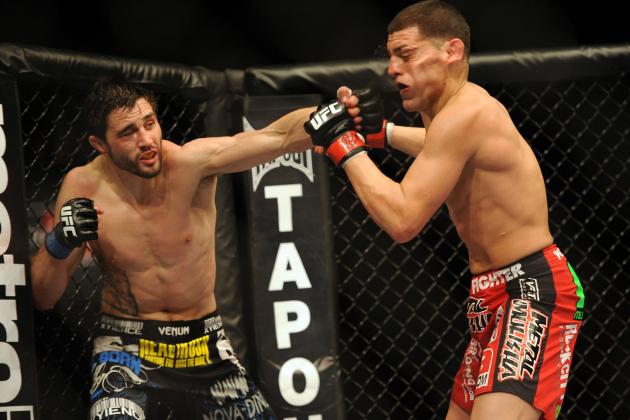 Kelvin Kuo-USA TODAY Sports

Six months ago, Martin Kampmann was red hot. After winning three fights in a row going into his bout with Johny Hendricks, Kampmann seemed prime for a title fight with Georges St-Pierre.
However, 46 seconds into that fight, Kampmann's momentum was gone, and Hendricks asserted himself as the No. 1 contender at welterweight.
Carlos Condit has already had a shot at St-Pierre. For his efforts, he was the proud recipient of a crimson mask, as the champion laid a five-round beating on the challenger.
Condit also had the misfortune of fighting Hendricks. While he wasn't finished in spectacular fashion, he was dominated nonetheless.
As for this rematch of Condit's UFC debut, I expect Condit to employ a strategy similar to the one he used to beat Nick Diaz. With a successful implementation of that strategy, Condit should exit the cage with another decision win.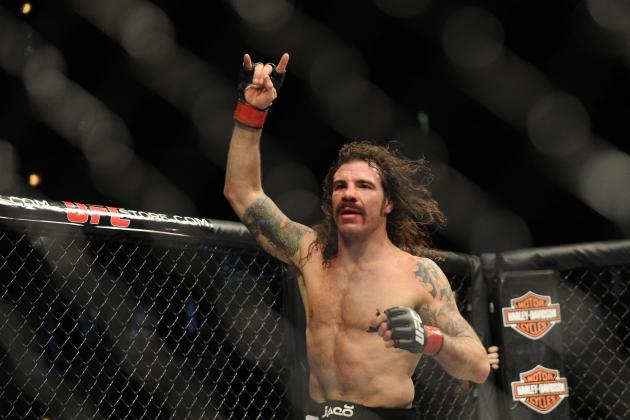 David Banks-USA TODAY Sports

Chad "Money" Mendes is a wrecking ball at 145 pounds. After winning his last three fights by first-round knockout, Mendes has his sights set on a rematch with Jose Aldo.
Aldo is the only man to beat Mendes during his MMA career, but Clay Guida stands in his way of a rematch. Guida is a relative newcomer to the featherweight division, having fought there just once in his UFC career.

Known for his trademark long hair and furiously paced tempo, Guida has long been a fan favorite. Of course, being a fan favorite won't keep him around the UFC forever, and 17 fights inside the Octagon prove that Guida is a game opponent.
Guida has often used his strong wrestling base and high endurance level to wear down opponents. It's not uncommon to see Guida outwrestle and control a fighter for the majority of a fight. His relentless style often allows him to take advantage of a tired opponent and finish the fight via a late submission.
While this approach has allowed for long-term overall success for Guida, it's a recipe for disaster against Mendes. Mendes is better than Guida in every facet of mixed martial arts, and it will be on full display in this fight.

Guida has never been finished by knockout. Not once in 43 professional fights.
He won't be extending the streak to 44.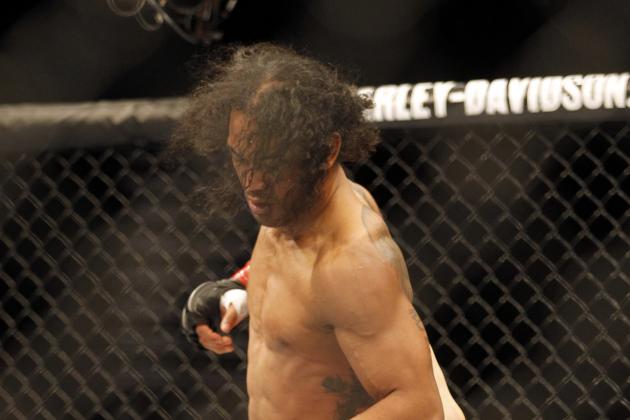 Joe Nicholson-USA TODAY Sports

Benson Henderson is the current UFC lightweight champion. He has successfully defended his title three times.
The title defenses have often not been pretty. They have often been by the slimmest of margins. But all three times he's entered the cage as the champion, he's left with his belt.
T.J. Grant is coming off an enormously impressive performance, knocking out Gray Maynard in the first round at UFC 160.
Very few people had given Grant a chance of winning that fight. His performance proved a lot of people wrong.
Sporting a five-fight win streak coming into this bout, Grant won't be flying quite so under the radar this time.
This fight will prove to be a clash of styles. Henderson is a competent wrestler with terrific submission defense. Meanwhile, Grant's takedown defense is extremely poor; however, once on the ground, his submission game is first rate.
Clearly, with the TKO of Maynard, Grant packs some stopping power.
However, I don't believe that Grant will be able to stop Henderson from taking him down and beating him up. Henderson should control the pace of this fight and spend most of it in dominant position, which will be enough to secure the victory.
Henderson's unanimous-decision win should be clear and dominant.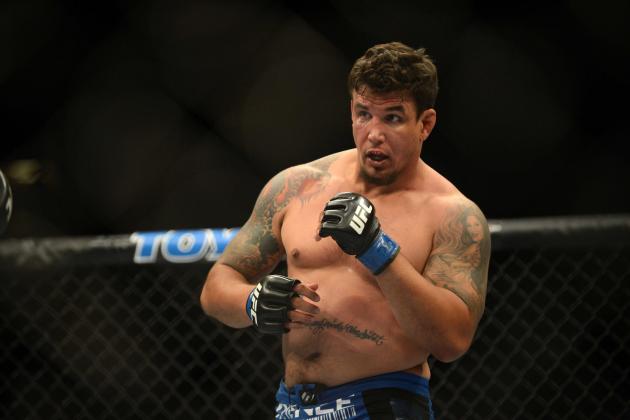 Ron Chenoy-USA TODAY Sports

UFC on Fuel TV 10, June 8
Fabricio Werdum vs. Antonio Rodrigo Nogueira
UFC 162, July 6
Frankie Edgar vs. Charles Oliveira
Cub Swanson vs. Dennis Siver
UFC on Fox 8, July 27
Julie Kedzie vs. Germaine de Randamie
Demetrius Johnson vs. John Moraga
UFC 163, August 3
Lyoto Machida vs. Phil Davis
Robert Drysdale vs. Ednaldo Oliveira
UFC on Fox Sports 1, August 17
Conor McGregor vs. Andy Ogle
UFC on Fox Sports 1-2, August 28
Sara McMann vs. Sarah Kaufman
UFC 164, August 31
Frank Mir vs. Josh Barnett