UFC on Fuel 10: Preliminary Card Predictions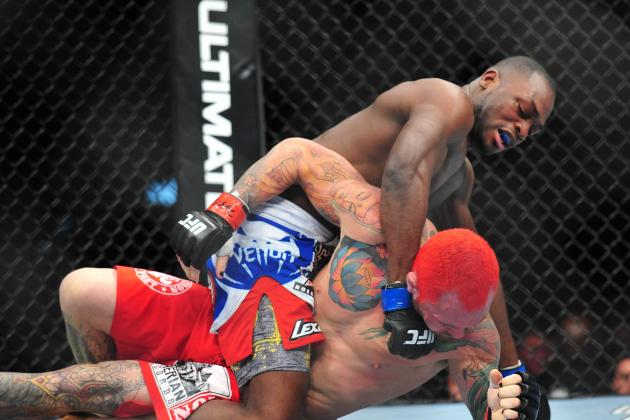 Gary A. Vasquez-USA TODAY Sports

The UFC's return to Brazil brings great fights on their Fuel TV main card, but the preliminary card should be full of great fights as well. A number of top prospects and exciting fighters grace the undercard, which airs on Facebook on Saturday.
Names like Raphael Assuncao, Ronny Markes, Derek Brunson and Mizuto Hirota all find themselves on the prelims, which show how stacked this card really is. Add the likes of newcomer Antonio Braga Neto, a world-class jiu-jitsu player, and you can see how this prelim card is a must-see come Saturday.
Here are predictions for the prelims come Saturday night.
Begin Slideshow

»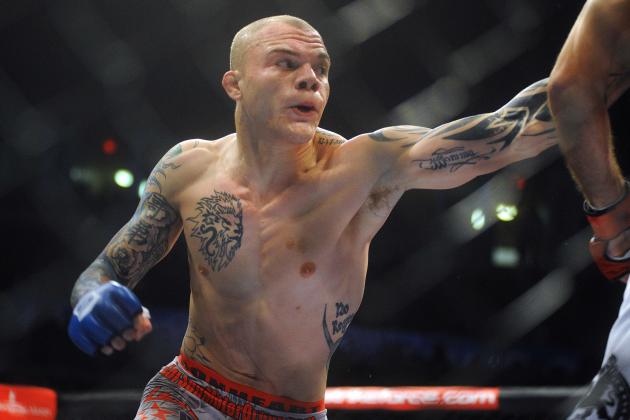 USA TODAY Sports

The card kicks off in the middleweight division, as Strikeforce import Anthony Smith welcomes UFC newcomer Antonio Braga Neto to the Octagon.
Smith is a tough, scrappy kid, but he is more of a brawler than a technical fighter. He looked solid in his latest outing against Roger Gracie, but was eventually tapped out in the second round to the superior grappler.
Neto is a lot like Gracie in the sense that he is a high-level jiu-jitsu practitioner. Of his eight wins, six have come via tapout including submissions of UFC veterans Maiquel Falcao and Brock Larson.
This fight is somewhat like Smith's last fight with Gracie. Neto will look to ground "Lionheart" and slap on an armlock or choke that will give him a successful UFC debut.
Prediction: Neto def. Smith via submission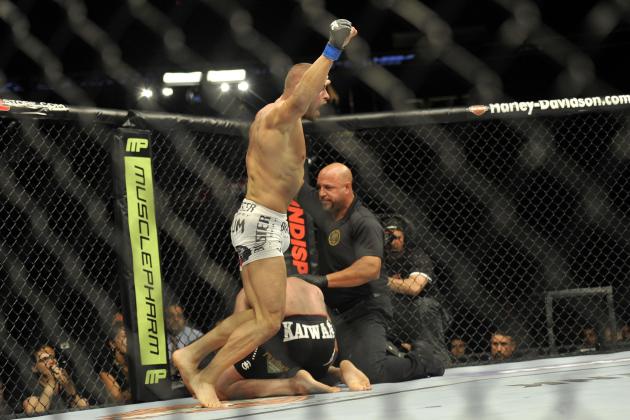 Joe Camporeale-USA TODAY Sports

We stay in the middleweight division for the next affair, as Czech Republic's Karlos Vemola takes on Caio Magalhaes on the latter's home turf.
Vemola has struggled to find consistency in the Octagon at three different weight classes. He debuted at heavyweight in a losing effort to Jon Madsen, which forced a drop to light heavyweight. There he went 1-1, knocking out Seth Petruzelli while faltering against Ronny Markes.
He now is at middleweight, where he finds himself 1-1, beating Mike Massenzio and losing to Francis Carmont.
Vemola has top-notch wrestling and uncanny power. If he uncorks one of his bombs of a fist on Magalhaes' jaw, it could be a short night for both men.
Magalhaes is just 5-1 in his career, with that one loss coming in the UFC. His debut was lackluster, as he dropped a decision to Buddy Roberts. The jiu-jitsu fighter does not match up well with Vemola, as the Czech matches up well with "Hellboy" on the ground.
I see Vemola using his wrestling to keep this fight standing. From there, he will be headhunting on Magalhaes and find a knockout victory to keep him employed.
Prediction: Vemola def. Magalhaes via knockout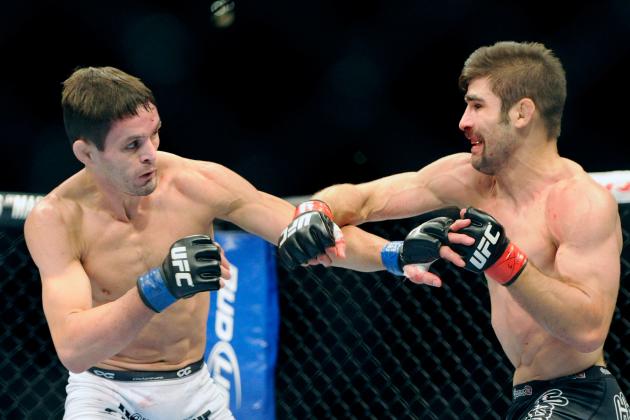 Eric Bolte-USA TODAY Sports

Featherweights collide in the next bout on Facebook, as Japan's Mizuto Hirota looks to preserve his employment against fellow chopping-block member Rodrigo Damm.
Hirota has looked resurgent as of late, despite losses to Pat Healy and Rani Yahya. The well-rounded Japanese fighter has underrated power in his hands, which he should use to keep Damm at bay.
Damm is a jiu-jitsu fighter at his base that needs to get Hirota to the ground, a game plan that Yahya used. After defeating Anistavio Gasparzinho in the TUF Brazil finale (UFC 147), Damm suffered a setback against Antonio Carvalho that has the Brazilian fighting for his job now.
Hirota will be ready for the shot of Damm and will be looking to strike with him. Expect a boxing match, as Hirota runs a decision here.
Prediction: Hirota def. Damm via decision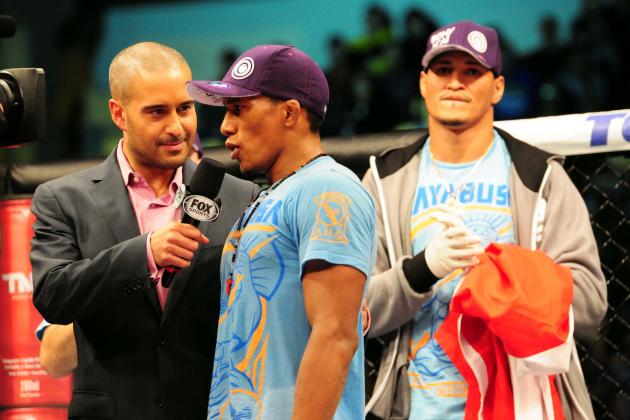 Jason da Silva-USA TODAY Sports
Ildemar Alcantara is the brother of Yuri Alcantara (middle)
We move to the welterweight division next, as recent light heavyweight participant Ildemar Alcantara welcomes Leandro Silva to the UFC, who takes this fight on late replacement.
Alcantara has spent most of his career at middleweight, but he took a win at light heavyweight against Wagner Prado on late notice. Alcantara is well-rounded, as he can strike or grapple (he is a Brazilian jiu-jitsu brown belt).
Silva is an exciting prospect who, like Alcantara did in the past, is fighting up a weight class on short notice. The usual lightweight is undefeated with most of his wins coming via submissions.
Alcantara and Silva could have an entertaining grappling match, but Ildemar would be wise to keep this fight upright. From there, he will outpoint Silva on the feet to send him back to 155 with his first career loss.
Prediction: Alcantara def. Silva via decision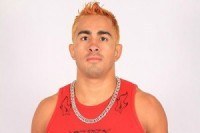 sherdog.com
We scurry back to the featherweight division for the next fight, as TUF Brazil runner-up Godofredo Castro meets Felipe Arantes in the cage in an effort to move up the 145-pound ladder.
Castro is 1-1 so far in his UFC career, faltering to Rony Jason before he defeated Milton Vieira. Castro is a great grappler, but that overshadows his underrated striking skills, which he often uses to score points.
Arantes is a Muay Thai specialist that has flown under the radar in the UFC. He is 1-1-1 in his tenure, scoring a win over Antonio Carvalho, a loss against Yuri Alcantara and a draw vs. Milton Vieira. All of his fights have been close and entertaining, and he would be wise to keep Castro standing in this one.
Arantes showed solid takedown defense against Carvalho, but Castro has looked good as of late. I think Castro makes this an ugly fight and ekes out a close decision.
Prediction: Castro def. Arantes via decision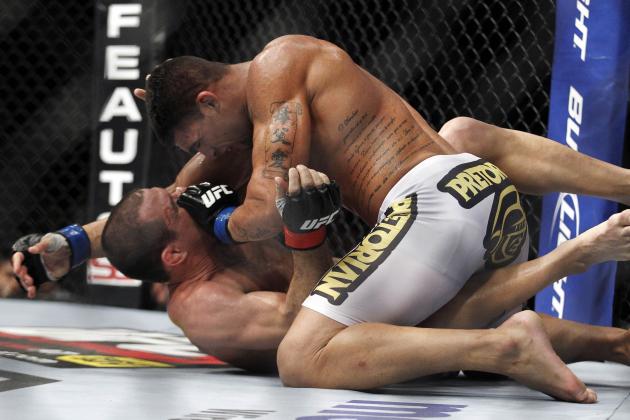 Matt Ryerson-USA TODAY Sports

We move back to the 185-pound division, as Brazilian Ronny Markes meets Derek Brunson on Markes' home turf.
Markes has been the Rodney Dangerfield at middleweight, as he seemingly gets no respect. Markes has made it a trademark of winning fights against wrestlers like Brunson in his UFC career, defeating the likes of a Karlos Vemola and Aaron Simpson along the way.
For a Brazilian, Markes has pretty good wrestling and a smothering top game. He should use that to put Brunson on his back, who may be a fish out of water as some American wrestlers are.
Brunson has solid striking that goes along with his wrestling, but he should look to put Markes on his back. Brunson's ground-and-pound is very good, which he should use to soften and expose Markes.
I think that Markes is the guy to go with here, as he is on a roll and has looked dominant in his UFC fights. Brunson is a formidable opponent, though, so it won't be easy.
Prediction: Markes def. Brunson via decision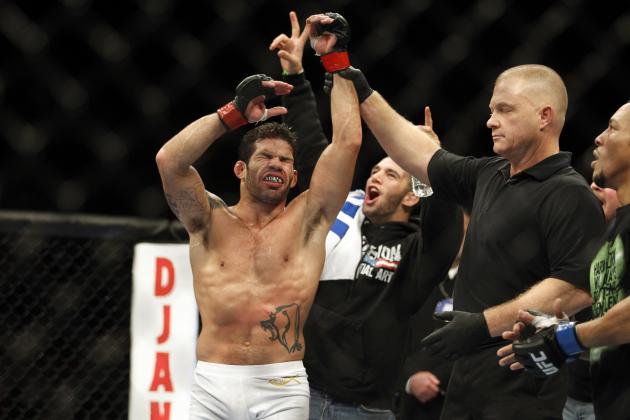 Joe Nicholson-USA TODAY Sports

The main feature of the prelims takes place in the bantamweight division, as England's Vaughan Lee comes to Raphael Assuncao's home turf in an attempt to steal a win.
Assuncao's drop to bantamweight has been successful so far, going 3-0 as a 135er. In addition to knocking out Issei Tamura, he has earned decisions over the respectable Johnny Eduardo and Mike Easton.
He is a grappler by trade but has picked up some striking, which he has displayed as of late.
Lee has struggled to put together a win streak in the Octagon, trading wins against Norifumi Yamamoto and Motonobu Tezuka with losses to Chris Cariaso and TJ Dillashaw. Lee is a solid submission artist, but he will be outmatched by the superior grappling of Assuncao.
Wherever this fight goes, Assuncao has the advantage. He will get the win and earn a top opponent in his next outing.
Prediction: Assuncao def. Lee via submission