St. Louis Cardinals MLB Draft Results: Scouting Profiles for 2013 Picks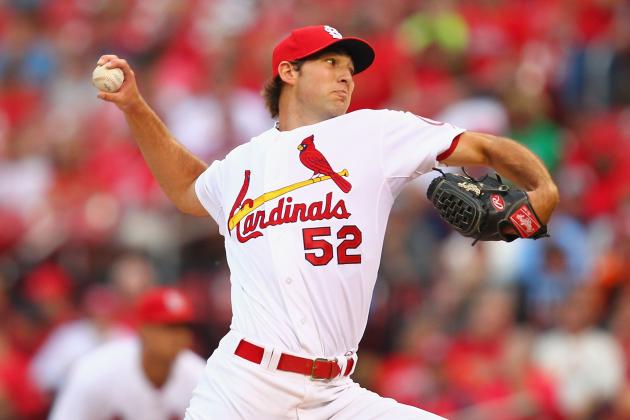 Dilip Vishwanat/Getty Images

There may not be a team in baseball that finds itself in better shape heading into the 2013 draft than the St. Louis Cardinals.
The team's farm system is widely regarded as the best in the game; both in terms of talent and depth, and the Cardinals are one of five teams who have at least two picks in the first round (including the Supplemental Round) of this year's draft.
To be sure, there are areas that we'd like to see the Cardinals address, which include finding a long-term answer at shortstop (raise your hand if you believe Pete Kozma is better served coming off of the bench) and someone who can learn from—and eventually replace—Yadier Molina behind the plate.
But with no glaring needs at the major league level and plenty of talent in the system to plug any that do pop up, GM John Mozeliak has an advantage over nearly all of his counterparts—he can take the best player available, regardless of position.
Mozeliak and the front office in St. Louis did just that, stockpiling a number of talented players from both the college and high school ranks, some with more upside than others.
All things considered, the 2013 draft has to be considered a successful one for the Cardinals.
Let's take a closer look at the newest members of the organization.
Begin Slideshow

»
A year after taking right-hander Michael Wacha with this pick, the Cardinals move to the other side of the mound and select southpaw Marco Gonzales out of Gonzaga.
He uses a three-pitch arsenal to get batters out, highlighted by a high-70's changeup that is arguably the best in this year's draft. He has excellent command of his low-90's fastball and his slider is an effective third pitch and his primary breaking ball.
A terrific athlete, Gonzales is a legitimate threat at the plate and was one of Gonzaga's best hitters during the season. Had he been a mediocre starter in college, chances are that he would have been picked in the first few rounds of the draft as a position player.
The State College Spikes, St. Louis' Class-A affiliate and a team that Gonzales will be spending some time with, pointed out just how impressive a ballplayer the newest member of the Cardinals organization is on Twitter:
In addition to a 7-3 record with a 2.80 ERA and 96 K in 106 innings this year, Marco Gonzales led Gonzaga with a .311 batting average

— State College Spikes (@SCSpikes) June 7, 2013
His ability to produce with a bat in his hand certainly won't go to waste on a National League roster and only adds to his value.
Ranked 14th on MLB.com's Top 100 prospects list for this year's draft and a semifinalist for the Golden Spikes Award, presented to the nation's top amateur baseball player, the 6'1", 185-pound Gonzales should move quickly through the Cardinals' farm system and could make his big-league debut before the end of the 2013 season.
St. Louis uses the pick it received for Kyle Lohse signing with the Milwaukee Brewers to take another left-handed starter, New Jersey's Rob Kaminsky.
One of the more polished prep pitchers in this year's draft, Kaminsky pitches aggressively to both sides of the plate, mixing a low-90's fastball that hitters have trouble picking up with a plus-curveball and low-80's changeup, commanding all of them equally well.
His arm action and delivery are very clean, and he's become adept at getting ahead in the count and putting batters away, mixing his heater and curve especially well. His baseball-IQ is incredibly high.
There had been some concern about his signability—Kaminsky has a full ride waiting for him at the University of North Carolina—but those concerns should be put to rest by this news from MLB.com's Jennifer Langosch:
Just spoke with Rob Kaminsky (No. 28 overall pick). He certainly sounds as if he plans to pass on UNC and sign with #STLCards.

— Jenifer Langosch (@LangoschMLB) June 7, 2013
While he's ahead of many other prep pitchers in terms of his development, don't expect to see Kaminsky—named the 38th best prospect in this year's draft by MLB.com—at Busch Stadium for anything other than a tour for a few seasons.
Unlike the team's other first-round selection, Marco Gonzales, It's going to take some time for Kaminsky to be ready for prime-time.
The Cardinals needed to add quality and depth at the shortstop position and did very well to nab Oscar Mercado with the 58th overall pick in this year's draft.
An athletic 6'2", 175-pound right-handed hitter, Mercado has room to add bulk to his frame but isn't likely to hit for much power going forward, profiling more as a contact hitter with gap power who has a mechanically sound swing that will allow him to hit for average.
Ranked the 36th best prospect in this year's draft by MLB.com, he has decent speed with outstanding baserunning instincts, but it's his ability with the glove that makes Mercado stand out above the other shortstop prospects in this year's draft.
A natural shortstop, Mercado is a smooth, fluid defender at a position that demands it to go along with terrific instincts and a strong, accurate throwing arm that allows him to get the ball to first base from angles that others at the position can only dream of.
Even with all of his natural ability, Baseball America's Ben Badler makes an excellent point about the newest member of the Cardinals organization:
Oscar Mercado to the Cardinals, the only team in baseball where he won't be the organization's best Oscar.

— Ben Badler (@BenBadler) June 7, 2013
The second coming of Oscar Tavares at the plate, Mercado is not.
Still, he should be a solid contributor with the bat when he does finally arrive on the left side of the infield in St. Louis.
Nobody's going to confuse Mike Mayers with Lance Lynn, another product of the baseball program at the University of Mississippi who wears a Cardinals' uniform, but Mayers has a chance to be a solid back-of-the-rotation arm at the next level.
Mayers doesn't have overpowering stuff—his fastball sits in the low-90's and stays relatively flat, but he knows how to throw that, and his slider, which is his best secondary pitch, for strikes consistently. The same can't be said about his changeup, which is a work in progress and not yet a major league-average pitch.
While he has room to add bulk to his 6'3", 205-pound frame, his velocity isn't likely to tick upwards if he does—and he'll need to rely on his control and command if he has a shot at cracking a major league rotation.
Ranked as the 185th-best prospect heading into the draft by Baseball America, Mayers isn't a lock to remain in the rotation moving forward, especially if he doesn't develop his third pitch to the point where it is at least an average offering.
Winding up in the bullpen wouldn't be the worst thing in the world—St. Louis can always use quality relievers, and a move to the later innings would afford us the chance to hear this music play whenever he enters a game.
Yeah, I went there. Simply couldn't help myself.
Ranked 227th out of the 250 prospects that Baseball America profiled heading into the draft, Mason Katz has played nearly everywhere on the diamond for LSU—and it's in a super-utility role that he'll likely make his mark as a major league player.
A first-team All-SEC selection and second-team All-American at first base, Katz led the SEC in RBI (68) while ranking among the league leaders in home runs (15) and batting average (.378) this past season.
On the small size for a first baseman at 5'10", 188 pounds, Katz is athletic enough to handle multiple positions at the next level, including center field, though he has the power to stick at a corner spot in either the infield or outfield.
His swing is a bit long and that has led to some concerns about whether he can catch up to the increased velocity that he'll be facing from big league starters, but his power is for real and Katz is a patient hitter who sounds like he's ready to face the challenge:
Wow!! Thank you so much everyone! This is truly a surreal experience. Time to get a cards hat!! Time to go win!! #2WinsAway #cardinals

— Mason Katz (@masonkatz58) June 7, 2013
With four years in a major college program like LSU's, Katz should be able to hit the ground running when he makes his professional debut later this year. He'll never be a superstar, but Katz is the kind of quality role player that championship teams need on its roster.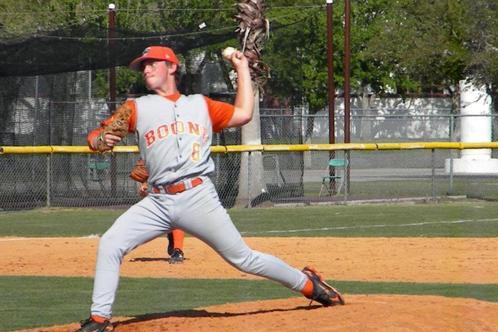 Photo courtesy of Boone HS Athletics.
Who would have guessed that six picks into the draft, the St. Louis Cardinals would have spent half of them on left-handed pitching?
Not me, that's for sure.
But the Cardinals add another quality southpaw to a farm system already teeming with talent in Ian McKinney, a 5'11", 185-pound starter from William R. Boone HS in Florida.
He didn't make the cut as far as the prospects that were profiled heading into this year's draft by many of the usual suspects and I've never seen him play, so I can't add much to the discussion.
Thankfully, Baseball America's Conor Glassey has seen McKinney play a number of times, filing this report after an outing towards the end of last year:
McKinney sat in the 88-90 mph range for his first two innings of work, but settled into the mid-to-upper 80s. He hides the ball really well and repeats his athletic, compact delivery. McKinney has a curveball and a slider, but threw a curveball tonight. McKinney uses a spike curveball grip and the pitch sits in the 79-80 mph range with some slurvy movement. His best pitch was his nice, fading changeup around 80 mph. He showed the confidence to double-up and even triple-up on the pitch.
Committed to attend the University of Central Florida, it's fair to wonder whether McKinney will sign with the Cardinals or head to college where he'll try and improve his stock in a future draft.
Should he decide to turn pro, McKinney has a ton of upside and could develop into a solid mid-rotation starter before long.
Originally drafted in the 21st round last year by the New York Yankees as a reliever, Jimmy Reed returned to Maryland for his senior season in the hopes of improving both his game and his draft stock.
He accomplished both.
In his first full season as a starter for the Terps, Reed earned the coveted Friday Night start for his squad, going 6-4 with a 2.33 ERA (eighth-lowest in the ACC) and a career-high 70 strikeouts. He is one of six ACC pitchers to throw at least two complete games this season, including a complete-game shutout.
Reed has four-pitches at his disposal: a low-90's fastball, a changeup and curveball that keep batters guessing and a cutter that has developed into his strikeout pitch of choice and is unquestionably his best offering.
A headstrong athlete who isn't easily flustered, Maryland coach John Szefc may have summed his ace up best when he spoke to the Washington Post's Alex Prewitt last month: "The guy is a professional pitcher."
You can't ask for much more in the sixth round of the draft than a headstrong professional. Another quality selection by the Cardinals in what is shaping up to be a very strong draft for the Redbirds.
Chris Rivera is a strong defensive player who has the arm strength and lateral quickness to handle shortstop at the next level, much like Oscar Mercado, who the Cardinals drafted in the second round.
Unlike Mercado, Rivera also has the defensive chops and arm strength to catch, making this an intriguing pick if only because of his versatility on the field.
Named the 70th-best high school prospect earlier this season by Baseball America, Rivera's game is more than just defense—he has a short, compact swing that allows him to drive the ball to all fields, though he has struggled to make solid contact at times against live pitching in game situations.
He needs to add muscle to his 6'1", 185-pound frame, and Rivera is going to take some time to develop the offensive side of his game to the point where he can handle the quality pitching that he'll face in the upper levels of the minor leagues.
But if his offensive game catches up to his defense, Rivera could wind up being one of the steals in this year's draft as a seventh-round pick.
That's assuming that he signs, of course, which is no sure thing as he's committed to Central Arizona Community College and there are no indications that he's going to back off on that commitment.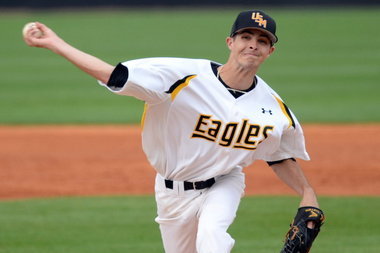 Photo courtesy of blog.gulflive.com.
At 6'3", 160 pounds, Andrew Pierce doesn't look the part of pro ballplayer.
It's what his pitching coach at Southern Mississippi, Mike Federico, sees as the only possible explanation, as he told Baseball America's Aaron Fitt earlier this year:
He's a skinny kid and that's the only thing I can say—some of the pro guys, maybe they just felt like his body type wasn't conducive to pro ball. With his numbers and some of the opponents he pitched against, I really don't know why he wasn't drafted. I think a lot of those guys now that have seen him the first couple starts of the year, they're probably wondering the same thing. But we're excited that he was able to come back. He's a good one.
Pierce is coming off of a successful two-year college stint that saw him go 16-6 with a 2.30 ERA and 191 strikeouts in 207 innings of work, only walking a minuscule 36 batters in the process.
Each of his three pitches are quality offerings but it's his deceptive delivery and low-three-quarters arm slot that made him difficult to hit. His fastball sinks late and sits in the low-90's, mixing in a changeup and a big, breaking slider as well.
With only 36 walks in more than 200 innings, he obviously commands all of his pitches very, very well.
He's going to need to bulk up some if he has a chance of making the big show, and what effect the additional weight will have on his fluid motion and relatively clean delivery will go a long way in determining whether he ever makes it to the big show.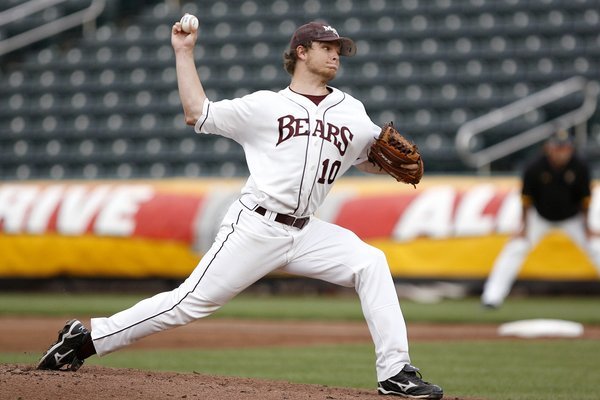 Photo courtesy of tagsgf.com.
While Nick Petree has been impressive since returning from Tommy John surgery that cost him the entire 2010 season, the 23-year-old right-hander isn't an overpowering pitcher and where he fits at the next level is far from being decided.
His changeup is his most effective pitch, with some decent action down in the zone but it doesn't differ much, in terms of velocity, from his fastball—which struggles to tick up to average velocity—allowing batters to sit on both pitches. He can throw both, along with his slider, for strikes consistently.
Petree, 23, is one of the older players in this year's draft, and that, coupled with his lack of velocity on any of his pitches, limits his ceiling.
At best, he's a capable fifth starter in the big leagues.
A terrific athlete who has an intriguing combination of power and speed, Malik Collymore becomes the third shortstop that the Cardinals selected in the first 10 rounds of the 2013 draft.
While he has the arm strength to stick at the position, his defense needs work—he could wind up at second base, ultimately.
Primarily a line-drive hitter at this point in his development, Collymore has a short, compact swing and bat speed that, as his body continues to mature, will generate some solid power numbers.
He's a bit of a project and is nowhere near ready, but his considerable tools and upside force us to consider that, if he continues to mature, both physically and in his approach, Collymore could ultimately be the shortstop of the future in St. Louis.
Round 11, Pick 335: Steven Farinaro, RHP, Head Royce HS (CA)
Round 12, Pick 365: Ricardo Bautista, OF, Ladislao Martinez HS (Puerto Rico)
Round 13, Pick 395: Jimmy Bosco, CF, Menlo Col (CA)
Round 14, Pick 425, Eller Rodriguez, C, Immaculata-LaSalle HS (FL)
Round 15, Pick 455: DeAndre Asbury, CF, Brookland-Cayce HS (SC)
Round 16, Pick 485: Blake Higgins, RHP, Jackson CC (MI)
Round 17, Pick 515: Richard Pedroza, SS, Cal-State Fullerton
Round 18, Pick 545, J.J. Altobelli, SS, University of Oregon
Round 19, Pick 575: Michael Schulze, SS, Missouri Western University
Round 20, Pick 605: Chase Brookshire, LHP, Belmont University
Round 21, Pick 635: Zach Loraine, RHP, Coker College (SC)
Round 22, Pick 665: Louis Volt, C, Missouri State University
Round 23, Pick 695: Alexander DeLeon, C, University of Kansas
Round 24, Pick 725: Devante Lacy, CF, Cedar Valley College (TX)
Round 25, Pick 755: Michael Holback, RHP, Cal Poly-San Luis Obispo
Round 26, Pick 785: William Anderson, RHP, Fresno State University
Round 27, Pick 815: Jake Stone, 1B, Tennessee Wesleyan College
Round 28, Pick 845: Justin Ringo, 1B, Stanford University
Round 29, Pick 875: Bryan Radziewski, LHP, University of Miami (FL)
Round 30, Pick 905: Trey Nielsen, RHP, University of Utah
Round 31, Pick 935: Calvin Munson, RHP, Francis Howell HS (MO)
Round 32, Pick 965: Kyle Webb, RHP, Elon University (NC)
Round 33, Pick 995: Nicholas Frey, RHP, Texas Christian University
Round 34, Pick 1,025: Nick Lomascolo, LHP, Catawba College (NC)
Round 35, Pick 1,055: Vaughn Bryan, CF, Broward College (FL)
Round 36, Pick 1,085: Anthony Ray, CF, St. Rita HS (IL)
Round 37, Pick 1,115: Alan Kruzel, 2B, Sinclair CC (OH)
Round 38, Pick 1,145: Blake McKnight, RHP, Evangel University (MO)
Round 39, Pick 1,175: Kevin Herget, RHP, Kean University (NJ)
Round 40, Pick 1,205: Artie Reyes, RHP, Gonzaga University