Picking a Combined Barcelona-Real Madrid XI Based on Their Current Squads
Jasper Juinen/Getty Images

What's better than having either the Real Madrid or the Barcelona squad to pick from?
Being able to pick from them both (or Bayern Munich's squad at the moment!).
OK, maybe the most staunch fans of both clubs would disagree, but I'm sure there would be a little wry smile from most La Blaugrana fans at the thought of stealing Iker Casillas or Raphael Varane away from the Bernabeu.
Likewise, Los Blancos fans wouldn't turn their noses up at Andres Iniesta were he to issue a "come and get me" plea.
It was Barcelona who sauntered to the title this season, but their season was not without weaknesses. It's those weaknesses that have allowed some white shirts to sneak into this Barca/Madrid combined XI.
Begin Slideshow

»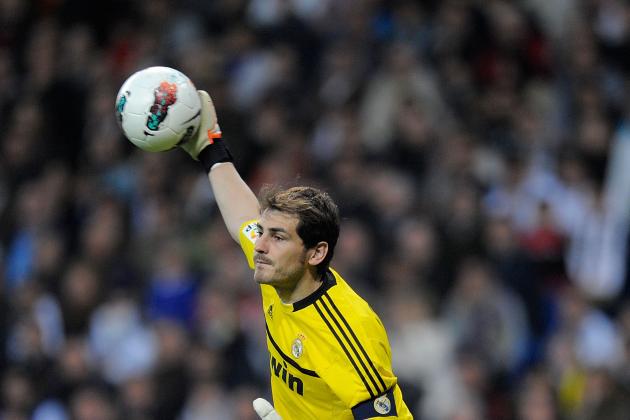 Denis Doyle/Getty Images

Iker Casillas (GK); Dani Alves (RB), Sergio Ramos (CB), Raphael Varane (CB), Jordi Alba (LB)
Despite a troubled season—which saw him embroiled in a row with Jose Mourinho before getting injured—given the choice of the goalkeepers at the two clubs, Iker Casillas gets the nod in goal.
If every manager in European football was given the option, no questions asked, between Casillas, Diego Lopez and Victor Valdes, you'd have to imagine they'd choose San Iker.
The full-backs almost pick themselves. Dani Alves walks in at right-back ahead of Alvaro Arbeloa, although next season could see a battle for this position between Martin Montoya and Dani Carvajal.
Jordi Alba faced tougher competition from Marcelo and Fabio Coentrao, but this past season has seen the young Spaniard prove himself worthy of his move to Camp Nou last summer—the AC Milan game, where he filled in to make a back three at times, immediately springs to mind.
Barcelona may have conceded two less goals than Real Madrid in La Liga this season, but at times they were completely exposed defensively.
Javier Mascherano—wonderful at times—is still not completely accepted as a defender, and Gerard Pique has struggled with inconsistency, so Sergio Ramos and Raphael Varane, perhaps controversially, fill the central spots.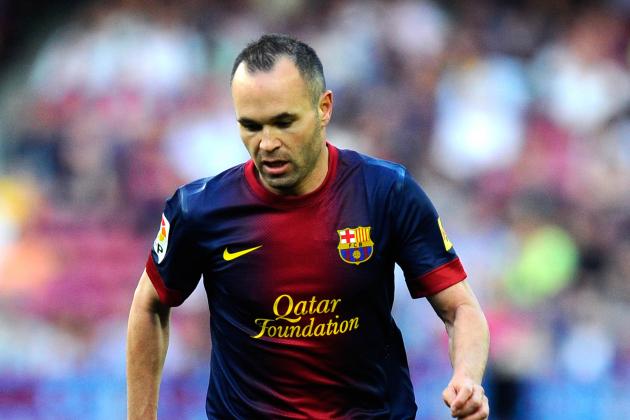 David Ramos/Getty Images

Xabi Alonso (DM), Sergio Busquets (DM), Xavi Hernandez (MCR), Andres Iniesta (MCL)
It's a strange formation, considering neither of these sides would play this way, you can have that. But this is a midfield which works for Spain, and besides, look at the four players that make up that quartet.
Xabi Alonso has been key to Madrid's style in the Mourinho era. So often his right foot is the starting gun for a blistering counterattack—be it a 10-yard pass to the side, or a 40-yard diagonal to the wing for Angel di Maria.
The other three can't be left out either.
Sergio Busquets' importance to Barca has never been more relevant than against Bayern Munich.
People spoke about Lionel Messi's injury, but La Blaugrana's 24-year-old anchor struggled through the first leg injured and then missed the return—it was particularly glaring given the roles of Bastian Schweinsteiger and Javi Martinez.
And then comes Xavi Hernandez and Andres Iniesta—they rarely come separately.
The two have been the hub of Barcelona's success over the past five years, of course ably supported by a small Argentinian forward.
It is at this point that it is worth mentioning Mesut Ozil. There are not many players who can feel aggrieved to be left out of this side, but the outstanding German is one—many may even have included him.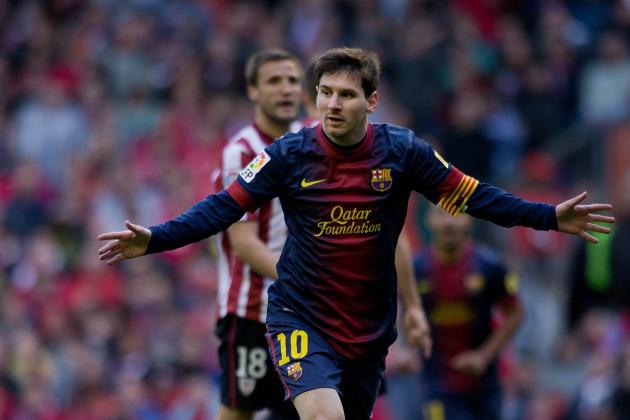 Gonzalo Arroyo Moreno/Getty Images

Lionel Messi (FR), Cristiano Ronaldo (FL)
Did you see this coming?
Eighty La Liga goals between them this season, and the two best players in the world over the past four years, maybe longer.
With these two available there's no need for a natural No. 9. In fact, even with just Messi around, Barcelona rarely find the need for a traditional forward.
Whether they would function together rings similar to the Messi-Neymar debate, which will be answered next season.
Unfortunately it's unlikely we'll get an answer to whether Messi and Ronaldo would function together smoothly or detonate with inferiority complexes.
Sometimes it's nice to play "what if," though.