Looking Back on the Toronto Blue Jays' Back-to-Back World Series Championships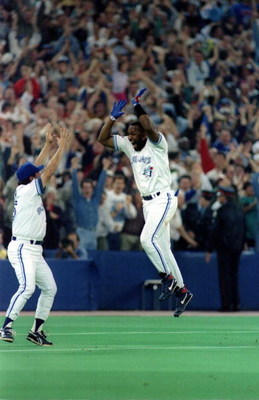 From 1983 through 1991, no team had a better record than the Toronto Blue Jays, led by George Bell, Tony Fernandez, Jesse Barfield, Fred McGriff, Jimmy Key, Dave Stieb, and Tom Henke. The Blue Jays won 85+ games every year, including three 90+ seasons.
Unfortunately, the Blue Jays only had three division titles to reflect the good run.
Due to some brilliant trades and signings the Blue Jays were able to capture the World Series rings in 1992 and 1993 with Cito Gaston at the helm.
This slide show will illustrate who were the Blue Jay starters in '92 & '93 and how they were acquired.
Hope you enjoy.
Manager: Cito Gaston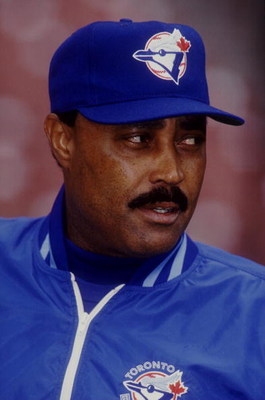 For a team that had such success, there were three managers during this era.
Bobby Cox - his nickname should be "Winner"
Jimy Williams
and Cito Gaston
Catcher: Pat Borders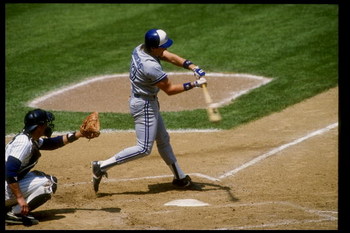 Pat Borders was a solid catcher who was the MVP of the 1992 World Series when he batted .450 (9-20 AB). He followed that up by hitting .304 during the next World Series.
Stats:
1992 - 13 home runs and 53 RBI
1993 - 16 and 66
Transaction:
Borders was drafted in the sixth round of the 1982 draft.
First Base: John Olerud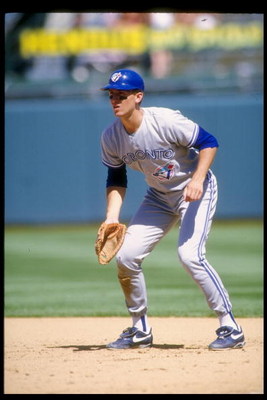 Prior to the requirement that first base and third base coaches had to wear batting helmets while coaching, John Olerud wore a helmet while manning first.
Stats:
1992 - .284, 16, 66
1993 - .363, 24, 107

All Star Selection
Third in the MVP Ballot
Transaction:
Olerud was drafted in the third round in 1989 draft.
Second Base: Roberto Alomar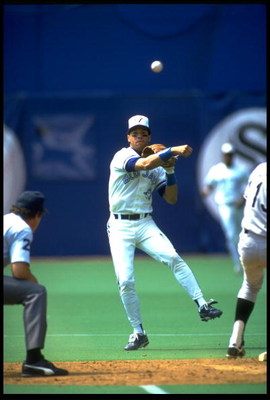 The future Hall-of-Famer was one of the best All-Around players who had similar stats to Joe Morgan.
Stats:
1992 - .310, 105 runs, 8, 76, and 49 SB
1993 - .326, 109 runs, 17, 93, and 55 SB
In both years, Alomar was selected to the All Star game and won the Gold Glove. He also finished sixth in the MVP ballot both years.
Transaction:
Alomar was obtained with Joe Carter in a blockbuster trade with San Diego who received Fred McGriff and Tony Fernandez.
Shortstop: Manny Lee & Tony Fernandez
Manny Lee was the shortstop in 1992 but left for Texas in '93. He was replaced by Dick Schofield and Alfredo Griffin in the first half of 1993, but in June the Blue Jays traded for Tony Fernandez.
Stats:
1992 - Lee (.263)
1993 - Fernandez (.306)
Transactions:
Manny Lee was a sound utility player for the Blue Jays who obtained him from the Astros via the Rule V Draft.
Tony Fernandez returned to the Blue Jays during the '93 season from the Mets for Darrin Jackson.
Third Base: Kelly Gruber & Ed Sprague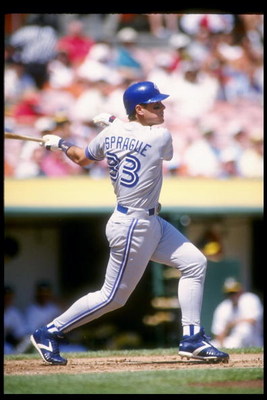 Surprisingly, the Blue Jays did not receive much production out of the third base position in 1992. The former All-Star batted only .229 and was traded after the season for Luis Sojo (Angels)
In 1993, Ed Sprague took over the duties and provide some production from the bottom of the lineup.
Stats:
1992 - Gruber .229, 11, 42
1993 - Sprague .260, 12, 73
Transaction:
Gruber was obtained via the Rule V Draft from the Indians.
Sprague was a first round pick in 1988.
Left Field: Candy Maldonado & Rickey Henderson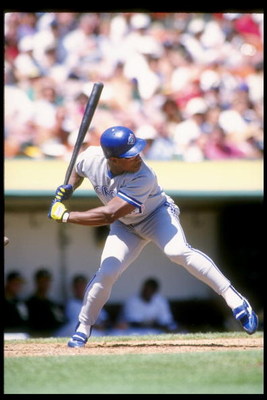 In 1992, Candy Maldonado manned left field but left via free agency after the season.
With his departure, left field was initially manned by Turner Ward and Rob Butler until the team traded for Rickey Henderson. Surprisingly, Henderson was not productive during his Blue Jay tenure.
Stats:
1992 - Maldonado .272, 20, 66
1993 - Henderson .215 in 163 AB
Transaction:
Maldonado was obtain during the 1991 season for two minor league players.
At the trade deadline, the Blue Jays traded Steve Karsay and Jose Herrera to Oakland for Rickey Henderson.
Center Field: Devon White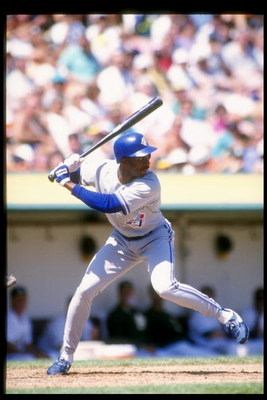 Devon White was your prototypical lead off hitter. During the championship years, you would have thought that White was Henderson with not as many steals.
White went to the All-Star game in '93 and won the Gold Glove both years.
Stats:
1992 - .303, 98 runs, 17, 60, 37 SB
1993 - .273, 116 runs, 15, 52, 34 SB
Transaction:
White was obtained in a trade with the Angels, in 1990, for Junior Felix, Luis Sojo, and a minor leaguer.
Right Field: Joe Carter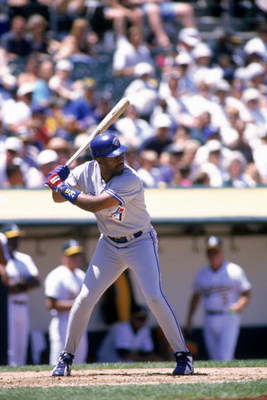 Joe Carter was the clean up hitter in an extremely good lineup. Though his average wasn't that great, the man could drive in the runs with the best of them.
Carter was selected to the All Star Game both years and finished third and 12th in the MVP ballot.
Stats:
1992 - .264, 97 runs, 34, 119
1993 - .254, 92 runs, 33, 121
Transaction:
Joe Carter was obtained with Alomar in the trade with San Diego. Though the trade included four All-Star players, you can say that the Blue Jays had the better end of the stick.
Designated Hitter: Dave Winfield & Paul Molitor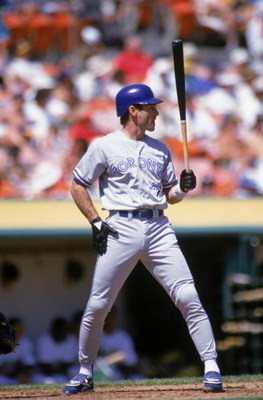 It's amazing that the Blue Jays DH spot was occupied by two future Hall-of-Famers, who were signed as free agents, looking for their first World Series rings.
It's also amazing that both these players are from St. Paul, MN and both attended the same university (five years apart).
Stats:
1992 - Dave Winfield .290, 92 runs, 26, 108
1993 - Paul Moltor .332, 121 runs, 22, 111, 22 SB
Transaction:
Dave Winfield finished 5th in the MVP ballot, while Molitor finished second and made the All-Star team.
Both players would go on to play for the Twins later on in their career.
Pitchers: The Rotation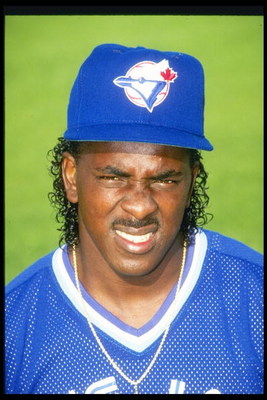 The young Juan Guzman was consistent in both years, as he won a combine 30 games.
Jack Morris won 21 games in '92, but regressed to seven the following year.
Todd Stottlemeyer was the other pitcher who started both years. He had a combined record of 23-23 as both season were basically mirror images.
Long time Jay pitchers, Jimmy Key and Dave Stieb were able to win rings with the 1992 team. Key left for the Yankees and Stieb went to the White Sox after the season. They rounded out the '92 rotation.
In '93, the Blue Jays introduced Pat Hentgen to the majors and he rewarded them with a 19-9 season. To round out the rotation in '93, Dave Stewart and his postseason experience was signed as a free agent.
Stats: 1992
Juan Guzman 16-5, 2.64
Jack Morris 21-6, 4.04
Jimmy Key 13-13, 3.53
Todd Stottlemyre 12-11, 4.50
Dave Stieb 4-6, 5.04
1993:
Juan Guzman 14-3, 3.99
Jack Morris 7-12, 6.19
Pat Hentgen 19-9, 3.87
Todd Stottlemyre 11-12, 4.84
Dave Stewart 12-8, 4.44
Transactions:
Jack Morris and Dave Stewart were signed as free agents.
Jimmy Key (third in 1982), Todd Stottlemyre (first in 1985), and Dave Stieb (fifth in 1978) were drafted by the Blue Jays.
Juan Guzman was obtained, via trade, from the Dodgers for Mike Sharperson.
Bullpen: The Closers
The ninth inning was in good hands with Tom Henke and Duane Ward.
Similar to Key, Stieb, and Winfield, Henke left for Texas after winning his first ring.
The transition to his long-time setup man was a smooth process. Ward was selected to the All-Star game and finished fifth in the Cy Young ballot.
Stats:
1992 - Henke 3-2, 2.26, 34 saves
1993 - Ward 2-3, 2.13, 45 saves
Transaction:
Henke was selected from the Rangers as a compensation pick in 1985.
Ward was obtained, via a trade, from the Braves for Doyle Alexander in 1986. Amazingly, Alexander would be traded to the Tigers in 1987 for John Smoltz.
Now that's a trivia question...Name the pitcher who was involved in two lop-sided trades in consecutive season.
Recap: The Summary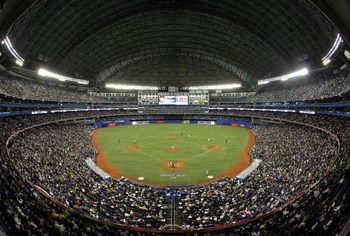 The two teams were a product of excellent scouting, good trading, and clever free-agent signings.
The lineup was basically an All-Star, which even had a nickname of WAMCO. The nickname was the initials of the first five hitters (White, Alomar, Molitor, Carter,& Olerud) in the '93 lineup.
The '92 and '93 Toronto Blue Jay teams may be the best ensemble since the Big Red Hitting Machine. No surprised that they won consecutive championships.
Keep Reading

Toronto Blue Jays: Like this team?