Spain Confederations Cup 2013 Roster: Latest Analysis and Predictions
Scott Heavey/Getty Images

Vicente del Bosque has named his roster for the prestigious Confederations Cup and Spain is now preparing to continue their worldwide dominance. But this competition will be very important for fans of La Roja.
Not only will the squad look a bit different, but there are some notable inclusions and absentees. With Spain looking to solidify their grip on the football world, it is key that this competition goes well.
In this article we will take a look at the squad for La Roja as well as some predictions of what could happen in Brazil.
Begin Slideshow

»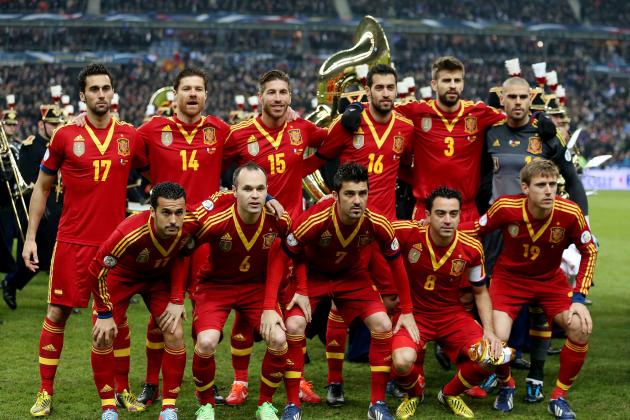 Scott Heavey/Getty Images

There is no surprise regarding Spain's keeper situation. Iker Casillas, Victor Valdes and Pepe Reina will again man the goal for La Roja. However, it will be very interesting to see if Casillas will be the first-choice keeper after missing so much time this season.
Spain will also boast a defense that many are familiar with. Alvaro Arbeloa, Gerard Pique, Sergio Ramos and Jordi Alba will make up the starting backline.
But there is a notable hole in the La Roja defense.
Raul Albiol will be the only substitute center-back on the bench leaving little room for error or injury between Ramos and Pique. However, midfielders such as Sergio Busquets and Javi Martinez could feature at the back if needed.
There will be no issue at fullback for the Spanish side as Azpilicueta and Nacho Monreal will offer strong coverage for Alvaro Arbeloa and Jordi Alba.
The biggest absence in the Spain squad will be that of Xabi Alonso. The midfield will have to adjust to his absence and it is not yet known if Del Bosque will opt for a double-pivot or not.
Busquets and Martinez would make a formidable pair in Spain's midfield, but that would leave the squad without any coverage.
Xavi, Andres Iniesta and Cesc Fabregas will all likely play major roles in the midfield but will not have to shoulder the burden alone.
Santi Cazorla and Juan Mata will both have a great chance to leave their mark on the national team and fans should expect a big showing from the pair currently applying their trade in England.
David Villa and Fernando Torres will again be trusted to lead the Spanish attack, but will likely not play as big of a role as in the past.
Jesus Navas, Pedro and David Silva will all have chances to see major minutes on the wings but will not pose much a scoring threat. Balancing minutes between wingers could become difficult for La Roja, but it will be a nice problem to have.
Roberto Soldado is the only pure striker in the squad other than Fernando Torres, and arguably David Villa, meaning that Del Bosque is putting his trust on uncertain shoulders.
All of that being said Vicente del Bosque has chosen a very strong lineup but there are some major holes that could prove dangerous in the long run.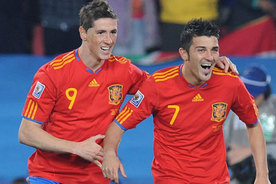 If Spain can play as well as expected, they can become only the third team in history to win all three major FIFA tournaments.
Spain stands a good chance of actually winning the competition in Brazil, but things will not be easy.
Other than the simple wish of lifting the trophy, La Roja fans will be hoping for success in other areas as well. To begin with, it would be a huge boost for David Villa and Fernando Torres to rekindle their once deadly striking partnership.
If the duo can return to their international dominance there will be little standing in Spain's way. Over the past years, the Spanish national team has suffered from scoring difficulty and will be in major need of striker success in Brazil.
But La Roja will also be hoping that their defense is able to hold up like in years past.
Along with clubs now figuring out how to play against Barcelona, the same can be said for La Roja. Defense is major issue for Spain and Vicente del Bosque will certainly be aware of his side's weakness to the counter.
If Pique, Ramos and company can show their best at the back then Spain will not only win the tournament, they will dominate all others.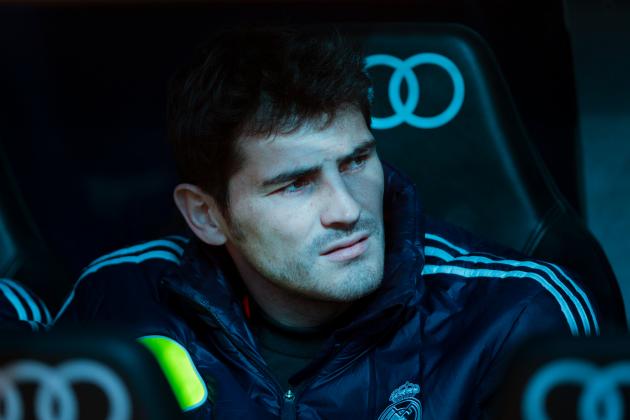 Jasper Juinen/Getty Images

For everything that can go right for Spain, there is more that could go wrong. To begin with, anything short of an appearance in the final will be seen as a failure.
It is nearly impossible for Spain to not advance from their group, but it could happen. The world would be shocked if that were to happen and it would be the biggest storyline entering the World Cup.
But within the squad there is a lot that could end badly.
The club is very weak in two areas. There is not much depth at center-back or defensive midfielder. An injury crises or poor form could almost jeopardize the squad completely.
If Pique, Ramos or Busquets were to go down injured then Spain would suffer greatly.
But above all else, Iker Casillas will be the biggest question mark. The Spanish captain has not seen the pitch in some time and if his return does not turn out well then Spain will be in serious danger.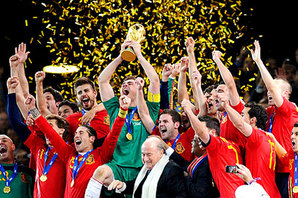 The Confederations Cup will have much significance entering the World Cup. A large portion of the squad will be decided this summer and some players will be fighting for their place long term.
Fernando Torres and David Villa will have to show if they still have what it takes. Xavi's age will be a topic of concern. And defensive options will have to be explored.
If things go well in the Confederations Cup there will be little to address come next summer. However, if there are slip ups, then Vicente del Bosque will have to make major changes if La Roja wants to defend their World Cup crown.
The bulk of the Spanish squad is already decided, but countless players will have the chance to book their place in Brazil next summer. Pedro, Juan Mata and Arbeloa will all have to earn their spot and this tournament will be the perfect opportunity.
But if the Confederations Cup will prove anything ahead of the World Cup, it will be if Spain is able to deal with the weaknesses discovered in Barcelona this season.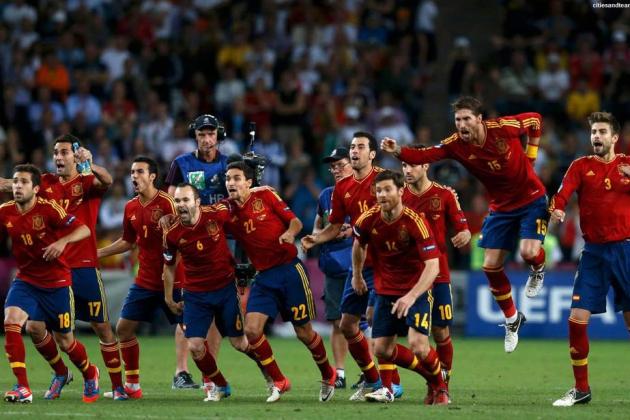 Predicting how the tournament will go is a difficult call. The Confederations Cup may be a prestigious event, but it not on the same level as the World Cup or Euro competitions.
That being said, Spain will not hold anything back in Brazil.
With the Confederations Cup deciding so much for the World Cup, Spain and several players will have a lot to prove. This will yet again be a chance for Spain to answer critics and show they are still the best national team on the planet.
Expect La Roja to struggle at times and likely falter once in the group stages. But despite having low points Spain will feature in the final against either Italy or Brazil.
In the end it is difficult to see Spain lose this event. Their experience and strength will be hard to overcome for any team. I predict La Roja to win the Confederations Cup in their typical 1-0 fashion.
What do you expect from Spain in the Confederations Cup? Can La Roja win the competition or will their weaknesses be too great? Leave your thoughts and comments below.
Tre' Atkinson. Follow me on Twitter for more discussions on La Roja and La Liga.