The Most Indispensible Player on Each NHL Conference Finalist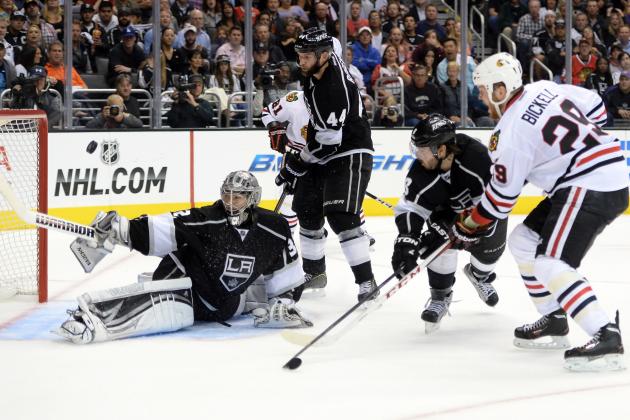 Harry How/Getty Images

The Stanley Cup playoffs allow us an opportunity to witness greatness, as individual achievement drives teams to victory. Postseason guests have journeyed near and far to find the way to playoff enlightenment, which hangs in the balance between the four teams remaining in the conference finals.
Superstars performers and emerging players with remarkable playoff pedigrees make up a substantial portion of conference semifinal action, which is currently underway in Los Angeles and Boston. Some standouts have been to the winner's podium before, while others are thriving on an unfamiliar stage.
Here's a look at one player on each squad who has performed at a paramount level during this postseason run.
Begin Slideshow

»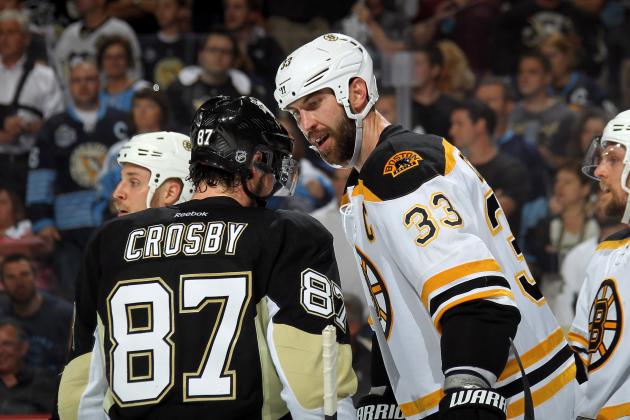 Bruce Bennett/Getty Images

The 6'9" defenseman doesn't back down during the course of even the rockiest of times. Boston's captain helped propel a late rally in Game 7 of an opening-round win over Toronto, setting a decisive screen on Patrice Bergeron's game-tying goal in the closing minute of regular-season action.
Chara has already established a new career high in points (11) during one playoff run. His seven points against the Maple Leafs helped make the difference in a seven-game series that ignited seven wins in eight games.
Chara is unquestionably one of the game's great leaders. He established a new franchise record for assists in a single playoff game by a defenseman (four), while serving as an ultimate intimidator.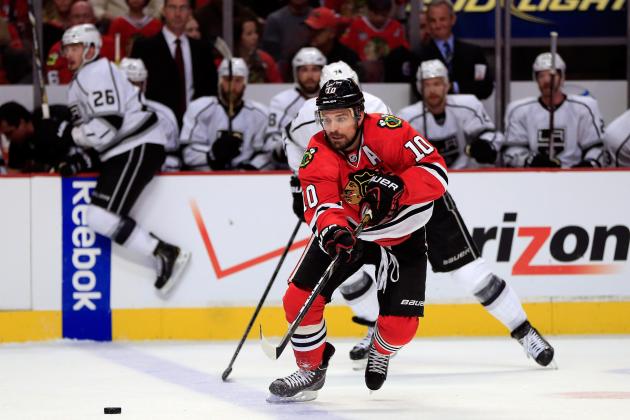 Jamie Squire/Getty Images

The star forward has been the Blackhawks' most consistent producer despite dealing with inconsistent outputs from both Jonathan Toews and Patrick Kane during the course of postseason action.
Sharp owns eight goals and six assists through 14 games. He has been able to keep the squad afloat offensively during times of duress and uncertainty.
The 31-year-old enters the cross-hairs for Chicago considering his strong play from start to finish in this postseason. Sharp is well on his way to matching the 21-point total he amassed during the team's 2010 Stanley Cup championship pursuit.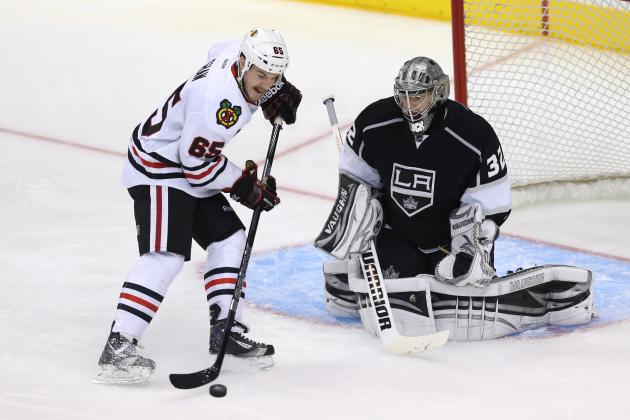 Jeff Gross/Getty Images

The netminder has enjoyed quite a journey during the past calender year. Quick, who owned just four playoff victories prior to the 2012 Stanley Cup tournament, now has 25 postseason wins since last May.
The 2012 Conn Smythe Trophy winner has three shutouts in the 2013 postseason, including two blankings during a 4-3 series win over San Jose in the Western Conference semifinals. Quick's rapidly expanding resume now features seven career playoff shutouts.
Los Angeles goes as its goalie goes. That notion is backed up considerably by a stat carried over from last spring.
The Kings recently rode a 22-game win streak when scoring two goals or more, a testament to Quick's timely plan of attack. Few players factor into the balance of a series like the 27-year-old goalie.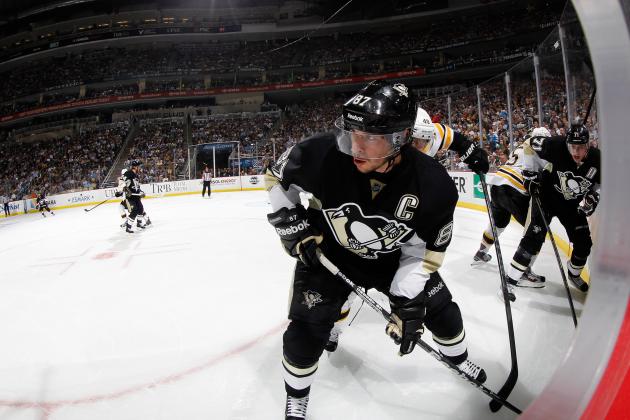 Bruce Bennett/Getty Images

The sport's brightest star has enjoyed a scintillating playoff run since returning from a fractured jaw. Crosby, who missed the final 12 regular-season games and postseason opener against New York, has tallied 15 points through 12 games.
He returned to the ice with a pair of goals against the Islanders in Game 2 of the first-round series. Crosby and the Penguins survived the opening round for the first time since 2010, leaning on one of the league's most intimidating offensive efforts along the way.
The Eastern Conference's top seed is simply a different team with Crosby in the ice, despite dealing with swirling goaltender questions. Accepting a generational great remains a challenge for fans throughout the country, who would prefer to keep Crosby and the Pens squarely in the cross-hairs for heckling.
Now four years removed from his only Stanley Cup, the 26-year-old is leading the charge for a return trip to the NHL finals.