Ohio State Basketball: Predicting Buckeyes' Biggest Overachievers for 2013-14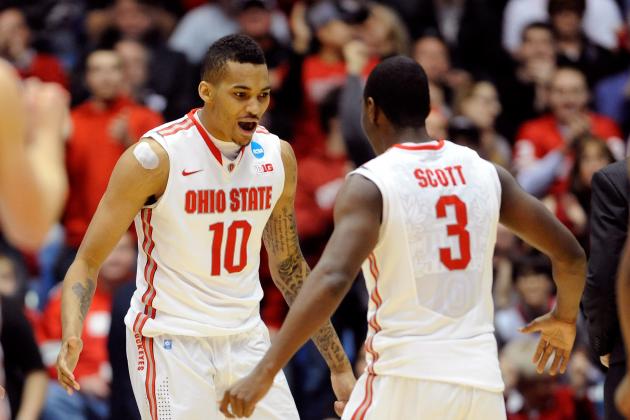 Jason Miller/Getty Images

In every single college basketball season there are overachievers who play much better than they were projected to before the year started.
For Ohio State someone like Shannon Scott fit that bill in 2012-13. For Scott's first year-and-a-half on campus he was simply seen as the point guard Thad Matta elected to recruit instead of Trey Burke, but an impressive defensive performance down the stretch earned him more playing time and recognition.
While Aaron Craft and LaQuinton Ross will be expected to shoulder much of the load this season, there will likely be some overachievers wearing Scarlet and Gray to help them out. Read on to see the biggest candidates.
Begin Slideshow

»
Most of the discussion regarding Ohio State's 2013 recruiting class has centered on Marc Loving, but the Buckeyes need perimeter scoring off the bench and that is exactly what Kameron Williams provides.
Williams has a great shooting stroke and impressive range but also possesses the athleticism to slash through the lane and play above the rim. He will give Thad Matta a valuable piece off the bench that is capable of playing either guard spot and spelling Aaron Craft, Shannon Scott, Lenzelle Smith Jr. and/or Sam Thompson.
Realistically, the ceiling for Williams in year one is to become a solid contributor off the bench who scores in bunches and injects energy and speed into the Buckeyes' lineup. A parallel example could be what Nate Robinson provided the Bulls during the NBA playoffs.
Look for Williams to gradually earn more playing time as the year goes on and Matta fully realizes what he is capable of on both ends of the floor. His speed, athleticism and shooting prowess will endear him quickly to Buckeye Nation.
Thad Matta has a reputation for playing a short bench (which is oftentimes overblown, but that's a story for another day), but look for Marc Loving to play his way into the regular rotation from day one.
He is a lengthy and athletic power forward who has a soft stroke from mid-range and may even be able to hit an open three-point shot or two. He will also help in the rebounding department, although he could stand to add a bit of strength before the season starts (remember, Deshaun Thomas led the team in boards last year, and he is far from a traditional big).
Loving's nose for the ball and versatility will immediately make him an asset on defense, which is the quickest way to Matta's good side. Amir Williams will get the starting nod at center, but with no Thomas on the roster anymore, Loving will be the leading candidate for "big man" in the center-less lineup Matta frequently utilized last season.
If Williams struggles, Loving will see increased playing time as the year progresses. He could very well play his way onto the All-Freshman Big Ten team as a result.
It is evident to anyone who regularly watched Ohio State last season that Sam Thompson is one of the most important pieces to this year's roster, especially with the departure of Deshaun Thomas. It is because of that fact that it seems a bit strange for him to be considered an overachiever candidate, but there is one way he can do just that.
LaQuinton Ross is the presumed leading scorer for the Buckeyes in 2013-14 largely because of the overall potential he possesses and the breakout month of March he had during the conference and NCAA tournaments. However, it was Thompson and not Ross who displayed more consistency throughout the season and led the team in three-point shooting.
If Thompson thrives in an up-and-down offense that features less half-court sets and more transition opportunities, it could be him and not Ross that leads the Buckeyes in points per game. That would immediately qualify Thompson for overachiever status.
Thompson will undoubtedly be a primary contributor for the Buckeyes in 2013-14, but leading the team in scoring would go beyond the call of duty.
As previously mentioned, Shannon Scott was somewhat of a breakout player last season for Ohio State. He was a primary reason why the Buckeyes turned it around in the second half of the year, won the Big Ten tournament title and came within one game of a second straight Final Four.
He did much of that with his defense and is once again expected to be a defensive stalwart alongside running mate Aaron Craft. However, look for his offensive game to improve this year as well, which would qualify him for overachiever status yet again.
He will never be Jon Diebler from behind the three-point arc, but Scott will look for his spots to use his burst and quickness on the first step to get into the lane. The key in 2013-14 for Scott is to finish his opportunities when he gets inside the paint.
More transition chances would also serve Scott well on the offensive end. He is faster than almost anyone in the Big Ten, so this is a legitimate avenue for easy baskets. If Scott's offense catches up to his defense through drives and fast breaks, the rest of the conference will be officially on warning.
Follow Ohio State basketball writer Scott Polacek on Twitter @ScottPolacek.