Ryan Braun's Image Officially Damaged If PED Suspension Sticks
Benny Sieu-USA TODAY Sports
Milwaukee Brewers left fielder Ryan Braun has been linked to PED usage—again. And this time, it could do real damage to his legacy.
The 2011 National League MVP is reportedly being targeted by the MLB for a suspension according to a report and tweet from ESPN's T.J. Quinn.
BREAKING: MLB will seek to suspend A-Rod, Ryan Braun and about 20 players connected to Miami clinic. Founder Tony Bosch agreed to cooperate.

— T.J. Quinn (@TJQuinnESPN) June 4, 2013
According to the report, the MLB will seek to suspend Braun in connection with the investigation of Coral Gables based company Biogenesis, which has been accused of selling PED's to over 20 players.
Quinn also reported that the league will possibly seek a 100-game ban for Braun and New York Yankees star Alex Rodriguez:
Sources tell @OTLonESPN Bosch will swear an affidavit that he provided drugs to players. MLB may seek 100-game suspensions for Braun, A-Rod.

— T.J. Quinn (@TJQuinnESPN) June 4, 2013
Should Braun be found guilty, irreparable damage would be done to his legacy.
This isn't Braun's first run-in with the league on the issue of PED usage. ESPN reported that Braun was suspended 50 games by the league in 2011 after he tested positive for synthetic testosterone during the 2011 National League playoffs.
Braun would go on to become the first player to successfully appeal according to USA Today. Braun's suspension was overturned because proper protocol had been compromised when his urine sample was not immediately sent to the testing lab and was instead kept at one of the testing administrator's home.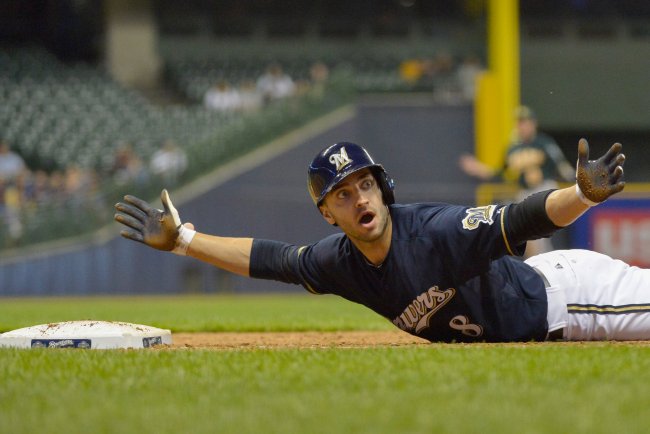 Benny Sieu-USA TODAY Sports
Braun remained adamant about his innocence throughout the process and released a statement explaining the truth was on his side and that he had nothing to hide:
I am very pleased and relieved by today's decision. It is the first step in restoring my good name and reputation. We were able to get through this because I am innocent and the truth is on our side. We provided complete cooperation throughout, despite the highly unusual circumstances.
I have been an open book, willing to share details from every aspect of my life as part of this investigation, because I have nothing to hide. I have passed over 25 drug tests in my career, including at least three in the past year.
Braun even had Green Bay Packers quarterback Aaron Rodgers in his corner, taking to Twitter to celebrate the successful appeal.
MLB and cable sports tried to sully the reputation of an innocent man. Picked the wrong guy to mess with. Truth will set u free #exonerated

— Aaron Rodgers (@AaronRodgers12) February 23, 2012
Now it appears that Braun will be at the center of controversy again. According to ESPN's report, the MLB has at least two documents from Biogenesis that have Braun's name on them—one that has him listed as owing $20,000 to $30,000 while the other has him owing $1,500 to the company that is suspected of selling PEDs to baseball players.
Tony Bosch, the founder of the now defunct Biogenesis, had originially been uncooperative with the MLB's investigation, but is now expected to admit that he sold PEDs to Braun and other stars.
At this point the MLB hasn't doled out any official punishment, but it doesn't look good for Braun. After openly denying his previous use and garnering support from fans and fellow stars such as Aaron Rodgers, a suspenstion that actually sticks for PEDs would really damage Braun's image and legacy.
This article is
What is the duplicate article?
Why is this article offensive?
Where is this article plagiarized from?
Why is this article poorly edited?