When former UFC light heavyweight champion Rashad Evans steps into the Octagon on June 15, he will be facing former Strikeforce and PRIDE champion Dan Henderson. The two will square off in the main event of UFC 161. There will a great deal at stake for both fighters.
One thing that won't be at stake—or at least won't be a concern of Evans'—is a potential title shot being awarded to the victor.
"The title shot is not on my mind, I just want to go in there and fight, and whatever happens after that happens after that, but I don't care."
There's a good reason Evans is not concerned about a title shot—he's on a two-fight losing streak. Yes, one of those losses was to UFC light heavyweight champion Jon Jones. There's no shame in losing to a fighter who is arguably the best that the 205-pound division has ever seen, but the other loss, to Antonio Rogerio Nogueira, is a different story.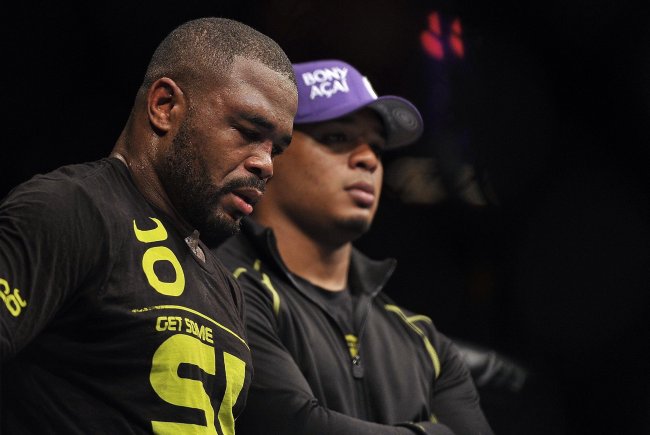 Paul Abell-USA TODAY Sports
Evans delivered a lackluster performance in his unanimous-decision loss to Nogueira. Evans seemed uninspired and content to not engage Nogueira, landing just 22 strikes over the course of the bout. Evans spoke about the performance at length:
"I've addressed the issues as far as what I felt was wrong, but you almost have to have a short memory on that type of thing. If you think about it for too long it can definitely hinder you again.
I know how to perform. I know how to go out there and fight to the best of my ability, and it's just a matter of going out there and doing it. Second-guessing myself is not going to do it. I learned from that performance and I'm ready to move on and put on the fight that I know I can put on, put on the fight I trained for, and my preparation for this fight has been great."
Evans will enter UFC 161 with those two losses hanging heavy over his head.
"You definitely want to get the monkey off your back when you stink up the joint. As a fighter it sucks because you wear the hat of the last fight that you just fought until you fight another one.
If you lose your last fight, you suck for a while until you go out there and win your next fight. That's just something you have to deal with as a fighter. I want to go out there and put on a show, not only to shut all the naysayers up, but for myself, because I felt like I let myself down more than anything. I can't live with disappointing myself."
The bout against Henderson was originally booked as the co-main event of the evening, but an injury forced interim UFC bantamweight champion to withdraw from the card and the UFC decided to move Evans and Henderson to top billing. That bump-up adds no pressure according to Evans.
"When you're stepping in against someone like Dan Henderson it doesn't matter if you're fighting on the first fight of the night or the last fight of the night, it doesn't change the dynamic of the situation."
While he feels no added pressure, Evans did acknowledge it was a nice surprise to move to the top of the card. "To have the UFC have the faith in me to close out a show, that means a lot."
UFC 161 takes place on June 15 from the MTS Centre in Winnipeg, Manitoba, Canada.
**All quotes obtained first hand by Bleacher Report MMA.