Oakland A's: Re-Grading Every Oakland A's Offseason Acquisition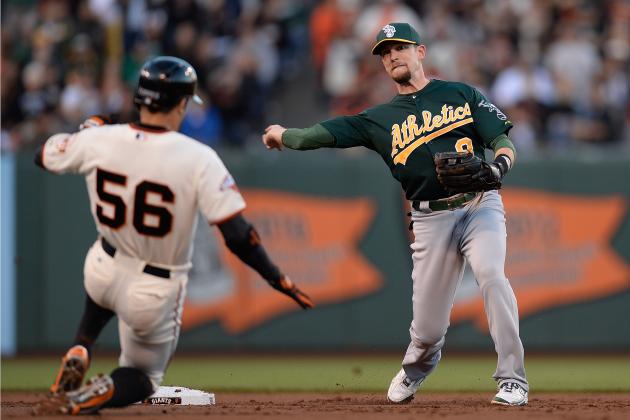 Thearon W. Henderson/Getty Images
Jed Lowrie, 2013 All-Star?
Sitting at 35-25, the 2013 Oakland A's have moved past the one-third point of the baseball season as a playoff team. Much of the team from 2012 has returned, but there have been key additions acquired during the offseason.
Even more surprisingly, the team has been led by a returning player in Josh Donaldson that was not expected to be more than a serviceable player at third base.
All Donaldson has done is perform at an All-Star level. Other than Coco Crisp, the core of the holdovers from the 2012 team have not played at their levels thus far. Yet, the team sits just 1.5 games behind the first-place Texas Rangers and is primed to overtake the Rangers with a soft schedule in the next 10 days.
So what about the new additions? General Manager Billy Beane added seven players. Of those, six have played with the team thus far. Expectations were varied for all seven, and for a couple, they have definitely changed since the season began.
Here is my take on those players in terms of production, in alphabetical order.
Begin Slideshow

»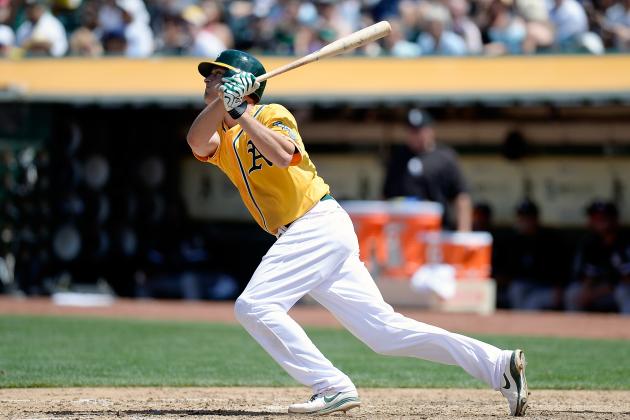 Thearon W. Henderson/Getty Images
Freiman has made the most of his opportunity in Oakland
Current 2013 stats: .271 batting average, 2 home runs, 15 RBI, .350 on-base percentage in 29 games
How acquired: Via waivers from the Houston Astros, March 23
The first player just may be the biggest surprise of all. Billy Beane rolled the dice on potential when he claimed first baseman Nate Freiman off of waivers from the Houston Astros in March. Unlike any other waiver-wire pickup, Freiman was a Rule V draftee.
That meant whoever claimed him would have to keep Freiman on their Major League roster for the duration of the 2013 season, or risk losing him to his original team, the San Diego Padres.
Obviously, Beane's hope would be that Freiman could provide some semblance of a right-handed bat opposite Brandon Moss at first base. I would have to say at this point, Freiman has exceeded all expectations. Hitting .271 with 15 RBI and a respectable .441 slugging percentage is one thing.
Another altogether is winning the American League Rookie of the Month honors for the month of May. Freiman hit .351 with a home run and nine RBI, making the most of his opportunities. Defensively, Freiman has been solid, committing just one error in 24 games at first base. Score another one for Billy Beane.
Grade: B+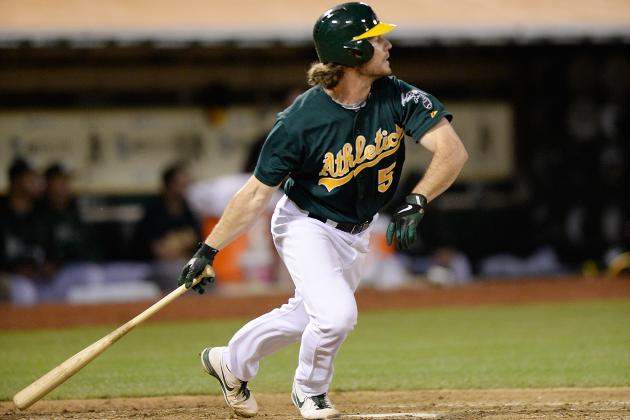 Thearon W. Henderson/Getty Images
Jaso has been mostly steady thus far with the A's
Current 2013 stats: .263 batting average, 1 HR, 15 RBI, .353 on-base percentage
How acquired: Via three-way trade from Seattle Mariners
For the most part, John Jaso has been precisely the player he was expected to be when acquired from the Seattle Mariners in January. He possesses a patient bat, gets on base at a decent clip, and is versatile enough to be used up and down the batting order.
That said, Jaso has not provided much thump at the plate (just a .336 slugging percentage) and has struck out more than expected (31 K's in 137 at-bats).
Defensively, Jaso has been slightly below average. He has committed two errors in 26 games for a respectable .988 fielding percentage, but has also only thrown out 4 of 19 base stealers, a 21 percent rate.
That adds up to a defensive wins above replacement rating of -0.3, which is a full game over the course of the season. In other words, Jaso is on pace to cost the A's a game defensively. Without better production at the plate, Derek Norris could find himself usurping more starts behind the dish.
Grade: C-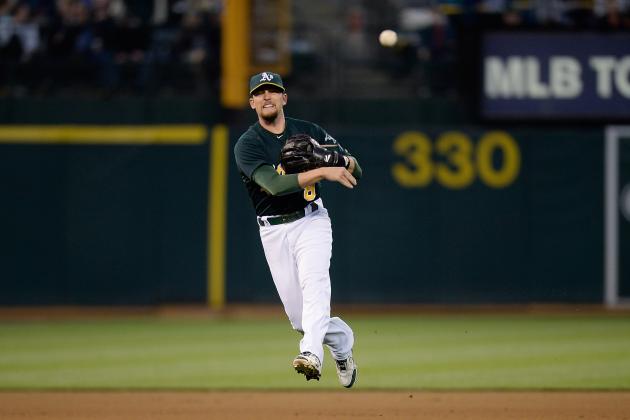 Thearon W. Henderson/Getty Images
Lowrie has been everything the A's hoped he would be
Current 2013 stats: .317 batting average, 3 HR's, 24 RBI, .397 on-base percentage
How acquired: Via trade with Houston Astros, Feb. 4
Early returns are literally all A's regarding super utility man Jed Lowrie. Acquired along with relief pitcher Fernando Rodriguez for Chris Carter, Brad Peacock, and Max Stassi, Lowrie has been splendid in Oakland so far.
He currently ranks sixth in the American League in batting average, 10th in on-base percentage, and is tied for fourth in doubles with 18. In short, Lowrie has been more than expected and a catalyst for the Oakland offense thus far.
Defensively, Lowrie has committed seven errors in 50 starts. That is something that can't be completely overlooked. But considering his health has been needed and the All-Star level job he's done at the plate, it cannot be used to diminish the impact Lowrie has given the A's thus far.
Right now, Lowrie sits in fourth place for an All-Star selection behind Elvis Andrus, J.J. Hardy, and Jhonny Peralta. If there were any justice, he would be first or second with Peralta, as Andrus is nowhere near an All-Star based on 2013 production (.257 batting average, .309 OBP, .618 OPS).
Grade: A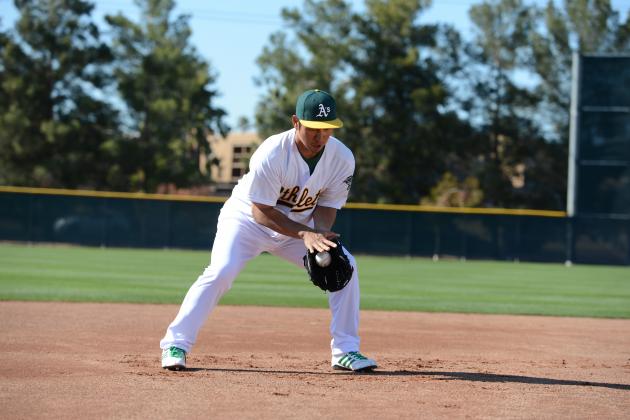 Robert Binder/Getty Images
Thus far, this has been the extent of Nakajima in an A's uniform
Current 2013 stats: None in MLB; .319 batting average, 2 HR, 10 RBI, .813 OPS at Triple-A Sacramento
How acquired: Via free agency, Dec. 18, 2012
Of all of the players Billy Beane acquired for the 2013 season, none came with as much intrigue and hype as Japanese shortstop Hiroyuki Nakajima. Signed in December 2012, Nakajima was expected to be the opening day shortstop and came with plenty of credentials from his time in Japan.
But after struggling during the spring, particularly with his fielding, and dealing with a left hamstring injury, Nakajima began playing in early May. So far, the bat has been good, hitting a robust .319 in 102 plate appearances. However, Nakajima has committed three errors in just 13 starts in the field.
Considering the investment the A's have in Nakajima, chances are he will get his crack in Oakland sometime soon. But until then, there isn't anything to go on thus far in 2013.
Grade: Incomplete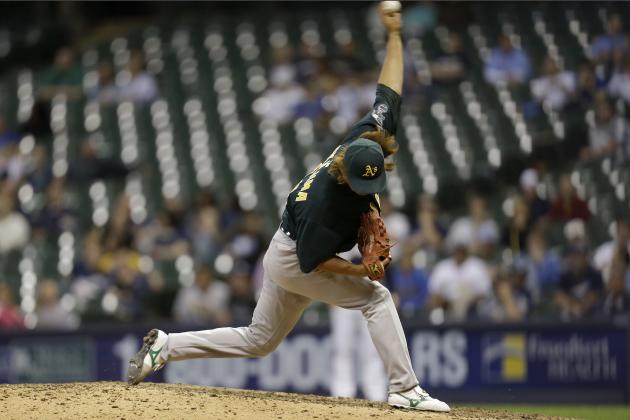 Mike McGinnis/Getty Images
Okajima's role has been limited in 2013
Current 2013 stats: 3.2 innings pitched, 2.45 ERA, six hits, 1.91 WHIP
How acquired: Via free agency, Feb. 11
Hideki Okajima is another player Billy Beane took a flyer on last offseason. Having last pitched in the major leagues in 2011, Okajima began the 2013 season in Triple-A Sacramento. Going 0-1 with a 2.16 ERA and .193 opponents batting average in 14 games (16.2 total innings) with the River Cats was enough to get the call up.
So far, his appearances have been scarce, and though Okajima has a 2.45 ERA, he has wriggled out of jams in three of his four outings with the A's. It will be interesting how manager Bob Melvin uses Okajima considering his numbers are actually better against left-handed hitters vs. right-handed ones.
Unlike Nakajima, it is actually quite impressive that a 37-year-old non-roster invitee in the spring managed to make his way on to the A's roster. For that, he deserves credit. Although, there remain legitimate question marks as to how productive Okajima will be going forward.
Grade: C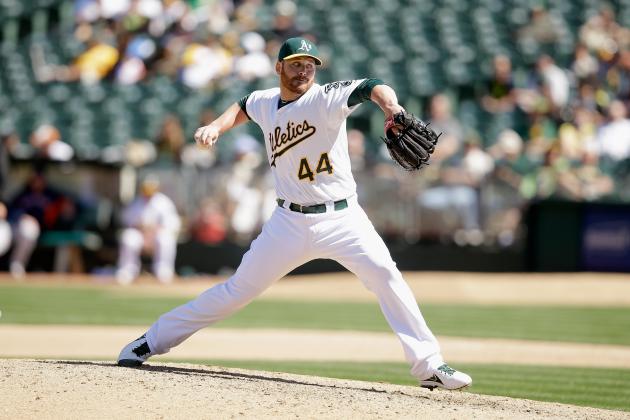 Ezra Shaw/Getty Images
A great start spiraled out of control for Resop
Current 2013 stats: 1-1 record, 6.00 ERA, 18 innings, 22 hits, 1.78 WHIP
How acquired: Via trade with Pittsburgh Pirates, Nov. 30, 2012
For Chris Resop, it was a tale of two runs during his initial stint with the A's. In his first seven appearances in 2013, Resop did not allow a run and looked fantastic for the most part. Much of this was due to a sinker Resop began using in the offseason.
But over the last 11.2 innings he pitched, Resop was a mess. He surrendered 12 runs during that stretch, with an ERA of 9.26. Overall, batters were hitting .293 against Resop and all that bad ink caught up with him.
Ironically, Resop was designated for assignment to make room for Hideki Okajima and wound up taking his spot at Triple-A Sacramento. Currently, there doesn't seem to be a place for Resop in Oakland, so he'll likely spend the duration of 2013 at Sacramento.
Grade: D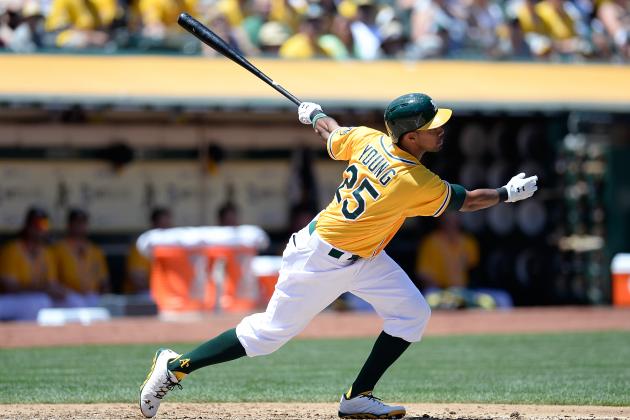 Thearon W. Henderson/Getty Images
2013 has been all high or low for Young
Current 2013 stats: .190 batting average, 5 HR, 22 RBI, .645 OPS
How acquired: Via trade with Arizona Diamondbacks, Oct. 21, 2012
The last of the seven new acquisitions from the offseason is outfielder Chris Young. Acquired in a trade that sent Cliff Pennington to Arizona, Young has been feast or famine so far with the A's. I may take to calling this kind of production pulling a Brandon Inge.
In other words, Young has gone stretches when able to play without being very productive. But when he is, it is typically in big bunches. For much of 2013, Young has been well under the Mendoza Line. Yet he has still knocked in 22 RBI despite playing in just 36 games.
To be fair, much of his success has come against the Houston Astros, who Young has 8 RBI against in just six games at Minute Maid Park. The stat that is much more disconcerting is the .174 average in 69 at-bats at home.
So aside from lighting up the worst team in the American League, the A's have not gotten all that much from their highest-paid player so far in 2013 offensively. The hope is that Young warms up with the weather, but so far, there has been too much famine and not enough feasting for the fourth outfielder.
Grade: D+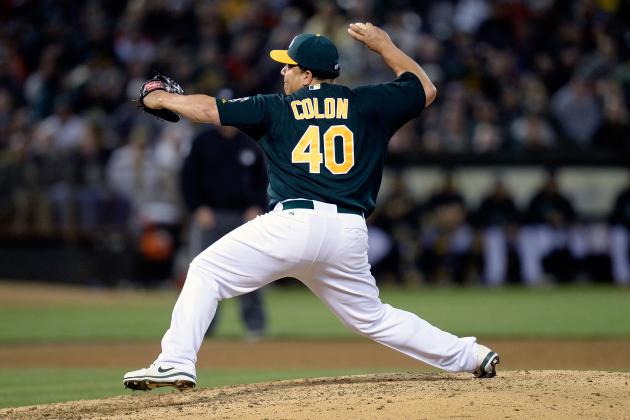 Thearon W. Henderson/Getty Images
Colon isn't technically an 2012 acquisition, but he's been brilliant all the same
And there you have it. Oakland's offseason corps has been largely buoyed by its biggest acquisition (Lowrie) and its most surprising (Freiman). The jury is still out on the whole, but in the end, a 35-25 record (as opposed to 26-34 after 60 games in 2012) is a great bottom line.
Of course, total team success can't be attributed to any one group of players. Perhaps the most impressive signing of the offseason was Bartolo Colon. While he wasn't technically an offseason acquisition, the return of Colon to the A's starting rotation has been a godsend.
Currently posting a 6-2 record with a starters-best 3.33 ERA, Colon has been the most consistent starter in the rotation. As a matter of fact, his potential loss to a second suspension stemming from a possible connection to the Biogenesis clinic in Miami could have long-term repercussions for this team.
Considering Brett Anderson is out at least three more weeks with a stress fracture in his right foot and likely longer, a season-ending suspension to Colon would throw the A's rotation out of whack.
Which is precisely why the depth Billy Beane made a priority of acquiring over the last two seasons has been so important. Yes, the A's are talented. But more importantly, they are deep enough to absorb losses and sustain success at key positions.
So while not every offseason acquisition has been a home run, there has been enough contact to keep the A's swingin' for the postseason in 2013.