The Miami Heat will welcome the San Antonio Spurs to Miami on Thursday night for Game 1 of the NBA Finals, and there are a couple of storylines to pay attention to.
Who will be the NBA Champions?
Miami was nearly upset in the Eastern Conference Finals after the Indiana Pacers played their best basketball all year long. After escaping, the Heat can't let up, as they'll now face a similar but more experienced "Big Three": Tim Duncan, Tony Parker and Manu Ginobili of San Antonio.
The Spurs have yet to be tested this postseason, but with all of the potential that the Heat have, they're guaranteed to give them a run for their money as Miami looks to repeat as NBA champions.
So which team is going to win it all this year, Miami or San Antonio? Well, the following questions should help guide your answer.
Will Dwayne Wade Be a Factor?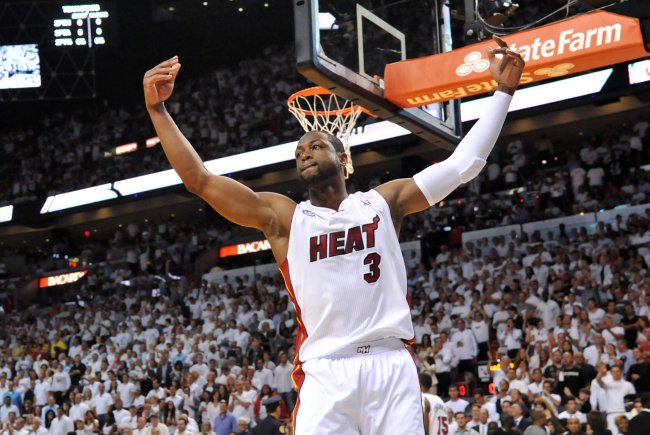 Steve Mitchell-USA TODAY Sports
Before Game 7 between the Heat and Pacers, I questioned which Dwayne Wade would show up: The one who was non-existent in the Eastern Conference Finals or the one who was a superstar throughout the regular season.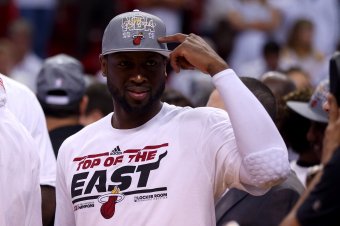 Mike Ehrmann/Getty Images
Well, Wade answered with the latter.
In 35 minutes, Wade shot 7-for-16 from the floor and was perfect from the charity stripe (7-for-7) for 21 points while also adding nine rebounds, six of which were offensive. It was just the second time this postseason that Wade hit the 20-point mark—the other coming in Game 2 against the Milwaukee Bucks in the first round.
Here's what James told Howard Beck of the New York Times after Miami's Game 7 win:
Obviously, we're a much better team when we have everyone clicking at the same time. We've had more games where everyone was clicking that not so. It just happened that this series, guys were just not in a rhythm, not feeling like themselves.
Now, I'm asking a similar question.
The Heat need Wade to make it back-to-back games with solid performances. Without Wade at his best, Miami loses a lot of production; when Wade scored fewer than 15 points against the Pacers, the Heat one just 1-2.
The Miami Heat really missed Chris Andersen, Dwyane Wade and Chris Bosh tonight. It's a shame that none of them showed up.

— Alex Kennedy (@AlexKennedyNBA) June 2, 2013
Wade only played against the Spurs once this season—a November 29 matchup in which Miami topped San Antonio by five points. In 32 minutes that game, Wade was 7-of-17 from the floor and went 5-for-5 from the free-throw line for 19 points. He also added five assists and five rebounds.
Will Wade be a factor in the NBA Finals?
It will not be easy for Wade to do much against San Antonio. The Spurs are tied with the New York Knicks for the fourth-lowest opponent field-goal percentage this postseason at 42 percent, per ESPN. San Antonio has also only allowed 91.5 points per game throughout the playoffs, the fourth fewest.
If Wade plays like he has throughout most of the postseason—averaging 14.1 points per game while shooting 44.7 percent from the field—the Heat are doomed. San Antonio is the real deal, and knowing that Wade isn't entering the series at his best, the Spurs will look to make every shot he takes a struggle.
Will Extra Rest Help or Hurt the Spurs?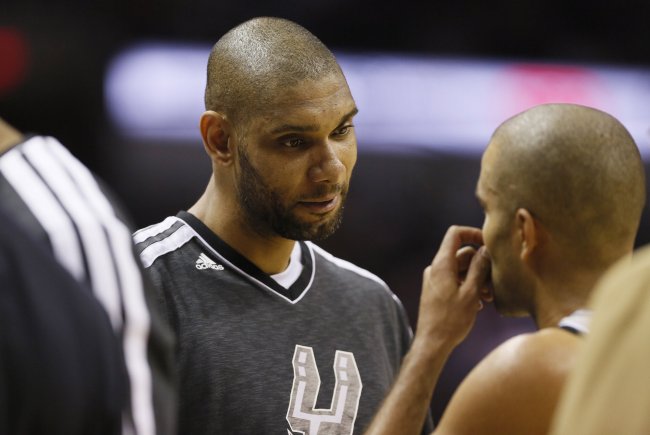 Soobum Im-USA TODAY Sports
The last time the Spurs took the floor for a playoff game was back in May—May 27 to be exact—when they defeated the Memphis Grizzlies for the fourth time in four opportunities. San Antonio cruised through the Western Conference Finals.
Game 1 of the NBA Finals won't be until Thursday night, which means the Spurs had more than a week to watch the Eastern Conference Finals, study tape on both potential opponents, do a little practicing and most importantly, rest.
Regardless of who wins tonite's Game 7, the Spurs have been getting a ton of rest. That is a HUGE advantage for a veteran team. #Dangerous

— Alan Stein (@AlanStein) June 4, 2013
But whenever we're talking about rest, the question always comes up as to how much rest is too much rest. During the regular season, it's rare to have more than a day or two off at a time, with the exception of the All-Star break. A week off is unheard of.
Here's how San Antonio general manager R.C. Buford answered a similar question from Sam Amick of USA Today:
We don't know how to react to rest vs. rust. It is what it is, and we're trying to prepare and maintain focus and rhythm and reduce opportunities for an injury. But there isn't a perfect [practice] program that gets you there. At our age, the rest is appropriate, but we'll find out if it works or not when we go back to playing.
The Spurs are one of the oldest teams in the league, so having a considerable amount of time off should help them. But like Buford said, the goal is to stay focused. The Spurs can't afford to drop the first couple games of the series due to being rusty and not looking like a team that's more than capable of winning the title.
San Antonio has the talent necessary to easily take down Miami—I know some Heat fans will disagree—but too much rest could pose a problem for the challengers. If the Spurs do come out rusty, they have to hope they can shake it off quickly before it becomes too late.